Willemien Hallebeek
Willemien is Content Team Lead at Yoast. She loves to create and organize content in such a way that it helps people understand SEO.
It can happen to anyone: You're working on your site, fiddling on some posts here and there, and hit update when you're done. After a while, you check back on how a post is doing and, to your dismay, it disappeared completely from the search engines! It turns out you've accidentally set a post or page to noindex on your site. Here, we'll share a – pretty funny – story about how it happened to us, and what to do if you've made a similar mistake.
How to unintentionally noindex a post
Let's start with a short story. We have a post called Noindex a post in WordPress, the easy way on yoast.com. In this post, we – surprise, surprise – explain how to noindex a post with Yoast SEO in WordPress. To show how easy that is, we added some screenshots of setting a post to noindex. A picture says more than a thousand words, right?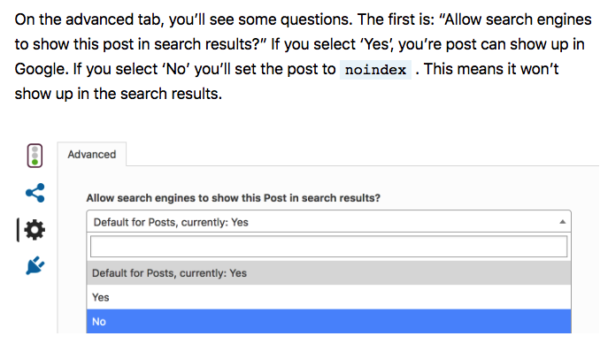 Now, we'll reveal a little secret. Oftentimes, when we want to illustrate a certain feature of Yoast SEO, we'll just take a screenshot of that feature in the post we're working on. So, in this case, we went to the Advanced tab in the Yoast SEO meta box, clicked No in the dropdown, took a screenshot, and added the screenshot to our post. We checked the copy we've written, added images, checked the SEO and readability scores and previewed our post. All looked fine, so we hit publish, shared it on social and in our newsletter and went on with other tasks.
Sometime later, we were checking how our content performed on the query [how to noindex a post] in Google. Surprisingly, we didn't encounter this article, while we were pretty sure we already had a post like this. We started looking for it in our post overview, and there it was! Waiting in vain for visitors to learn more about this handy feature of Yoast SEO.
So, while we were happily typing away, making sure people understand what this feature is about, we forgot one thing… removing the noindex from this post. Therefore, accidentally and ironically, we've set our post about setting posts to noindex to… noindex.
How to reverse noindexing a post
In our case, reverting the noindex on that post wasn't
[…]
This article was written by Willemien Hallebeek and originally published on Yoast • SEO for everyone.