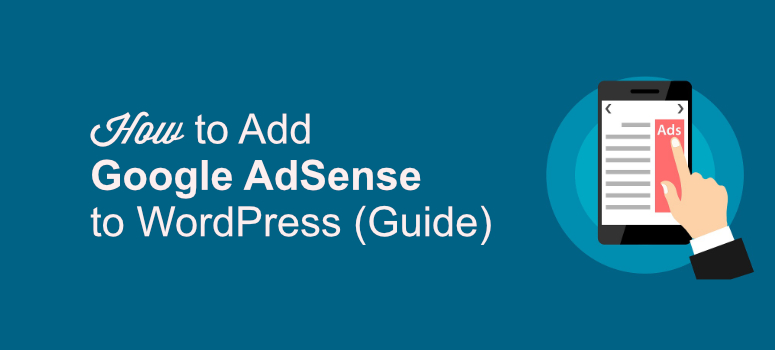 Wondering how to monetize your WordPress site with Google AdSense?
Google AdSense is the world's largest ad network that lets website owners make money by placing ads on their site. It's probably the easiest way to make money online for beginners.
However, many users don't know how to properly add these ads to their website for maximum profit. In this tutorial, we'll show you how to add AdSense ads to WordPress in a step-by-step manner. But before that let's have a look at how Google AdSense works.
How Does Google AdSense Work?
As a publisher, all you have to do is to submit your website to AdSense and once your site's approved, add the AdSense snippet to your site. Google automatically delivers ads that are targeted to your content or audience.
In a nutshell, this is how Google AdSense works for you as a publisher:
Choose your ad space
AdSense publishes the highest paying ads on your site
You get paid as visitors click on these ads
The ads are created and paid by companies that want to promote their products or services. You will receive 68% of the amount paid by the advertiser per click and the remaining amount goes as commission to Google. AdSense will pay you your share when your income reaches $100.
How Much Can You Earn From Google AdSense?
It's impossible to predict how much money you can earn from Google AdSense. There are several factors that'll determine the commission you'll receive such as how much traffic you get, what type of content you provide, where your users are located, how you set up your ads, etc.
Having said that, some publishers make a full-time income from Adsense and others make little to none.
While you can find some Google AdSense calculators on the web, none of them is a reliable tool.
When Does Google AdSense Pay Publishers
Google AdSense makes the payment by the 21st of every month. However, the payment is made only if your earnings reach or exceed $100. If you don't earn $100 in a month, your earnings will roll over to the next month.
Let's now look at how to get started with Google AdSense.
Step 1: Creating an Account With Google AdSense
To get started with Google AdSense, you'll first have to signup for a Google AdSense account.If you already have a Google account, you can use the same for setting up your AdSense account.
Google will review your application and send you a response (whether you've passed the review process or not) within 6-8 hours of filling out the form. They may reject your application if your website doesn't meet AdSense's terms and conditions or program policies. So make sure
[…]
This article was written by Editorial Team and originally published on IsItWP – Free WordPress Theme Detector.