Have you ever dreamt of becoming a world-renowned singing superstar but lack the talent or resources to get your music out to the masses? Thanks to artificial intelligence (AI), even the most cringe-worthy aspiring artists can create realistic singing voices with good tone and pitch. In this post, we'll introduce you to Kits.AI — an AI singing voice generator that allows you to use your voice (no matter how good or bad) to produce great-sounding vocals.
Let's get started.
How Do AI Voice Generators Work?
An AI voice generator is a form of text-to-speech that uses machine learning and neural networks to produce life-like voices through generative AI. They are used to create voiceovers, clone voices, and create singing voices that can be used to produce original music. In some cases, AI voice generators are so good that it's difficult to discern the real from the fake. Many programs allow you to generate voices, including Play.ht and Murf, but those are more focused on speaking voices. Some other programs, like Kits.AI, allow you to create realistic, royalty-free singing voices.
Subscribe To Our Youtube Channel
What is Kits.AI?
Kits.AI is a revolutionary software that allows you to turn your voice into a work of art. After spending a few days with it, we can say it's very good at it. The free version of Kits.AI comes with nine royalty-free AI voices to use in your conversions. You can also create your own AI voices, train them to have a specific pitch, tone, and vocal range, and then download them for your creative projects.
In addition to royalty-free voices, you can create AI covers by pasting a YouTube link or using one of hundreds of community-provided voices in the app. The best part of Kits.AI is that it's absolutely free to use. You can create up to two unique AI voices and generate eleven minutes' worth of AI voice conversions. However, if you want access to all of the royalty-free AI voices and generate more conversions, you'll need to sign up for a Pro plan starting at a very reasonable $9.99 per month.
Signing Up for Kits.AI
Getting started with Kits.AI is a breeze. To create your first voice, click the Get Started Free button on the platform's home page.
From there, you must sign up by linking your Google account to Kits.AI.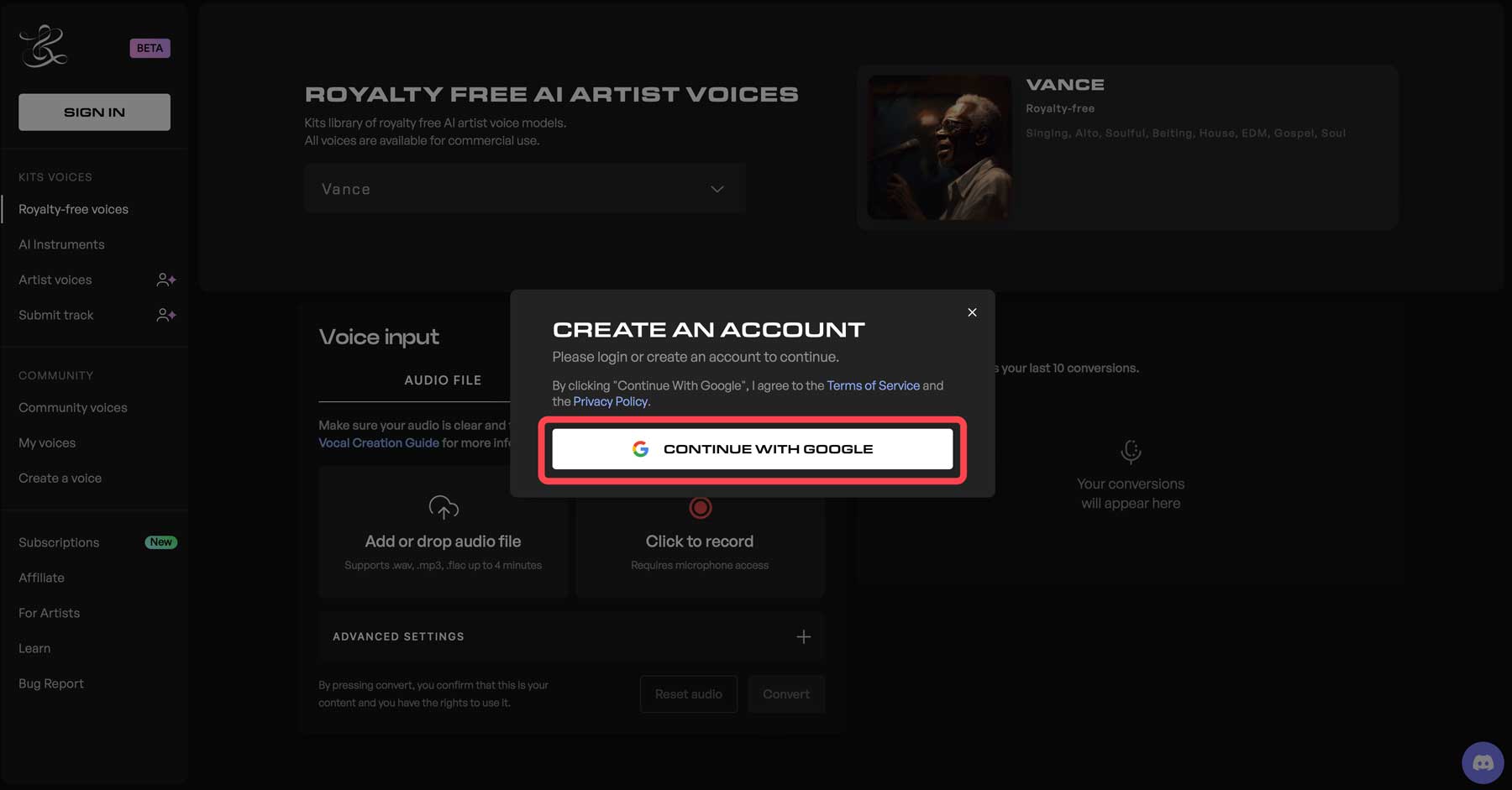 As previously mentioned, you can use Kits.AI for free to create AI signing voices. With the starter plan, you can develop two starter voices, convert 15 minutes per month, and train your voice (when bandwidth is available). If you need more access, the Converter plan offers 1 premium voice slot, 60 conversion minutes, access to all official royalty-free voice models, and priority training for $9.99 per month. Need more? Kits.AI has you covered with the Creator plan. It comes with the Convertor plans options but adds 2 more premium voices and unlimited conversion minutes for $24.99 per month.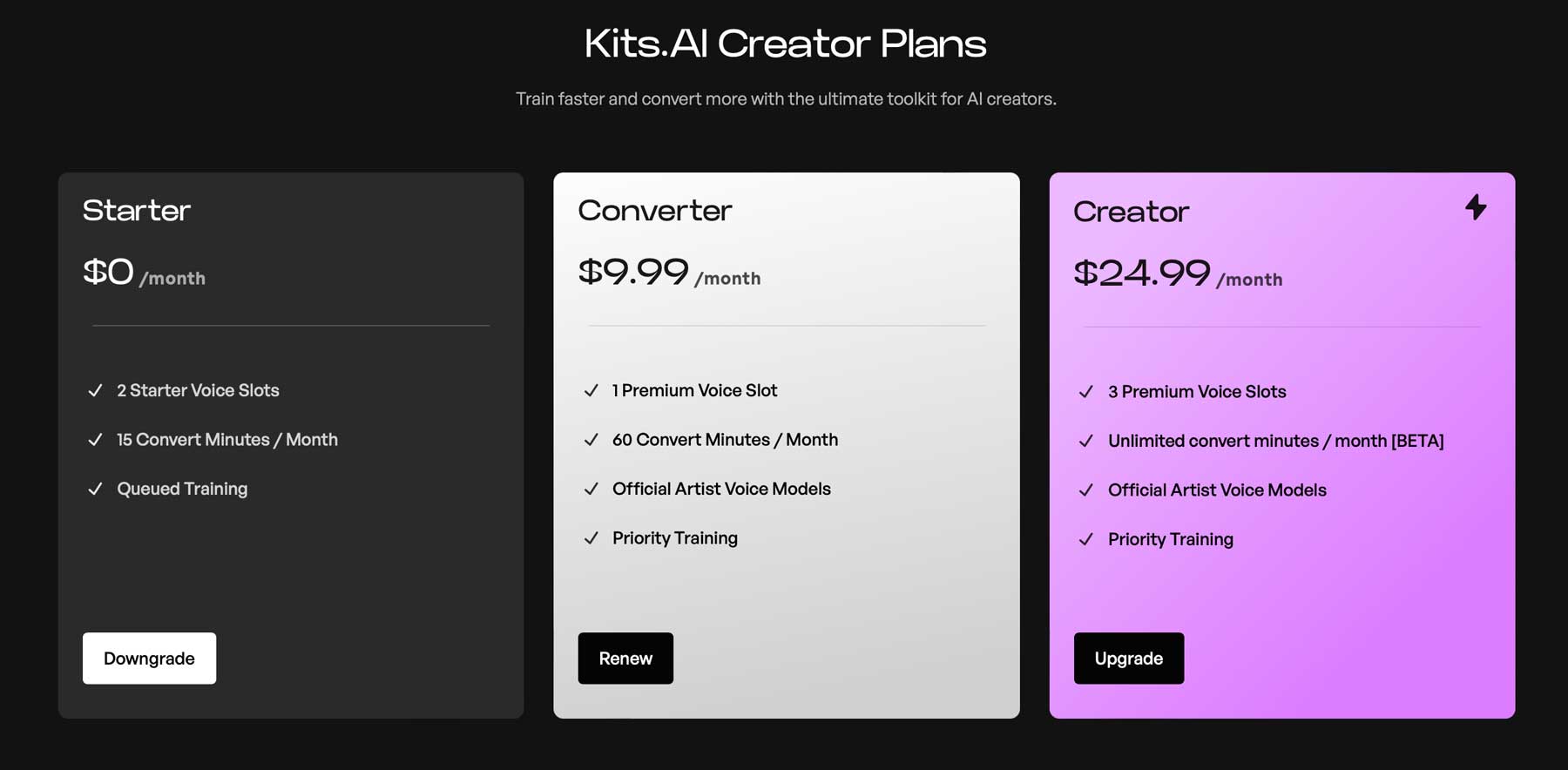 Navigating the Kits.AI Interface
When you log in to Kits.AI for the first time, you'll be met with a collection of tools to create AI voices and music. Under the Kits Voices tab (1), you can browse available royalty-free AI voices, instruments, and artist voices and submit tracks for licensing. In the community section (2), you can browse AI voices created by other users, peruse your saved voices, or train a new AI voice based on an uploaded or recorded voice clip. Finally, the last section allows you to view or upgrade your subscription (3), sign up for their affiliate program, check out the Kits.AI knowledge base, or report a bug.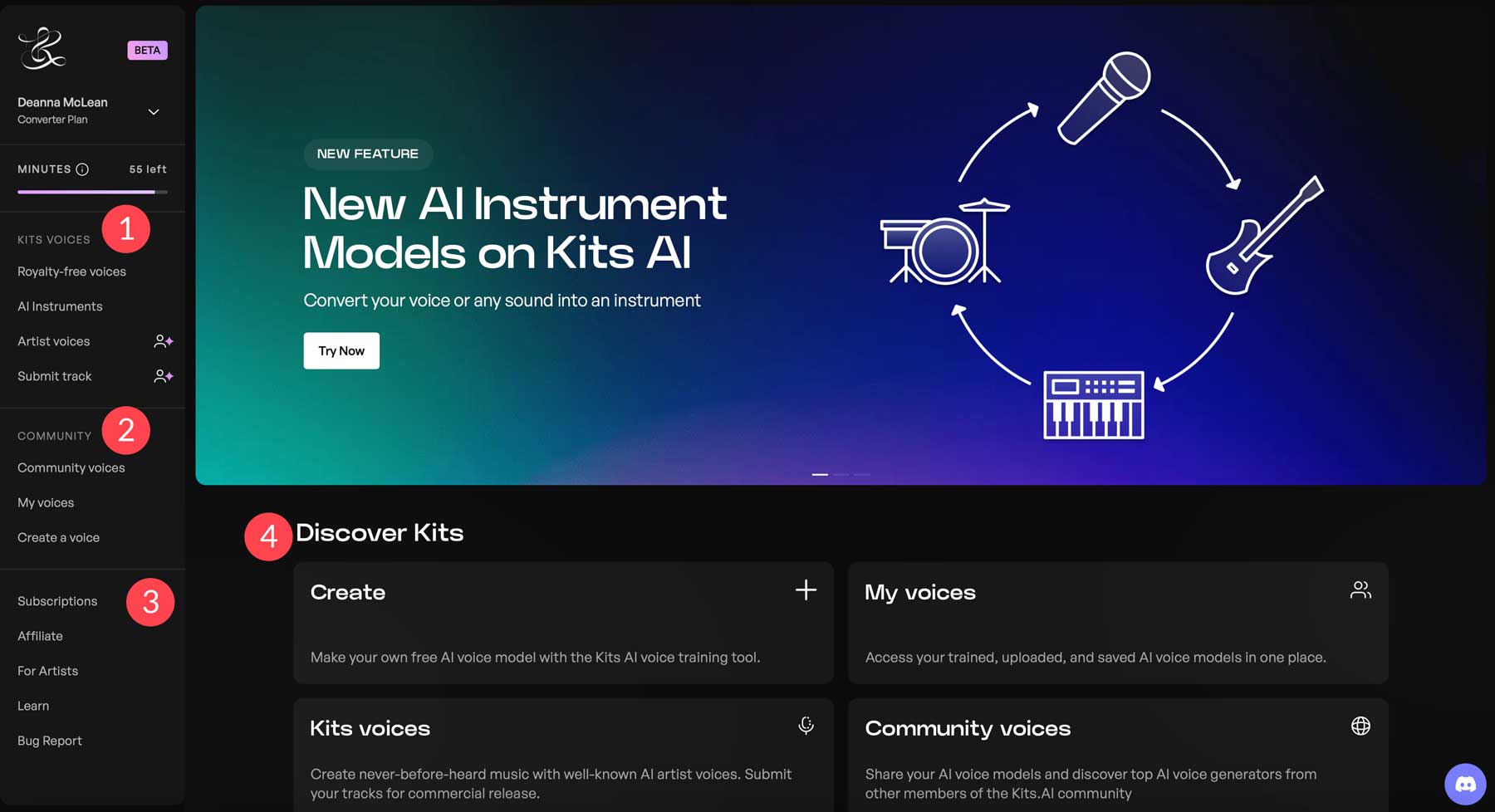 Royalty-Free AI Voices
As mentioned, Kits.AI has nine royalty-free AI artist voices you can use commercially. You can upload a sound clip (WAV, mp3, or Flac), record your voice with a button click, and then easily convert it to AI.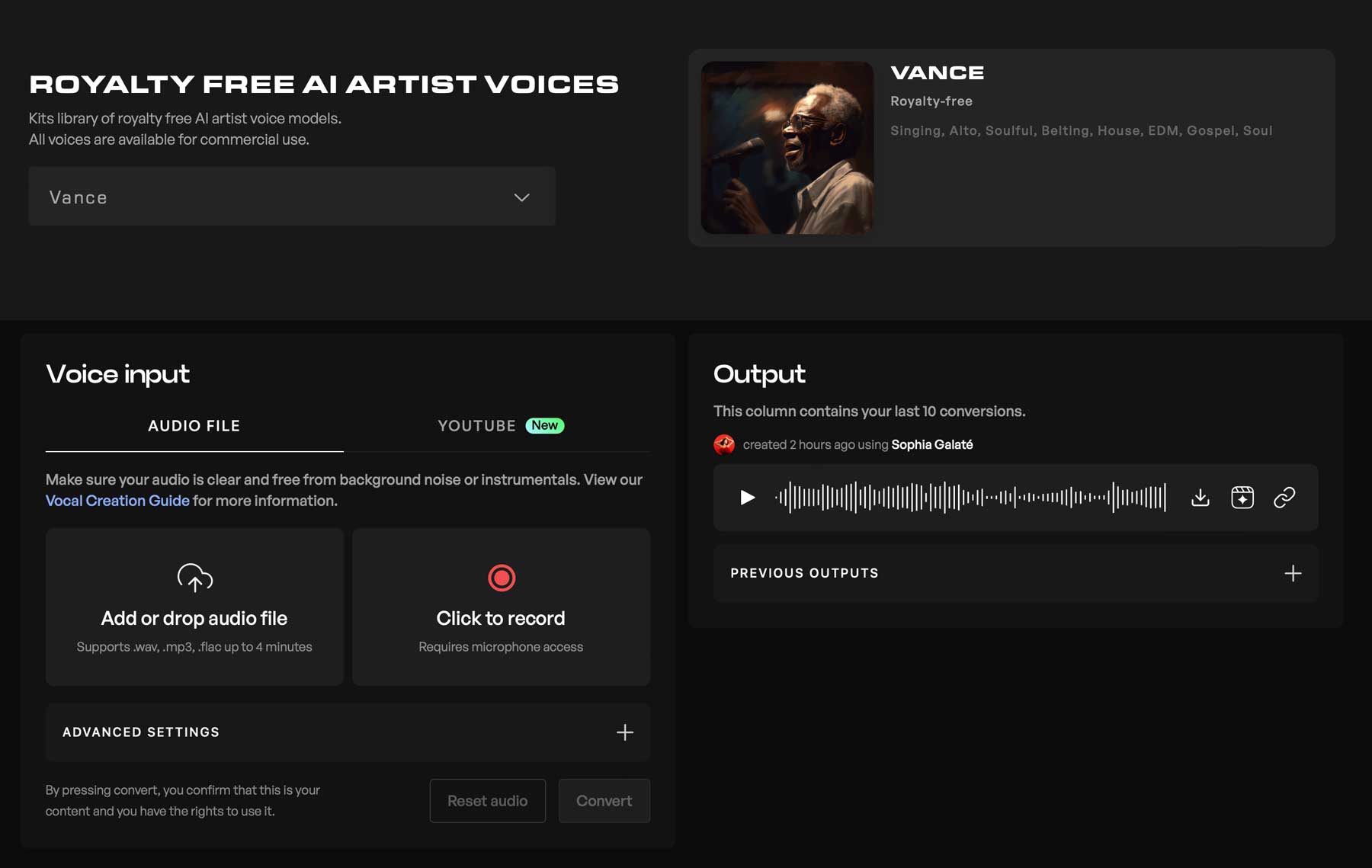 AI Instrument Voices
Not only can you create an AI voice from a sound clip, but you can create AI instruments, too. This allows you to record different melodies for your tracks and convert them into realistic-sounding instruments. Some options are tenor sax, guitar, drums, cello, and bass guitar.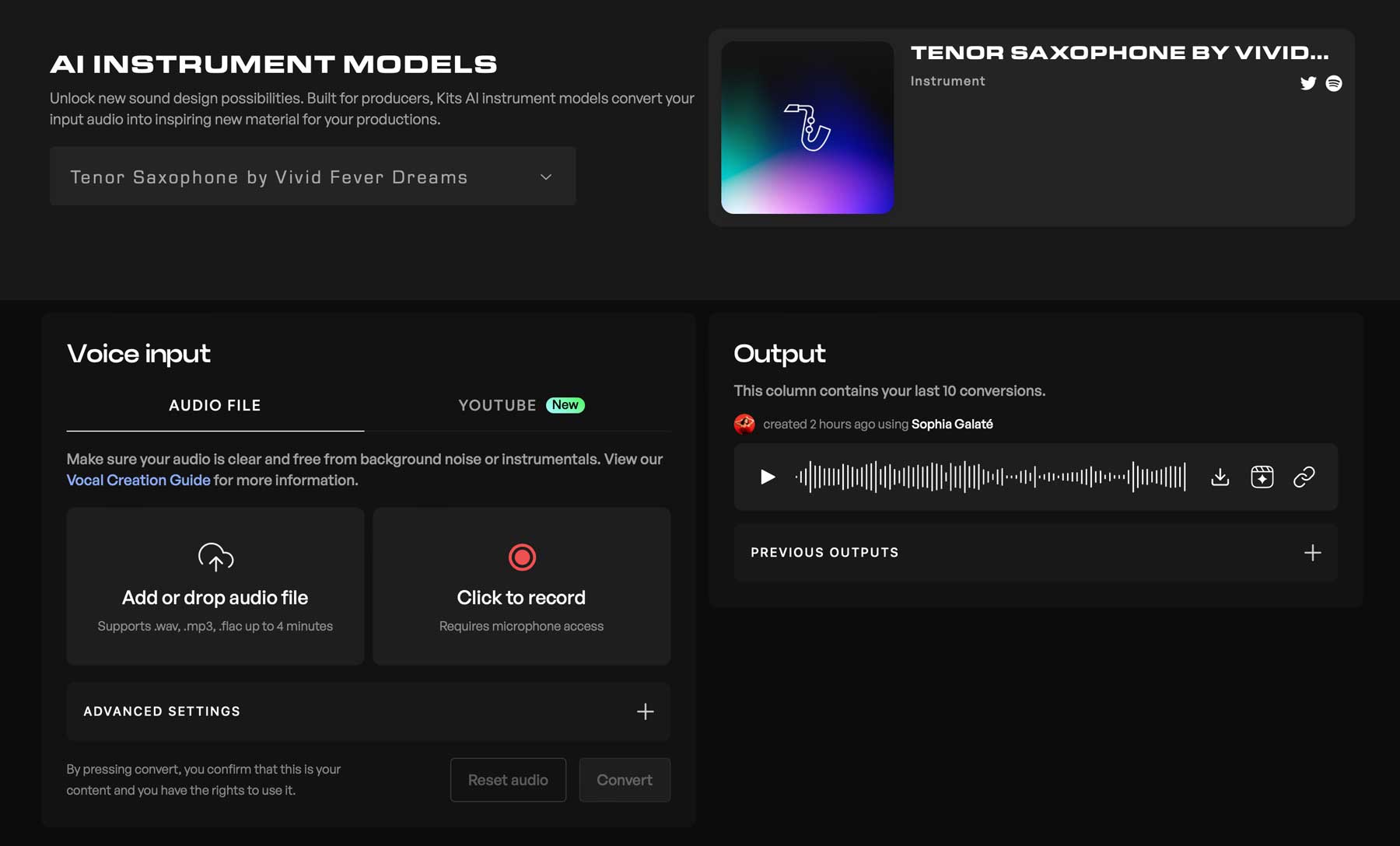 Artist AI Voices
In addition to royalty-free AI voices, Kits.AI has a handful of artist AI voices that allow you to create AI voiceovers for personal use. With that said, you can apply for a commercial co-release to use them commercially. Users who want to go that route must submit their finished track for artist review.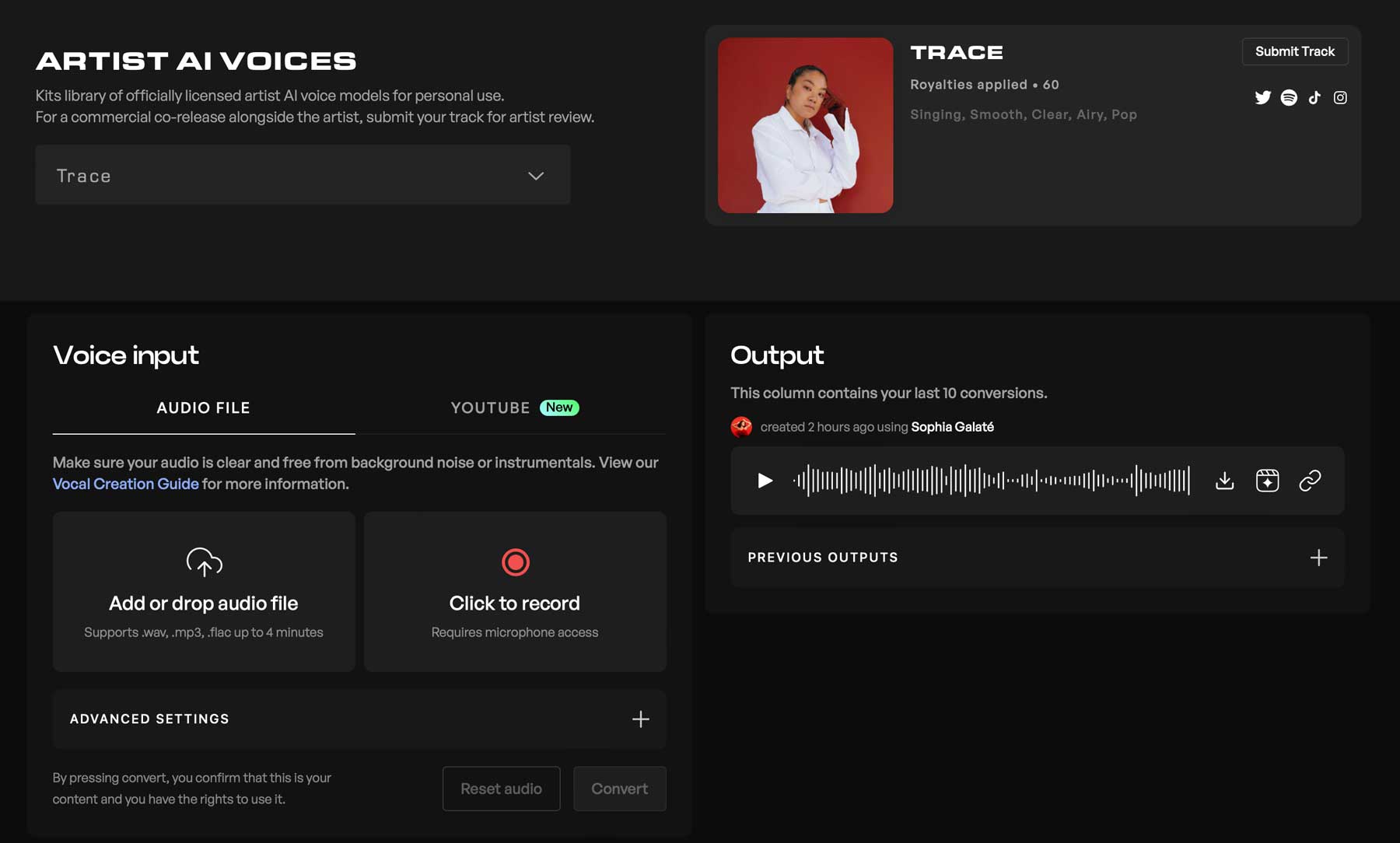 One of the most entertaining aspects of Kits.AI is its library of community voices. These come in various languages and include everything from quirky to professional-sounding voices. There are even a few celebrity AI voices, such as Taylor Swift, Lana Del Rey, and The Weeknd. Community voices are strictly for personal use and are unavailable for commercial release.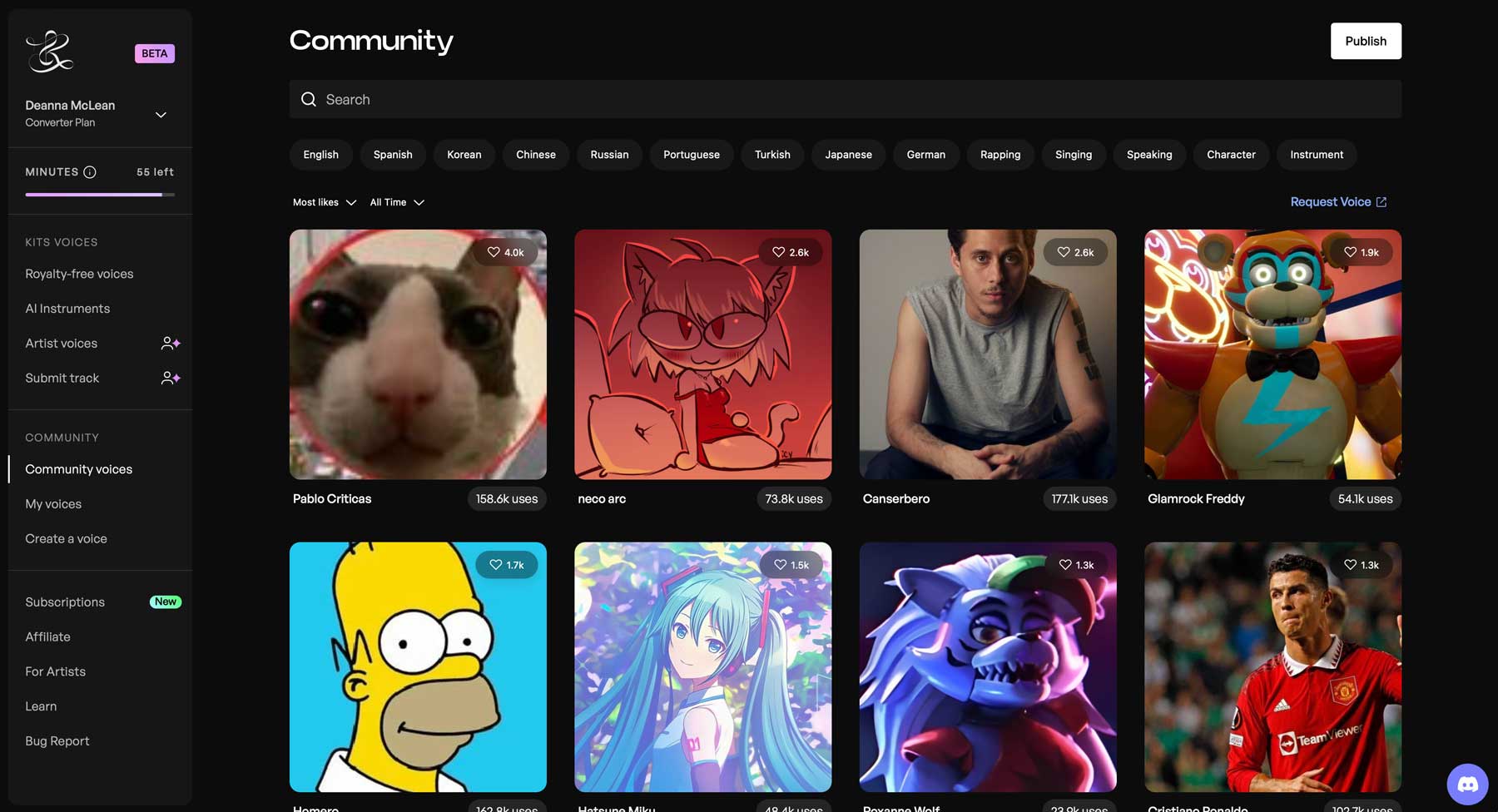 My Voices
Under the My Voices tab, you can view your trained, uploaded, and saved voices in Kits.AI. As previously mentioned, free plans come with two starter slots that allow for 10 minutes worth of training. Premium slots range from 60 minutes to unlimited, depending on your chosen plan.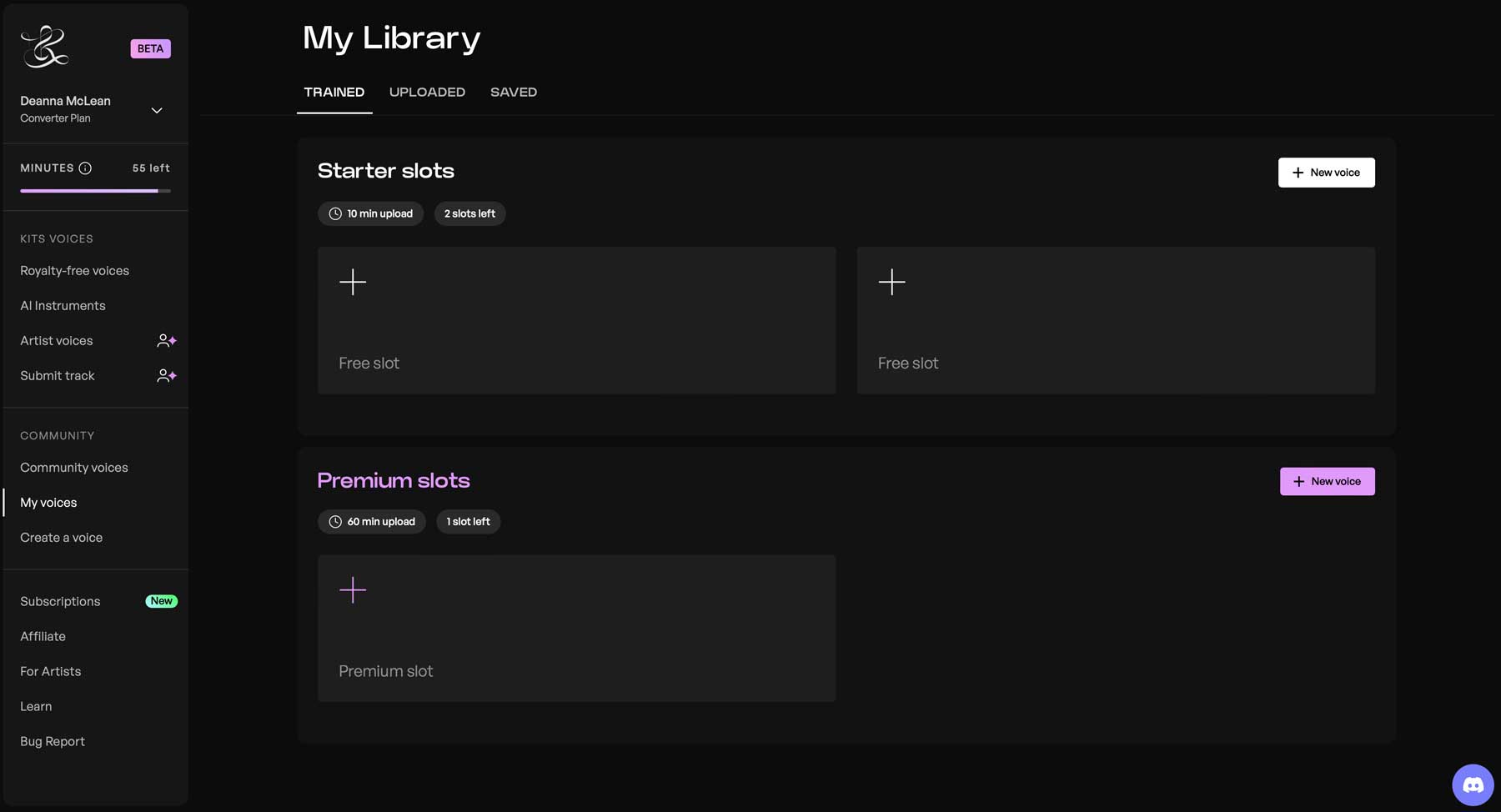 Create a Voice
If you are looking for a way to train your voice to become a vocal powerhouse, Kits.AI has a straightforward way to achieve it. Record your voice, then allow Kits.AI to apply its magical settings to streamline the creative process. Kits adjusts pitch, optimizes your voice samples, and makes other auditory adjustments to make your model sound realistic. You can add up to 500 MB of training data in up to 60 minutes of audio. The processing time varies depending on the size of the dataset. Smaller samples may only take 30 minutes, whereas a larger dataset can take up to hours to complete.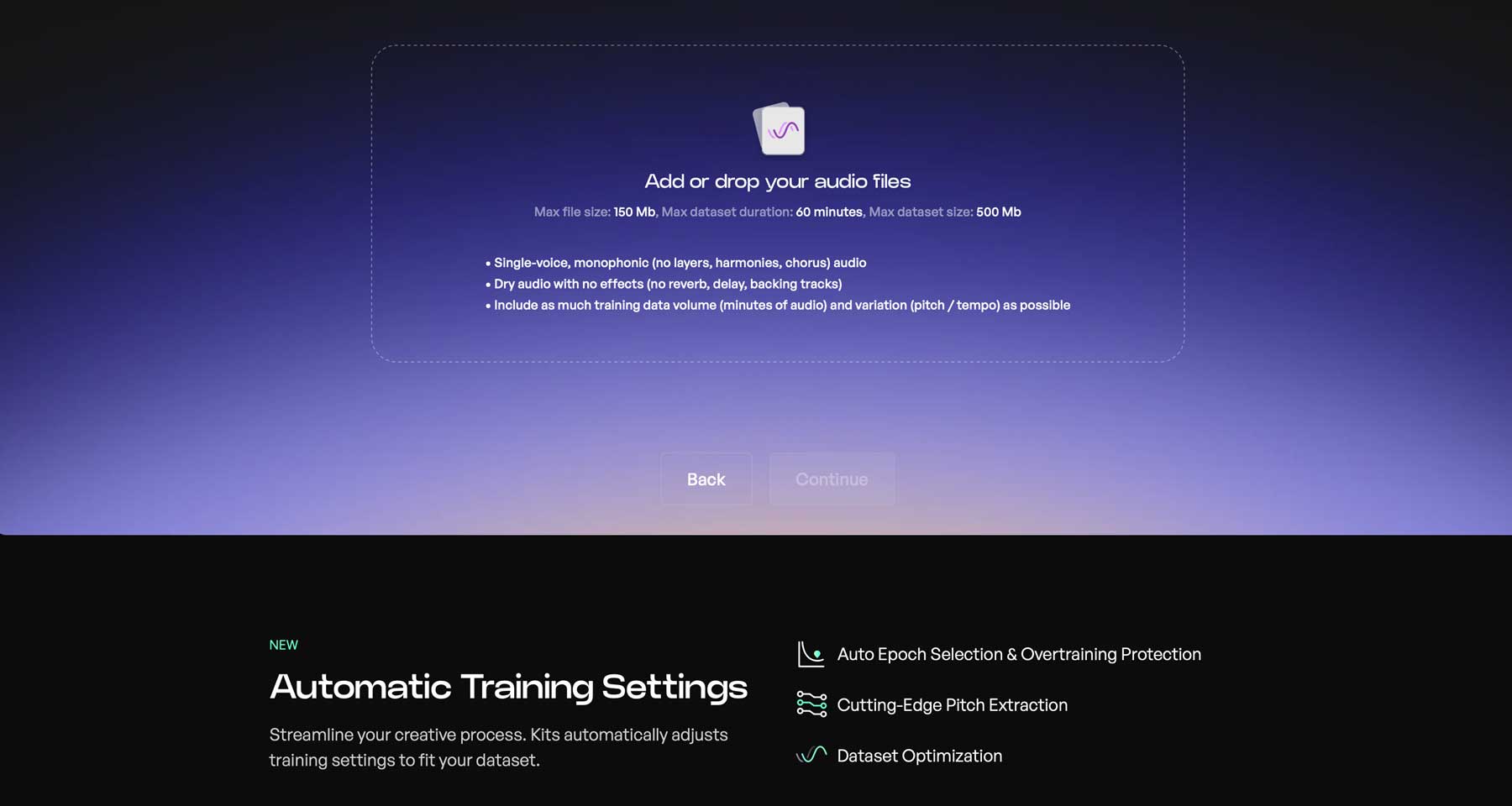 How to Create An AI Singing Voice with Kits.AI
In this tutorial, we will walk you through the steps to generate an AI singing voice, use one of many community voices, and convert a YouTube video to an AI cover.
Recording Your Voice
Using your voice to create a singing voice with Kits.AI is a breeze. For this tutorial, we'll use the royalty-free artist voices. These allow you to create a song for personal or commercial use. Begin by navigating to the Royalty-free voices tab in the Kits.AI dashboard.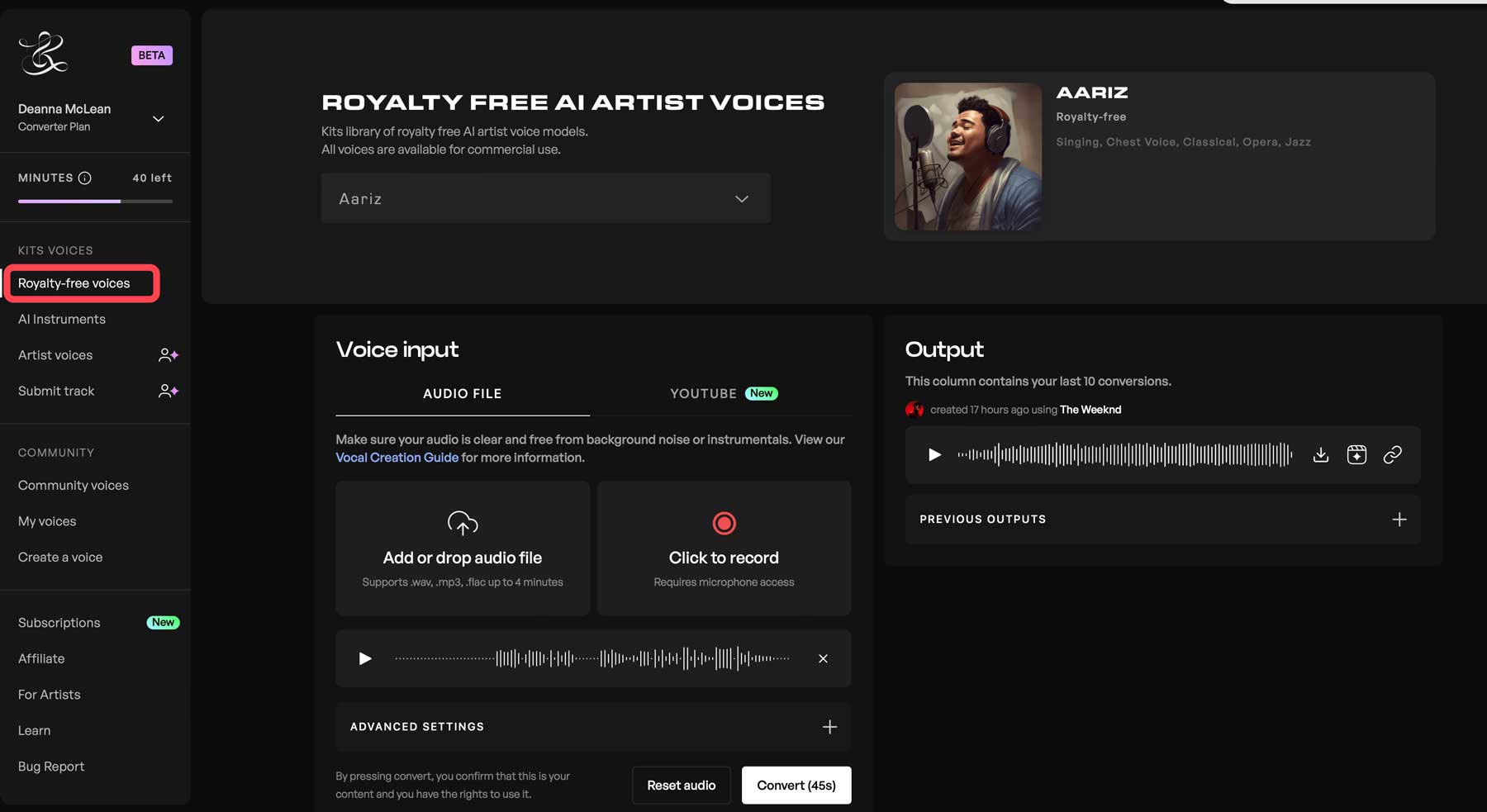 Next, you'll need to decide which method you'd like to use for voice input. Kits.AI allows you to upload an audio file in WAV, Flac, or mp3 format. The other way is to record a voice sample using the built-in record feature. We'll take the easy route for this tutorial and record using the software. Ensure your work area is free of outside noise and has a microphone. We'll use the built-in microphone on a MacBook Pro.
To begin recording, click the click to record button.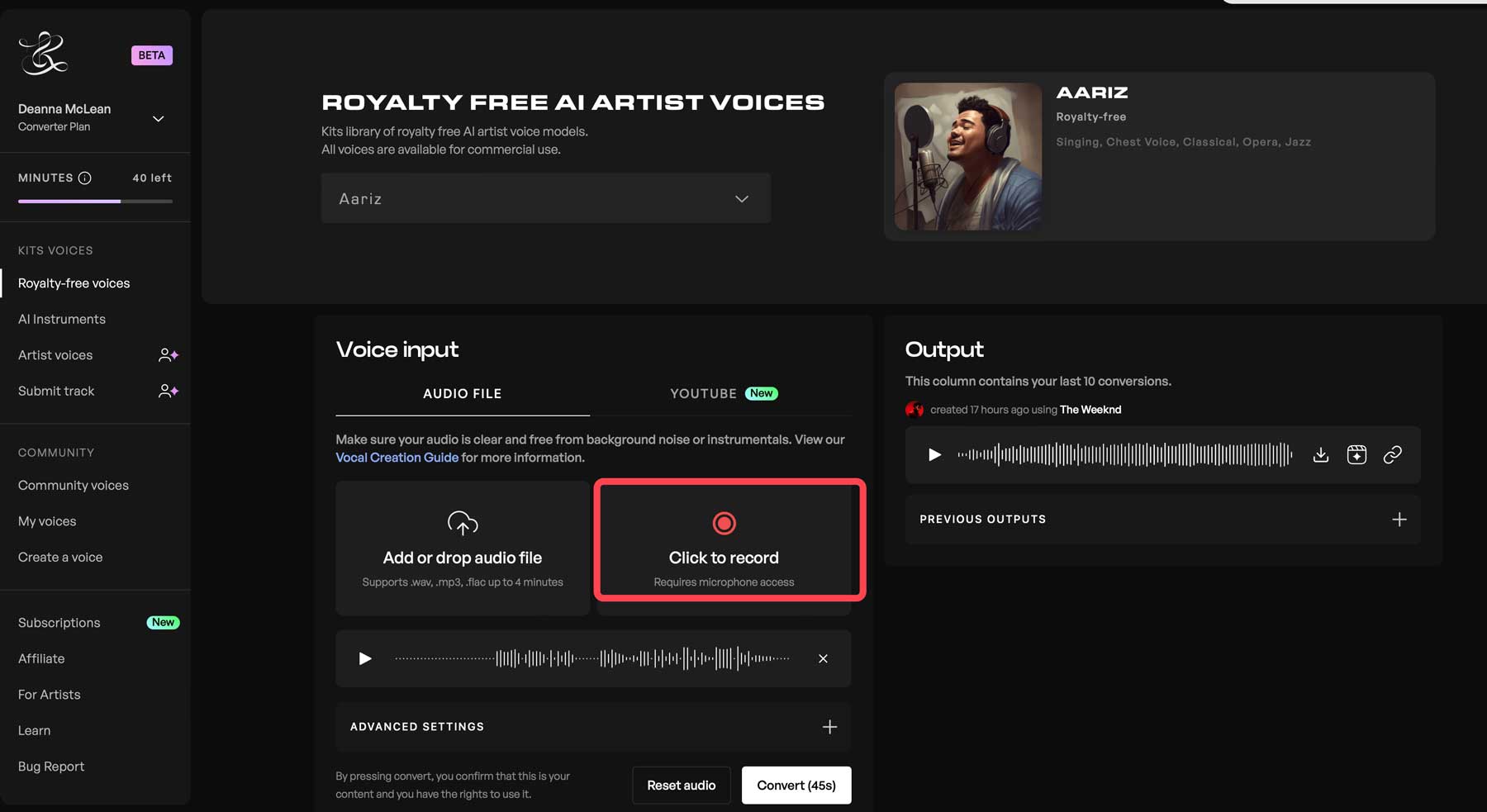 Make sure to sing clearly and do your best to eliminate outside noise. Once you've completed recording, click the stop recording button.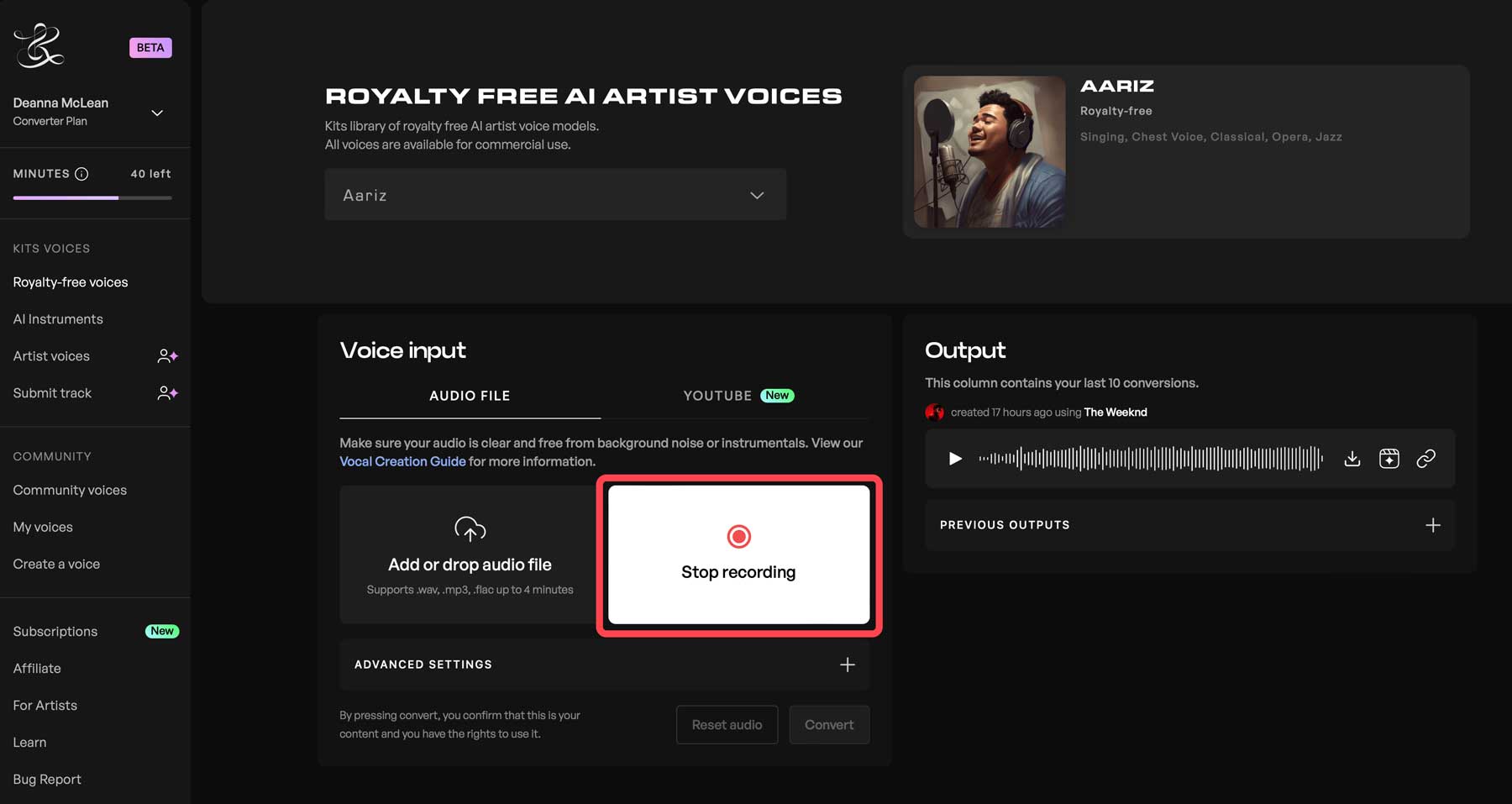 You can preview your recording (1) to ensure it meets your standards. Alternatively, if you want to re-record your voice, you can easily delete it (2) and start the process again.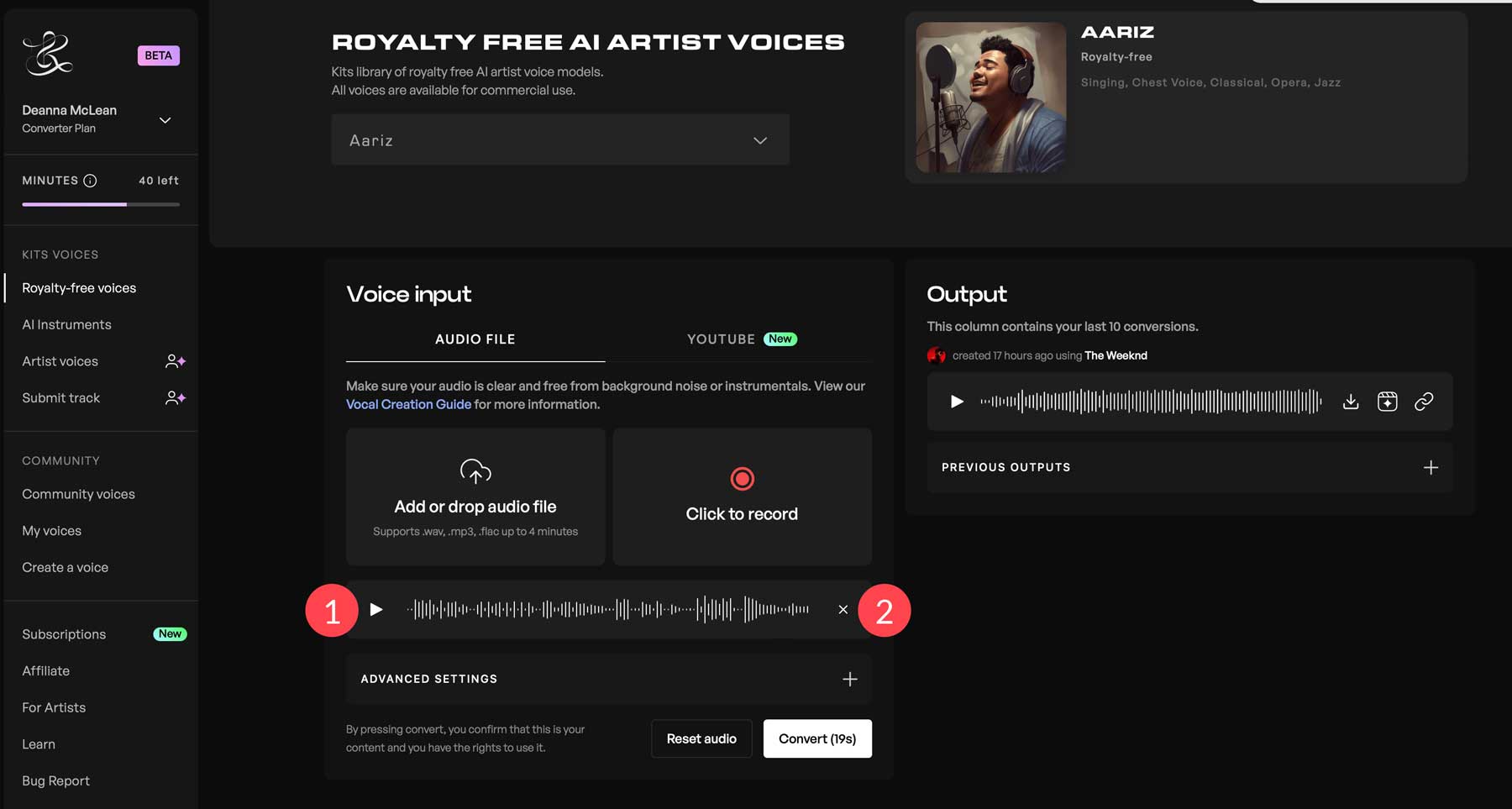 Here's the clip we recorded. Don't judge us too harshly…
Applying a Royalty-Free AI Voice
The next step in the process is to choose an AI singing voice. As previously mentioned, the free version of Kits.AI comes with nine unique voices, each with its own characteristics. You can review their singing styles and preview a sample by hovering over the dropdown menu.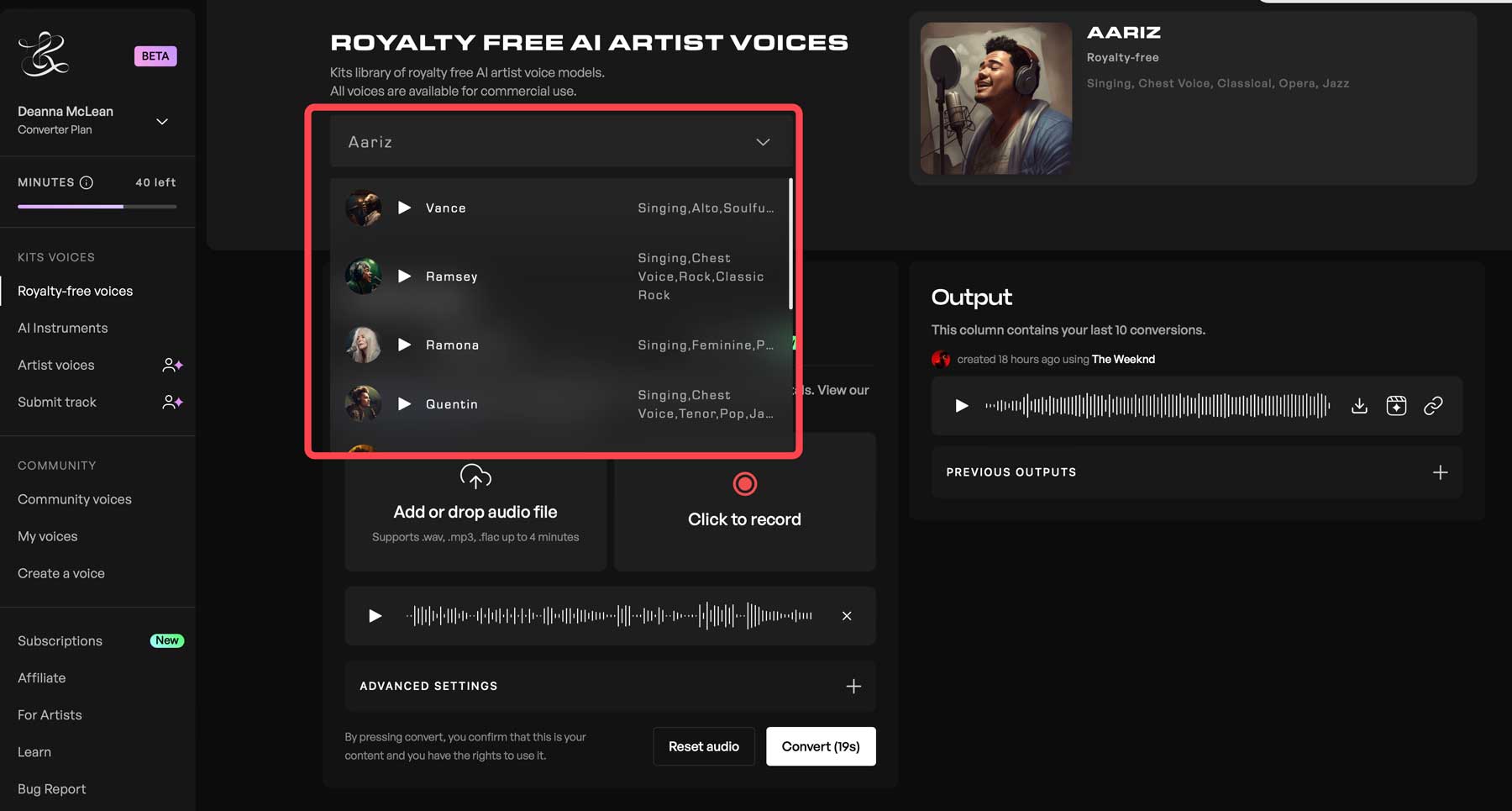 After selecting, click the + Advanced Settings button. These allow you to control the pitch shift, conversion strength, model volume, and various pre-processing effects. By default, Kits.AI reduces noise, applies both a high pass filter (HPF) and low pass filter (LPF), and compresses your clip.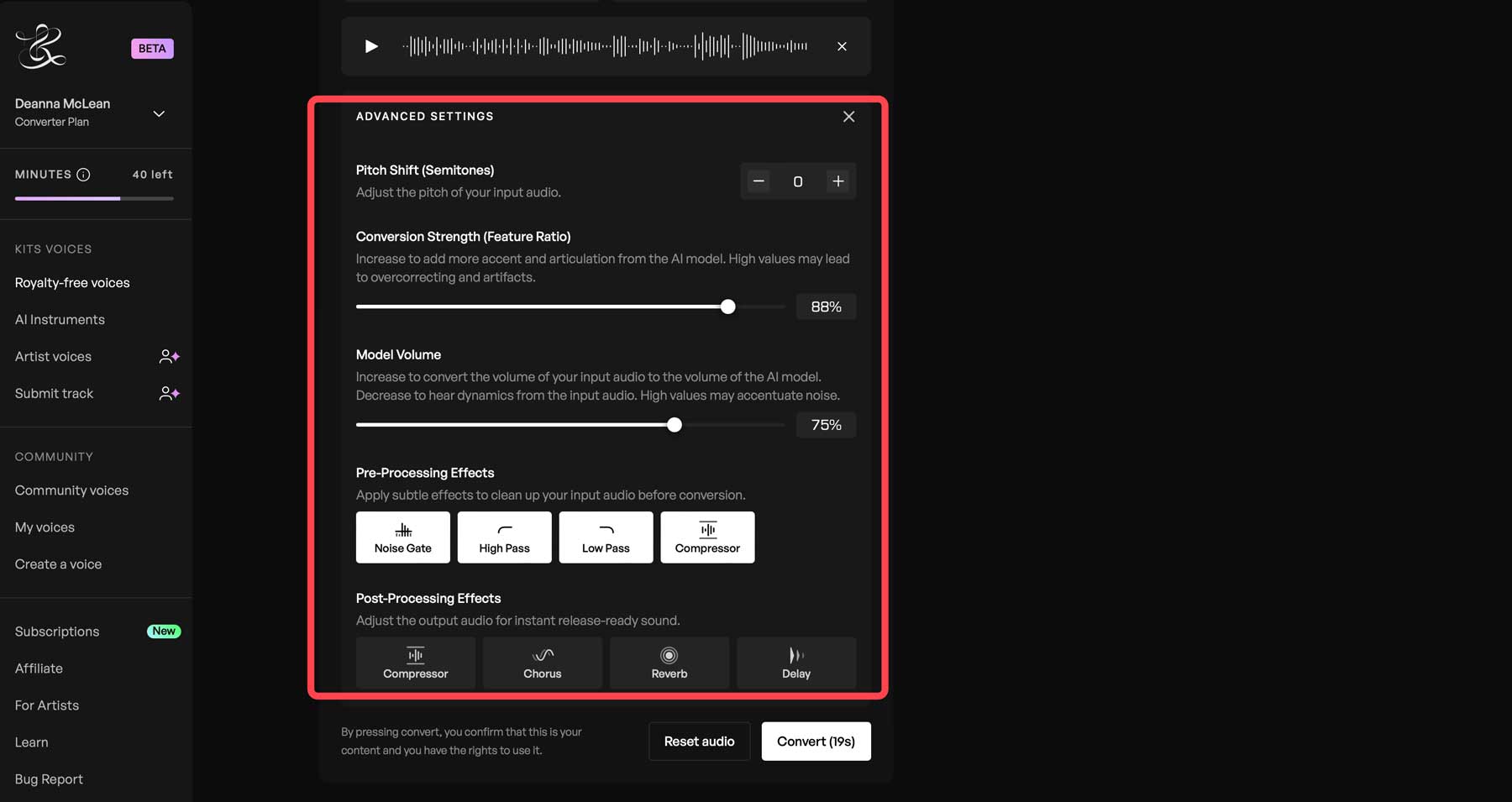 Upon making your selections, click the convert button to launch the AI voice generator.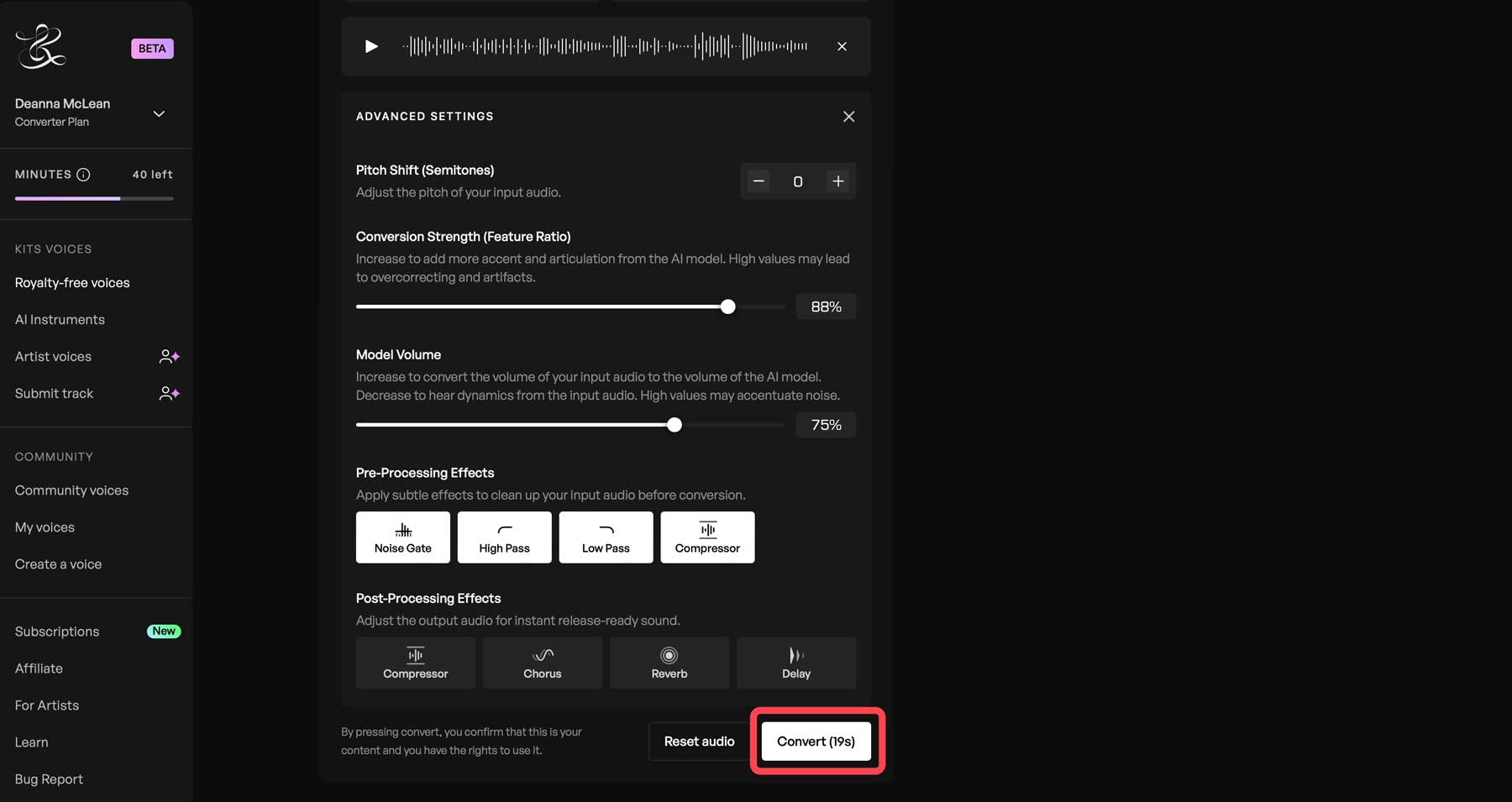 Kits.AI will get to work on your conversion. Depending on the length of your clip, the process will take up to a few minutes to complete.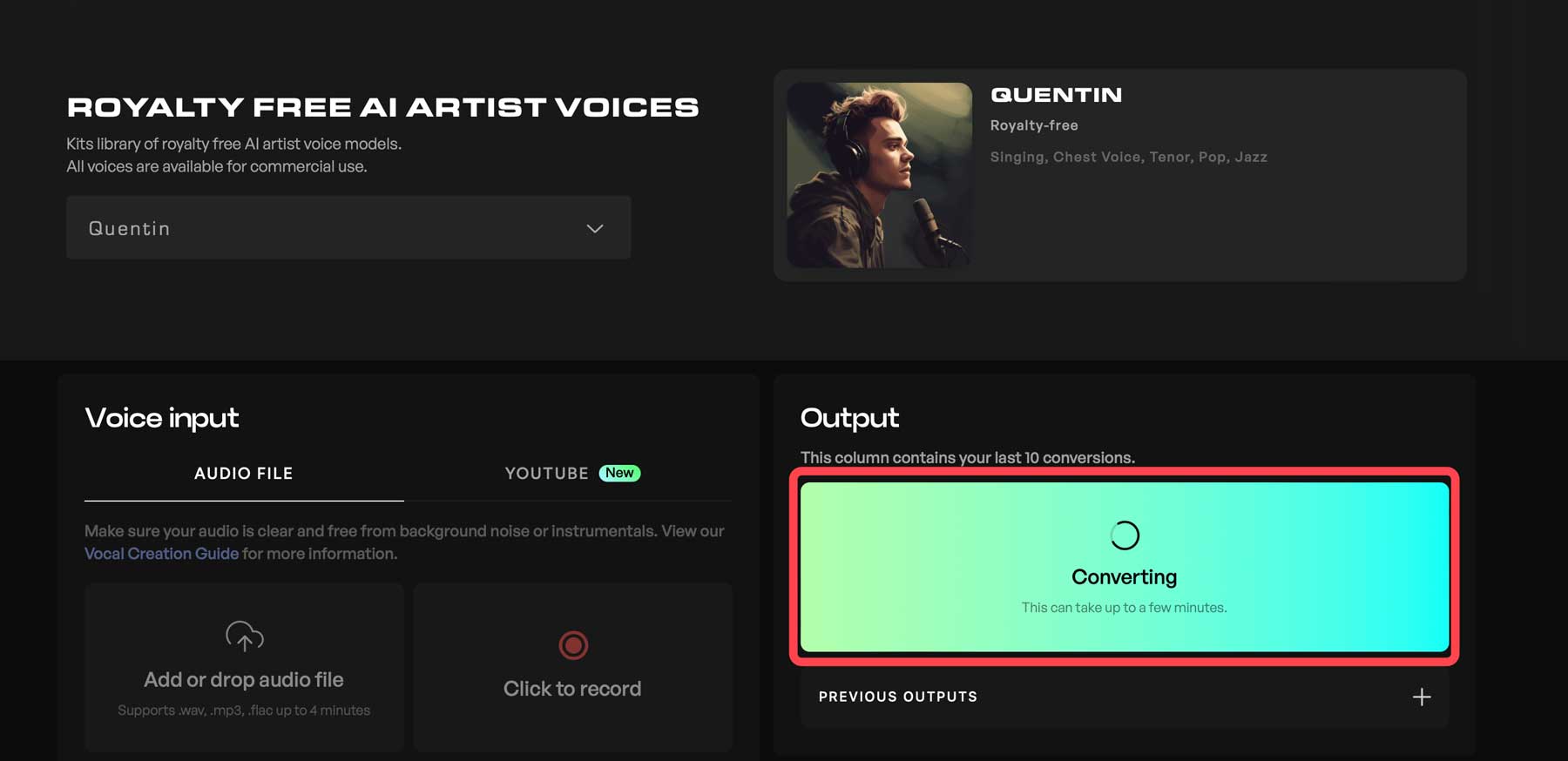 You may need to adjust the post-processing filters for the best result. Take time to try out different voices and effects to get the sound you're looking for. In the end, you'll end up with a good result. Well, based on your original sound, at least. In our case, we used Quentin, enabled all pre-processing filters, and enabled the chorus and reverb post-processing filters to give it more of a richer, professional sound. There are still a couple of pitch issues, but that isn't the software's fault…
Another feature of Kits.AI is the ability to play around with AI voices created by other Kits.AI users. These voices are only available for personal use, so keep that in mind. There are plenty to choose from, with different languages and styles supported. For example, you can use the voice model for The Weeknd, Eminem, Taylor Swift, and Lana Del Rey, to name a few.
To use a shared (community) voice, click on the Community Voices tab (1). You can search for a voice (2) or filter by language (3).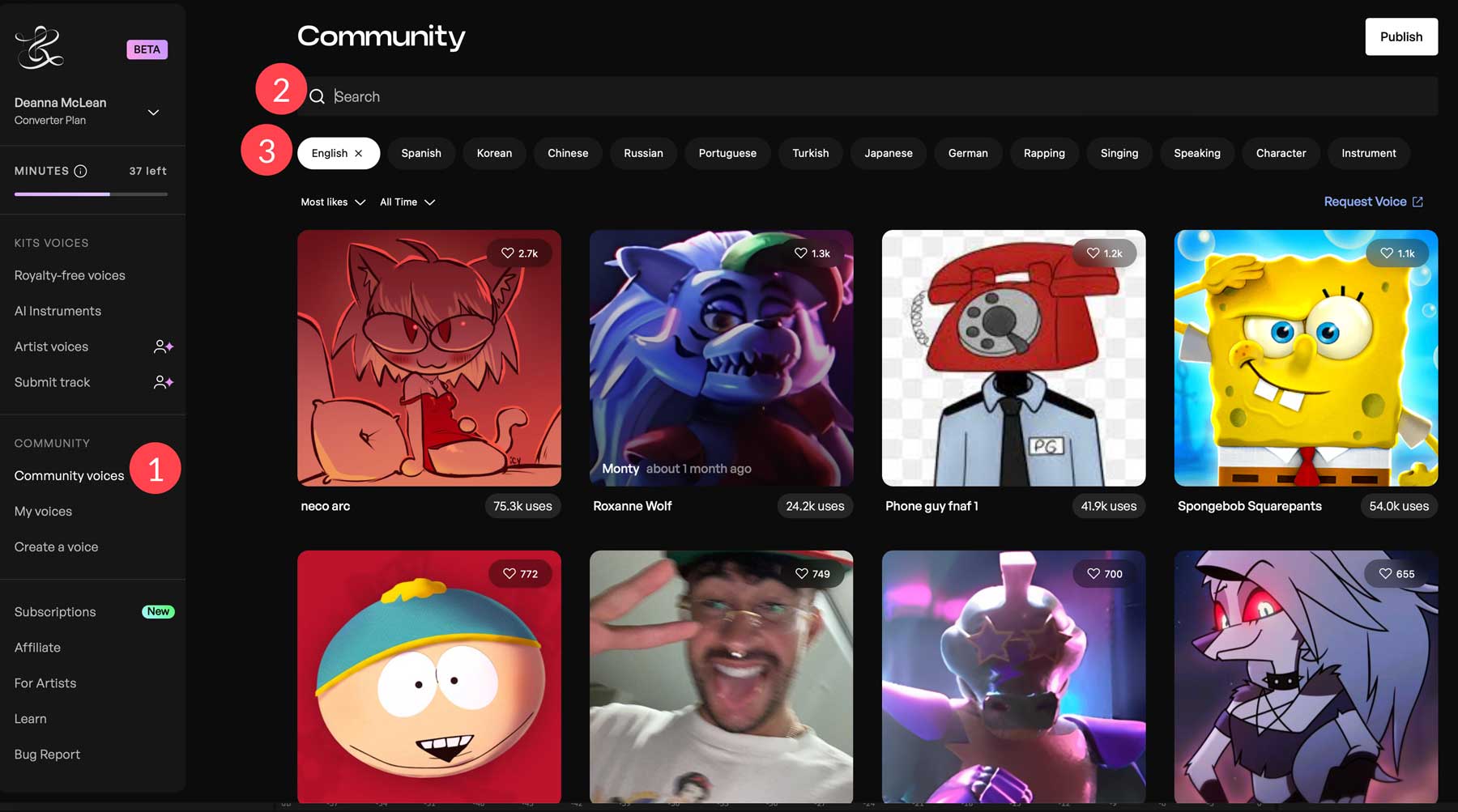 When you find the one you'd like to use, click on it to load the conversion interface.

When the page reloads, you can record or upload an audio clip, adjust pitch, select pre or post-processing filters, and then generate your audio.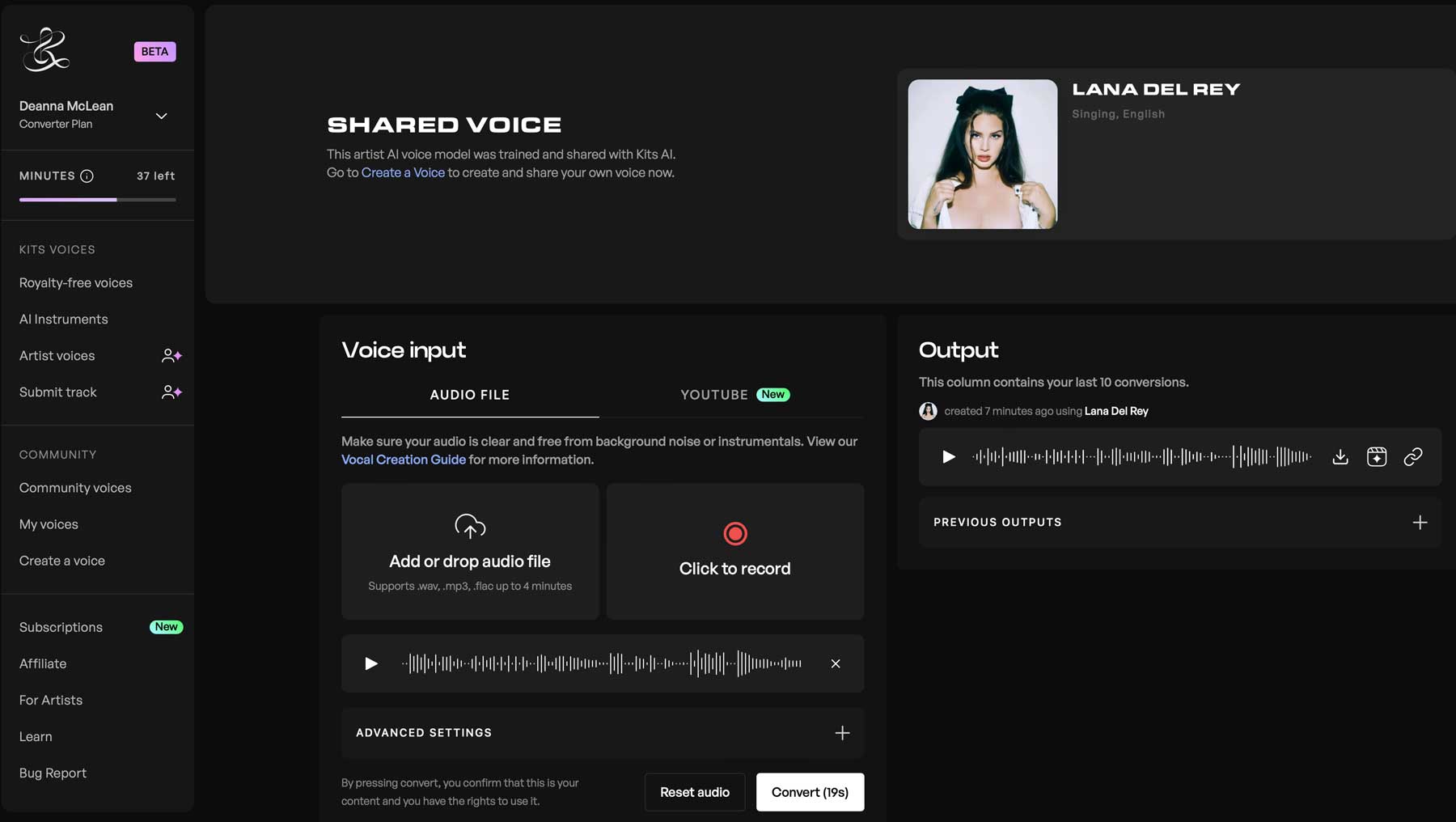 Here are the results:
Converting a YouTube Video into an AI Cover
Another really cool feature of Kits.AI is the ability to create AI covers from YouTube videos. With a paid plan, you can convert up to a six-minute YouTube video into an AI cover with vocals and background music. The process takes a few minutes, but the results are great overall. There are some artifacts depending on the AI voice model you choose, but you can use the different advanced features to make changes as necessary.
The process is simple. Begin by clicking the YouTube tab.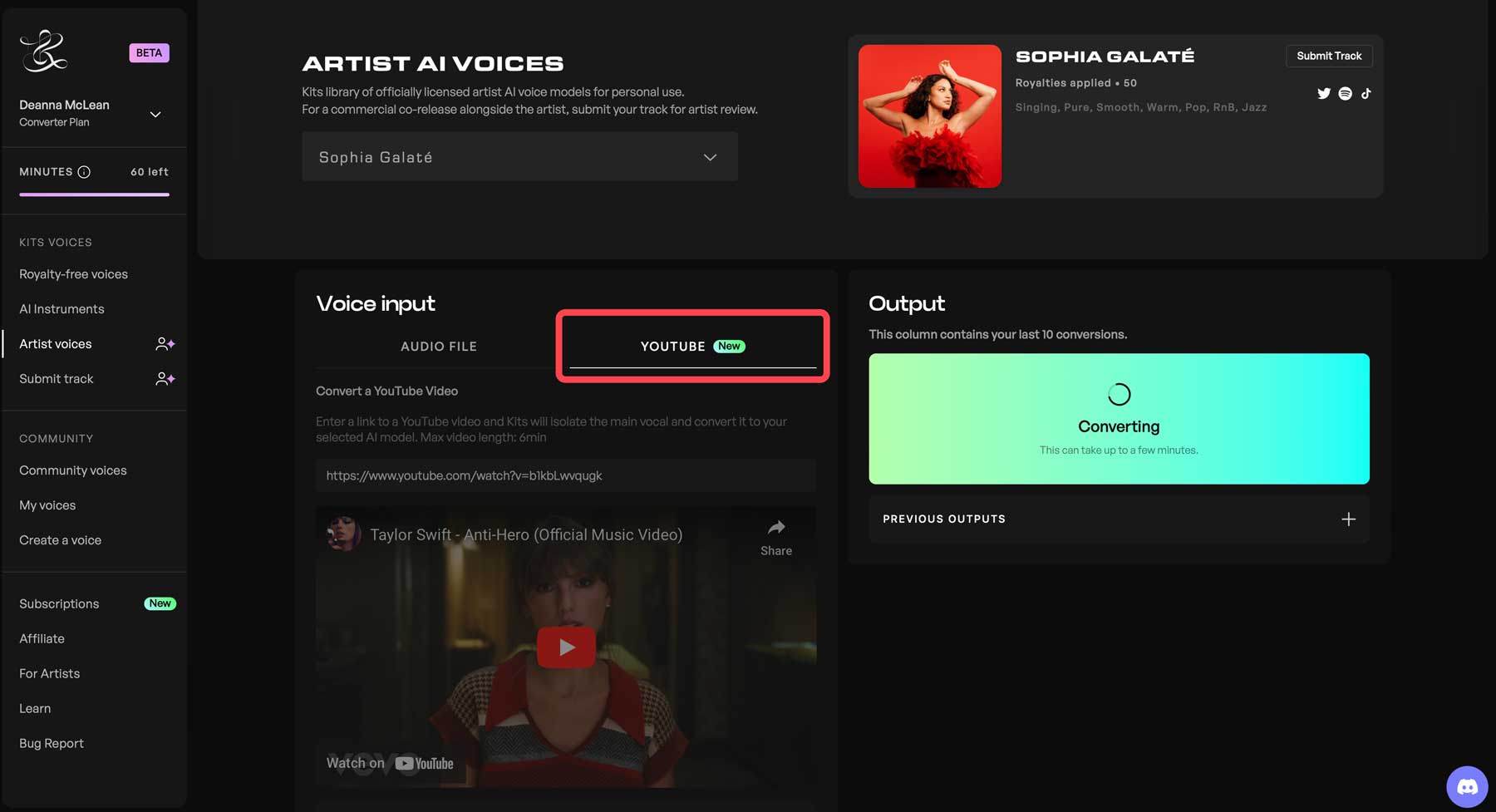 Next, paste the link from the video you'd like to use into the text field.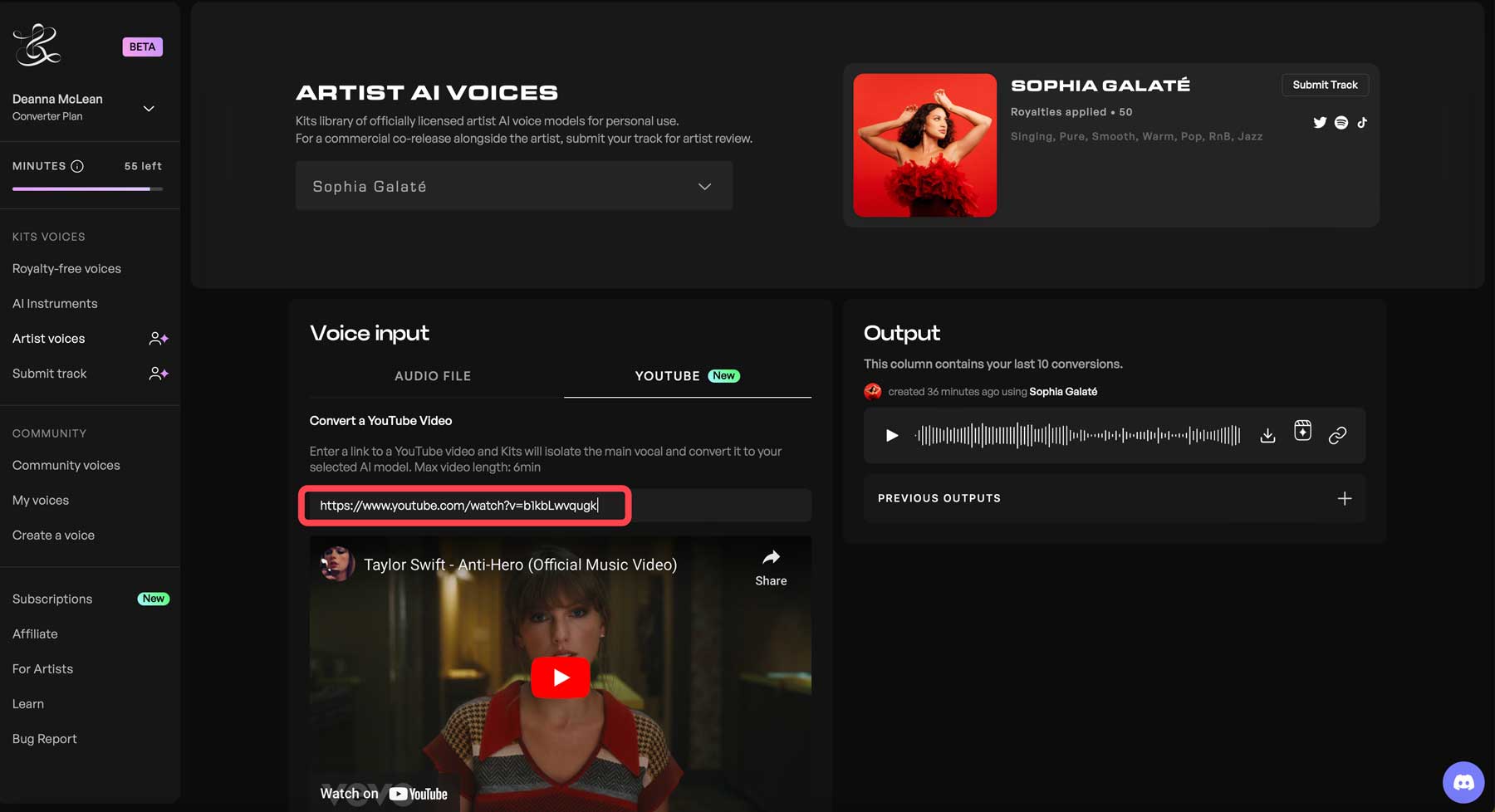 Then, choose an AI voice to use for your conversion. For the best results, select a voice that somewhat matches the pitch and tone of the original artist. For this example, we'll choose Sophia Galaté for our cover of Taylor Swift's Anti-Hero.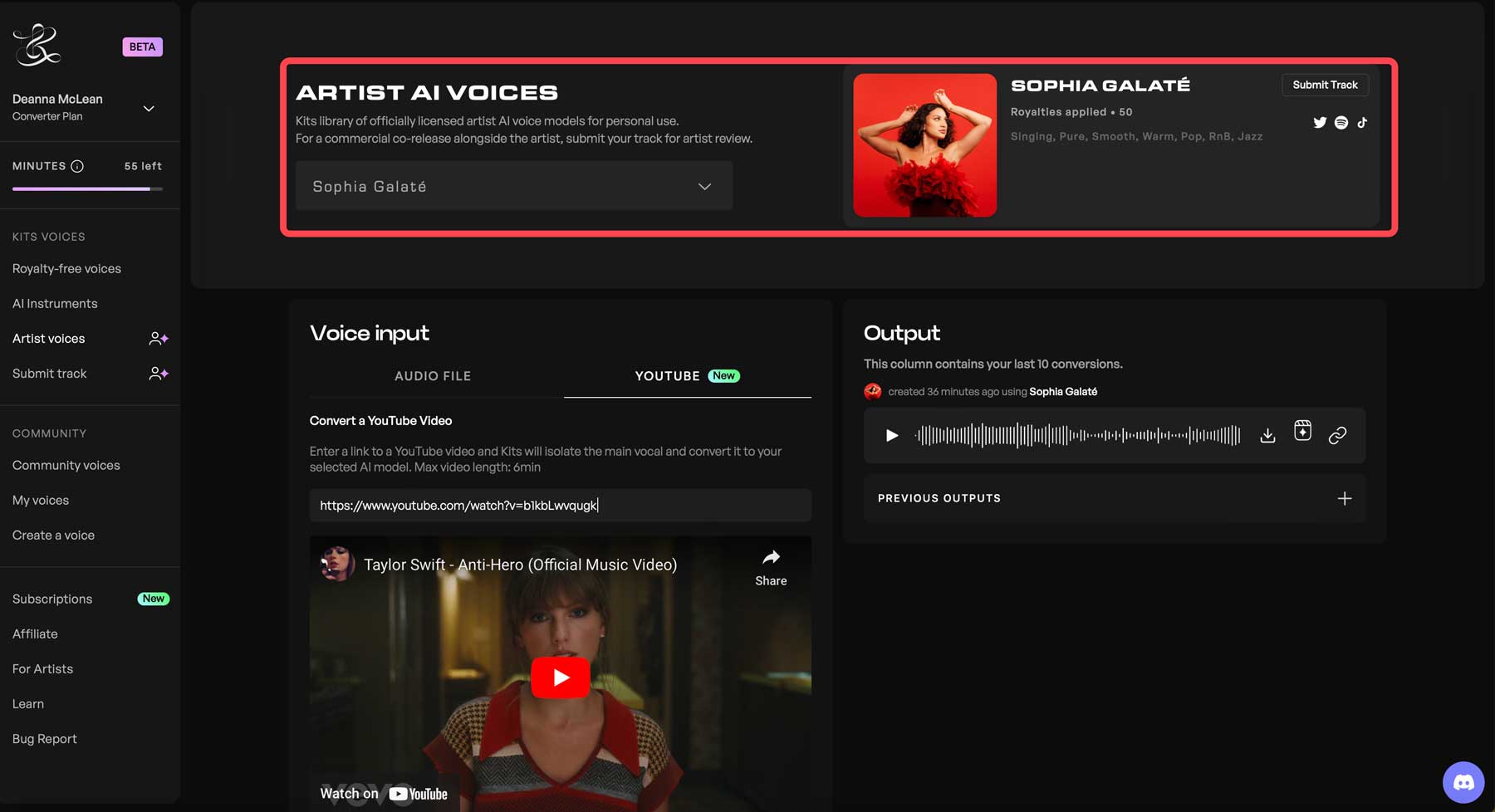 Under the advanced settings, you can adjust the pitch and model volume or add pre or post-processing effects to your cover. Once selected, click the Convert button.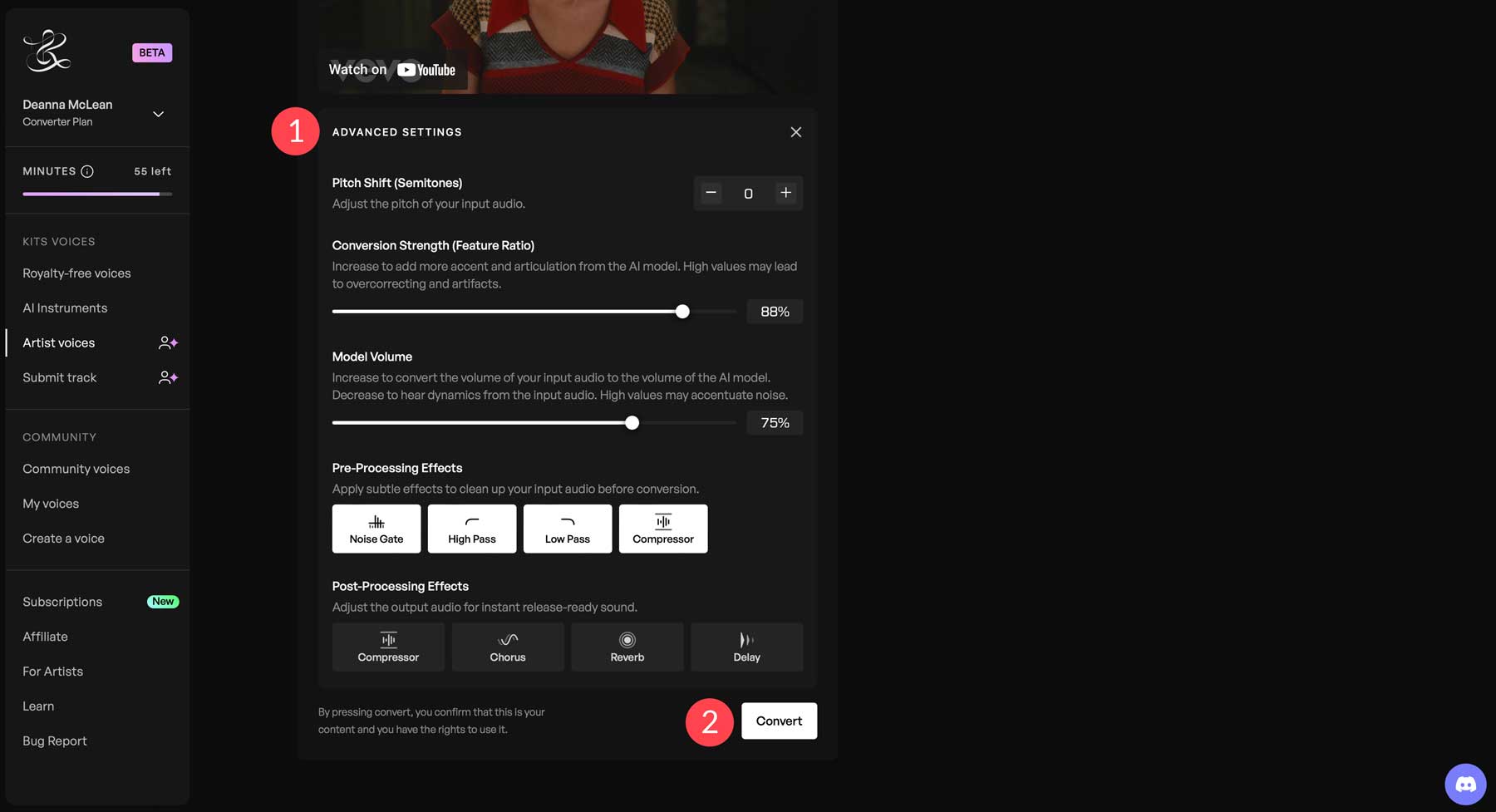 Kits.AI will start working on your AI voice conversion. Creating an AI cover will take a few minutes due to the length of the YouTube video. When the transformation is complete, you'll be impressed with the results. To preview your file, click the play button (1). If you're satisfied with the results, you can download an mp3 (2), generate a video with your song (3), or share a link (4).

If you choose to generate a video, you can add a title, upload a background image, and choose from a horizontal (4:3) or vertical (9:16) aspect ratio.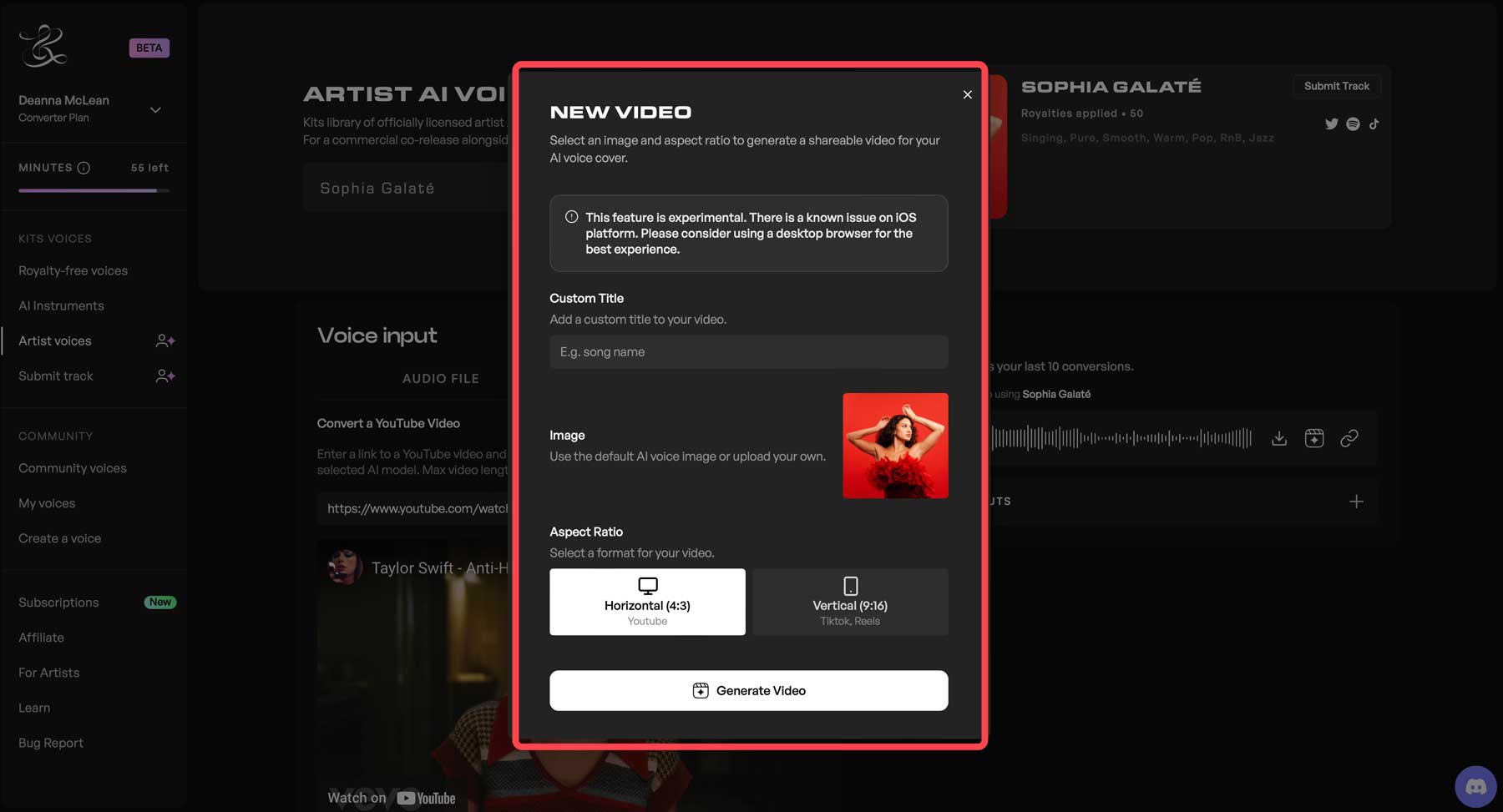 Here's a short clip of the AI cover we created to show you how good the results are.
Best Practices for Making an AI Singing Voice
Now that you have a general understanding of how to use Kits.AI to generate an AI singing voice, there are a few tips and best practices to follow:
Use a quality microphone: For the best results, record audio using a professional microphone. While the built-in feature works fine, it's likely to pick up sounds from within the room, leaving artifacts in your recording.
Use Auto-Tuning software: Before uploading your clip, try using software such as Adobe Audition to clean up your clip. There are some pretty good features in Audition to correct pitch problems, reduce noise, and compress your clip to achieve better results with AI.
Keep input audio clean: Before uploading an audio clip, keep it as clean as possible. For example, don't add any reverb or delay with another audio program beforehand.
Match singing styles: For the best results, try to match your singing style with the AI voice you plan to use. Different styles can generate undesirable results.
Experiment with filters: To get the most realistic output, take the time to experiment with different pre and post-processing filters to determine what sounds best.
Final Thoughts on Making an AI Singing Voice
With the emergence of artificial intelligence, tools like Kits.AI are changing how people make music. Aspiring artists can now generate realistic AI singing voices with good tone and pitch, regardless of their skill level. Kits.AI is a user-friendly platform that lets you use your voice and turn it into royalty-free or shared AI voices. As AI continues to evolve, the boundaries of what it can do are expanding, making it an exciting time for artists, music producers, and novice creators alike.
Looking to learn more about artificial intelligence? Check out some of our most recent articles on harnessing the power of AI:
Featured Image via ProStockStudio / shutterstock.com
Keep reading the article at Elegant Themes Blog. The article was originally written by Deanna McLean on 2023-10-06 08:00:00.

The article was hand-picked and curated for you by the Editorial Team of WP Archives.