Divi is an excellent theme for blogging. You can create your own blog and post layouts to create a unique design to make your blog stand out. Of course, there are lots of blog layouts to get you started. In this article, we'll look at 12 awesome Divi blog layouts to help with your next Divi design.
Since blog layouts can focus on either the blog page, individual posts, archive pages, or all of the above, I've divided the layouts into sections to help you find what you're looking for. The layouts are in no particular order within their sections.
Blog Layout Packs (theme builder)
These layouts include everything you'd use in the Theme Builder to create blog pages, category pages, archive and search pages, and individual blog posts.
1. Divi Blog Kit
Divi Blog Kit includes 6 layouts for your blog posts, blog page, category archives, and search results pages. The blog page includes layouts for 1, 2, and 3 column blog modules. The blog page has 2 columns with a sidebar. The layouts have an off-white background and red titles, read more button, and meta text. The sidebar includes a beige background to stand out. Categories in the sidebar are created with black buttons. The sidebar displays recent posts with thumbnails and a newsletter form. The layouts also include a full-width image with the title for each page.
Price: $25 | More Information
2. Blog Template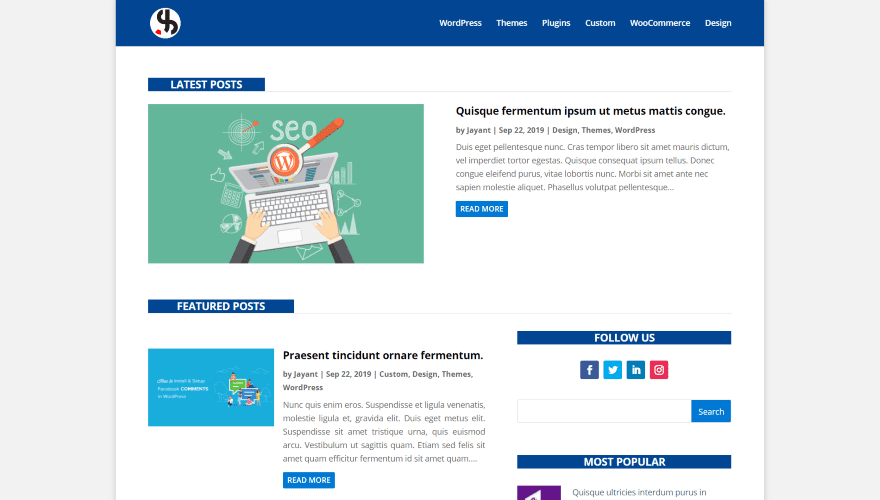 Blog Template comes with three layouts to build the blog page, category pages, and the individual post page. It also comes with a contact page. The blog layouts include a styled sidebar and a custom footer. The design has blue highlights throughout for the section titles in the layout and the sidebar. The blog page displays the latest post at the top, the featured posts with the sidebar, articles that you might also like (which includes four articles with thumbnails), and then the footer.
Price: $29 | More Information
Blog Page Layouts
These are layouts for the blog pages themselves. They include headers, footers, sidebars, blog sections, and more.
3. Travel Lifestyle Blog Kit Bundle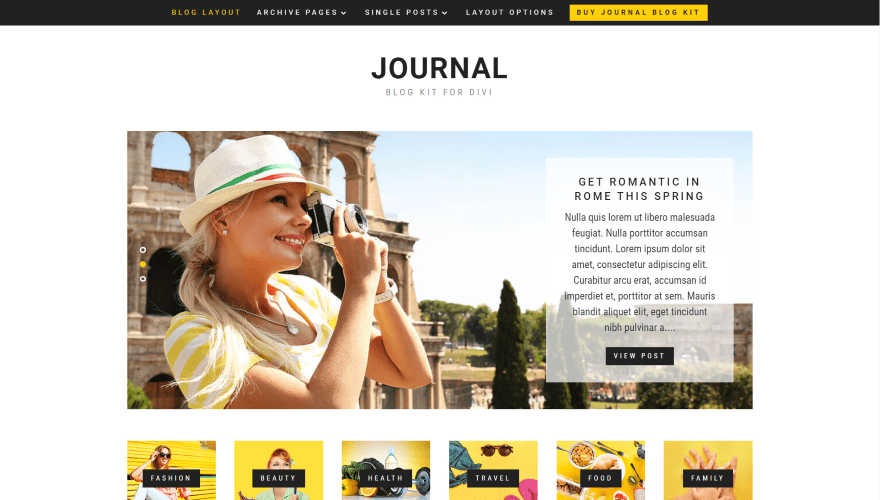 […]
This article was written by Randy A. Brown and originally published on Elegant Themes Blog.