Features in Google Search Console
Why everyone with a website should use Google Search Console
Google Search Console has been created to easily track the performance of your website. You can get valuable insights out of your Google Search Console account which means that you can see what part of your website needs work. This can be a technical part of your website, such as an increasing number of crawl errors that need to be fixed. This can also be giving a specific keyword more attention because the rankings or impressions are decreasing.
Besides seeing this kind of data, you'll get mail notifications when new errors are noticed by Google Search Console. Because of these notifications, you're quickly aware of issues you need to fix.
Setting up an account
To start using Google Search Console, you'll need to create an account. Within the new Google Search Console, you can click on 'add a new property' in the top bar:
Clicking on the 'Add a property' button, you can insert the website you want to add. If you choose the new Domain option, you only need to add the domain name — so without www or subdomains. This option tracks everything connected to that domain. With the 'old' URL prefix option you have to add the right URL, so with 'https' if you have an https website and with or without 'www'. For collecting the right data, it's important to add the right version: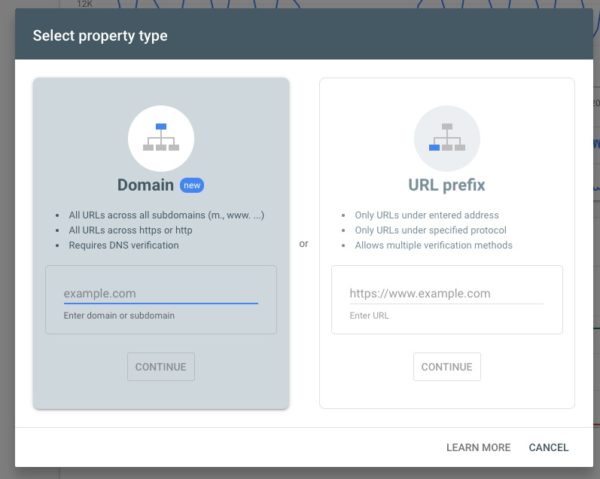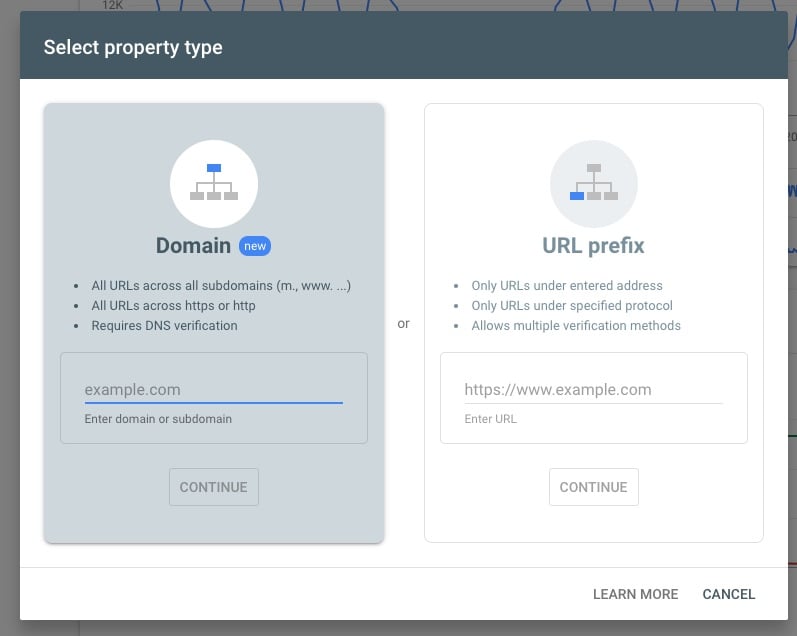 When you've added a website, you need to verify that you're the owner. There are several options to verify your ownership. The Domain option only works with DNS verification, while the URL prefix supports different methods. You can find out more about the differences in Google's documentation: adding a new property and verifying your site ownership.
For WordPress users who use Yoast SEO, get the verification code via the 'HTML tag' method: