We all know that for understanding why a site is performing in a certain way, we need to have insight into its user activity. To do so, most people use Google Analytics, but what most might not know is that there is another tool which, when used in combination with Google Analytics, takes the process of gaining insight on user activity to the next level.
That tool is the Google Tag Manager, which besides Google Analytics, can be used with other Google or third-party tags, and even custom tags.
Adding tags can often be a complicated process that requires coding knowledge and easily goes wrong due to human error. Google Tag Manager through its user-friendly interface and ease of use simplifies the process of not just adding, but also debugging and managing tags on your website (or different types of apps like iOS, Android, AMP), making it basically a codeless process that you can do on your own without requiring the assistance of a web developer.
If learning how to start using Google Tag Manager is something that interests you, then keep reading, in this article, we will give a somewhat of a beginner's guide for doing just that.
Creating an account
Like with most online tools, the first step you will have to make is to create an account. Creating a Google Tag Manager account is quite a simple process. First what you need to do is enter a name for your account, this is usually the name of your business, and then a name for the container itself. As you can see in the image below, Google Tag Manager suggests putting your domain as your container name, but you can just put the name of your site. You will also have to choose a type for your container, which can be a website or some kind of application (iOS, Android, AMP). After clicking, create and accept the terms of service, and you should receive an email confirming the creation of your account.
The interface
The first thing Google Tag Manager will present you with is the JavaScript code for the container. The function of this code is to load the Tag Manager container on every page of your site.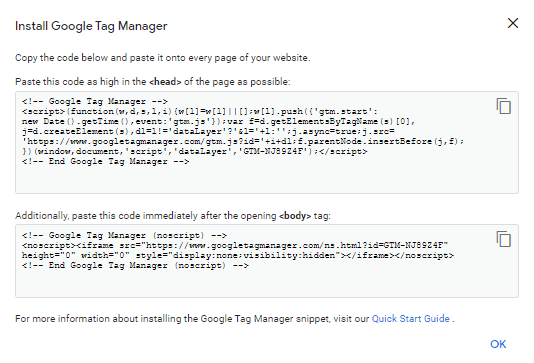 This code can be put onto the site in a few ways, by directly inserting it in the source code, that is if you have permissions to access it, through a plugin that will inject the code automatically, or by giving the code to one of your developers that does have the permissions to access the source code. If your site is a WordPress site, there are plenty of plugins available, which you can find by simply searching "Google Tag Manager" in the plugins section. The majority of those plugins will only require you to provide them with the Google Tag Manager ID, which is this piece of text.
[…]
This article was written by Dzenana Kajtaz and originally published on WP Newsify.