AliExpress is one of the most established eCommerce marketplaces with buyers from all over the globe. The main reason they're this popular is because of their huge catalog of products and really low prices (compared to what you'd have to pay with a retailer in your country). However, just if you happen to be looking for some quality AliExpress alternatives, we've curated a list of the top options for you here.
There are many online retailers similar to AliExpress, but you need to be really careful to work with only the ones that have good reviews and reputation for delivering their orders reliably.
In this roundup, we look at the most popular product categories with each AliExpress alternative, the shipping and payment options available, and their coupon/discount policies.
10 best AliExpress alternatives
Here are the platforms we'll be looking into: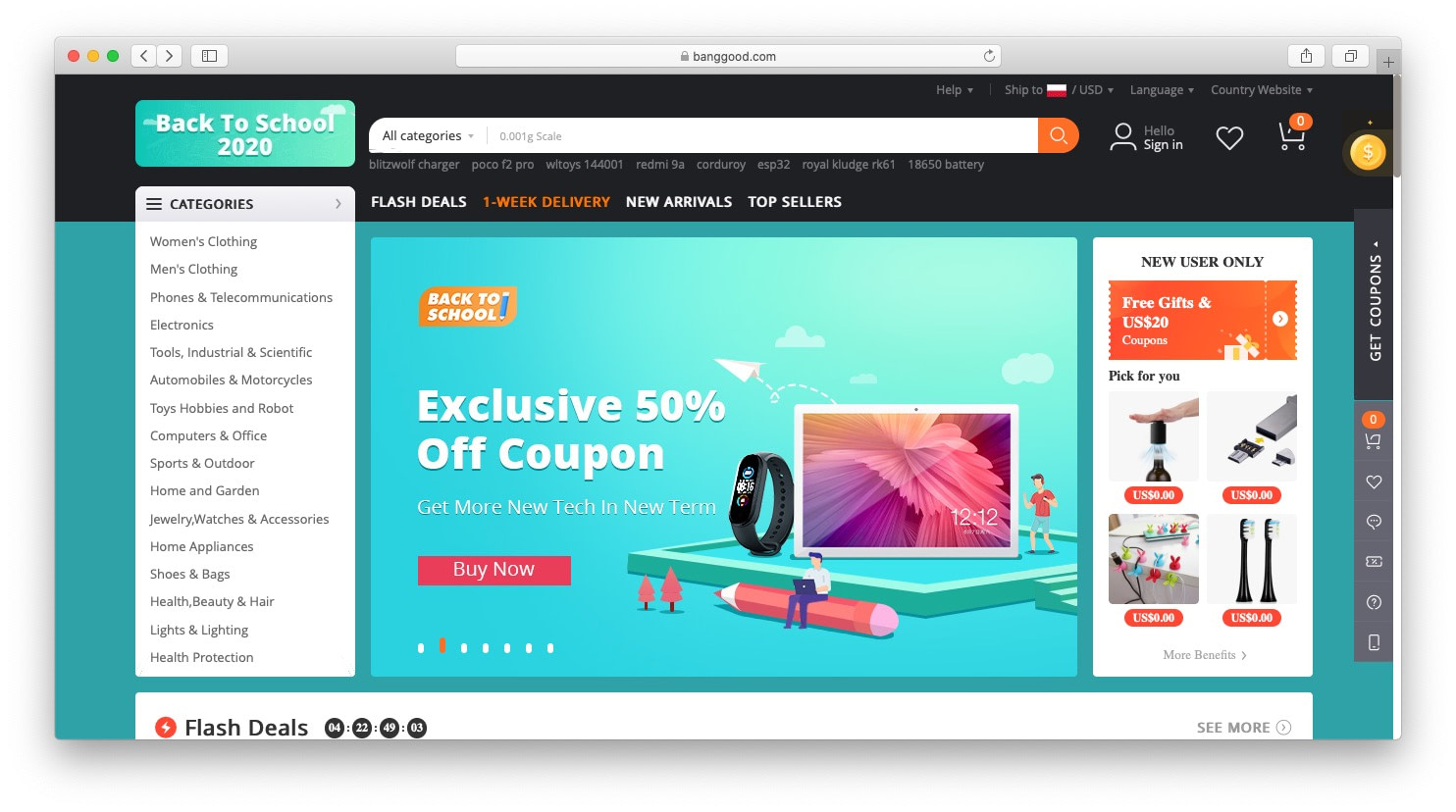 The first option on our list of best AliExpress alternatives is Banggood, an online retailer with a variety of products. You can go here to find cool gadgets and trendy products at decent prices.
While their main focus is to let customers from all over the globe shop for cool products, there's also a dropshipping zone for business owners who'd like to distribute Banggood products in their local markets.
?️ Product categories to check out
Electronics
Toys, Hobbies, and Robots
Tools, Industrial & Scientific
Computers & Office
Men's/Women's Clothing
Apparel Accessories
Automobiles & Motorcycles (for accessories)
Shoes & Bags
? Shipping and delivery options
Banggood ships worldwide, but the shipment time may vary depending on warehouse locations and logistics.
Banggood has a short delivery time (within 30 days) to Europe, the United States, Australia, and Russia. For other countries, Ecuador, Bolivia, Venezuela, Argentina, Peru, and South Africa, the guarantee is 90 days. For Brazil, it's 120 days.
However, that's just the guaranteed time; most products arrive within 9-12 days. This is due to Banggood's globally distributed warehouses.
? Payment methods available
Banggood offers a lot of payment methods, including PayPal, Visa credit cards, Mastercard, American Express, and a lot of mobile wallets.
?️ Coupon/discount policy
Banggood offers small
[…]
This article was written by Pulkit Bhardwaj and originally published on CodeinWP.