Disclosure: Some of the links in this article may be affiliate links, which can provide compensation to me at no cost to you if you decide to purchase a paid plan. We review these products after doing a lot of research, we check all features and recommend the best products only.
Table of Contents
Did
someone ever ask you about your blog's DA and PA?
When
we're starting out, there are always a couple of things that we don't know, but
it shouldn't scare you because that's how we learn new things. If domain authority
is one of those things that you don't know, then relax because I've got this
covered for you.
Well, if you ever flipped a domain or sold a direct ad on your blog, you'd know that SEO-oriented clients are quite interested in the metrics such as Domain Authority and Page Authority.
The reason they're interested in those fancy SEO terms is that these things matter in your site reputation. These elements define how good your site could perform in the search engines.
Still
no idea?
No
worries, I'll explain right here.
Page Authority is a value given to the websites for their
ability to rank their pages in the search engines. It's developed by Moz, and
it uses a 0 to 100 scale to identify the score. The higher the page authority
score, the better the ability to rank content in search engine results.
Domain Authority is a search engine ranking score given to the
website domains to showcase how well they'd rank in search engine result pages
(SERPs). A Domain Authority score also ranges from 1 to 100, with 100 being the
highest.
So
the next time, someone asks you about your site's domain authority or page
authority, you don't have to worry at all. Instead, you can confidently share
these metrics with them. 
Let's
admit that an SEO strategy is a mixture of multiple things such as:
Keywords
Content
Backlinks
Search engine marketing
SERP
Keyword tools
Niche
Inbound links
Outbound links
Page authority
Domain authority
Bloggers and SEO experts experiment with keyword research, content creation, search engine marketing, and online advertising to get more visitors and gain more attention to their websites.
Not only do they just experiment, but they also keep an eye on the metrics of their websites to understand what's going on with their websites' growth.
Plus, somehow, advertisers and brands also look at the analytics before they begin with any type of offering or deal. So you're about to come across plenty of tools to use and try out.
If you've been following BestPaidTools for a while, you'd know that I spend money on useful tools to improve my blog's performance. There are dozens of benefits of using such tools.
Not only you learn new stuff, but you also get hands-on experience with these tools. Moreover, you get to see the outcome of using those tools, and it certainly puts you on a pedestal.
I've had great experiences with some of the online tools and software that I use and recommend to my readers. Here are some of the software and tools that I use:
So I decided to talk about some specific online tools that help webmasters, bloggers, and SEOs in checking their domain authority.
It's understandable that knowing such useful tools help bloggers improve their blogs and move forward in their careers.
Before we head over to the list of domain authority checking websites, I want to share four occasions when you need to check the domain authority of a domain:
Here are the top reasons to check domain authority.
1. Buying an Expired Domain
You might not be aware of buying expired domains, but SEO folks out there would know what I'm talking about.
A lot of SEO enthusiasts buy expired domains because of the age and authority of the domains. However, they only go after the domains that fulfill their criteria.
Domain authority is the first domain metric they look at when they're interested in any expired domain.
There is no point in buying an expired domain if the domain authority doesn't seem impressive. Therefore, a reliable domain checker comes in handy.
2. Selling a Website
Flipping a website or domain is very common these days. Flippa and many other websites provide website and domain selling platforms.
Whenever a domain is being analyzed, buyers always look at the domain authority metric to analyze the domain quality and position.
However, when a site is being pitched, a seller always provides additional information such as page authority, domain authority, backlinks, keywords, average income per month, and monthly visitors.
So if you ever buy or sell a domain, you'd have to know the domain authority of the domain, anyway. 
3. Guest Posting on a Blog
Guest posting used to be a linking building and SEO-driven strategy in the past.
Then, things got changed when search engines started changing their ranking algorithms and bloggers started looking for alternative methods to rank their pages and articles.
The interesting thing is that the guest posting hasn't faded away completely; brands and bloggers still do the guest posting. The purpose, however, is entirely different.
Nowadays, bloggers and marketing experts guest post to put out their brand's name and try to deliver value to someone else's audience to attract them.
Often times, guest posters look at the domain authority of the blogs before they pitch their guest post ideas to the blogs.
Leaving a comment means starting a conversation with another blogger, which means, it could lead to building a relationship between the two bloggers.
A lot of bloggers pay close attention to the domain authority of the blogs before they start their engagement through blog comments. Comments don't necessarily provide SEO juice to the commenters, but it still weighs somehow.
Perhaps because people find new bloggers through comments on others' blogs.
Therefore, it's understandable if someone wants to look at the domain authority of the blog before they leave a comment.
Now,
you know why exactly people are curious to know the domain authority of various
sites.    
Here are 10 domain authority checker websites:
1. Link Explorer
Link Explorer is one of the awesome tools from Moz. It lets you check a number of domain analytics such as domain authority, linking domains, inbound links, ranking keywords, anchor text, and top pages.
However, Link Explorer is a fantastic tool to analyze the domain authority. It predicts the domain ranking potential through domain authority score between 0 to 100.
There are additional features in Link Explorer which also help SEOs and bloggers in ranking their keywords and competing with other sites in the niche.
For example, Spam Score tells the percentage of the linking domains with their spam scores. Top pages feature showcases the pages with the highest page authority.
2. SiteChecker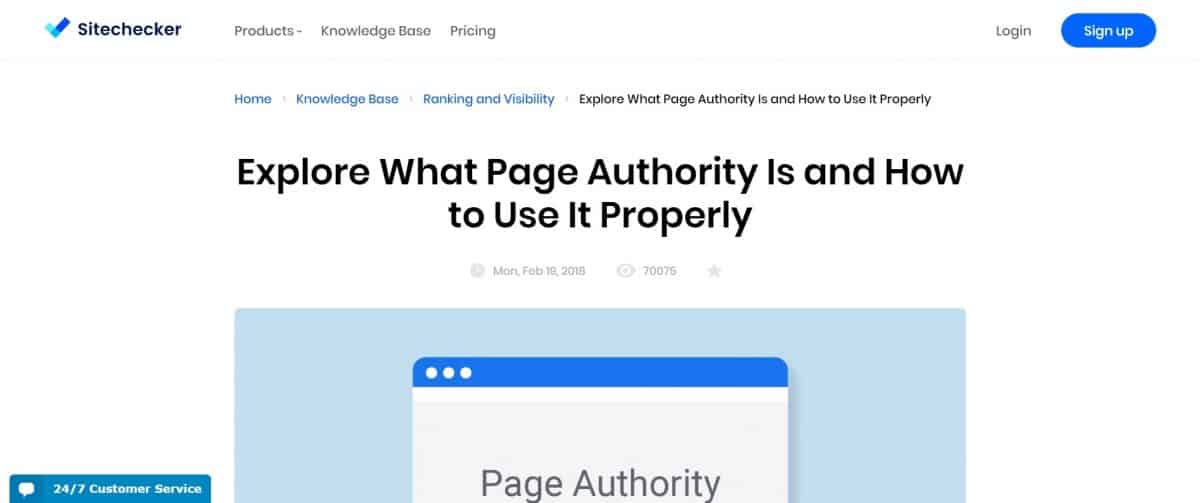 SiteChecker is an SEO Suite that has a bundle of tools that help you analyze your site's SEO performance as well as examine your SEO score for deciding further actions.
They have tools like website health checker, SEO monitoring, On Page SEO checker, free backlink checker, website rank tracker, and website backlink tracker.
So it has everything you need to analyze your domain and site's health.
SEO is a combination of so many tactics, for example, keywords, backlinks, domain authority, page authority, anchor texts, and keyword analysis tools.
Therefore, you have to have a site analysis tool that performs so many things under one umbrella.
SiteChecker
is an SEO tool which seems perfect to SEOs and bloggers who want to keep an eye
on the website analytics and SEO audit reports. It has three packages and the
pricing starts at $14 per month.
3. Website SEO Checker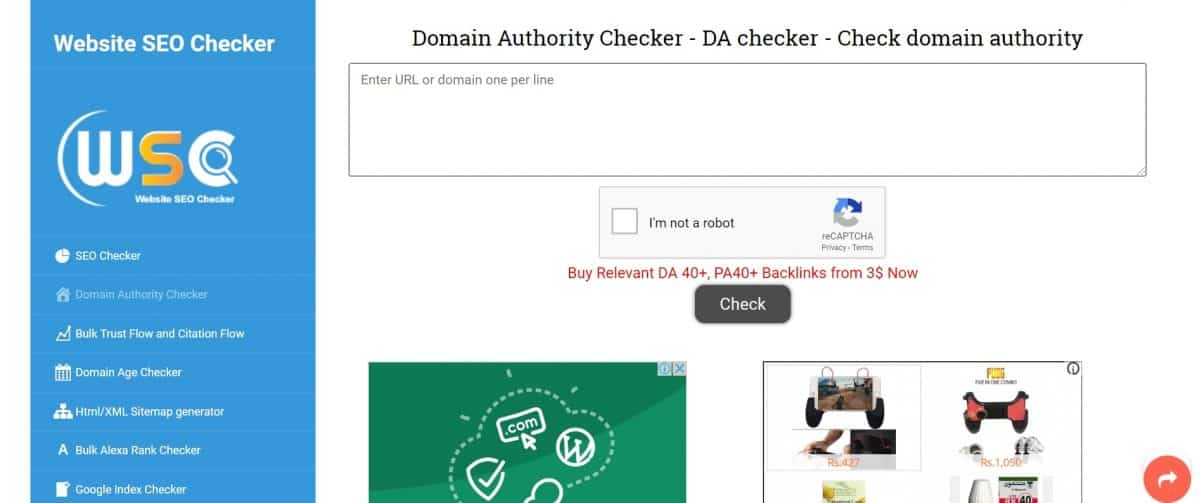 WSC domain authority checker is a free tool from Website SEO Checker.
They have multiple tools such as domain age checker, Html/XML sitemap generator, bulk Alexa rank checker, Google index checker, extract URL to domain, page authority checker, spam score checker, keyword difficulty checker, keyword position checker, backlink checker, and social share counter.
You can use WSC domain authority checker for checking the domain authority of multiple sites. Paste one domain URL per line.
4. SEO Profiler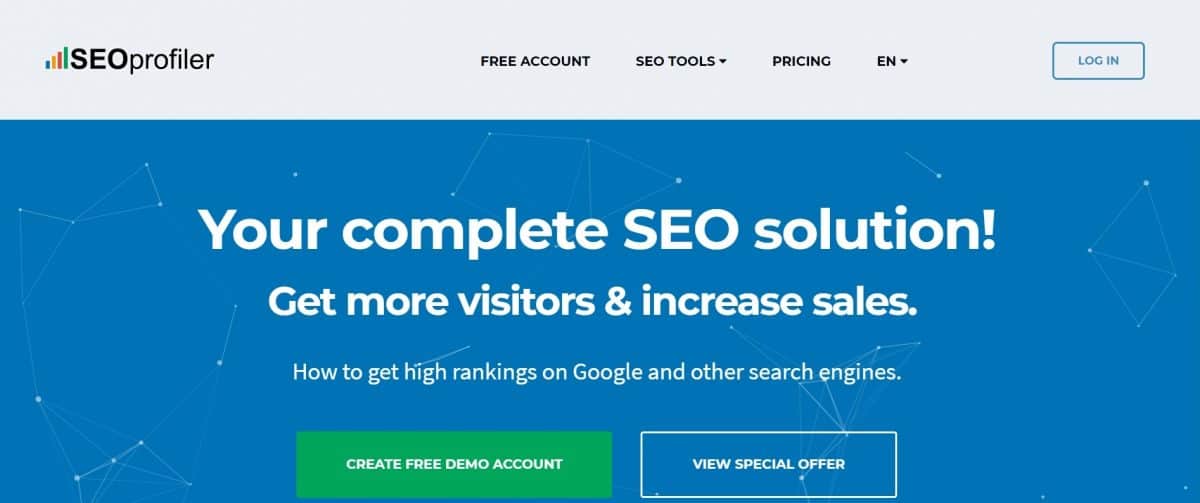 SEO Profiler is a complete SEO package for any blogger or business that needs to start focusing on search engine optimization.
What it does is quite fascinating as it covers everything in the suite. For example, you can check your site rankings, keywords suggestions, spy on competitors' keywords, website SEO audits, manage backlinks, improve backlinks, mobile optimization, analyze competitors links, website uptime, and much more.
You can start off with a 1-week trial, and then, upgrade to $46 standard plan to get going.
5. SEMrush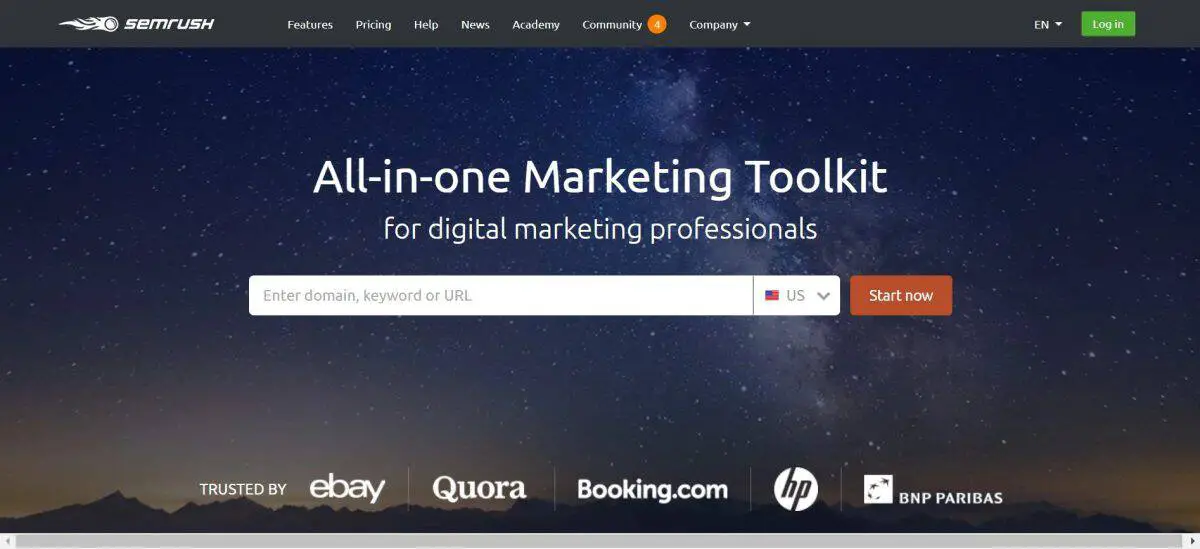 SEMrush is a top-of-the-line SEO suite that has multiple tools for keywords, site audits, domain analysis, backlinks checking, competition spy, content analysis, PPC performance, and more.
A wide variety of analysis tools come in handy for digital marketers and bloggers who want to audit their sites.
One of the best features of SEMrush is the domain versus domain analysis.
This feature offers competitive intelligence based on the domains comparison. The state-of-the-art site performance monitoring system provides key details of the competitors' domains.
You can find out the common keywords that are being used on the website and dig deeper into the SERP for each keyword. In short, SEMrush is a fantastic domain and site authority checker tool for digital marketers, bloggers, and businesses.
Start your SEMrush subscription at $99.95 per month.
However, you can always go for an annual plan that costs $83.28 per month. 
6. Ahrefs
Ahrefs is one of the industry's most trusted SEO management tools that helps digital marketers, bloggers, and SEOs in doing competitive analysis, keyword research, backlink analysis, content research, rank analysis, and website monitoring.
Domain authority is directly connected to the search engine optimization and organic health of the site.
When a site starts to gain traction through social media, backlinks, and SEO, the elements like page authority and domain authority start to get better.
The more a site performs better in organic search, the higher the chances to improve the domain authority.
What the tool like Ahrefs does is that it helps marketers, bloggers, and businesses to keep track of their backlinks, anchor texts, referring domains, top landing pages, and competing domains.
When all these elements contribute to the site performance, the domain authority along with other metrics improves.
Ahrefs offers a 7-day trial for $7. 
7. SEMScoop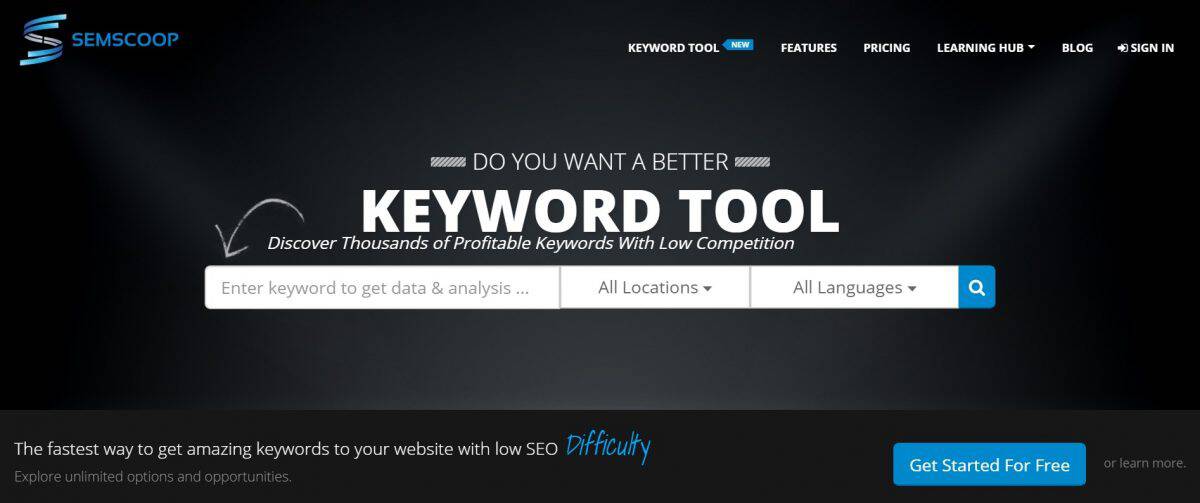 SEMScoop is an SEO tool that makes the keywords research, site audit, and SEO score easier for beginners.
This tool is excellent when it comes to the keywords research.
Not only it finds the top sites that are ranking for certain keywords, but it also tells the domain authority of the top sites ranking against the keywords.
The advanced link profile digs deeper into the domain audit and finds out the domain authority, referring domains, MOZ rank, backlinks, and more.
With such resources and tools in hand, you could also analyze competitors' profiles and outperform them in various areas where their dominance is low.
Lastly, content quality score analyzes the website content and recommends the improvements so that the site becomes more relevant to get the organic traffic.
SEMScoop offers a free account that has limited features, but you can always upgrade to the paid plans.  
8. Small SEO Tools – Domain Authority Checker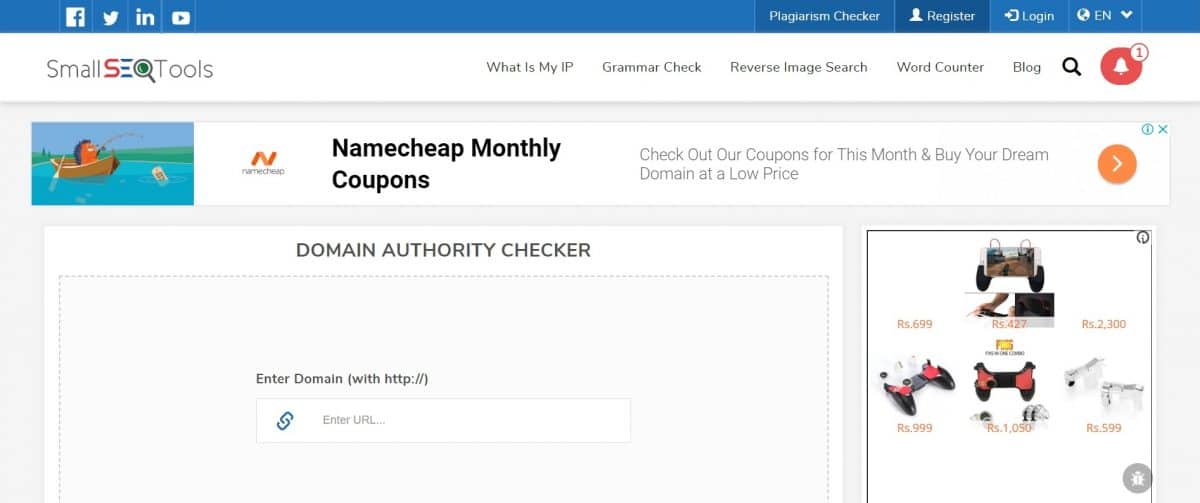 This domain authority tool is developed by Small SEO Tools, and it provides a free domain authority checkup. If you don't want to register to a site or go through the initial account set up before checking your domain authority, then this tool is for you.
It takes a few seconds to provide you domain authority, page authority, MOZ rank, backlinks, and more. Small SEO Tools has more tools such as What is My IP, Plagiarism Checker, Reverse Image Search, and Word Count, which you should check out.  
9. Bulk DA Checker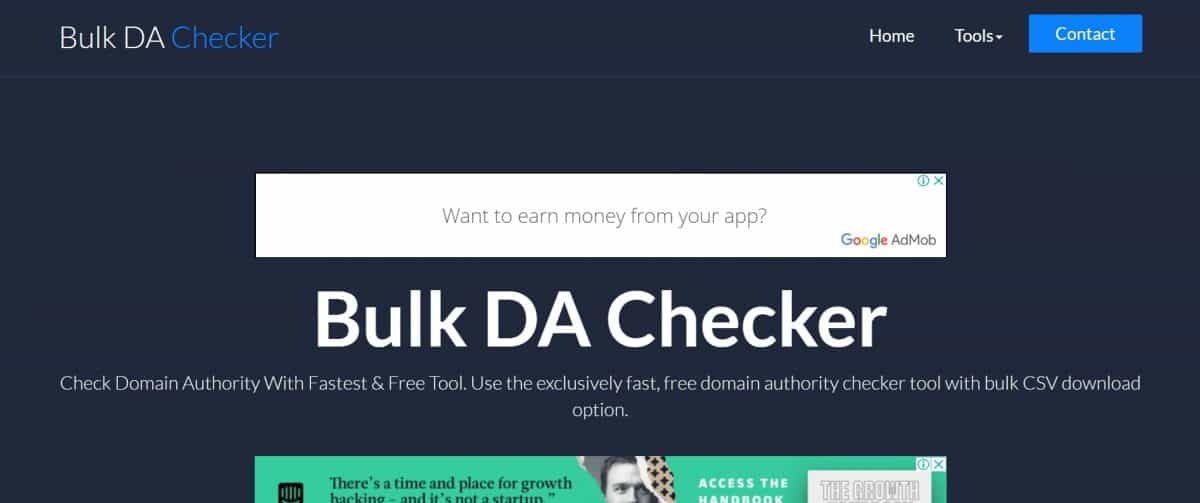 Bulk DA Checker is a free domain authority checker that can support up to 10 URLs at a time, meaning, you can check the domain authority of 10 domains at once.
Once you're done, you can always reset the URLs section and put the next domains.
Bulk DA checker has other tools such as bulk Alexa rank checker, unique domain checker, URL extractor, and more.
Most of these free domain authority checking tools use MOZ API, which means, they retrieve your domain authority metrics from the MOZ tools.
10. Search Engine Reports – Domain Authority Checker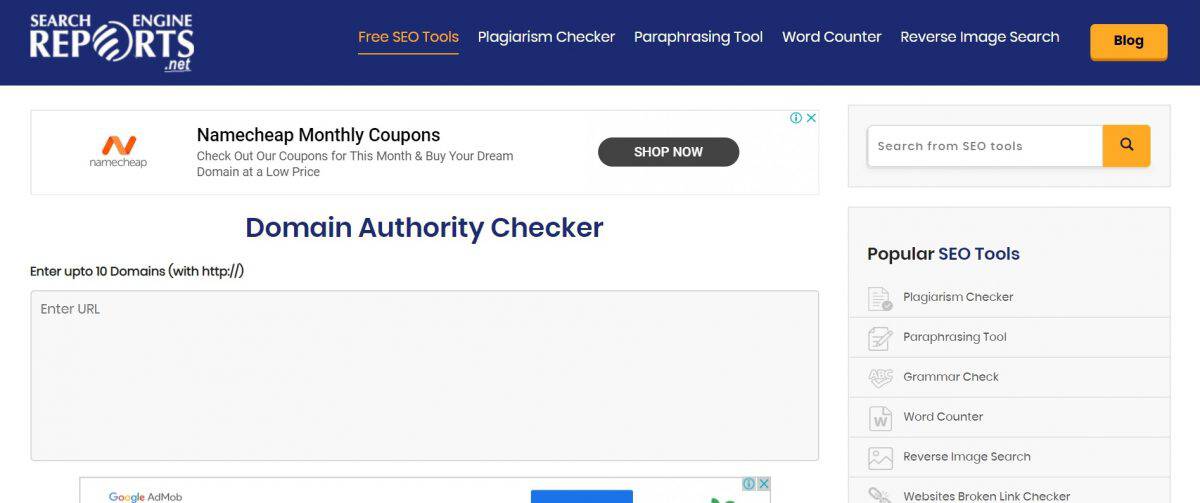 Search Engine Reports has a number of free SEO and website tools.
Domain authority checker is one of them. It allows you to check domain authority of up to 10 domains at once.
Search Engine Reports offers other tools such as plagiarism checker, paraphrasing tool, grammar check, word counter, reverse image search, websites broken link checker, website SEO score checker, and more.
My Final Thoughts
You've gone through a list of best domain authority checking websites. All of these tools work just fine.
Although, MOZ created this domain authority metric to provide the domain's authority score and its domain authority metric is widely popular now.
Now, you have a list of various domain authority-checking tools. Pick your favorite one and immediately check out your blog's domain authority.
But before leaving this page, continue reading this because the ending is important. 
Before
I wrap this article, I'd like to add something very important at this point. If
you just started blogging, don't feel intimidated by the domain authority of
others' blogs. You don't have to compete with anyone. These metrics change from
time to time.
If you're starting out, you don't have to worry about your domain authority because that's how things get started.
Give your blog a couple of years and if you work consistently on the blog, your domain authority and page authority would definitely get better.
The reason I'm confident about this is that it never happens overnight. Maybe it would take you two years to rank your first article on Google, but it's still worth it.
Similarly, I don't care if I start a new blog and it doesn't get a better domain authority in four years. All I know is that I want to improve my blogging, work hard, and take everything to the next level.
In
blogging, things like numbers, statistics, and money follow you when you keep
moving in the right direction.
So
I want to take this opportunity to ask you something very important.
Does this article make any difference in your blogging
approach?
Feel free to share your stories or ask questions in detail.
I'll be happy to reply to your comments.
Keep reading the article at Blog – SaaS Ultra. The article was originally written by Kulwant Nagi on 2023-10-06 12:24:00.

The article was hand-picked and curated for you by the Editorial Team of WP Archives.