F
rom fashion to music, cooking to fitness, bloggers use Instagram to show off their creative photos to connect with people in a different way. 
Instagram is an excellent way to market your WordPress blog since you can share details about it in a visually appealing way to the 1 billion people that use it every month.
So, if you want to take advantage of Instagram to grow your blog, you should connect your Instagram profile to your website. Whether you want to display your Instagram feed, create an Instagram slider, or add the Instagram icon to encourage people to follow you, this list is for you.
We've gathered a list of the top Instagram plugins that'll embed an Instagram feed with a single click, let you publish images from your media library to Instagram, automatically publish your Instagram photos as WordPress posts, and more.
Read through the list to find the right Instagram plugin for your WordPress blog.
Why Should You Use an Instagram Plugin on Your WordPress Blog?
Why should you bother embedding Instagram photos on your WordPress blog or otherwise connecting your blog to Instagram?
It increases engagement on your blog because people can scroll through an entire feed without leaving your site.
You can grow your follower count since the people who read your blog might not have known you're on Instagram.
It adds a little extra excitement to your blog, due to the additional, vibrant Instagram photos.
You'll save time when managing your Instagram account because many of the plugins let you do a lot right from WordPress, such as respond to comments and upload pictures.
You can publish user-generated content on your blog by asking your readers to submit photos. User-generated content like photos and testimonials are a great form of social proof.
Now that you know the benefits of connecting your Instagram profile to your blog, let's take a look at some plugins that will help you do it.
With so many different Instagram plugins available for WordPress, we gathered a list of the best ones so you can decide which one to use.
Many of these plugins are free or have a free version. We've included paid ones as well since they may offer additional features for the fee. Some are just for sharing content or getting likes, while others let you embed Instagram content on your WordPress blog.
Let's get started!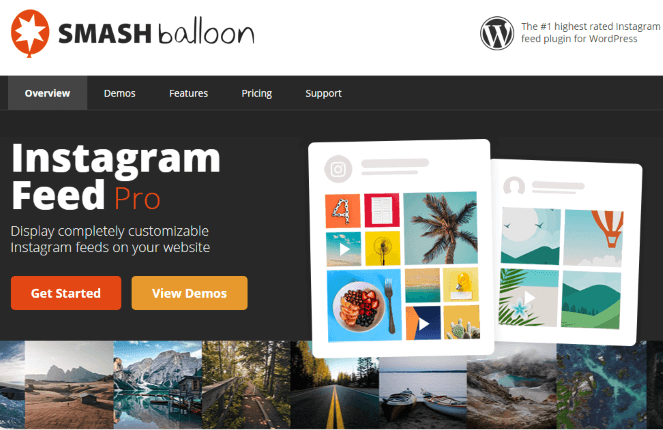 Instagram Feed Pro from Smash Balloon is the highest rated Instagram feed plugin for WordPress. Over 1 million website owners use it to create custom Instagram
[…]
This article was written by Julia and originally published on Blog Tyrant.