Home /
Marketing /
Top 7 Best Mailchimp Alternatives for Simple and Effective Email Marketing (2020)
By Dianna Gunn
February 24, 2020
Mailchimp is one of the best-known email marketing tools available — it used to offer some of the highest-quality newsletter services around, and its newsletter tool still includes a vast selection of professional features. For many years, its free and low-cost plans made it one of the best options for small-to-medium-sized businesses. So, why are many people now searching for Mailchimp alternatives?
The answer comes in the form of two major changes Mailchimp made in 2019. First, it pivoted to become a full-service marketing tool, with an entirely new pricing plan. Second, it released new Terms of Service. These new terms state that accounts will now be charged based on their entire audience, including subscribed, unsubscribed and transactional contacts. This artificially inflates the number of contacts you have, and, in turn, the price you pay for Mailchimp.
Worst of all, there was no advanced warning about this change to existing customers. Mailchimp only notified customers of the changes after they'd been implemented. What's more, the email they sent to notify people of the changes to terms of service was generic and didn't highlight the most concerning parts. Many Mailchimp users, including myself, found out the harrowing details not from Mailchimp themselves, but from third parties. In my case, this created a lack of trust that inspired me to take a closer look at Mailchimp alternatives. After all, if the company made these changes without notice, who knows what else it might change without warning?
Mailchimp also has strict limitations on the content people can send using the platform, refusing to work with companies that offer products, services or content it deems high-risk. Most items on the list are things you might expect, such as escort and dating services, but it also forbids companies with 'work from home, make money online, and lead generation' content. This broad terminology includes numerous types of content, including much of the content we produce right here on WinningWP.
So, if you're looking to switch from Mailchimp, or are starting out with email marketing and want to look at the best options out there, read on for our guide to the best Mailchimp alternatives currently available.
How We Chose the Best Mailchimp Alternatives
For many years, small business owners and new entrepreneurs have relied on Mailchimp's free plan and affordably priced premium plans. We've chosen to focus on email marketing tools with free and low-cost premium plans to continue serving those needs.
The best Mailchimp alternatives also offer several of the same features as Mailchimp:
Segmentation — This allows you to break your list down into precise groups. For example, you may want to split your list into people who have purchased a specific item and people who haven't. You can then build a marketing campaign for that product and send it only to people from the latter group.
A/B Testing — A/B testing allows you to test variations of a specific newsletter before you send it out. For example, you might place an image above the text in one version, and place the same image below the text in a second version. This allows you to see what format works best with your audience.
Automation — This is the ability to create emails or a series of emails that are automatically sent to your audience when certain trigger events happen. For example, you may want to send an email asking subscribers how you can better help them one month after they sign up for your newsletter.
Analytics — Like website analytics, email analytics provide data on your audience's demographics and behaviour patterns. At the bare minimum, you want to know how many people are opening your emails and how many people are clicking on each link. You also want to track your subscribe and unsubscribe rates.
Custom signup forms — You should be able to design your signup forms to reflect your brand. You should also be able to choose what information subscribers must give upon signup.
Personalization — This allows you to use information about your subscribers to personalize content. Technically, segmentation is a form of personalization, but for the purposes of this article personalization refers specifically to the ability to personalize content with subscribers' names.
Large subscriber count — Newsletter plans get pricier as your subscriber count grows. You want to make sure the base plan of the newsletter service you want to work with gives you plenty of growing room.
For this guide, we've chosen to only feature Mailchimp alternatives that offer all of the benefits listed above.
Best Mailchimp Alternatives
1. SendinBlue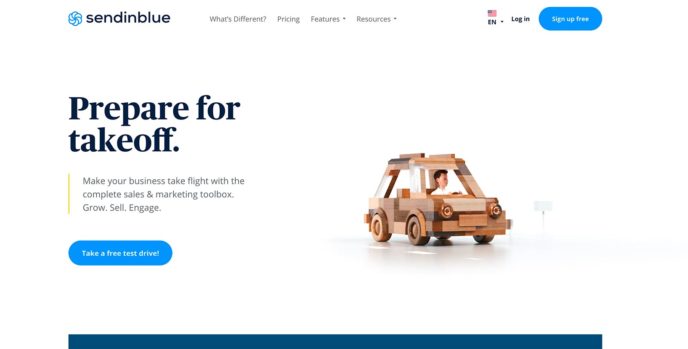 SendinBlue is one of the best email newsletter tools around, and the best part is you can access almost all of its features with the free plan. This includes automated campaigns, advanced segmentation, A/B testing and full access to its library of email templates. You can even have an unlimited number of contacts without paying a cent.
The email marketing tools provided by SendinBlue are also connected to its CRM tools, allowing you to easily manage all of your customer interactions in one place.
The only potential drawback of SendinBlue is that when you surpass the 2,000 customers you're allowed to send automated emails to, things get expensive. For the ability to send automated campaigns to more than 2,000 people, you'll need to pay $25 a month.
Free plan: Yes, unlimited contacts (up to 2,000 contacts for marketing automation workflows) and up to 300 emails a month.
Price range: Free, $25 a month, $39 a month or $66 a month.
Who this option is best for: SendinBlue is a great option for small businesses that intend to stay small and want free, yet robust, email marketing tools. We also recommend SendinBlue for more established businesses that want email newsletter tools integrated with CRM and have the budget to maintain a premium plan.
2. MailerLite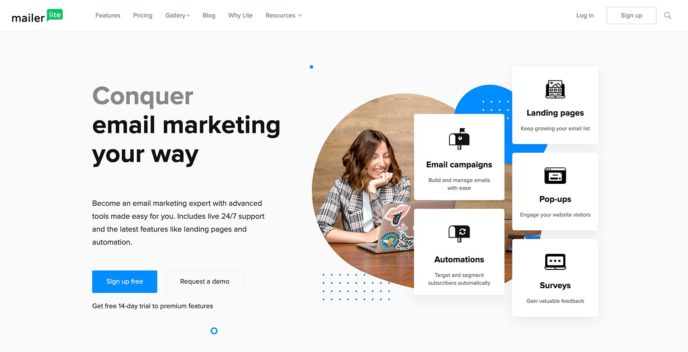 MailerLite is an easy-to-use newsletter tool with a robust free plan. Free users can send automated marketing campaigns, use segmentation to create more targeted campaigns and discover the potential of every email with A/B testing. It also makes it easy for you to build surveys into your emails.
MailerLite can also be integrated with numerous website platforms and marketing tools, including WordPress and WooCommerce.
On the other hand, it's somewhat lacking in advanced functionality, even at the premium level. The ability to personalize content and create automated workflows is limited. Its library of email templates is also small when compared with the other options on this list.
Free plan: Yes, up to a thousand contacts or 12,000 emails a month.
Price range: Free, $10 a month, $15 a month, $30 a month or $50 a month.
Who this option is best for: MailerLite is one of the best Mailchimp alternatives for businesses with minimal budget and simple email marketing needs. If you want to create an extensive collection of automated customer journeys, you may want to consider other options on this list.
3. Moosend
Moosend is another email marketing platform with a high-quality free plan. Businesses with fewer than a thousand subscribers can send unlimited emails, create automated workflows, use advanced segmentation to target their campaigns and A/B test every email before they send it. It also offers templates for automated workflows, making automation easy — even for someone who's never sent an email campaign before.
Like MailerLite, Moosend also offers integrations with a variety of tools, including WordPress and WooCommerce.
The only real drawback of Moosend is the limited options for signup forms. The platform doesn't allow you to create opt-in popups, only HTML forms.
Free plan: Yes, unlimited emails for up to a thousand subscribers.
Price range: Paid plans start at $10 a month for a thousand to 2,000 subscribers, and go all the way up to $3,650 a month for 801,000 to a million subscribers. Moosend also offers a pay-as-you-go option, which allows you to buy 'credits'. Each credit equals one email you can send.
Who this plan is for: Moosend is one of the best Mailchimp alternatives around, especially for small businesses. You can access almost all of its features on the free plan, and the cost rises at a reasonable rate.
4. GetResponse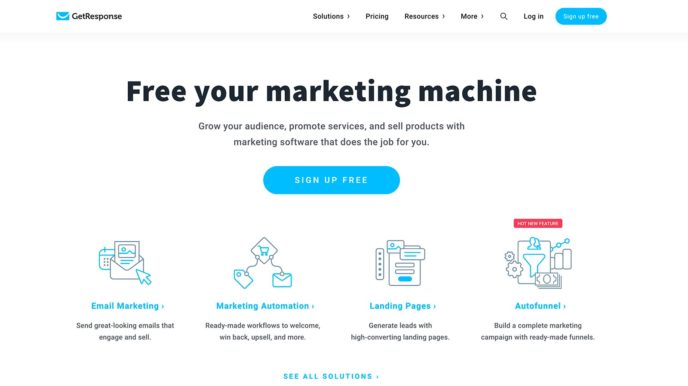 ">
GetResponse doesn't offer a free plan, but it does offer some of the best advanced functionality available from any Mailchimp alternative. Along with the usual features, such as segmentation and A/B testing, GetResponse offers sales funnels and even the ability to sell e-products directly from your newsletter. It also provides some of the most advanced automation options around, with an extensive range of triggers for targeted campaigns.
At higher levels, GetResponse allows you to host webinars and work with team members to coordinate your campaigns.
The GetResponse plan structure is also a little different. Most newsletter providers allow you to pay for a high-priced plan with a small newsletter, but will automatically bump your newsletter to a higher tier when the subscriber count hits a certain point. This means you'll automatically get any additional functionality that comes with the higher-tier plan.
GetResponse, on the other hand, adjusts your cost based on subscriber count without adjusting your plan. This means that if you start with a thousand subscribers and hit 2,000 subscribers, you won't gain any additional features, but you will be paying more. The cost difference between plans remains roughly the same regardless of the size of your list.
Free plan: No.
Price range: $15 a month to $1,199 a month. Measure the rate for your audience.
Who this option is best for: If you want the ability to create numerous and complex automated campaigns, multimedia options, and the ability to sell online products directly from your mailing list, GetResponse is the tool you need.
5. Campaign Monitor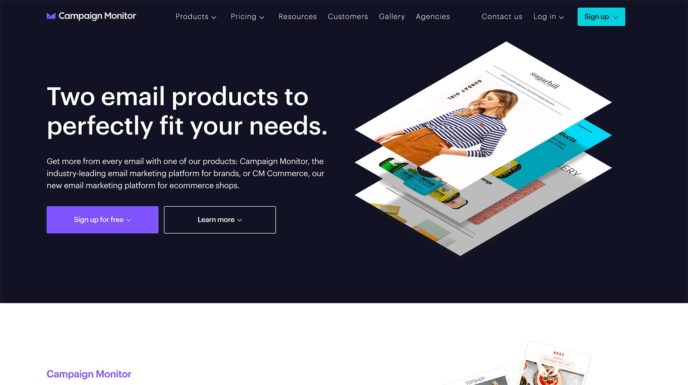 Campaign Monitor is a premium tool that's remarkably easy to use. It offers some of the most attractive email templates you can find. These templates can easily be customized using the drag-and-drop editor, which uses a more intuitive interface than many of Campaign Monitor's competitors.
All Campaign Monitor plans also feature A/B testing, email previews for desktop and mobile, drip campaigns, autoresponders, advanced analytics, and advanced list management. Like the editor, these tools are designed with the marketing newbie in mind. Campaign Monitor itself can also be integrated with a variety of tools customers may already be familiar with, such as WordPress and Shopify.
Unfortunately, Campaign Monitor uses the same pricing model as GetResponse, and is even more expensive. The Basic plan starts at $9 a month for 500 subscribers, but grows to $39 when you hit a thousand followers. For a tool that doesn't provide the same level of advanced functionality as GetResponse or SendinBlue, this is a significant amount of money.
Free plan: No.
Price range: $9 a month to $1,249 a month. There's also a pay-as-you-go plan that charges a base rate of $7 a campaign or $1.4 per email sent.
Who this option is best for: If you have a significant budget to accommodate growth and your main concern is ease of use, Campaign Monitor is one of the best Mailchimp alternatives to consider.
6. AWeber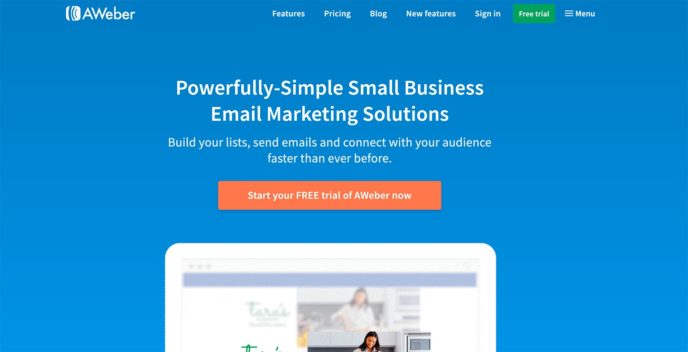 AWeber is one of the oldest and most well-respected names in email marketing. All of its plans allow users to send unlimited emails, create automated customer journeys, use advanced segmentation to target their campaigns, and access detailed analytics. Users also gain access to more than 700 email templates and 6,000 stock images.
AWeber also offers dozens of integrations with tools such as WordPress, WooCommerce, Shopify and PayPal. It even has an AWeber for WordPress plugin that simplifies the process of growing your subscribers.
There are two minor drawbacks to AWeber. First, many of the templates are outdated, so you may have to search for a while before you find one you can use. Second, it's impossible to include or exclude multiple segments of your list from one newsletter.
Free plan: No.
Price range: $19 a month, $29 a month, $49 a month, $69 a month or $149 a month. A custom quote is required for lists with more than 250,000 subscribers.
Who this option is best for: AWeber is ideal for business owners who want maximum flexibility from their email marketing platform.
7. Constant Contact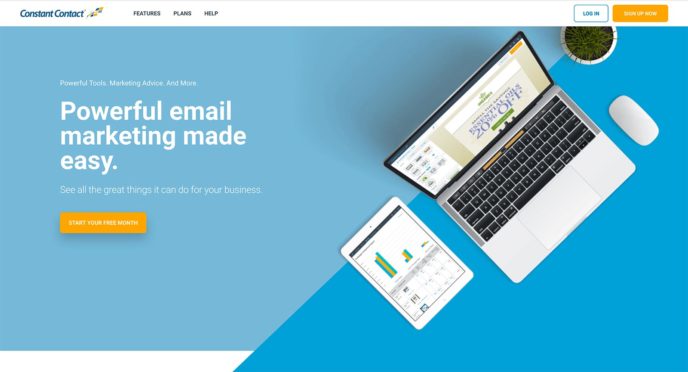 Constant Contact is another old name in the world of email marketing, founded way back in 1995. Constant Contact offers an enormous number of features, including coupon design right inside your newsletters and the ability to accept donations via email. You'll also find hundreds of email templates and a high-quality drag-and-drop email builder.
Constant Contact also offers more than email. Its free website builder allows you to create a dynamic site in minutes, including a free online store with up to three products. Hosting plans are also quite affordable, starting at £6 a month.
Unfortunately, Constant Contact is limited in some pretty significant ways. Its automation doesn't allow for the use of event triggers or other advanced features. The customization capability for opt-in forms is also severely limited.
Free plan: No (free 60-day trial is available).
Price range: The basic Constant Contact plan starts at $20 a month for 500 subscribers and goes up to $225 a month for 15,000 to 25,000 subscribers. Special quotes are required for larger lists.
Who this option is best for: Constant Contact may be an 'old reliable', but it's not really one of the best Mailchimp alternatives in today's market. However, if you're looking for a solution that also includes web hosting, Constant Contact may work for you.
Final Thoughts
Switching to a new email marketing tool can be a daunting prospect, but it doesn't have to be. Once you understand the Mailchimp alternatives available, you can make an educated decision about what's best for your business.
Not sure what's best for you? Follow these guidelines:
Use SendinBlue if you're a small business hoping to stick with the forever-free plan, as this free plan allows for the largest number of contacts. SendinBlue is also a great option if you want to do all of your customer relationship management in one place.
Choose MailerLite if you want something simple that integrates with all of the marketing tools you're already using.
Use Moosend if you want a high-quality free plan that becomes a highly affordable plan when you surpass a thousand subscribers.
Choose GetResponse if you want to build multimedia content directly into your email marketing campaigns, host webinars and create an extensive collection of automated campaigns.
Use Campaign Monitor if you have significant room for email marketing in your budget and you want to work with only the most beautiful email templates.
Choose AWeber if you want to maximize your ability to customize the appearance of your emails.
Use Constant Contact if you have significant room for email marketing in your budget and you want to manage your email marketing and your website in the same place.
Are you looking for a Mailchimp alternative? Let us know why you're switching, and what you're thinking of switching to!
Dianna Gunn is a freelance SEO strategist and consultant and the editor for Revive.Social. She is obsessed with all things marketing and is always studying the latest developments and strategies. Find out more about her, including how you can work with her, at www.thedabbler.ca
Keep reading the article at WinningWP. The article was originally written by Dianna Gunn on 2020-02-24 05:18:22.

The article was hand-picked and curated for you by the Editorial Team of WP Archives.