The time and efforts that a single marketing campaign takes to produce the desired results cannot be understated. A single marketing campaign goes through a rigorous planning and execution phase that requires a lot of time and efforts. Apart from that, monitoring and scheduling, those campaigns can also cause fatigue for marketers.
To tackle these issues, marketers often look for solutions to lighten their workload so that they can focus on more important things like strategy and planning. Marketing automation tools do just that.
Marketers are now using automation tools to improve their work efficiency which leads to better planning and execution. According to Salesforces's report, 67% of Marketing Leaders currently use a Marketing Automation Platform and a further 21% plan to do so in 2019.
Fact check: The business for online marketing automation tools is on the rise, amounting to US$ 5.5 billions in revenue.
What is Marketing Automation?
Marketing automation helps automate marketing procedures which includes segmenting customers, customer data integration and campaign management. Marketing automation tools can target customers with automated messages, emails, web, social media, etc. Marketer and sales departments use marketing automation tools to enable online marketing campaigns and sales activities to increase revenue and maximize efficiency. It effectively reduces repetitive tasks, whereas, employees get time to tackle more important problems.
Benefits of Marketing Automation
Marketing automation adds value to your business. It provides benefits to small businesses to stay competitive. Apart from that, it also helps corporate organizations to maintain and manage the demands of their customers easily.
Let me share some core benefits of marketing automation:
Time-Saving: Time scheduling is one of the most difficult tasks to cope with. By leveraging marketing automation tools, you can easily schedule your campaigns and be up-to-date.
Increase Productivity:  By using marketing automation tools, you can increase productivity levels by eliminating time spent on nurturing unqualified leads. It helps you improve customer retention, manage multiple clients, and automate an entire funnel.
Multi-channel campaign management: You can track the status of all your social marketing campaigns through one marketing automation tool.
Improved ROI: By using marketing automation tools, it will help you specify your customers and spend your money wisely. Not only this, but it will also help improve your performance of marketing strategies and increases the conversion rate from leads to sales. Beside this, it also helps in removing non-potential leads and strengthen your funnel. That's how marketing automation improves your ROI.
Marketing automation tools collect and use data to send personalized messages to your contacts at various times based on their actions.
It helps to improve and strengthen Customer Relationship Management CRM.
You can check the best CRM WordPress Plugins to stay connected with your customers and cater to their individual needs.
Companies that use marketing automation tools tend to get more traffic on the web and increase the number of loyal buyers. By using marketing automation tools you can build a personalized and one-to-one connection.
Marketing automation platforms help you to generate care for your loyal customers by auto follow-up, offering for promotions, etc. According to VentureBeat Analyst Andrew Jones, 80% of those using marketing automation saw increased leads, and 77% saw increased conversions.
According to Gartner research by 2020, companies will manage 85% of customer relationship without any physical appearance.
These statistics make us realize the importance of marketing automation platforms for your business.
Marketing automation tools can contribute towards your success if you make full use of it. In order to gain real benefits, do remember these few tips. Such as, stop repetitive tasks you might be 'sending the same emails to different users'. Or trying to 'manually follow up with your best leads'.
By using marketing automation tools, you can overcome these issues and that's how you make full use of it. Besides, make sure to pick up on relevant marketing automation tools which are known to satisfy your ambitions.
Here, I will explain Top Five businesses for which you can use Top Five marketing automation tools:
If you are a software service provider like Office 365, Google Apps, Salesforce, Citrix GoToMeeting, Cisco WebEx or Netflix. I highly recommend you to, do have a look at these interesting SaaS marketing automation platforms.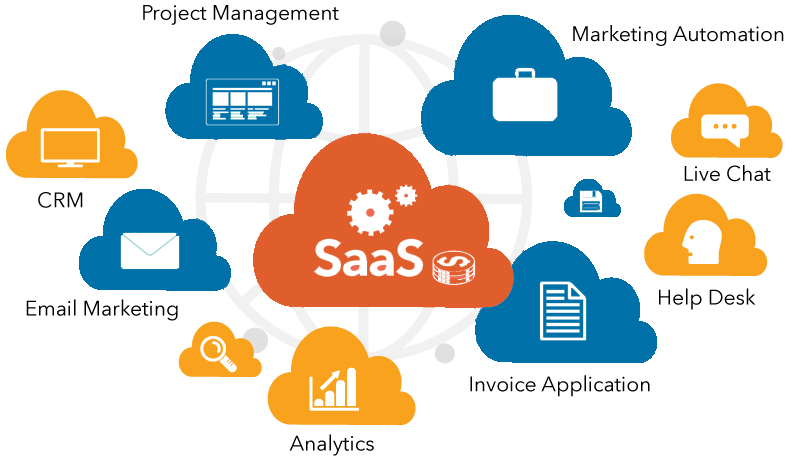 1. Databox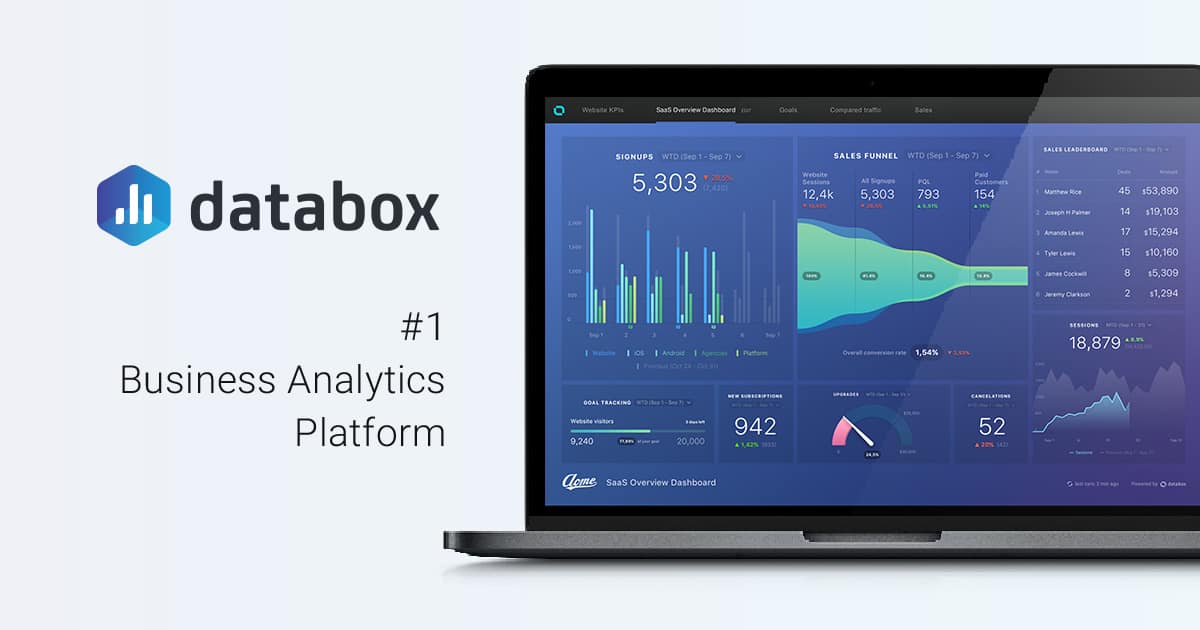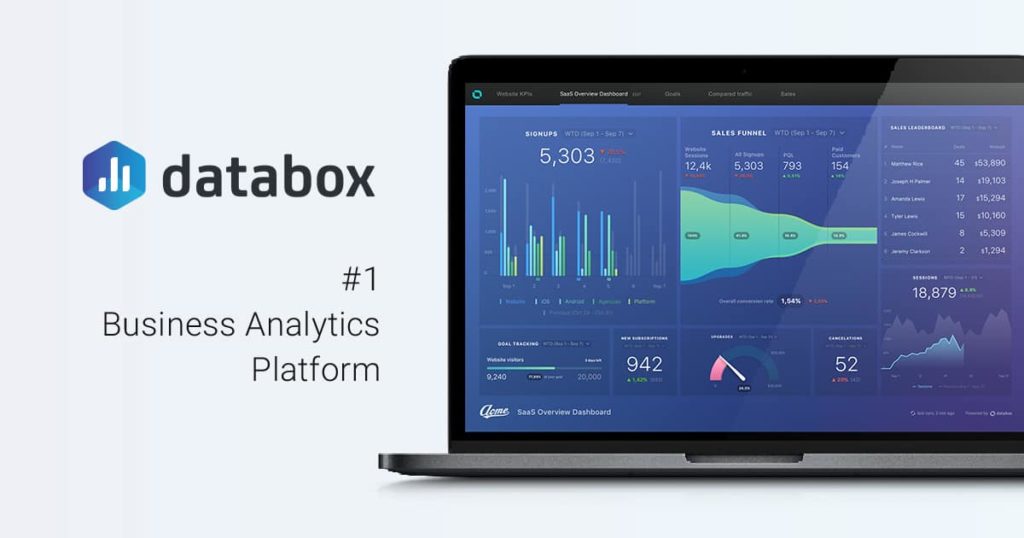 Databox is a SaaS marketing automation tool which allows you to connect virtually all your data sources with an attractively designed dashboard system and track your company's performance in an easy-to-read format.
By creating unique and custom dashboards, you have the capacity to monitor your performance.
Databox can connect with Google Adwords, Facebook, Salesforce, Shopify, HubSpot, Wistia, Zapier, and more than 50 other platforms. And the best part? The free platform version does almost everything you'd need to lead the way with reporting dashboards, so there's really no reason NOT to try it.
2. Atomic Reach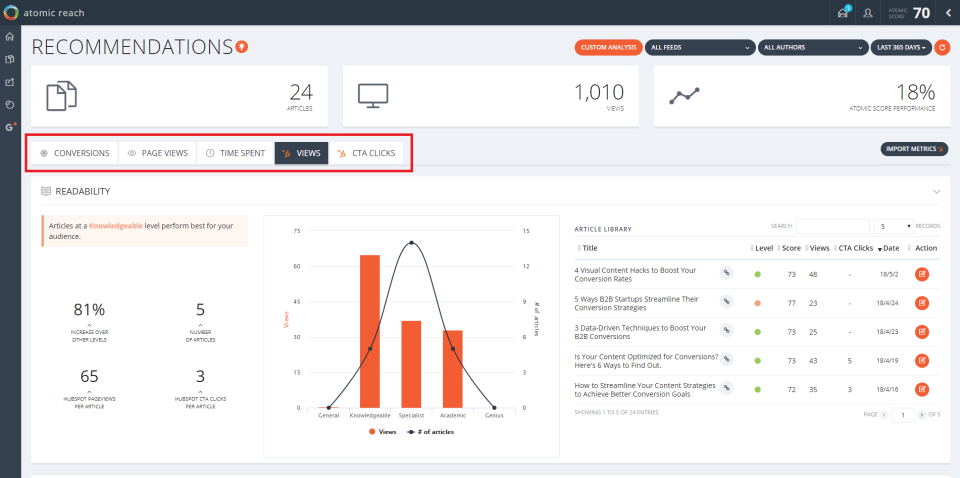 Atomic Reach is useful when you have to recognize which particular content is useful for your specific audience. This marketing automation tool uses Artificial Intelligence which authenticates to provide accurate results-driven data which helps develop a content marketing strategy.
Also Read: Best WordPress Plugins for Content Marketers
The advantage of this marketing automation tool is that it starts with an analysis of how all your current content performs which you have already published.
This will help you to recognize the readability level of your content and tells you what is performing best, and what specific things you should focus on to address in the future.
By using these tactics, your content gets an Atomic score and besides this, you also get tips so, you can improve on that score.
3. Lucky Orange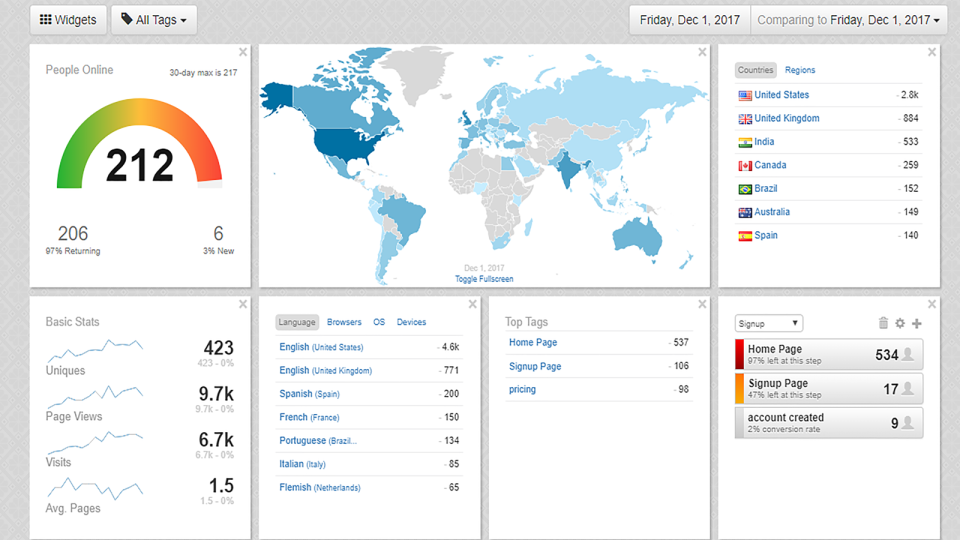 Lucky Orange is a great marketing automation tool which tells the consumption rate of your content, and how many visitors are viewing your content.
It explores the click heatmap which enables you to check the most trending areas that people are clicking on along with frequency.
This marketing automation tool is helpful for conversion rate optimization.
4. Seventh Sense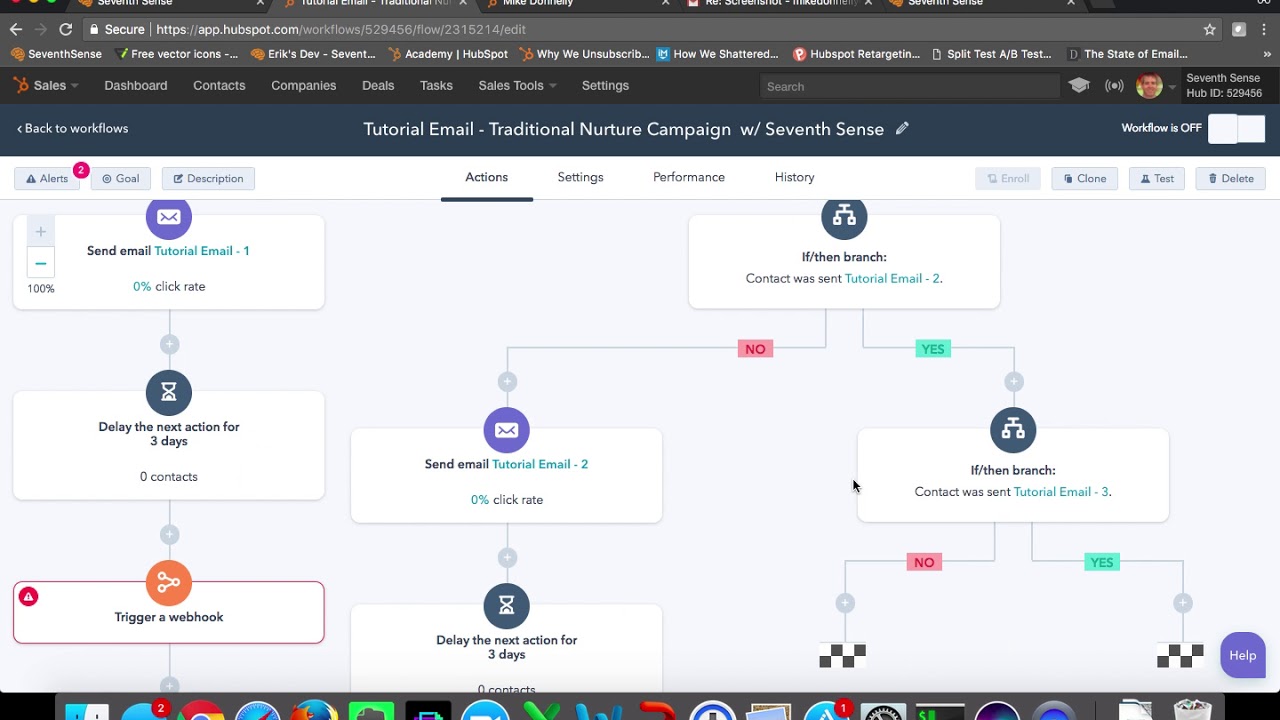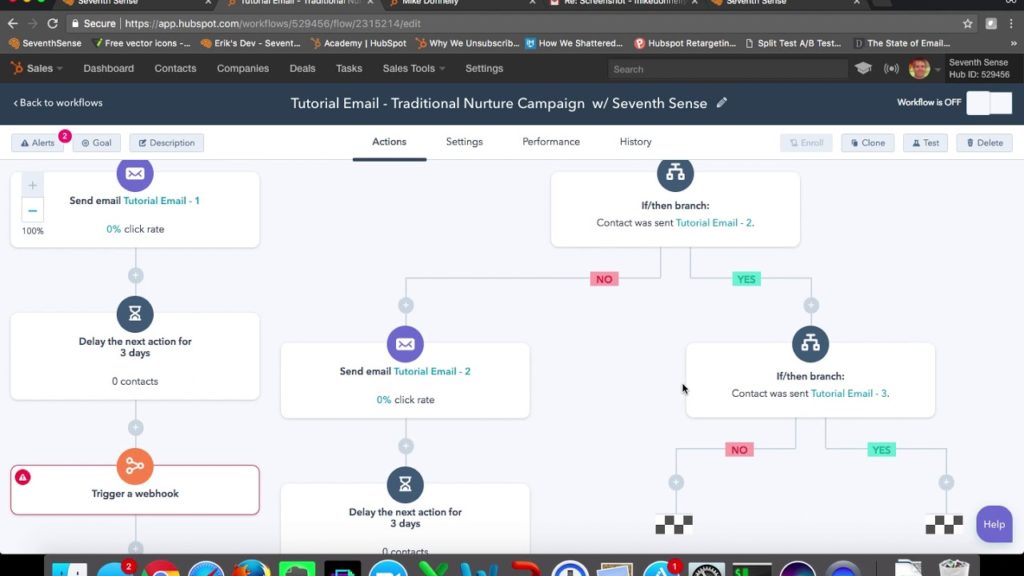 Seventh Sense gives you relief from email reminders, it facilitates you to send emails at the perfect times based on the contact's needs. It empowers your sale and marketing department to share the data when the customer engages with your organization. Besides, it also enables you to pause campaigns, make changes and distribute the load on your systems, call centers and salespeople.It makes customers happier, minimizing sales cycles and maximize conversion rates.
5. SEMRUSH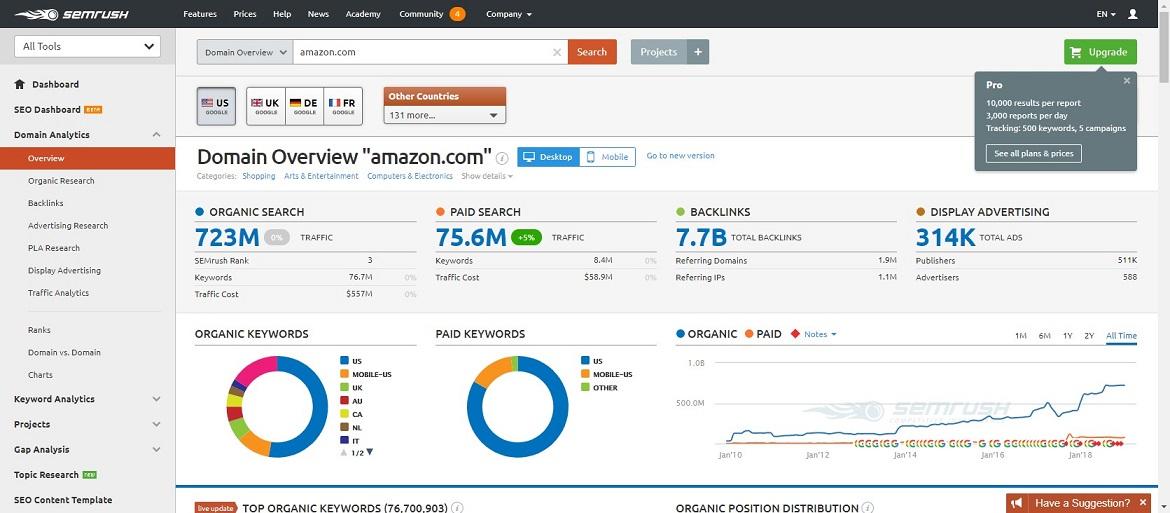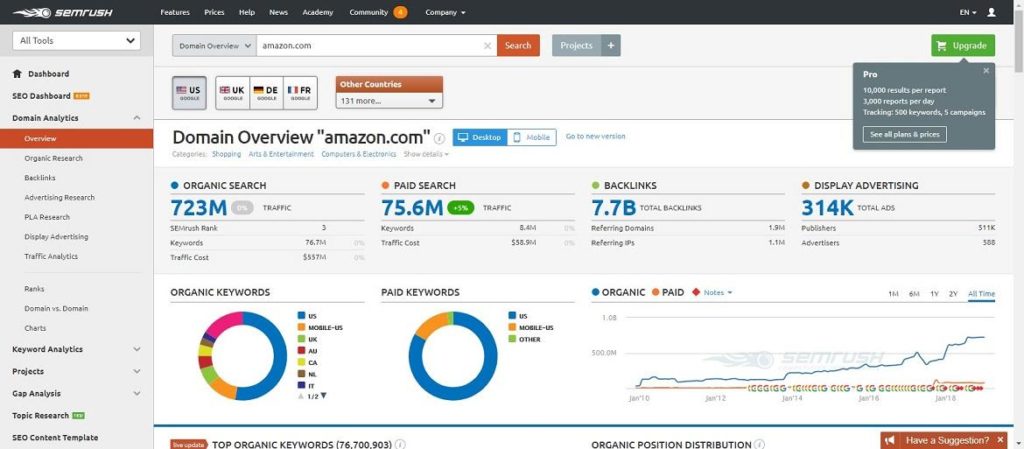 SEMRush is really useful for any SEO professional such as it provides ideas to get more organic traffic, backlinks audit, position tracking and many more.
It has improved its social media toolkit which helps to build effective social media strategy.
Also Read: Best WordPress Social Media Plugins
SEMRush marketing automation tool allows you to get a full report on what your content is ranking for, the terms you should rank for. Beside this, you can check errors and issues which need to be fixed and many more.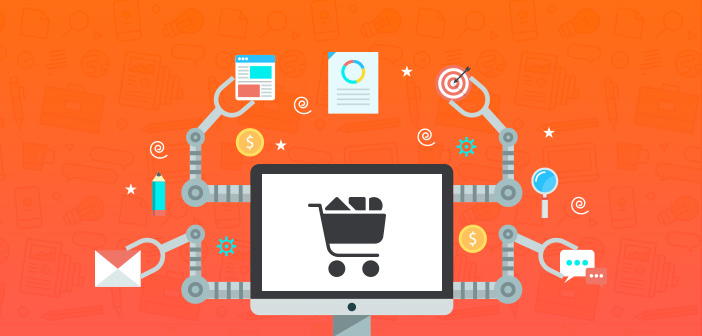 Do you own an ecommerce business and wish to promote your products to a specific audience? Have a look at these great marketing automation tools that will help to enhance the performance of your business.
6. Dotmailer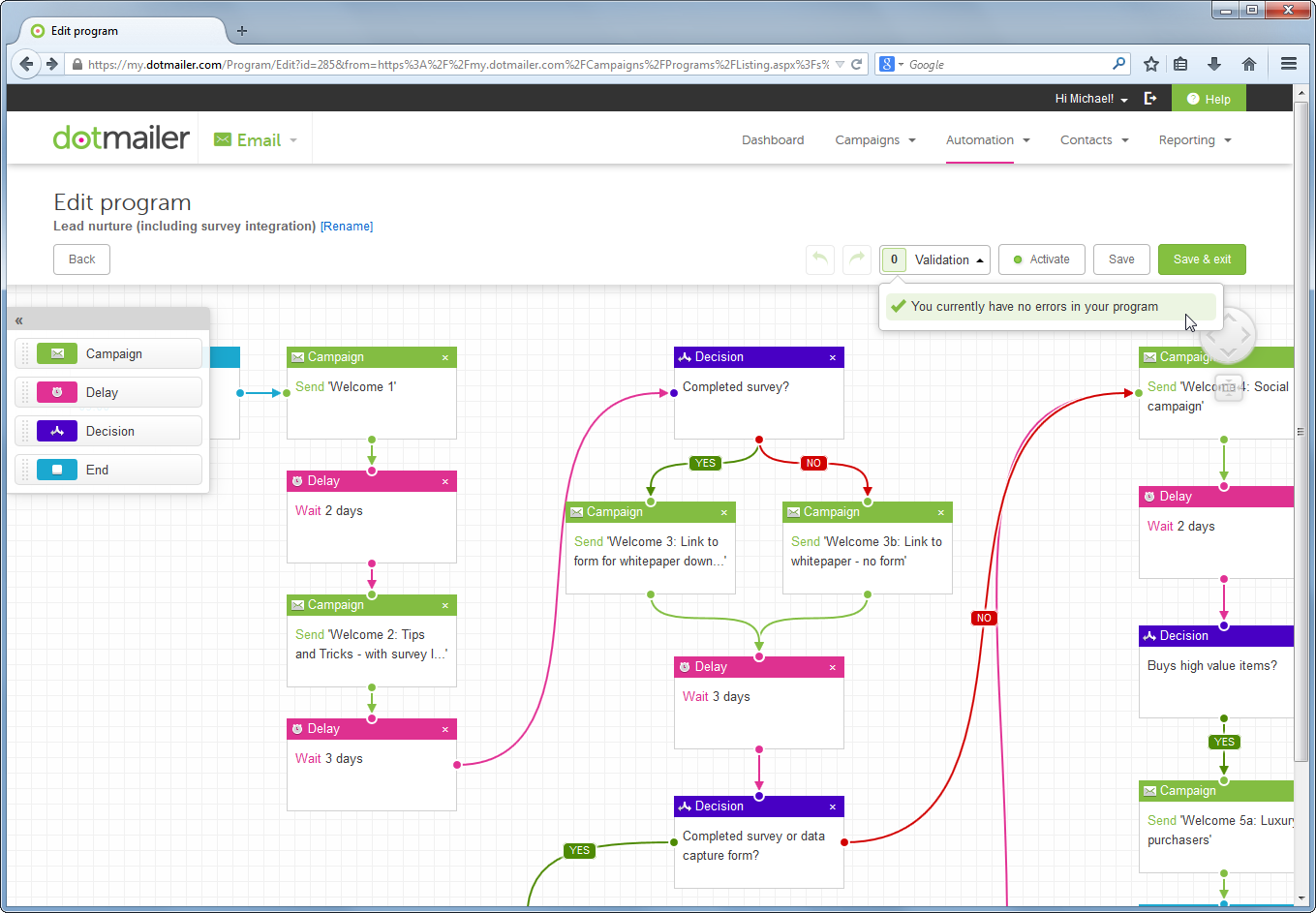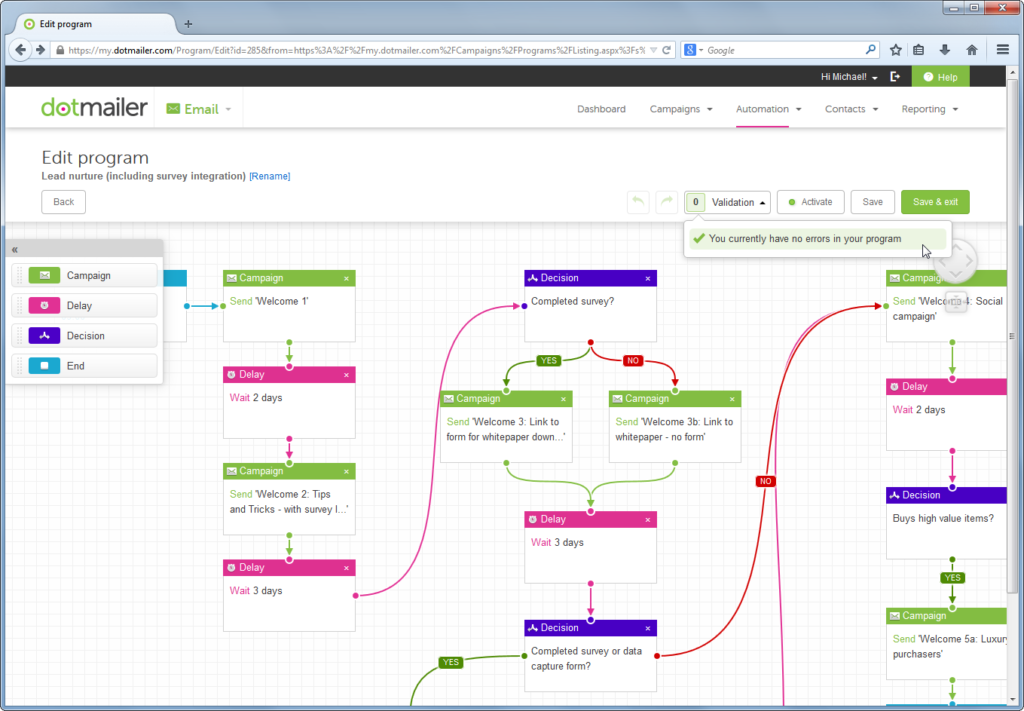 Dotmailer is one of the best tools which assists you to take your business on to the next caliber. It functions as your marketing backbone, whether you need to handle data, implement effective campaigns, or manage marketing operations.
Dotmailer marketing automation system keeps on adding new features while improving its existing functionalities. That means you will be growing faster along with powerful and scalable capabilities.
Apart from that, it is useful for email marketing professionals with an easy to use interface.
7. Oracle Bronto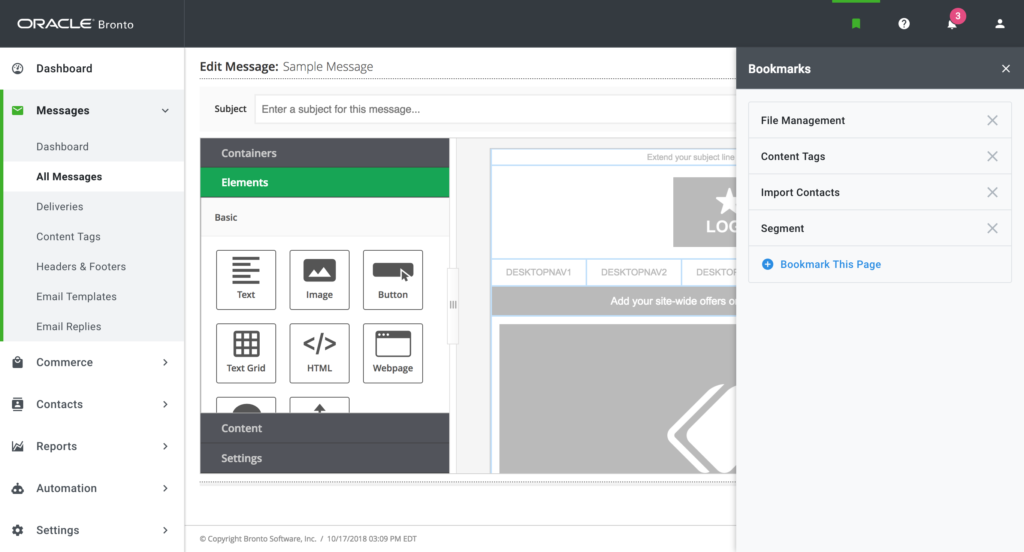 Oracle Bronto marketing automation tool focuses on the high growth ecommerce retailers all around the globe. It provides integration to all commerce platforms.
Bronto marketing automation tool provides the capacity to deliver responsive social and mobile media campaigns. It includes an array of powerful apps beyond core functionality.
This platform provides Drag and Drop Automation, Post Purchase Campaigns, VIP and Loyalty Programs, Precise Segmentation. It also provides a great user experience.
8. ActiveCampaign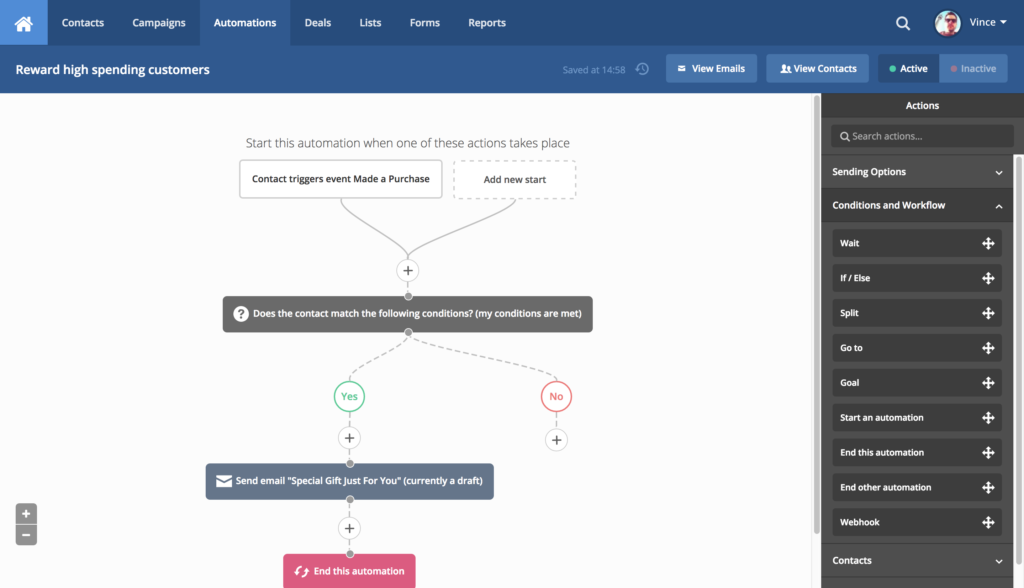 ActiveCamapign makes pricing more attractive, It mostly focuses on the acquisition rather than conversion. So, the marketers who are looking to get opportunities on the landing page will be disappointed. But, it has the most fascinating feature that, renders self-learning equipment which is really attractive for self-learner.
ActiveCampaign is highly effective for email marketing, Site and Event Tracking, Contact and Lead Scoring, well as SMS Messaging.
9. Hubspot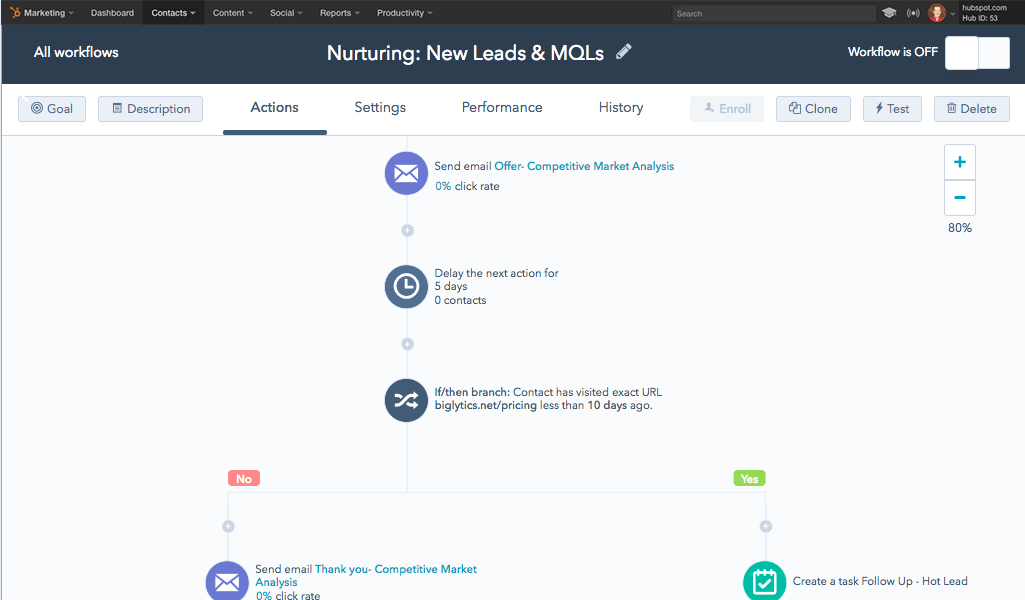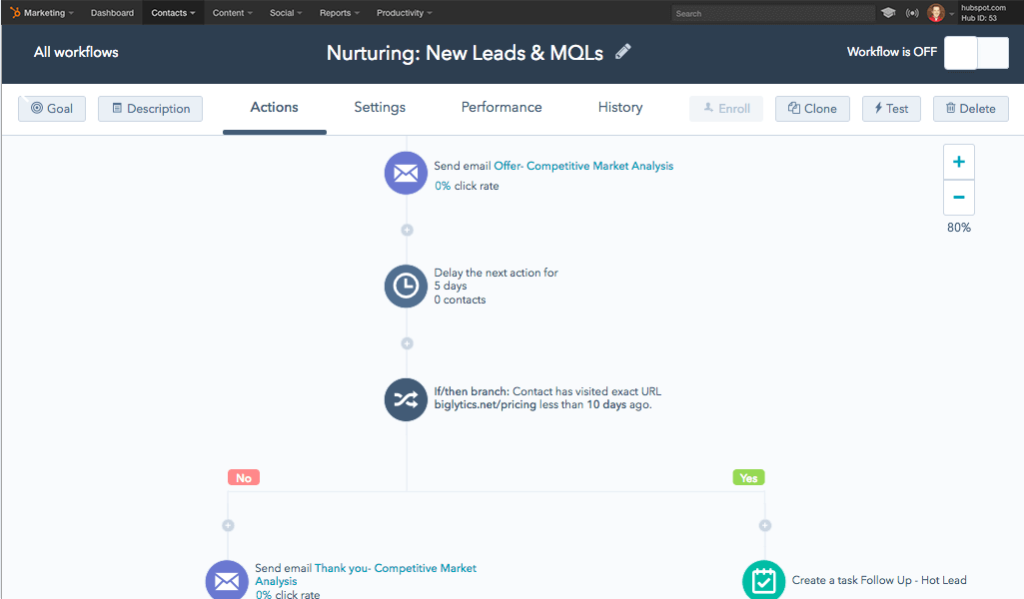 Hubspot is one of the most recognized tools among marketing automation tools. It offers full stack sales, marketing and CRM technology which is really helpful for business growth. It also provides integrated online and social media marketing activities. Besides, it provides email, SEO, contact, and analytics.
This marketing automation platform is best for the powerful marketer, to learn about Call To Action, Progressive Profiling, A/B Testing Landing pages, Segmentation, SEO Recommendations, Blog Analytics, Integrated Social Publishing.
10. SharpSpring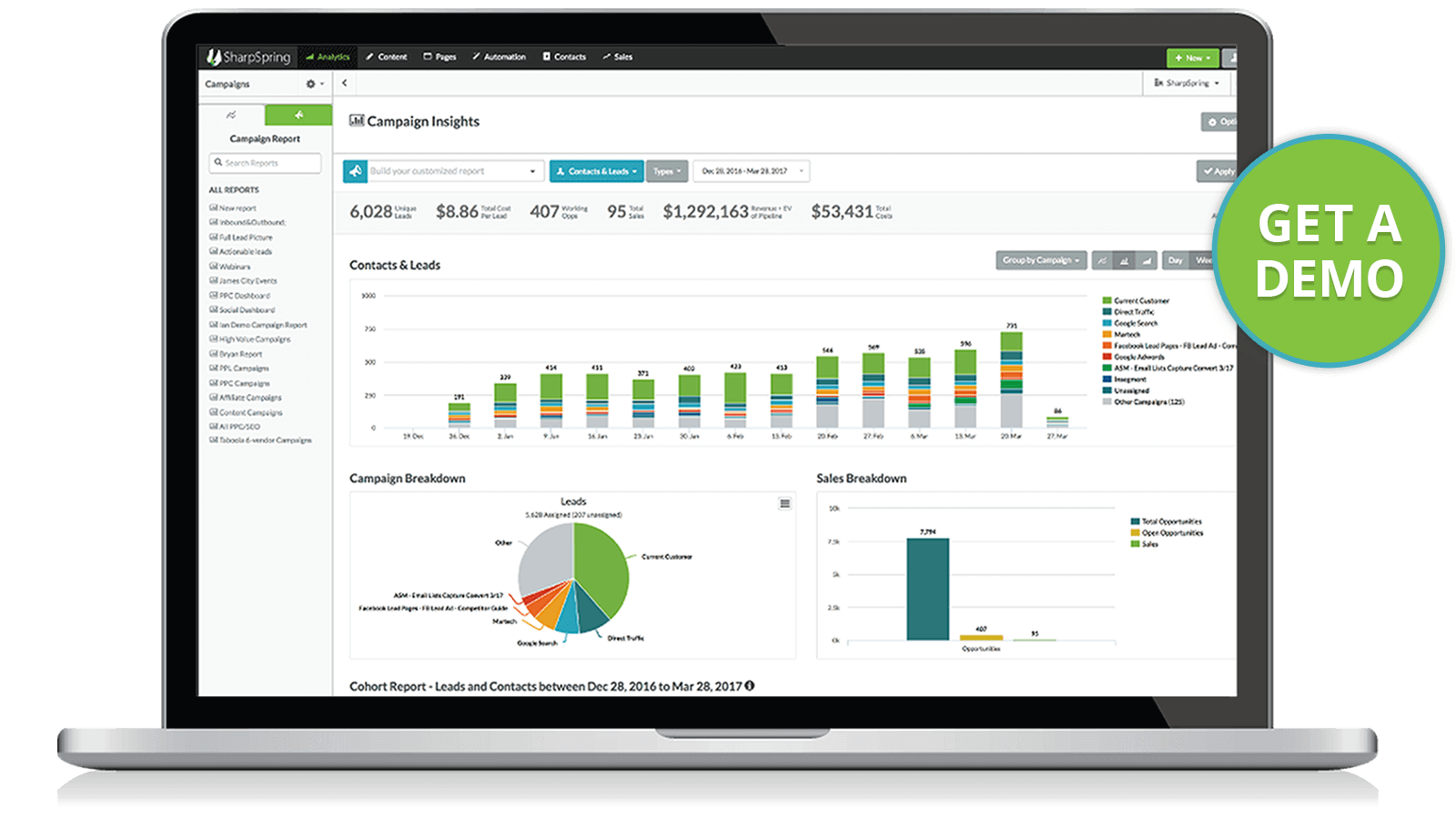 SharpSpring is an easy-to-use tool which highly emphasized on behavior-based email, blog building, dynamic landing pages and social media. By focusing on these areas, it converts leads into sales. Besides, Behavioral Based Email Automation, Dynamic Forms, Lead Scoring, Dynamic Web Content, Daily Visitor Email ID etc are major features.
This tool is valuable for smaller retailers who need powerful analytics and highly customizable content.
11. Exponea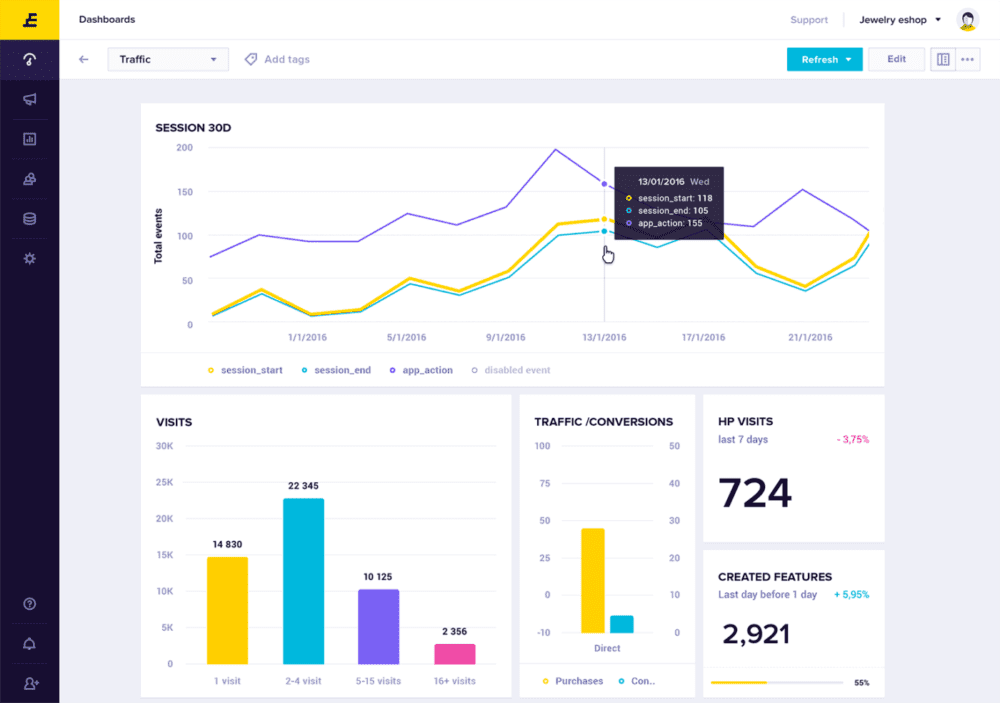 Exponea is enterprise-grade Customer Data Platform & Experience Cloud that combines customer data analytics with omni-channel campaign execution while cracking the unified Single Customer View. Through this, digital marketers are able to understand their customers and immediately turn insights into actionable campaigns, ensuring improved customer experience and increasing customer retention.
With cutting edge technology, Exponea empowers you to deliver personalized experiences to your customers at scale through deeply embedded AI-powered capabilities.
What can you do with Exponea?
Track your customers' behavior, be it online or through backend integrations and imports.
Do advanced analytics and segmentation of the tracked data.
Automatize communication with your customers through email, SMS, web layers or notifications.
Personalize your communication based on advanced custom conditions.
Manage comprehensive emails, do AB testing enhanced by AI and more.
Marketing Automation Tools for Startup
Best Marketing Automation Tools for Startups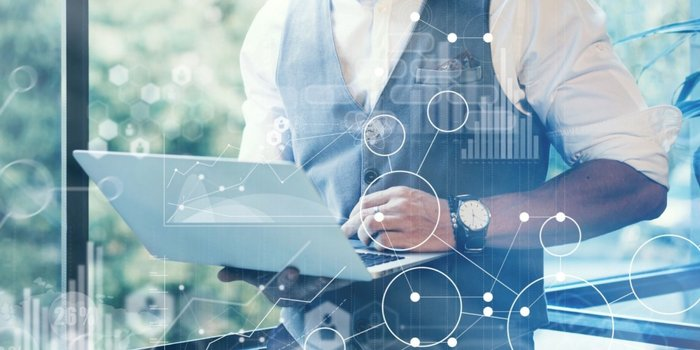 Running a startup isn't easy. Young entrepreneurs put in a huge amount of time and effort to launch a startup successfully. If you're one of those startup owners, you need to automate some of your activities to smoothen your workflow.
12.  Google Tools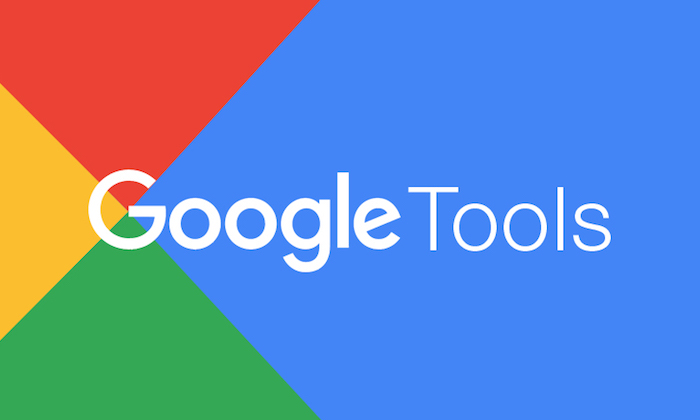 Google tools will be one of the most phenomenal marketing automation tools for your startup. Tools which Google embraces of Google Analytics, Google Tag Manager and Google Keyword Planner.
At the early stages, you want the data of your visitors to pursue your buyer's persona. In order to acquire that, use Google Analytics and Google Tag Manager. Both of them are fit to use. To administer your PPC campaigns, keyword research and track your traffic, Google Adwords Keyword Planner will be a vital choice for you.
13. Marketo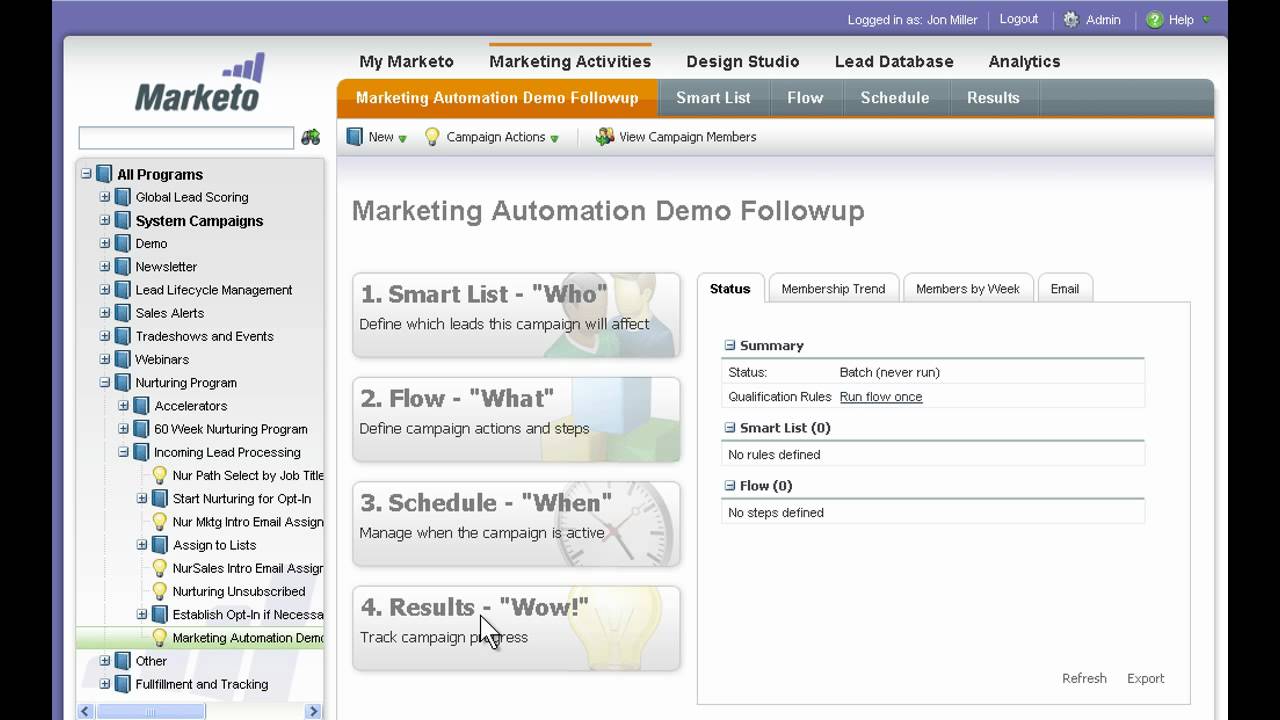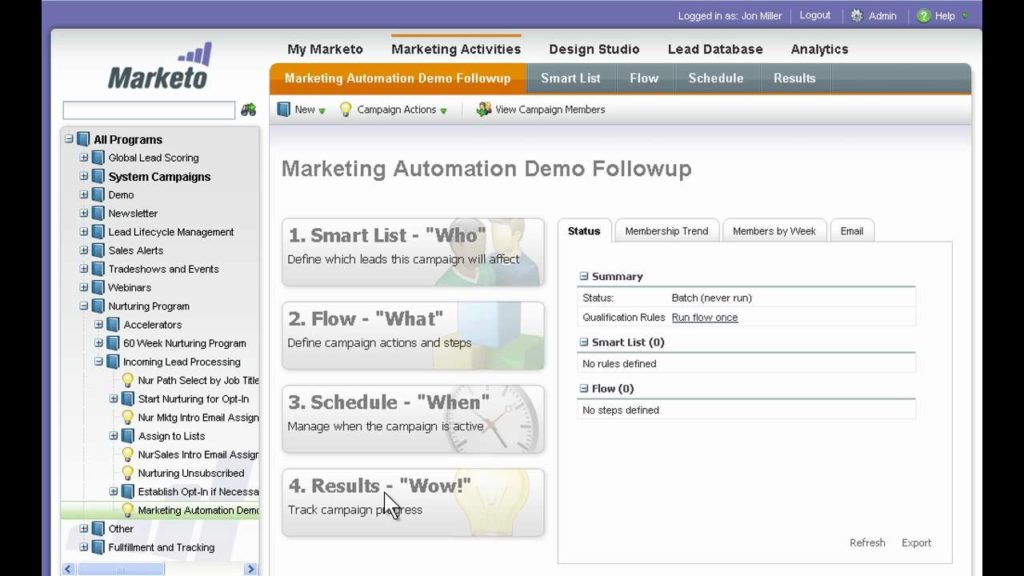 Marketo mainly helps to build marketing strategies from scratch and allows to integrate with all the channels such as websites, social media, and email campaigns. Marketo is slightly costly as compared to other marketing automation systems, but, it does not compromise on quality.
14. HootSuite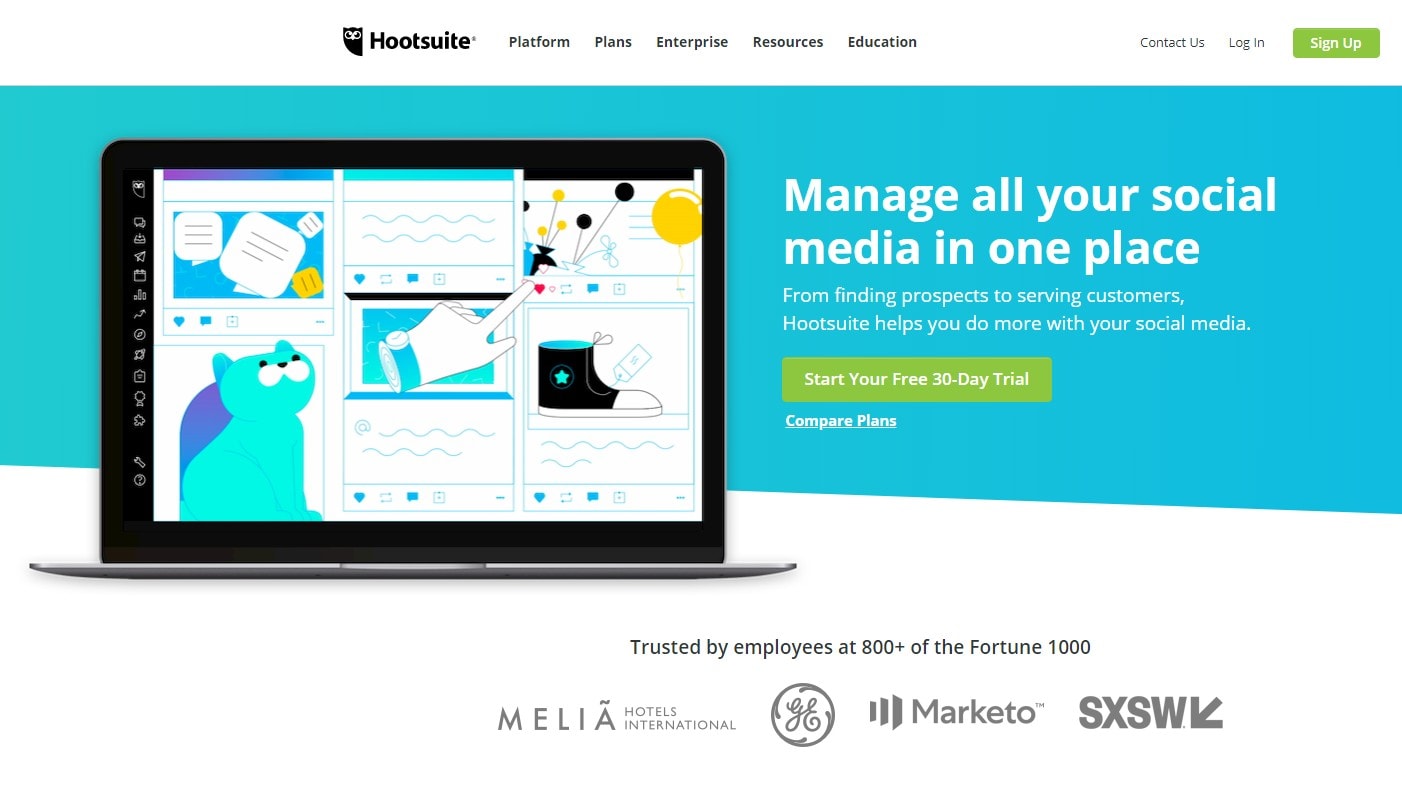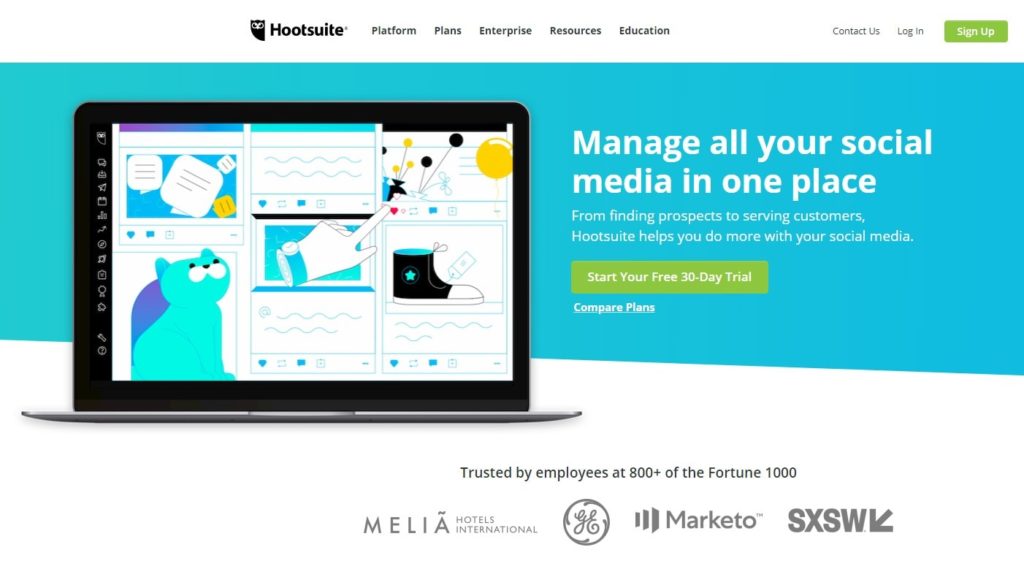 HootSuite marketing automation platform is really useful for interaction on social media. It helps you to manage all your social media platforms within one program.
It provides assistance in posting updates, better connection with contacts and review responses.
The pricing is moderate and it is also good for personal use.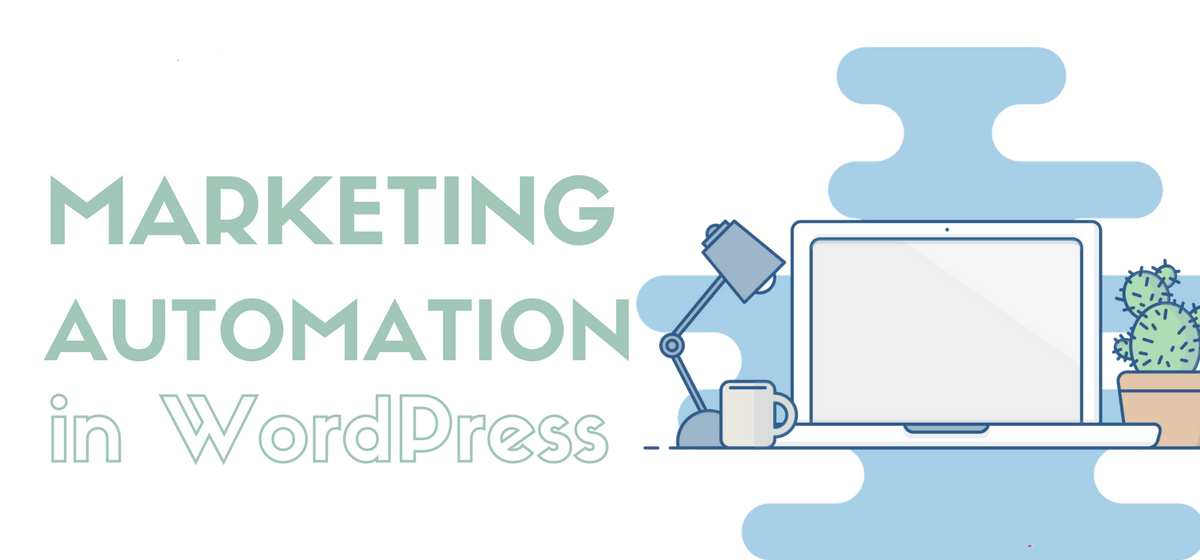 You will be seeing a lot of WP marketing automation tools, but you don't know which one to use. Let me share a few of them that will help you in automating your marketing strategies and planning.
15. SendinBlue


By using SendinBlue, you can avail a plugin for email marketing, which assists you to create custom subscription forms. You can integrate it into your posts, pages or even sidebars.
It assists you to manage your contact lists and also helps in to improve your campaign performance.
By using SendinBlue marketing automation platform, you can create and send a rich newsletter with an easy-to-use drag and drop interface.
The wp_mail() function enables SMTP deliverability and tracking. A real-time dashboard helps you to track the open rate, clicks and bounce rate report.
16. Pardot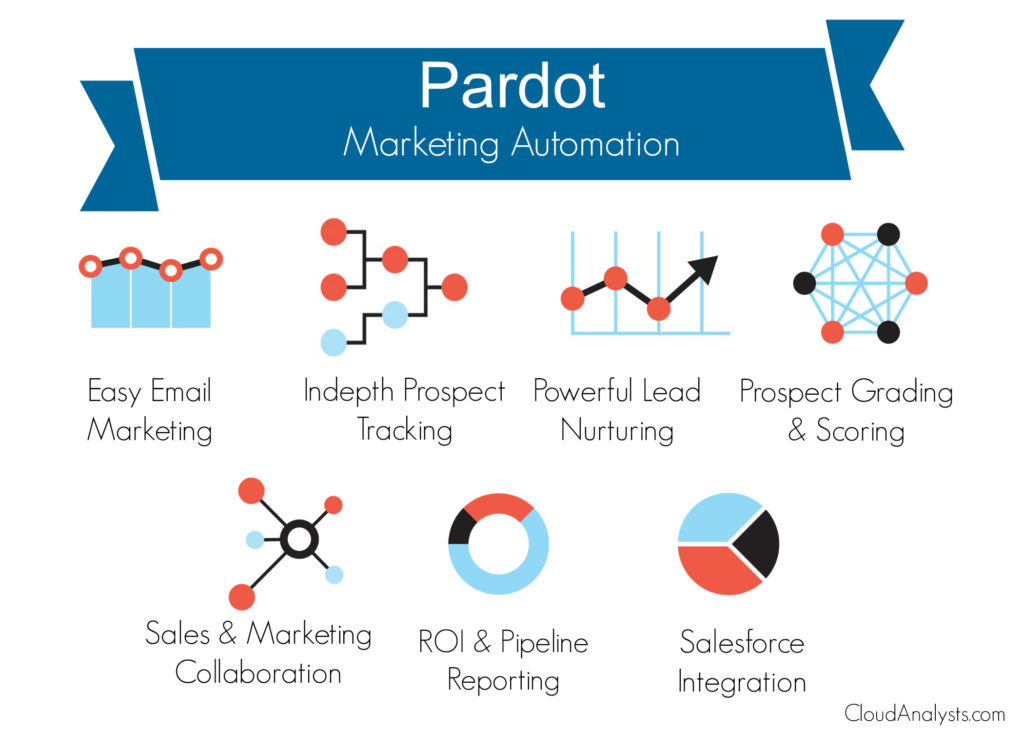 With a single login, you will connect with the Pardot marketing automation platform. While, on any selection of your campaign, you can track your visitors, work with forms and dynamic content without disturbing a single line of code. You can use the widget which will help you to place a form or dynamic content anywhere.
17. Jumplead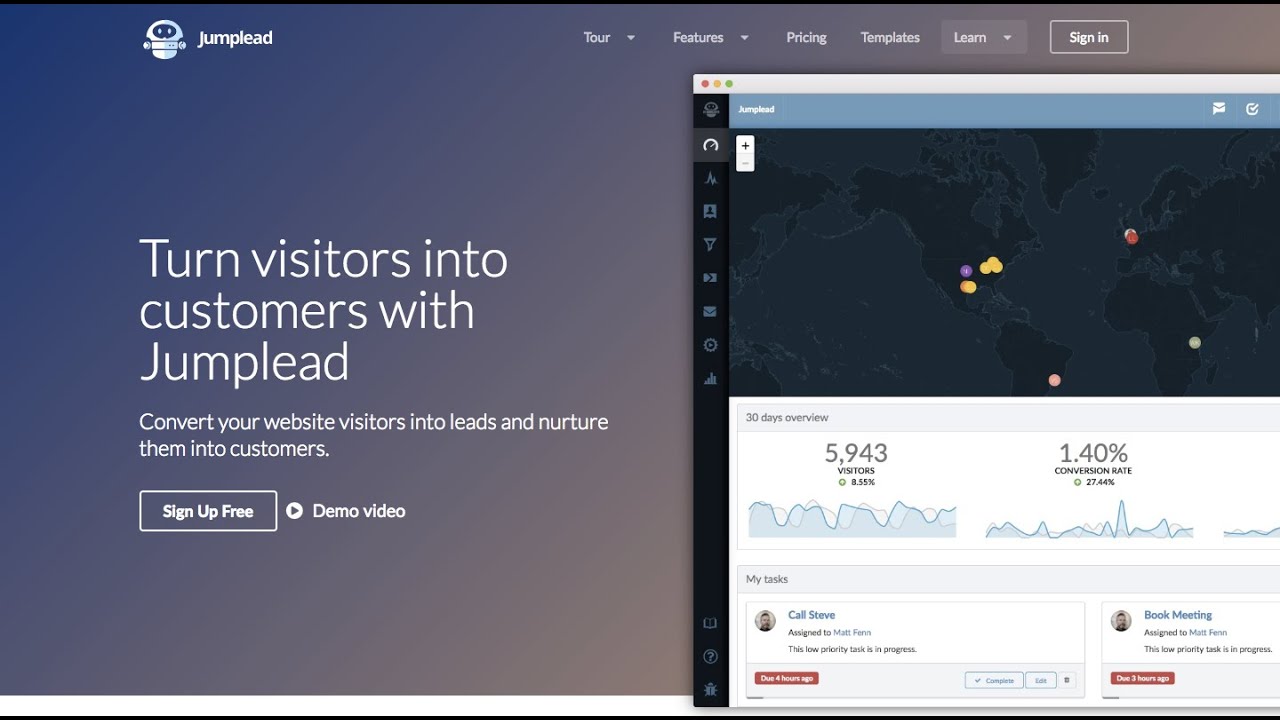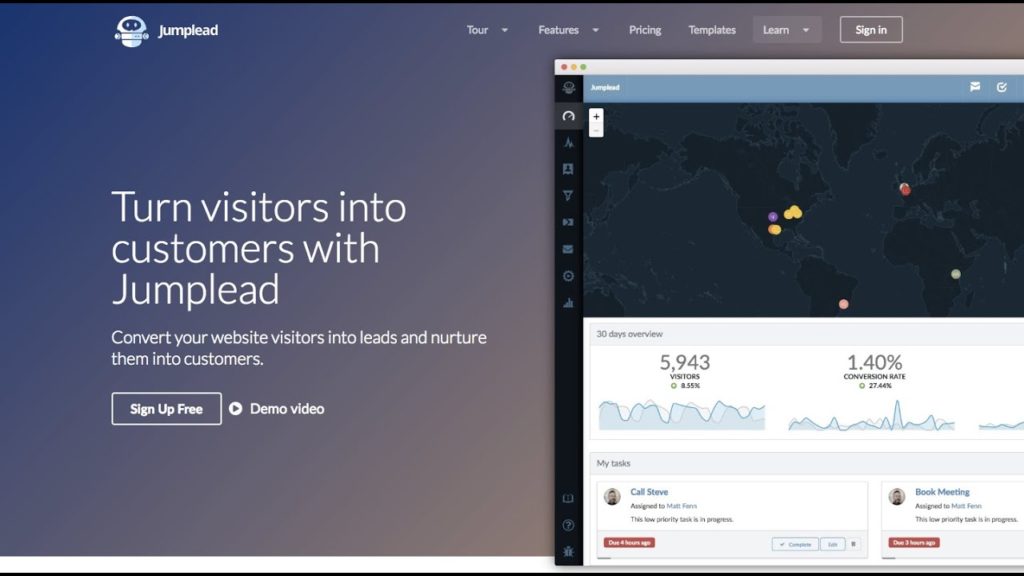 Jumplead marketing automation platform helps you to identify and connect with your visitors, who are active on your website, helping to send a notification to the sales team at the instant.
It helps you to convert your visitors to leads while capturing the profile through web forms, and then creates, manages and secure those profile automatically. Besides, the contact's profiles are kept on updating.
18. WP Fusion Lite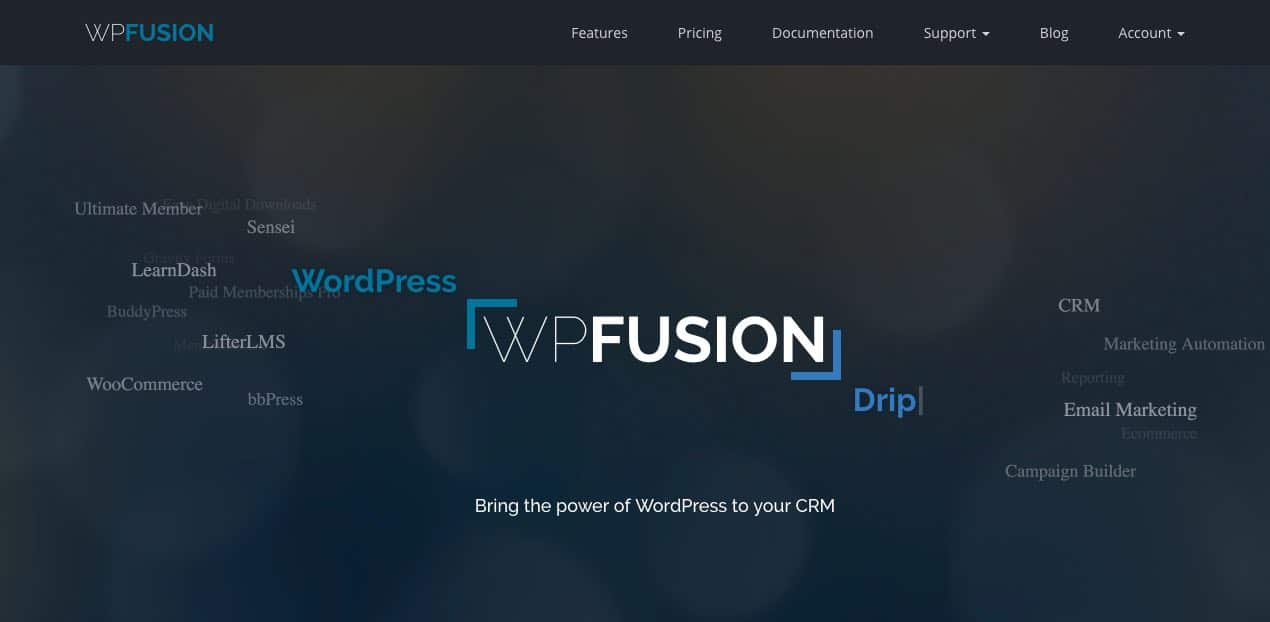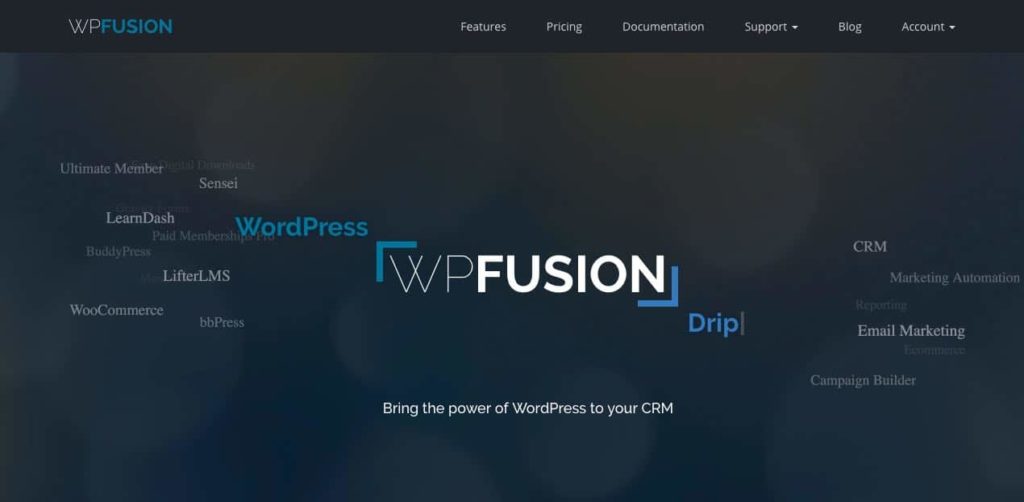 WP Fusion Lite enables you to connect with leading Customer Relationship Management Systems and marketing automation tools. It automatically creates new contacts in your CRM whenever the new users added in WordPress. It configures synchronization and updates contact in your CRM.
19. AcyMailing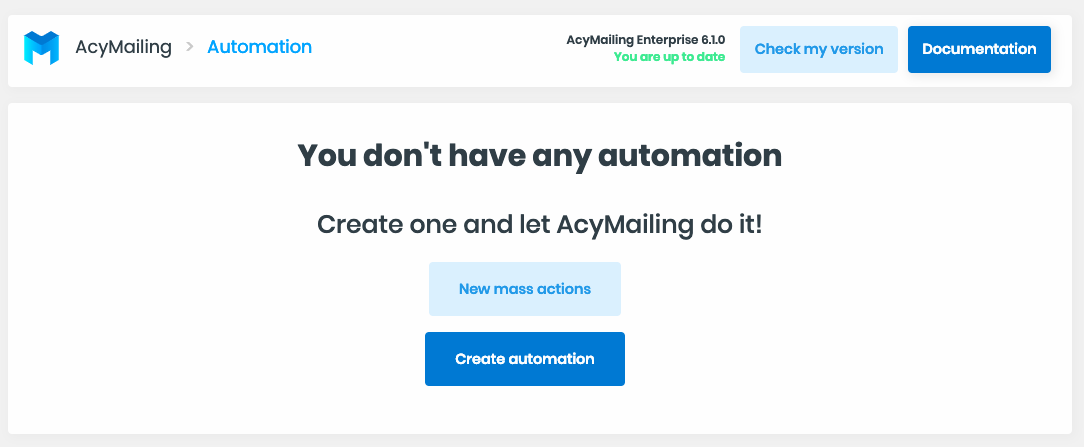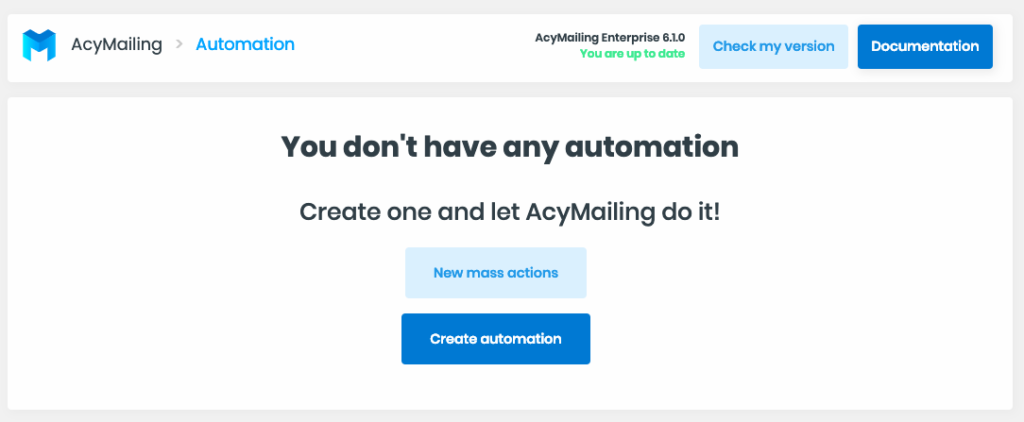 AcyMailing has created email marketing so easy! By using Acymailing, you can maintain real communication with your contacts via newsletters and follow-up autoresponders etc.
You can also test the content of your newsletter so you won't be considered as SPAMMER. There is no restriction for sending email campaigns and manage as many as you want.
Every successful business starts with a team of dedicated people. Here are some useful and best marketing automation tools for small business owners out there.
20. Mautic
Mautic is well known for a small business marketing automation platform all around the globe. Mautic is offering an open source marketing automation tool which is also good for startups with a tight budget. Mautic marketing automation platform is a combination of quality features at no cost. This platform provides a customizing option along with unlimited integrations.
21. Infusionsoft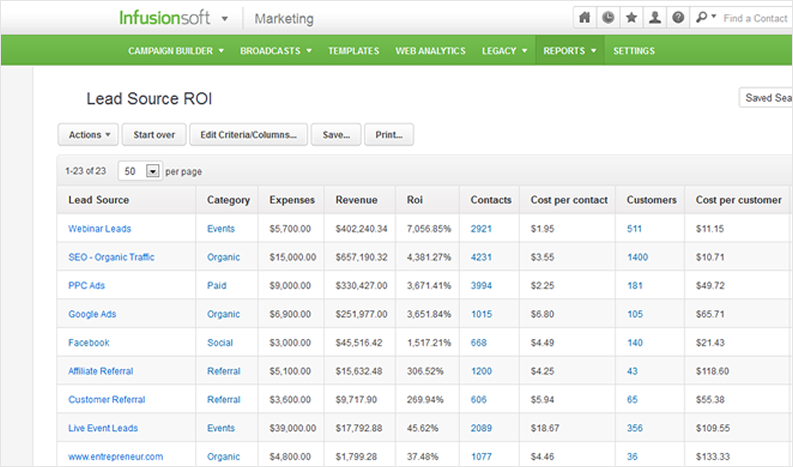 Infusionsoft is one of the most popular marketing automation platforms which is specifically designed for small businesses. Infusionsoft offers most of the features as big-scale marketers such as CRM, automating lead capture and follow-up, personalization based on information tracking, sales automation, and online sales.
22. Sprout Social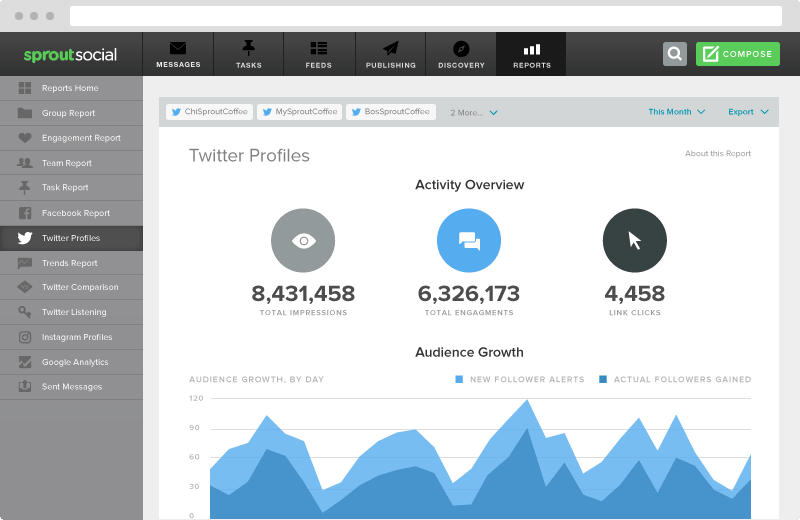 Sprout Social is a really useful and popular marketing automation platform which is providing great features and benefits to the social media campaigns.
It also includes unlimited customer reports, advanced scheduling, and team collaboration tools. As customers appreciate easy to use dashboard, therefore, Sprout Social has introduced "Smart Inbox" which shows the status of entire social media such as Twitter, Facebook and Google+ profiles.
You can see all your social media messages, visualize progress, monitor keyword and hashtag on one single screen.
23. Hatchbuck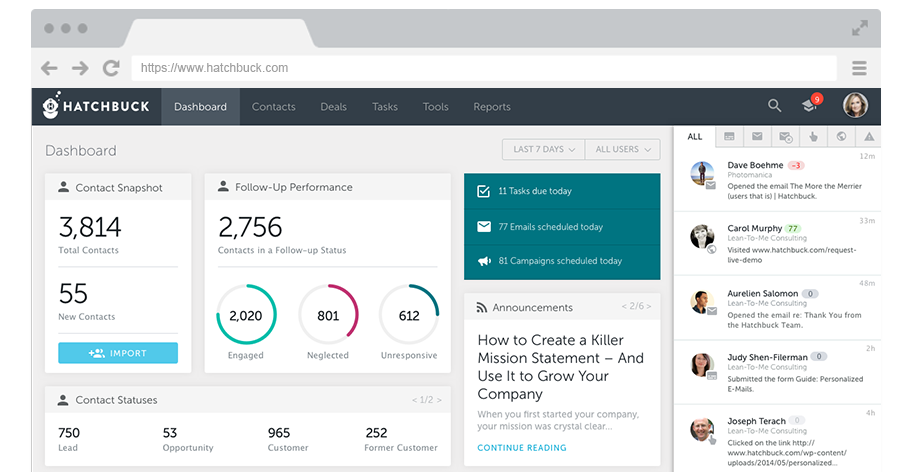 Hatchbuck marketing automation platform is a new all-in-one CRM marketing software which is specially developed for small businesses.
It offers a great customer satisfaction rate specifically for contact managing, follow-up automation, and tracking. While it is also providing a great user interface with a drag and drop option.
24. SendPulse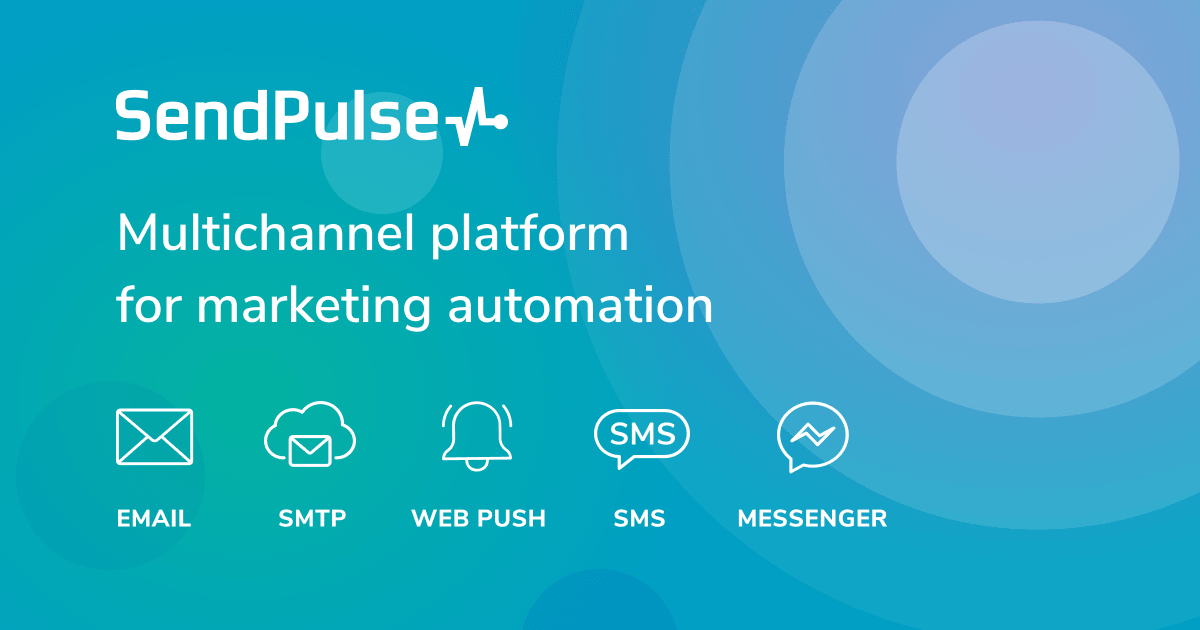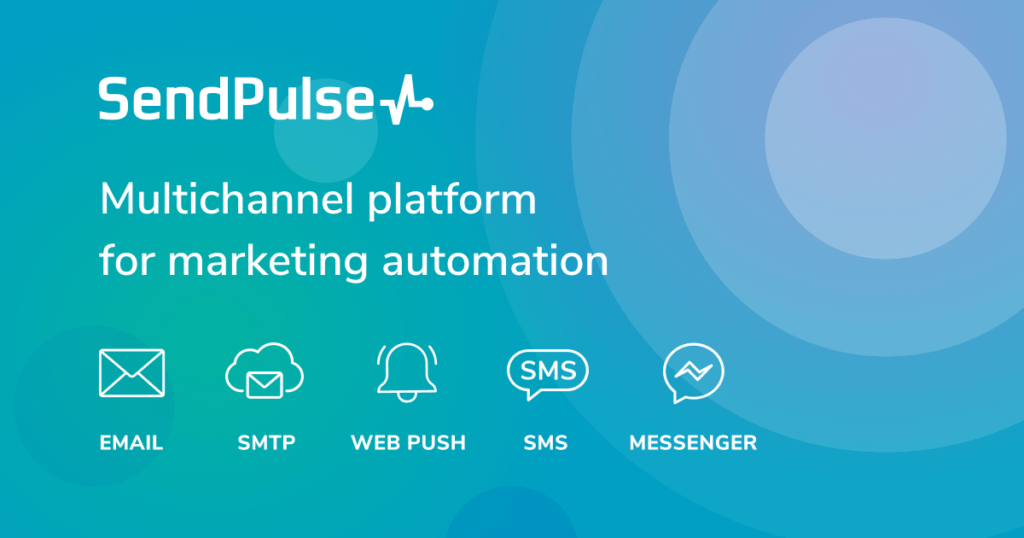 SendPulse is also an amazing marketing automation platform which provides reliable automation email service. With the help of email automation tool you will be able to remind your customers regarding your new products, or send them a thank you note after purchasing your product.
This tool uses multiple channels which means, it will allow you to send SMS or WEB push notifications and emails too.
Other features which include conversion count, visual statistics, data filters, etc. will add more value to your business, enhance your marketing campaigns flow.
Expert Opinions
Till now, all you have read is me telling you about marketing automation tools. To give you a deeper insight into the topic, we reached out to some marketing specialists and took their opinion on how marketing automation tools are benefiting businesses everywhere.
"Marketing automation provides a way to streamline these tasks and create a seamless process for marketing agencies, their clients, and their customers.

I've seen situations where clients spend thousands of dollars a month to generate marketing qualified leads but fail to follow-up with them in a timely manner. For this reason, marketing automation provides a fast solution for improving lead to customer conversions and directly growing a client's bottom line."
Tony Mastri
Marketing Specialist
"As a marketer myself, I use automated tools to save time. A lot of what a marketer needs to do is the strategy and analytics part: thinking about how they can make their business thrive. Unfortunately, there's also a great amount of manual work involved: creating ads, creating marketing reports, scheduling your campaigns, creating content, etc. Automation tools are there to help do all the heavy lifting for you, enabling you to work on your strategies and campaigns instead."
Marie Lamonde
Content Marketing Specialist,
"Marketing Automation Works If You Have a Plan: Marketing automation is great but it only works if you have the right plan.

The best reason to use marketing automation is the fact that you can see which types of content your audience is looking for and help deliver them more of what helps them the most by seeing exactly which pages they visit, which emails they open and more."
Peter Kim
Marketing Strategist, Ready Artwork
"Marketing Automation is like AI.

By that I mean that it's great on its own, but even better when combined with human thought. The marketing automation aspect reduces costs and workload on our side so we can focus our efforts on more sensitive areas. The human touch aspect keeps things running normally, and keeps enough of a human component that customers don't feel like they're just going through this completely automated cold system.

Hearing from a human is important to customers, even though many appreciate the smart application of AI and marketing automation now. "
Devin Beverage
Founder, DevBev Co
"I would recommend at the very least setting up an email marketing double opt-in and autoresponder tool, even if you are hesitant to use automation. Having a double opt-in keeps your list free from spam in a way you would never be able to do manually, and having an auto-respond and/or drip campaign engages customers via email in a way that would take hours to do by hand. There's really no reason not to automate a large portion of your email campaigns."
Stacy Caprio
Founder, Growth Marketing
Final Words
Marketing automation tools are creating a significant impact on the world of marketing. By using these marketing automation tools you can create value for yourselves and for your customers as well.
The key is to identify which marketing automation tools are best suited for your business because there is a chance that you might be using the wrong tools.
If you're using a marketing automation tool that is not in this list, feel free to share about it in the comments below.
Keep reading the article at WPblog. The article was originally written by Moeez on 2020-03-08 20:00:43.

The article was hand-picked and curated for you by the Editorial Team of WP Archives.