Team leaders will provide guidance, instructions, direction, and leadership to a group of people, in other words, a team, to achieve a result that is required for a certain job. Being a team leader or a project manager in a company is an honor and a privilege, but this position comes with a lot of responsibility.
You will be in charge of a whole group of people that are going to rely on you, and it is your responsibility to guide, mentor, and advise them. Furthermore, if one of the people on your team makes a mistake, you will be the one that is going to be held responsible.
It is a fact that being a team leader or a project manager is hard, but with a little bit of organization and a lot of effort, you can be a person that people in your team look up to as well. That is why, in this article, we will be presenting some great online tools for team leaders and project managers that will make communication with your team easier, organization of work quicker, and meetings more educational as well as fun.
So let's start, shall we?
1. Toggl Plan
Toggl Plan is a tool used for project and task management as well as team planning. One of its best features would be the team view, which allows you to get a weekly overview of your team's work hours, tasks, and deadlines.
With this tool, you can add deadlines to assigned tasks, so your team will be notified when they are running low on time. You can also plan future projects with ease by entering the specific tasks your team needs to do in a given time frame.
Another great feature Toggl Plan has is color coding for a better overview of a project, what still needs to be done, and who in your team is supposed to do it.
This is a freemium tool, which means there is a free version of it as well as two subscription plans (Standard and Business) if you want advanced features. The Standard plan costs 9 dollars per month per user, and the Business plan 15 dollars per month per user.
Oh, another good thing about Toggl Plan is that it does not require a credit card for registration.
2. Slack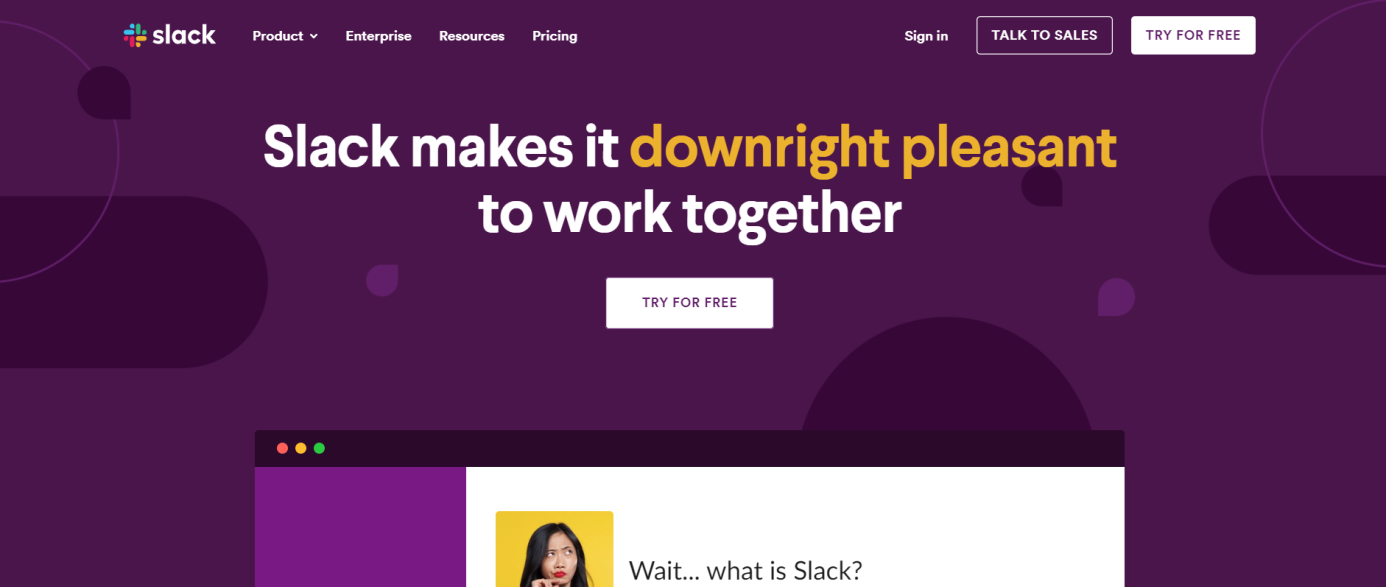 Slack is a tool that will help with communication because it allows you to communicate with your team faster than via email and in a more focused manner than via a chat tool. With Slack, you can follow everything that is going on and is related to a certain project, topic, or client.
If you want to look at some of the previous conversations regarding a project, client, or something else, Slack has the option to filter through communication and allow you to find a certain piece of info. Also, Slack saves everything, so you do not have to.
You can share communication channels directly with your clients for faster and better communication. Plus, Slack allows any form of communication, whether that be videos, calls, or messages. Slack covers everything and allows you to attach files to your messages if you need to send out some files to your team or your clients as quickly as possible.
Slack is also a freemium tool and has three subscription plans alongside the free plan – Standard, Plus, and Enterprise Grid. The Standard plan's price is 6.67 dollars per month, the Plus plan's price is 12.50 dollars per month, and to find out the price of the Enterprise Grid plan, you will have to contact sales.
3. Zoom

Zoom is a video conferencing tool used by many people for meetings, courses, team building, and so much more. Zoom will allow you to record meetings so you can share them with the people who could not attend. You can also screen share while on a video call to show your team relevant data you are talking about.
Zoom has an integrated chat feature that you can use while on a video call; if you want to ask private questions or share links and files.
Zoom is one of the most popular and widespread tools for video conferencing, and it is used by companies all over the world.
Zoom is also a freemium tool, so if you want extended features, there are three subscription plans. The Pro plan costs 14.99 dollars per month, the Business plan costs 19.99 dollars per month, and the United Business plan costs 35 dollars per month.
4. 15Five

15Five is a great way to motivate your employees to achieve better results when working. Its check-in feature will allow your team to mark their latest wins and challenges, so you will know what to focus on when having 1-on-1 meetings with your team members.
15Five will help you stay focused on your OKRs by pointing your team members' abilities towards the goal. With its Dashboard and Reporting features, you will be able to track the journey towards the goal.
Positive reinforcement is always something you need to focus on, and that is why the High Five feature exists. It will allow you to give praise to team members that deserve it, and it helps you see which of them are getting the most praise.
There are three pricing plans for this tool, one being a custom plan that can be adjusted to your team's and company's size. The Basic plan costs seven dollars per month, and the Plus plan 14 dollars per month.
5. Scoro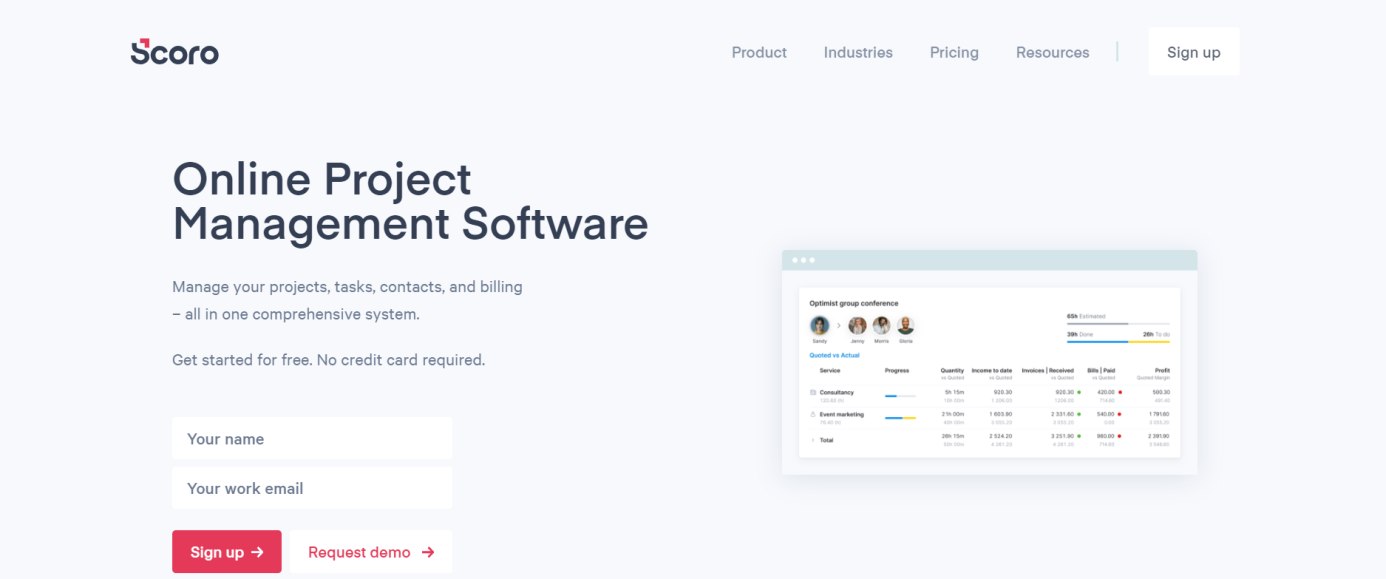 Scoro is an online project management tool that will allow you to put tasks on a schedule, manage your team's utilization and get an overview of your entire team and project.
If you are done with a project, you can easily send invoices to your clients with this software. Plus, you will get notified about late payments, and you can automate recurring billing.
With Scoro, you will be able to see your team's performance, results, expenses, budgets, and sales, all through one dashboard.
There are four pricing plans for Scoro, and the most expensive one is adjustable to your company. The pricing for the Essential plan starts at 19 euros, and for the Work Hub plan as well as the Sales Hub plan at 29 euros.
6. Basecamp

Basecamp is an all-in-one tool for managing projects. Basecamp will allow you to post announcements, present ideas, and notify your team of updates through the message board. You can have a to-do list directly on your user interface that will show you finished projects, deadlines, assigned tasks, etc.
Basecamp's shared schedule will be accessible to everyone in your team, so everyone will be notified about important dates.
You can organize all of the shared files in folders in case you need them again, and you will be able to talk with your team via the Chat feature.
Automated questions that can be sent out to your team will remind them to update you on their progress instead of you constantly asking them about it.
Basecamp costs 99 dollars per month, no matter the size of your team or your company, and has a 30-day free trial so you can decide if you want to keep using it.
Conclusion
These six tools will help you with your project management and team-leading tasks, so you do not have to do every single one of them manually by yourself.
Being a project manager or a team leader can be stressful, but it can also be an amazing experience that allows you to motivate your team, show leadership, and be a role model to your employees. So, why not do the best that you can and make it easier on yourself by seeking help from some of these tools?
Keep reading the article at WP Pluginsify. The article was originally written by Josip Kalem on 2021-03-04 14:58:19.

The article was hand-picked and curated for you by the Editorial Team of WP Archives.