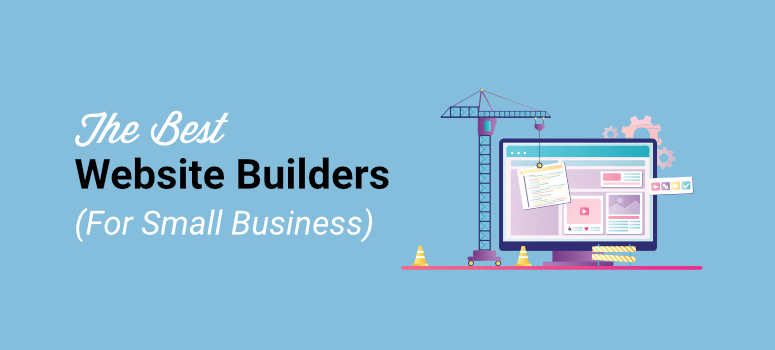 Are you looking for the best website builder to create a website on your own?
It was not too long ago that you needed to know how to code or hire a web developer to build a website. But that isn't the case anymore.
Website builders have made it incredibly easy for anyone to create a website. And the best part? You can do it with little or no investment!
In this guide, we've compared the top website builders, both paid and free. We'll walk you through their features, pros and cons, pricing, and even tell you who it's best suited for. 
By the end of this post, you'll know everything you need about the top website builders so that you can pick the right one to build your website.
Choosing the Best Website Builder- What to Look For?
Website builders are easy to use but there are a few things you need to consider when it comes to choosing the best website builder for your needs. Some of them are:
Budget: For small businesses, this is one of the most important factors to consider. You want to pick a builder that makes it affordable to create and manage a website. Some builders may start off cheap and bump up the price later. Ideally, you want to pick a builder that make it easy and affordable to scale as your business grows.
Ease of use: If you're an absolute beginner, you might consider a solution that comes with templates and an easy-to-use drag and drop visual builder. This will let you design your website as you would see it when it's live. You won't need any design skills whatsoever.
Technical control: If you can handle web hosting, backups, and security comfortably, then you might want to choose a robust website builder, preferably a self-hosted solution such as WordPress.org. These builders give you better control over your website and its configurations. 
If you want to skip these tasks and let your website platform handle them, then you're better off choosing an all-in-one solution like Wix. But keep in mind, you'll lose control of your website customizations and settings as the website builder will handle that for you. 
With these features in mind, we've picked the top website builders for small businesses. Since this is a long list, we've categorized it according to the type of website you want to build:
Best Website Builders for Small Business Websites
1. Self-Hosted WordPress