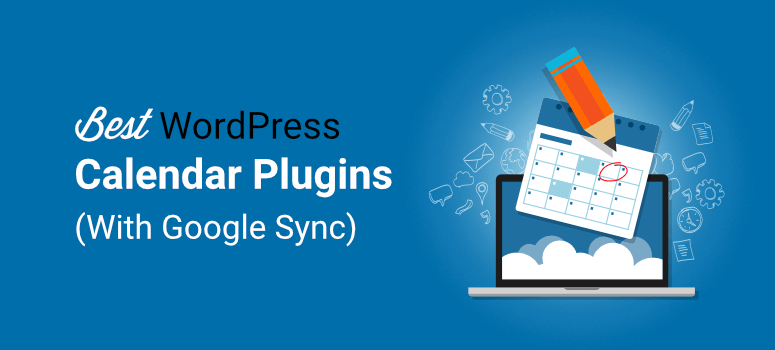 Are you looking for a calendar plugin to organize and easily manage your schedule?
Whether you're looking to showcase upcoming events, schedule bookings, or simply keep yourself organized, the right calendar plugin can make all the difference on your website.
In this article, we'll share our handpicked list of the 12 best WordPress calendar plugins. The following list has both free calendar plugins as well as premium plugins for you to try.
1. Sugar Calendar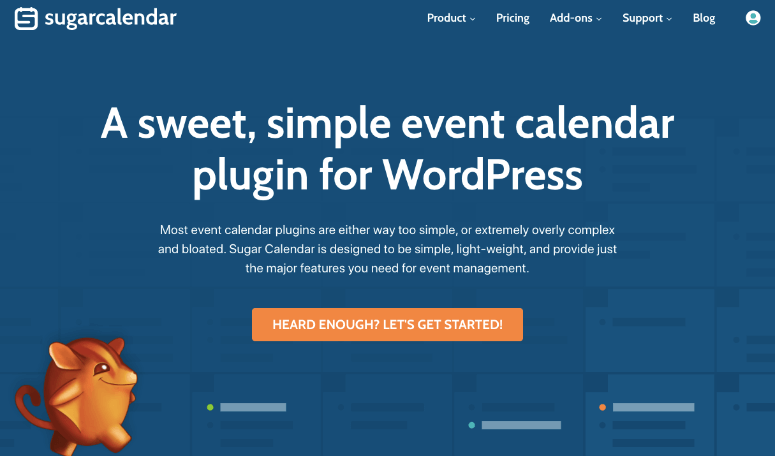 Sugar Calendar is the best calendar plugin for WordPress that's designed to give you exactly what you need. It's got a simple interface making it a top choice for beginners. At the same time, it gives you all the features you could ever dream of to manage your events, bookings, and schedule.
The Sugar Calendar plugin is lightweight so it's optimized for speed too which is a big plus in terms of SEO-friendliness.
Once you activate the plugin on your site, you'll get access to create events with start and end times, multi-day events, and recurring events. You can even create categories, timezones, and the best part? You can sell tickets using a Stripe or WooCommerce integration.
To make things even easier for you, there's an option to duplicate events with a single click. This will save you a whole lot of time as you won't have to rebuild your events from scratch.
Sugar Calendar has a lite version of this plugin available in the WordPress repository for free. So you can get started with zero investment. You can even take advantage of free addons to extend Sugar Calendar's abilities. Some of these addons include:
…and more.
We do recommend checking out the premium version of this plugin. It starts at just $49 per year and gives you access to advanced features, priority support, and even more addons making it totally worth the price!
Not convinced yet? Check out these highlights where Sugar Calendar can really help you:
Simple interface that is not only beautiful to look at but also easy to use
Custom date formatting tailored to yours or the user's preference
Translation ready so you can offer your calendar in other languages
Time zone conversions to instantly update the event time according to visitor's location
Repeating and recurring events by day, week, month, year, and custom dates
Best user experience with effortless frontend display
Calendar Feeds addon to sync with Google Calendar, iCal, Gnome Calendar, and more
You really don't need to look further than Sugar Calendar. It's at the top of the list for good reason.
Get Sugar Calendar!
2. WPForms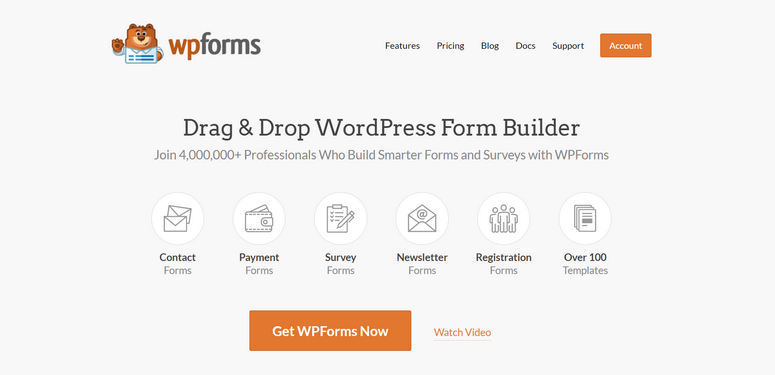 WPForms is the best form builder for WordPress. It isn't your conventional calendar plugin but has powerful features to help you manage your events and bookings with ease.
First, you'll find ready-to-go form templates for event planning, appointments, bookings, registrations, and more. All you have to do is select a template, customize it to match your goals, and publish it on your site.
WPForms is built to be easy for anyone to use so you'll never need coding or design skills. You can add the form to any WordPress page or post with just a click.
Also, you can sync your form with a calendar app like Google Calendar. Then when someone submits the form, an event will automatically be created in your calendar so you can stay on top of your schedule.
Check out the full tutorial on sending form entries to Google Calendar for more information.
You'll now have the option to create customized events for your calendar. There are plenty of ways for you to tweak each day or event. You can create a custom start time and date, give the event a title, and even upload a promotional image so everyone can see a visual representation of the occasion.
To sum up, here's where WPForms really shines:
150+ templates to create any kind of form you need
Inuitive drag and drop form builder
Payments integrations with Stripe, PayPal, or Authorize.Net
Plenty of addons to extend functionality
Zapier integration so you can connect to 3,000+ apps like Zoom and Google Meet
Automated email notifications and confirmation messages
Built-in spam protection
WPForms has a free version as well as a pro plugin. Its paid plans start as low as $39.50 per year.
Get WPForms!
3. StartBooking

StartBooking is an excellent calendar tool designed for both solo entrepreneurs and businesses with a full team. If you're a business owner who is always on the move, this tool is extremely beneficial.
You can easily create a calendar from the ground up and schedule meetings, events, classes, company holidays, and more. As your customers start booking appointments, it'll become obvious that they are more than mere numbers.
StartBooking allows you to build unique customer profiles so you can build the optimal on-site experience for your customers, and easily track upcoming events at a glance.
When you consider the ability to add notes to events, set reminders to your smartphone device, and the option to integrate Google Calendar in just a couple of clicks, it's no wonder more businesses are using StartBooking for their scheduling needs.
Some of its key benefits include:
Easy to use
Capture important customer info
Fully customizable
Optimized for speed and performance
With the free version, you can create appointments for one bookable service. The basic plan starts at $25 per month making it much more expensive than other plugins on this list.
Get StartBooking!
4. BirchPress

If you're looking for a calendar that offers complete freedom to customize it to your liking, BirchPress might just be the one for you. This developer-friendly tool is quickly becoming a favorite in the eCommerce market.
The simple drag and drop builder lets you build your own custom calendar in minutes. They offer thousands of options to make your scheduling platform one of a kind.
BirchPress allows you to add a payment form if you want to allow customers to pay for their appointments upfront. The default payment option is PayPal, however, you can add other payment methods through Woocommerce integration.
It doesn't matter if you're working for a college, a healthcare clinic, a call center, or a gym, BirchPress will make scheduling a breeze.
In a nutshell, here are the key features of BirchPress:
Build customized booking forms
Embed booking forms using shortcodes
Take bookings directly on your WordPress site
Sync with calendars you already have
Configure email notifications and reminders
You can get started with the free edition. Access to premium features starts at $99 per year.
Get BirchPress!
5. WooCommerce Bookings and Appointments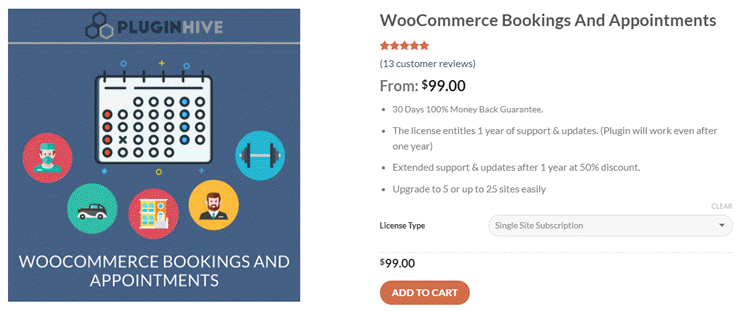 WooCommerce Booking and Appointments by Plugin Hive is the go-to calendar for those who want to book services and make appoints while still selling physical products on a storefront. This tool allows you to have access to the best of both worlds without sacrificing quality.
You can customize this calendar tool so that it fits perfectly within your business model. For example, you can set a buffer time between appointments so you can have time to prepare for your next meeting. There's an automatic tool that prevents people from creating appointments too close together.
On that same note, you can also take multiple bookings for the same time slot. Many personal trainers and spas love this feature because it allows them to maximize their profits in the short time that they are open.
Finally, WooCommerce Booking and Appointments integrates seamlessly with Google Calendars and your smartphone for instant scheduling that's constantly up to date.
A few highlights of this plugin include:
Single-day and multiple-day bookings
Flexible start and end dates
Recurring bookings
Dynamic booking cost calculation
Manage bookings, cost, and availabilty
You can sign up for $99 per year. There's a 30-day money-back guarantee.
Get WooCommerce Bookings and Appointments!
6. The Events Calendar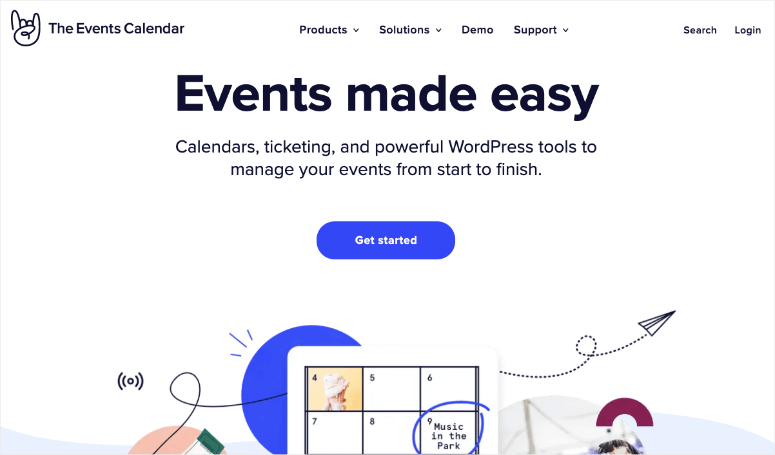 Need a calendar that can handle some serious traffic? The Events Calendar plugin is right up your alley. This slick, easy-to-use plugin comes out of the box ready to use. It's possible to set it up and have it operational in about 5 minutes!
If you're a hardcore developer and enjoy custom options, rest easy. You can dig into the developer tools that come with countless ways to make your event calendar one of a kind. It comes with a skeleton spreadsheet so you can build your planner from the ground up. But they didn't stop there.
The Events Calendar also comes with the ability to add/edit hooks and filters, change the template tags, or choose from a feature-rich collection of extensions to make your calendar the ultimate event planner.
They proudly boast that their plugin easily handles networks that get a staggering 25 million unique views a month. Now that's sturdy!
Highlights include:
Forever free plan
Month, list, and day view
Customizable and developer friendly
Import/export events
Time zone support
A basic site license for 1 site starts at $99 per year.
Get Started with The Events Calendar Today!
7. Calendarize it!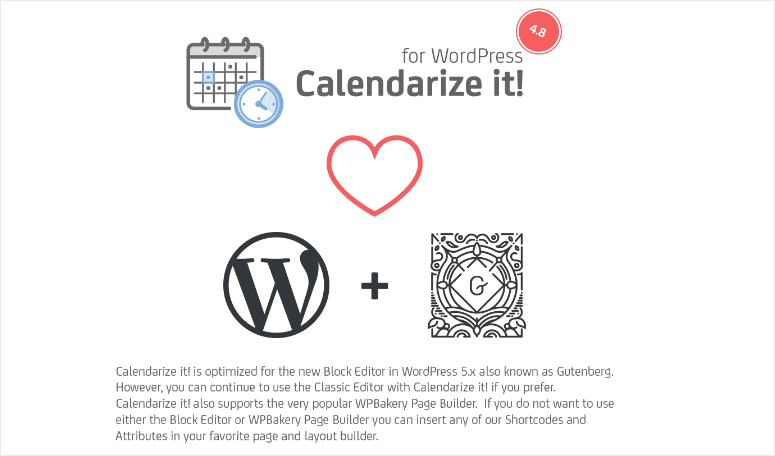 Calendarize it! is a flexible and feature-rich calendar solution for your WordPress site. It's packed with lots of free and paid addons so you can choose what features you want to add to your calendar.
If you use the Gutenberg editor or WPBakery, you'll find it incredibly easy to integrate the form on your site. For all other page builders, you can use shortcodes and attributes to add the calendar to your site.
The plugin comes with a visual CSS editor to customize the calendar without any coding knowledge. You can change colors, styles, and fonts to make your calendar unique to your brand.
Some key features include:
Multiple calendar views
Upcoming events widget
Customizable navigation
Translation ready with GlotPress
A regular Calendarize it! license costs $29 (+taxes) with 6 months of support.
Get Calendarize it!
8. WP Booking Calendar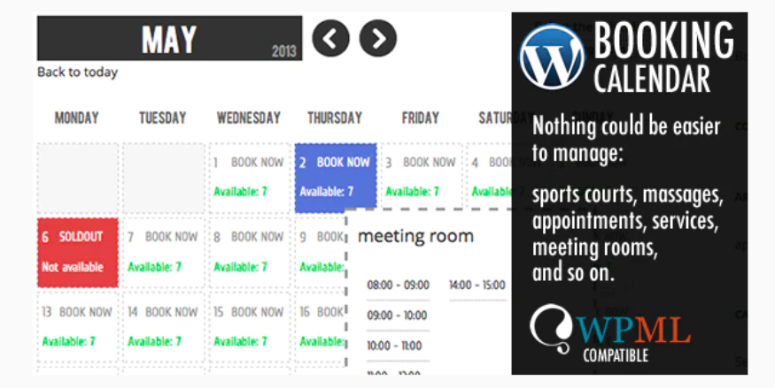 WP Booking Calendar is a great option for businesses that solely want to focus on taking bookings for services. Once you install this plugin, there are a few settings you'll need to configure but it's easy for anyone to get that done.
Then you can create calendars for one or more services and set different timeframes for each day. Once you publish your calendar, customers can view available slots and book a time that's convenient for them.
WP Booking Calendar will send out a notification email to the administrator as well as the customer.
Unlimited calendars
Captcha protection
Calendar availability preview for customers
Single and multiple reservations
Translation ready with WPML plugin
The downside to this plugin is that there is no support from the developer. You can buy it at $19 + taxes but then you're on your own. If you face issues, you won't have a support team to connect with.
Get WP Booking Calendar!
9. EventON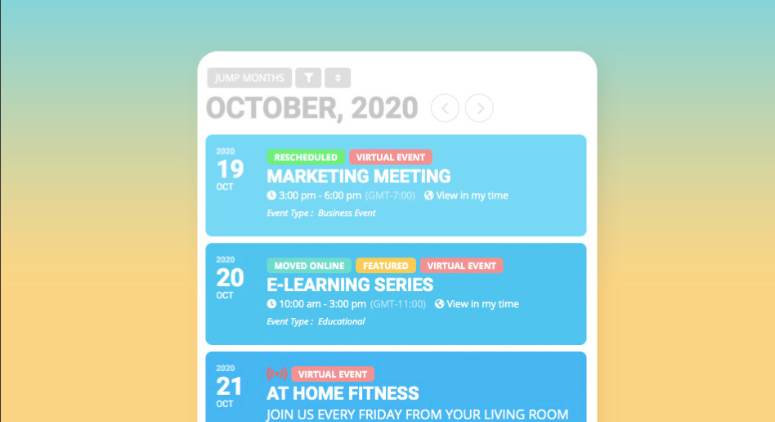 EventON is a WordPress virtual event calendar plugin. If you love minimal clutter-free designs, EventON has the right interface for you. You can create beautiful event tiles and color code them to stay organized. This makes it easy to manage large volumes of events.
The plugin offers 200+ features including:
Highly customizable repeating events
Multiple event images
Unlimited event creation
Various calendar layout designs
Control event access and post-event content
Plus, you can configure events to autoload at the preset start time.
The sheer amount of features pushed this plugin to rank #1 as the best-selling event calendar plugin at CodeCanyon.
The plugin will cost you $25 + taxes for 6 months of support.
Get EventON!
10. Modern Events Calendar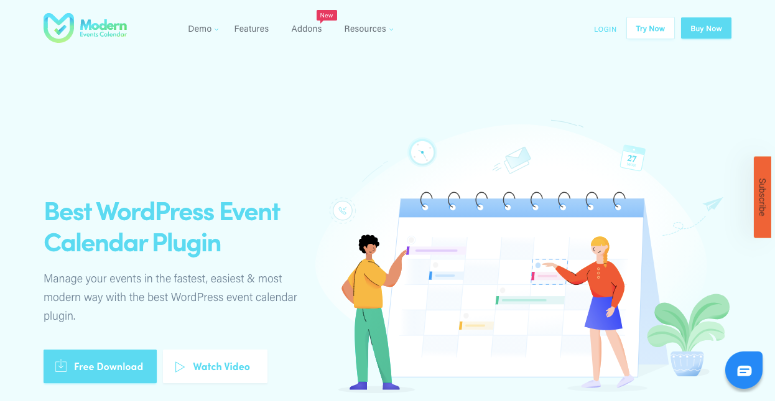 Modern Events Calendar, as the name suggests, aims to be the most modern way to organize and manage your WordPress event calendar. Inside, you'll find a variety of features to set up events with ease. There are 50+ event display layouts along with booking and ticketing features.
The plugin lets you configure settings to match your preferences. And you can give customers the option to make payments online through various gateways.
Key features of this plugin include:
Easy to use interface
Online ticket sales
Multiple event display layouts
Responsive and mobile friendly designs
Front end event submission
Third-party integrations
A single license costs $75 with 1 year of support. There are also paid addons starting at $35 to extend functionality. So the one thing to keep in mind here is that it's quite expensive for the features it offers.
Get Modern Events Calendar!
11. My Calendar

My Calendar is an excellent plugin for teams looking to work on the same planner with ease. As with most calendars, you can filter it by month, week, and day. However, what makes this plugin different is the way that you can filter through the events listed on the planner.
If you have multiple employees and want to see what one particular employee is doing during a week, you can filter the planner in seconds by the author name to see what they have planned. Small businesses love the ease of access and employees love the ability to create their own schedule.
You can easily go in and add notes for your employees, or they can leave you notes and requests for specific days or weeks. It's never been easier to manage your team with My Calendar.
If your business works with public events, you can even schedule new events to pop up on your Twitter page when scheduled. It really is an "all in one" tool for the smart, time conscious business owner.
Here are a few highlights:
Calendar, grid, and list view
Mini calendar for compact displays
Editable CSS styles and JavaScript
Single and recurring events
Email notifications
There's a free plugin available. A permanent license will set you back $199. You can bring this cost down to $49 per year.
Get Started with My Calendar Today!
12. Google Calendar Events

Google Calendar Events is a plugin for those who like life simple. There's no hard coding required. This intuitive little plugin is ready to go out of the box and set to match your theme and color scheme.
Once you have it installed, you can make a few tweaks so that it blends in seamlessly with the rest of your site. Many people love using this tool because once it's setup, you don't have to update your WordPress site to update the calendar. That's right; if you update the Google Calendar associated with the account it automatically updates your website.
It comes ready with simple tags so employees can easily find what they are looking for without sifting through a week's worth of notes and appointments. When viewing this calendar, it's fully accessible and ready to update from your mobile device.
Display events from public Google Calendar
Get out of box designs that are fully responsive
Combine multiple calendars into a single display
If you're using this plugin for your customers, you can even turn the upcoming events on your calendar into an easy to understand newsletter with the Event Calendar Newsletter plugin. Planning has never been easier.
If you're looking for a simple and free plugin, this one might be the right one for you. However, as you grow, you'll want more advanced features that come in the form of paid addons.
Get Google Calendar Events!
We hope this article helped you discover the best WordPress calendar plugins. If you're still undecided, here's our pick of the top 3 calendar plugins.
Which is the BEST WordPress Calendar Plugin?
After comparing all the calendar plugins for WordPress, we have 3 top picks to help you create and manage calendars on WordPress:
Sugar Calendar: The most feature-rich and easy to use WordPress calendar solution
WPForms: The #1 plugin to build events and booking forms with a calendar integration
The Events Calendar: A good calendar plugin to manage events
That's all we have for you today. Next, you may be interested in targeting your website visitors with attractive popups to get them to book an appointment or event. OptinMonster is the best tool for that and can help you skyrocket your conversions, sales, and leads.. See our tutorial on How to Create a Popup Form in WordPress (Step by Step).
If you found this post helpful, then you'll want to see our resources:
We've added an easy step by step tutorial to help you create a custom booking form for your site. The last 2 posts will give you the right themes and plugins to run and manage events online.
Keep reading the article at IsItWP – Free WordPress Theme Detector. The article was originally written by Editorial Team on 2021-10-15 04:27:00.

The article was hand-picked and curated for you by the Editorial Team of WP Archives.