If you have a website, you should also have an email newsletter and campaigns. But when you have to write a thousand emails every day, it might be good to think about integrating an email plugin that will do the work for you. I'm sure you don't want to spend precious time creating and managing emails manually.
An email newsletter is essential for your business, not only because it is a simple way of distributing your content, but also because it can help you understand what kind of audience you have and what you want your target audience to be. It can also help you attract new customers, generate paying customers, and increase your revenue.
When choosing an email plugin that you want to use for your business, you have to look for one with features that can give you the most benefits. A good plugin should offer you the option to collect email addresses, templates for creating newsletters, and tools for scheduling, sending and tracking your emails. Additional useful features might include integrations with other software.
With an email plugin, you can generate leads, segment your contacts, and turn them into customers, all through your WordPress dashboard. So to help you with picking out a plugin, here are some suggestions that are definitely worth checking out.
MailPoet is a plugin that helps you send emails right from your WordPress dashboard. And what can be simpler than that? It allows you to create and send different types of emails, such as newsletters, post notifications, and welcome emails.
You can see, in the image below, that when you open the plugin from the dashboard, you can choose what kind of emails you want to send out. Like I already said, an email newsletter is a perfect way to engage with your subscribers and generate new customers.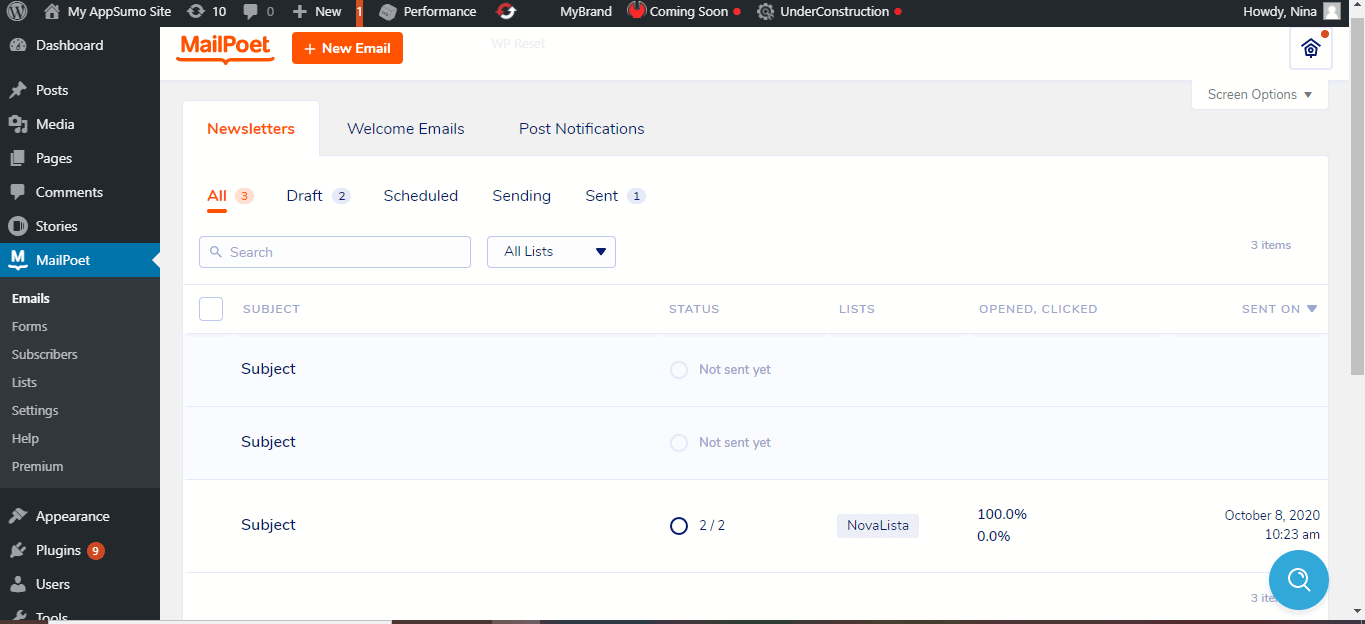 With the drag-and-drop editor, you can customize your newsletter to fit your brand and you don't need to do any coding. You can choose from more than 50 templates, and organize and format the content in a way that best suits your image.
The plugin interface is simple and intuitive, and you can import your posts easily. Just add your images, pages, or products to your newsletter and start driving people to your website. I mean, who doesn't like a visually appealing email in their inbox?
With MailPoet stats, you can track and analyze if your newsletter worked the way you wanted, see how many people opened the email, clicked on something, etc. All of that data will help you improve your future campaigns.
MailPoet also takes care of the messages that should be automated, such as welcome emails and last post notifications. With messages that are sent automatically, you save yourself time and increase website traffic.
You can design your own email or customize one of the already-made templates.
[…]
This article was written by Editorial Staff and originally published on WP Newsify.