Want to make your WordPress website more inviting, modern, and overall easier to use? One of the ways to do that is by implementing a sticky menu. A sticky menu helps the user get to where they want to go without constantly scrolling up and down a page. It's particularly useful on one-page websites, where the page might be quite long; thus a sticky navigation menu is necessary.
On longer posts/pages, it is crucial to have a sticky menu because visitors will quickly lose interest if they constantly have to scroll up to access a certain feature on a navigation bar.
A sticky menu is there to offer all the features a navigation bar has that one might need while scrolling through a post. This way, visitors can scroll through longer posts and use the sticky menu at any point.
So basically, a sticky menu is a menu that stays on top of the page, even when a user is scrolling down. Plus, it's not only handy, but it also looks cool on a website.
With that said, we will now present you with the 10 best WordPress plugins for creating a sticky menu!
1. Sticky Menu, Sticky Header (or anything!) on Scroll
With Sticky Menu, Sticky Header (or anything!) on Scroll, any element on your WordPress site can become sticky, whether that is a header, menu, navigation, or widget. The plugin is simple, easy, and a pure joy to use.
This plugin has a great set of features; those features being the following: any element can stick, positioning from the top, enable for certain screen sizes only, enable only on some pages, push-up element, admin bar aware, z-index, legacy mode, dynamic mode and debug mode.
To make an element sticky, you just need to know how to pick the right selector for the element.
But, if you don't like to mess with code, we have a solution for that – the visual element picker in the Sticky Menu, Sticky Header (or anything!) on Scroll PRO version, better known as WP Sticky.
With WP Sticky, you can handpick which element you would like to make sticky on your page. Plus, you can choose as many elements as you need.
With a little help from the fade-in and slide-down effects offered by this plugin, you can leave your visitors in awe.
WP Sticky gives you the option to select posts, pages, categories, tags, and CPTs where you don't want the element to be sticky.
The plugin is compatible with all themes, page builders, and plugins, Elementor included. Meaning that an Elementor sticky menu has never been easier to create than with WP Sticky.
With WP Sticky, you get customer support from the people who actually built the plugin. So, no more long waiting for third parties to solve your problem. The only limit with WP Sticky is your imagination.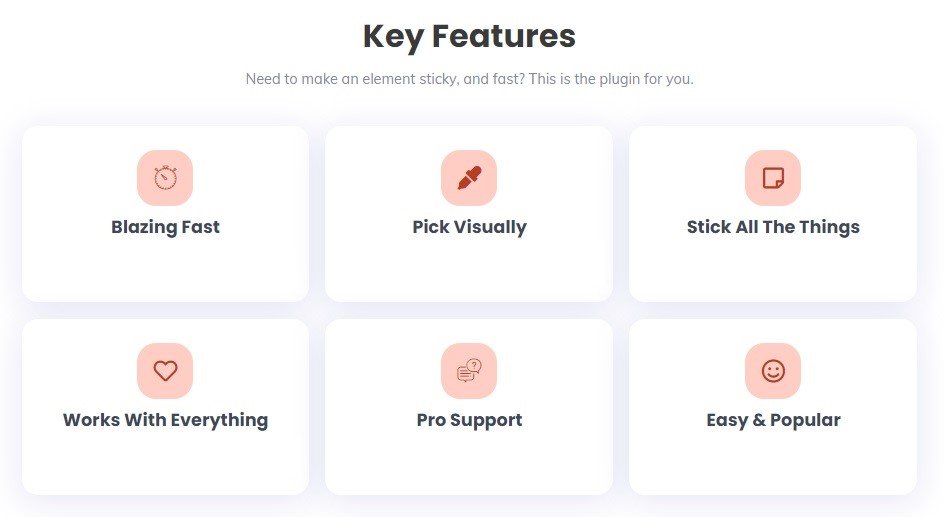 […]
This article was written by Editorial Staff and originally published on WP Pluginsify.