Home /
Hosting /
Bluehost vs DreamHost – Which Is Better for WordPress? (2021)
By Joe Fylan
February 10, 2021
Bluehost are one of the biggest names in shared hosting — and DreamHost aren't far behind. Both have been around since at least 2003, and host millions of websites for their customers, so, if you're looking for excellent-value shared hosting, these are two companies you're likely to be considering.
But are they any good? And, if so, which one should you choose?
In this comparison, I'll look at the most important features of their shared hosting plans and highlight their main differences. Most importantly, I'll also use paid tools to measure the performance of the shared hosting plans to give you an idea of how fast your website will load, how many visitors it can handle at once and what amount of downtime you might experience.
Whether you're planning to start a new website or you're thinking of changing hosts, this comparison will help you to decide if you should sign up with Bluehost or DreamHost — or continue looking.
Let's begin…
Bluehost vs DreamHost Shared Hosting Plan Details
Founded in 2003, Bluehost have a reputation for providing some of the most affordable and feature-rich hosting plans around. However, DreamHost, which started out in 1997, have plans that are even more affordable — while still managing to offer a comparable set of features.
All of the shared plans from both hosts include unlimited or unmetered bandwidth, while all but their entry-level plans give you unlimited storage to work with and the ability to create an unlimited number of websites.
You'll have to stick to the Bluehost and DreamHost usage policies that define exactly what unlimited means, but, for most people, that shouldn't be a problem.
While both Bluehost and DreamHost have WordPress-only plans, the lower-priced entry-level shared plans I'm comparing here make it very easy to launch and manage WordPress websites.
So, to get started, let's take a look at the details of their different plans before exploring the main features in more depth.
Bluehost Shared Hosting Plans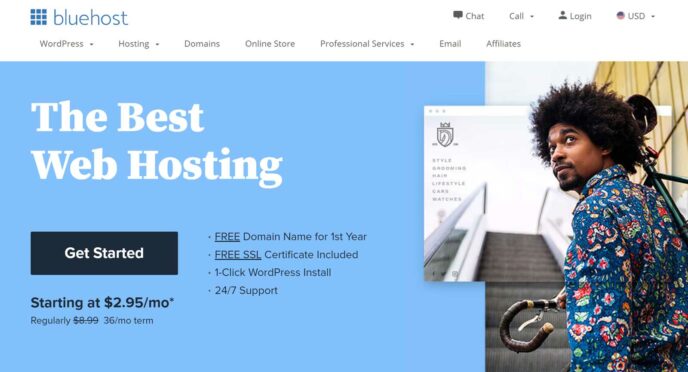 With prices that currently start from just $2.95 a month, the Bluehost shared plans are definitely one of the most affordable ways to start a new website:
Basic: From $2.95 a month
[…]
This article was written by Joe Fylan and originally published on WinningWP.