Edwin Toonen
Edwin is a strategic content specialist. Before joining Yoast, he spent years honing his skill at The Netherlands' leading web design magazine.
Two words you often hear together are mobile and site speed. And that's not without reason because these two go hand in hand. Mobile-friendliness and site speed are some of the most pressing matters we have to deal with. Measuring page speed has always been something of a dark art. The site speed tools we use today are fairly adequate, but with the new Web Vitals metrics Google is trying to come at it from a different, more realistic angle, taking page experience into account. Here, I'll take a closer look at how to check your mobile site speed and SEO with Google Lighthouse.
Table of contents
What is Google Lighthouse?
Lighthouse is a page experience tool built by Google and was initially meant to audit Progressive Web Apps (PWA). The tool executes five audits for accessibility, performance, SEO, Progressive Web Apps and an extended list of best practices. Powered by the new Core Web Vitals, these audits together give you an excellent overview of the quality and performance of your mobile website as well as your desktop site, or web app.
Site speed is all about perception and user experience. Speed in numbers means nothing if your site still feels slow. Loads of users around the world are on rather crappy mobile connections of 3G or less. Even with lightning-fast 5G connections, a site can simply feel laggy and slow. And we all know what a devastating effect a slow site can have on your conversion. Shaving milliseconds of the time needed to load your site could make a world of difference. Not to mention the frustration that happens when a slow-loading ad pushes down the button you just wanted to click.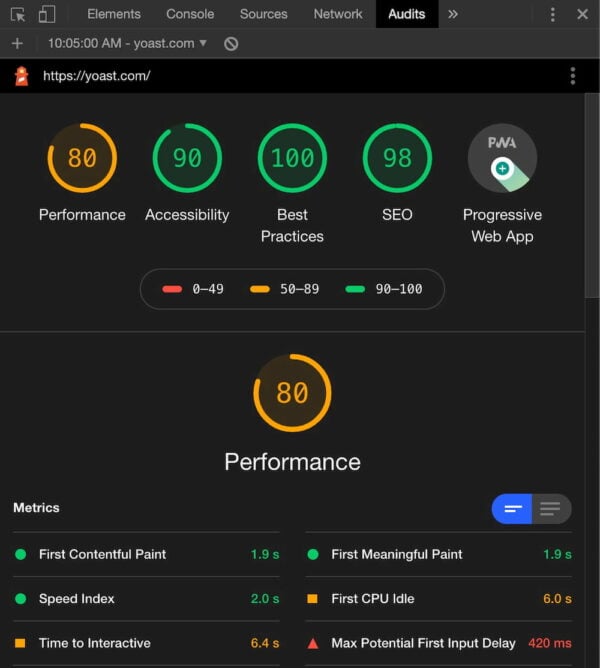 While testing, Google Lighthouse simulates visiting your mobile site via a flaky 3G connection on a slightly underpowered device. Packets are lost in an attempt to simulate real-world conditions as authentically as possible. These insights are combined with other data. After running the test, you'll get a report with a score and actionable advice with issues to tackle.
PageSpeed Insights vs. Google
[…]
This article was written by Edwin Toonen and originally published on SEO blog • Yoast.