C
hoosing the right WordPress theme can be very overwhelming for beginners. But don't worry, in this article, we'll show you how to choose a WordPress theme for your blog.
Choosing the right theme is essential when you're first starting your blog.
But how do you choose the perfect theme for your blog? There are thousands of free and paid options, and screening all of them is impossible.
In this article, we'll share some tips that will help you choose the best WordPress theme for your blog.
Let's get started!
What is a WordPress Theme?
First, if you're new to WordPress, you might be wondering: What are themes in WordPress?
A WordPress theme is a collection of templates and stylesheets that are used to design the appearance of a WordPress website. So, you can apply a theme to your website and it will have a professional look in an instant—no need to be a designer or to touch any code.
WordPress.org has thousands of WordPress themes, both free and paid, in their official Themes directory.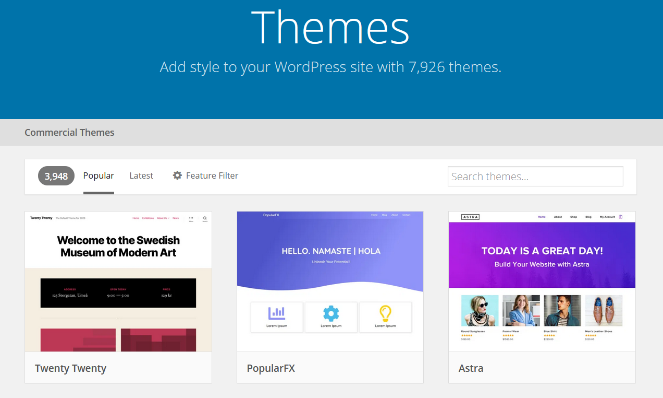 Each WordPress theme has a different design, layout, and features. You can choose whatever theme you want, depending on what your blog is about.
For example, if you have a food blog, you can search for WordPress themes for food blogs. You will get thousands of recommendations that will match what you want your website to look like.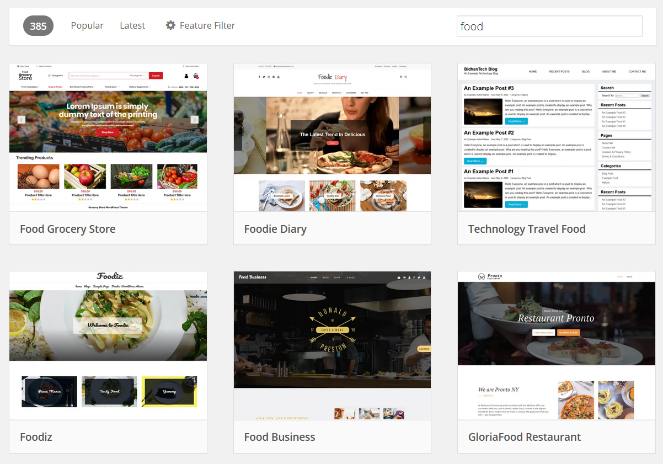 Now that you know what a WordPress theme is, let's dive into some tips to help you choose the right one for your blog.
Should I Use a Free or Paid WordPress Theme?
One of the fantastic things about WordPress is the thousands of different, free themes you can choose from.
What's more exciting is that there are paid/premium themes made by web designers or web design companies. These themes typically have the best features and functions, and they're regularly updated.
Some of these themes even use their own frameworks, which take the basic WordPress functionality and add their own custom dashboard. This allows you to build your design and blog posts any way you want.
For those that are just starting out and need to stick to a tight budget, choosing a free WordPress theme might be the best option. You can always upgrade to a premium theme later on.
If you're considering choosing a premium theme, here's a quick comparison table to show you the difference between the free and paid themes:
Free WordPress Themes
[…]
This article was written by faizan and originally published on Blog Tyrant.