W
ondering how to get contributors for your blog? In this article, we'll share a few tips on how to get high-quality blog posts from other writers.
When you start a blog, you might consider accepting guest posts for it. Guest blogging is when someone else writes content for your website, typically in exchange for a backlink or payment.
Accepting guest posts can be an excellent tactic to grow your audience and develop authority in your industry. Plus, it can save you time and help you get fresh new content for your blog easily.
In this article, we'll show you how to get contributors for your blog. We'll go over how to find people to write for your blog, how to accept posts from them through WordPress, and more.
Let's get started!
Why Accept Guest Posts on Your Blog?
If you accept guest posts on your blog, that means you're allowing another writer, blogger, or company to publish content on your website.
In this example, Business.com published a guest post on their blog from another writer, Thomas Griffin, the co-founder of OptinMonster: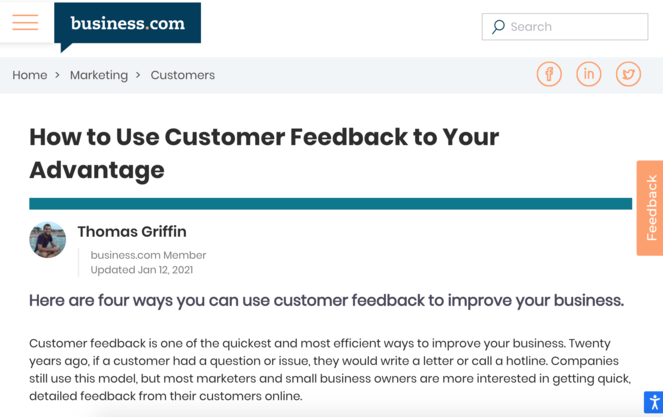 Accepting guest posts is a great way to grow your blog without having to do a bunch of hard work yourself. Because when a guest writer publishes content on your site, they'll share the blog post with their audience, followers, and friends.
This introduces your blog to a bunch of new people who can become fans of you.
Aside from this free marketing, publishing guest posts on your blog comes with many other benefits…
Build Relationships with Other Bloggers
Accepting and publishing content on your site can help you build relationships with other professionals in your niche. Networking comes in handy when trying to build exposure, grow an audience, and boost engagement for your blog.
Save Time Creating Content
Getting other bloggers to write for your blog saves you time so you can work on other aspects of your blog and business. When you're able to get continuous submissions, you can easily build a healthy editorial calendar filled with high-converting blog content that you don't have to write yourself.
Increase Publising Frequency
When you accept content from guest writers, you can publish new content more frequently. The more content you publish on your blog, the easier it is to rank on search engines and drive more traffic to your site.
Position Yourself as an Authority
With other experts contributing blog posts on your site, it makes you look like an authority in your niche. Plus, regular contributors will give your blog a more professional feel, making it look more like an official online magazine.
Now that you know how accepting guest posts can benefit your blog, we'll show you how to get contributors.
How to Get Contributors for Your Blog
1. Establish Contributor Guidelines
The first step to accepting guest posts on your blog is to create some guidelines that your guest writers will have to follow in order to be published on your site.
You can't expect to have excellent, well-written submissions sent to your inbox if you don't set your expectations first.
Contributor guidelines are important to ensure that your guest post submissions match what you're looking for so you can continue to publish high-quality posts on your blog.
Plus, you won't spend as much time going through low-quality, irrelevant submissions. Instead, you can receive well-written guest posts with the correct information and formatting from the start.
How do you write guest post guidelines?
In your contributor guidelines, you can include:
Desired word count
Potential topics
Image requirements
Payment (if applicable)
Acceptable and unacceptable links
Style and format requirements
In this example from the SEMupdates blog, they clearly state the word count and other information they require from guest writers: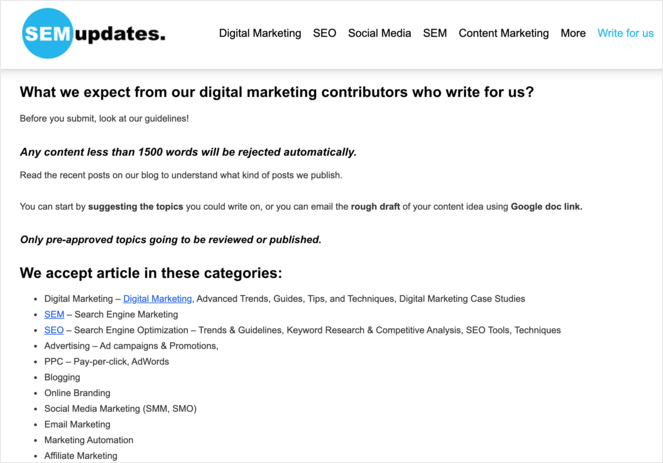 They also list the topics they will accept like email marketing, affiliate marketing, social media marketing, etc.
It's important to only accept blog topics relevant to your niche so that they appeal to your audience. For example, if you have a food blog, you wouldn't want to accept guest posts about topics like video games and cryptocurrency. Your audience wouldn't be interested and probably wouldn't read your posts.
You can only grow your blog by consistently publishing relevant content tailored to your audience.
Once you have an idea of what guidelines you want, write them down, and keep them handy for the next step…which is to create a new page on your blog.
2. Create a 'Write For Us' Page
To attract potential writers to your blog, you need to create a 'Write For Us' page on your website. This page is where you'll let visitors know that you're accepting guest posts.
It will also include your contributor guidelines so you can give writers more clarity and receive high-quality submissions.
Let's take a look at an example.
GetResponse's 'Write For Us' page is clear and concise so you know you're at the right place as soon as you get there: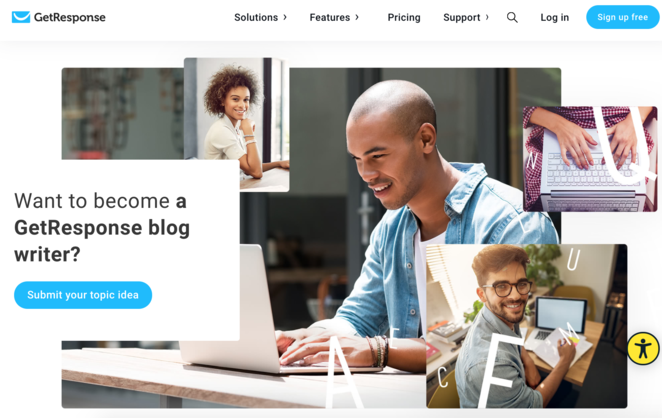 When you scroll down, you see detailed information about how you can become a guest contributor. The more information you add, the better submissions you'll receive, so don't be afraid to go in-depth about what you're looking for.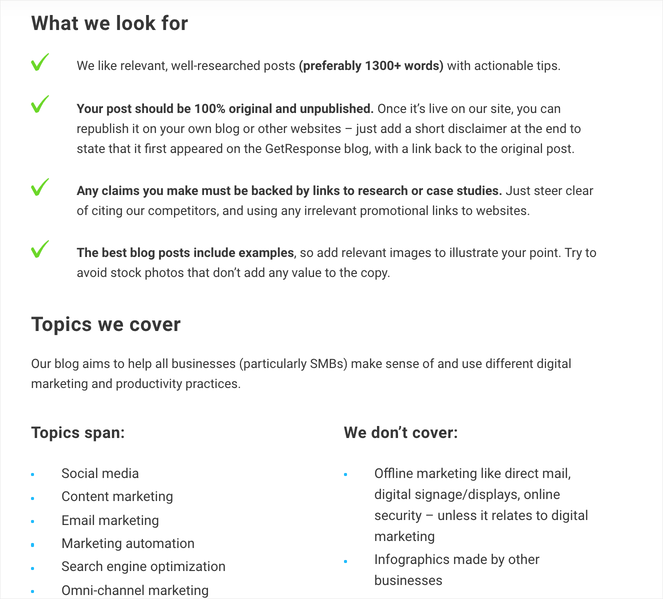 You can break up your 'Write For Us' page using subheadings like:
What We're Looking For
Topics We Accept
Do's and Dont's
How to Submit
It's also important to add specific keywords to your 'Write For Us' page so it's optimized for search engines and easy to find. So, you need to use keywords that people are likely to search in Google when looking for writing opportunities.
Some of the keywords you might add to your 'Write For Us' page include:
Write a guest post
Submission guidelines
Guest post contributions
If you need help optimizing your page for keywords, you can use a tool like All in One SEO (AIOSEO). With AIOSEO, you can analyze every post and page on your site. It will give you a score on how well your page is optimized for your keywords and provide actionable tips for improvement.
To create a 'Write For Us' page, you can simply create a new page in WordPress.
Or, if you want to create a more eye-catching and professional page like in the example above, you can use a tool like SeedProd.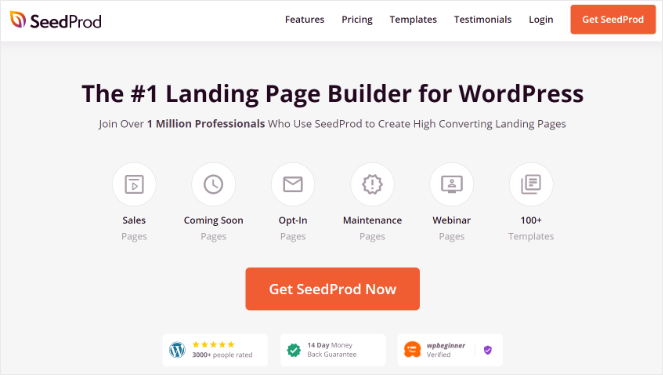 SeedProd is the best page builder for WordPress and it allows you to create a beautiful 'Write For Us' page in just minutes, without having to code.
SeedProd comes with over 150+ professionally designed templates to get you started. It also has a drag-and-drop builder so it's easy to add and remove elements to build your page exactly how you want it.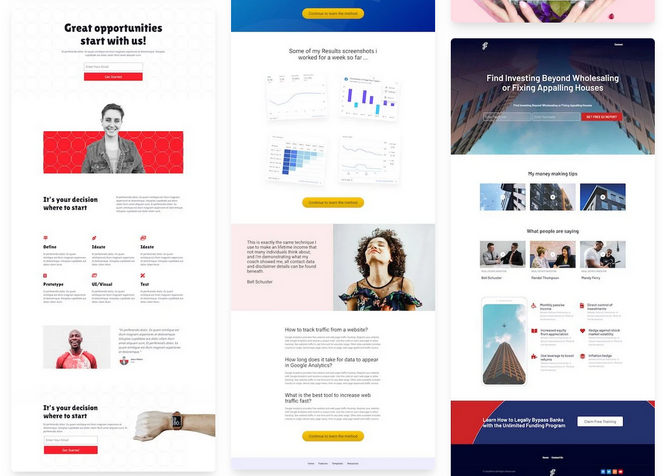 Plus, SeedProd integrates with WPForms so you can easily add a form to your page to receive guest post proposals and submissions. We'll talk more about WPForms and how to use it in the next section…
3. Create a Guest Proposal Form
If you're open to different ideas from potential contributors and want to weed out irrelevant submissions, then it's a great idea to create a guest proposal form. A guest proposal form is a way to accept guest post pitches from potential authors and choose the best ideas for your blog.
If you like the pitch, you can proceed to ask for a full submission and schedule to publish it on your blog.
To create your proposal form, you can use a form builder plugin like WPForms.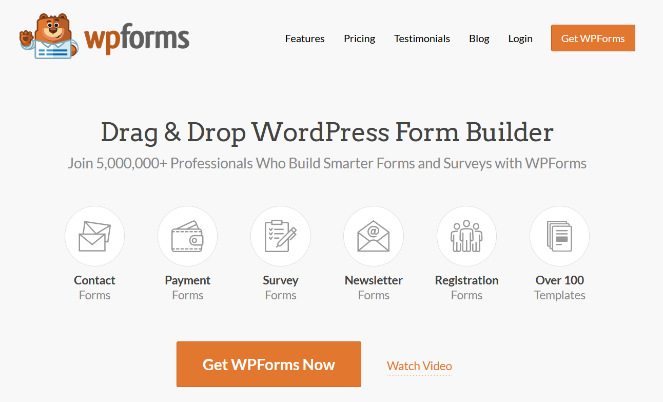 WPForms makes it easy to create optimized forms for your website in minutes. It's beginner-friendly and doesn't require any coding knowledge so it's easy and quick to set up.
In your guest proposal form, you can ask for author information including their:
Name
Topic idea
Email address
Portfolio
Website
Here's an example of what your form could look like: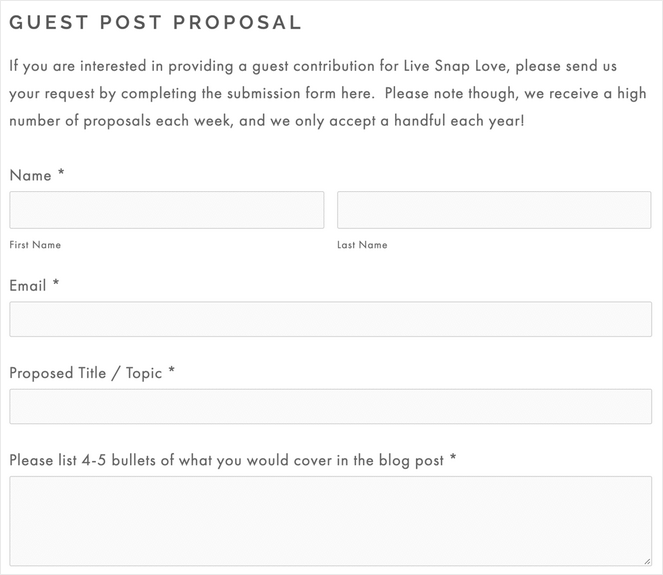 Once you create your proposal form, you'll want to add it to your 'Write For Us' page.
Now you can easily review writers and their qualifications before accepting any guest posts from them.
4. Add a Blog Post Submission Form to Your Site
Next, you need to create a blog post submission form. This allows authors to submit finished blog posts ready for review so they can be published on your site.
Some blogs allow guest contributors to create accounts on their websites and upload their blog posts from the admin area. But, you don't want to let just anyone into the backend of your blog because it's a security risk.
Instead, you can use WPForms' Post Submission Addon to allow guest authors to submit their guest posts without logging into your website.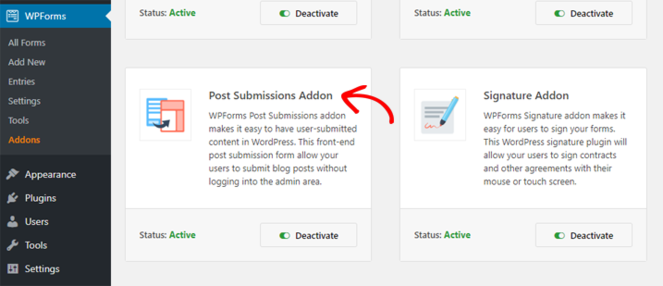 When a user submits a blog post from your frontend submission form, WPForms automatically creates a blog post and marks it as 'Pending'. Then, you can review it and make any changes before it goes live on your blog.
With the Post Submission Addon, you can:
Let non-registered users submit content without creating an account
Let registered users submit content without accessing the admin area
Charge for user submitted listings like a business directory
Collect testimonials from visitors and add them to your site with one click
The Post Submission Addon also comes with a post submission form template that you can easily edit.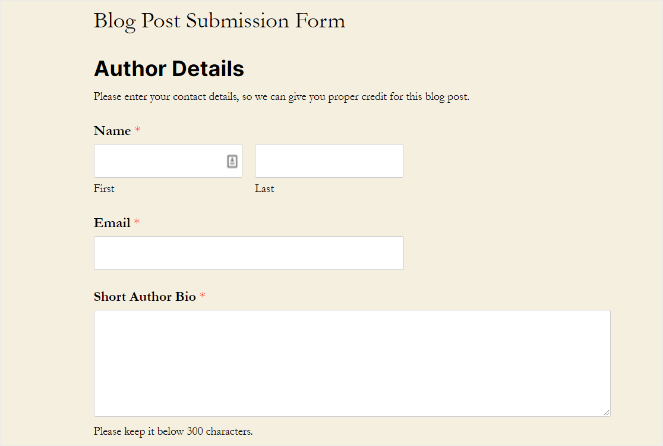 Since you only want writers that have had their proposals accepted to submit blog posts, you can embed this form on a page that is blocked from search engine crawlers. Then, you can simply send the link to accepted contributors.
5. Include an Author Bio
You'll receive prime submissions for your blog if you offer to give writers an author bio at the end of their posts.
An author bio gives a little bit of information about the guest writer and typically includes a link back to their own blog or business website.
Guest bloggers benefit from an author bio because it helps them build backlinks for their blog, increase brand visibility, expose them to professionals in their industry, and build their portfolio.

Different blogs have different rules about the links they allow in the author bio. You can decide how many links you want to allow bloggers to include. The more links you allow, the more traffic you'll send to their website.
You can also allow guest bloggers to link back to their social media so they can grow their following on different platforms. Gaining exposure can take their blog to the next level, grow sales for their business, and increase readership for their site.
If you need help adding an author bio to your WordPress site, check out this guide on how to add an author info box on WordPress posts.
6. Offer Paid Opportunities
You might be wondering what the point of paying writers is when you can just accept free content. But it's important to think about the quality of those submissions and the expertise of those submitting them.
When writers know they'll receive money, they're likelier to put more effort and time into their submission. It also shows that your guest contributions are high-quality and credible.
Providing payment for each guest post can also increase the number of submissions. Because when you offer payment, you'll be able to attract a lot more professional freelance writers. Many aren't willing to take the time to write long-form content for only a backlink.
Because there are so many benefits to accepting guest posts, like saving time, getting free blog promotion, and attracting a new audience, it's well worth it to pay your writers if it's within your budget.
7. Invite Guest Bloggers
Another useful way to get guest blogging content on your website is by inviting writers to contribute. Taking the initiative can help you get more relevant submissions for your blog that are easier to publish.
To find guest writers, you can search relevant keyword terms in search engines like "freelance blogger" or "writer for hire" and contact authors through their website. It's important to contact writers in your niche so you have a higher chance of garnering responses and getting relevant content.
Many bloggers use social media to find qualified guest authors too. You can follow writers that you like and send a message to invite them to guest post. Or, you can search for relevant hashtags like #FreelanceWriter to connect with like-minded writers.
And if you have other bloggers in your network, you can reach out to them to personally ask if they'd like to be featured on your blog. Working with writers you already have a relationship with can be beneficial because they can offer you a guest spot on their site in return.
Lastly, let's take a look at a unique way you can get free content for your blog.
Bonus: Run a Blog Writing Contest
Hosting a blog writing contest can be a great way to attract blog post submissions.
People are more likely to put effort into a blog article that results in a prize, so this gives you quality content to work with.
Plus, it's fun!
To run a viral online contest, you can use a tool like RafflePress.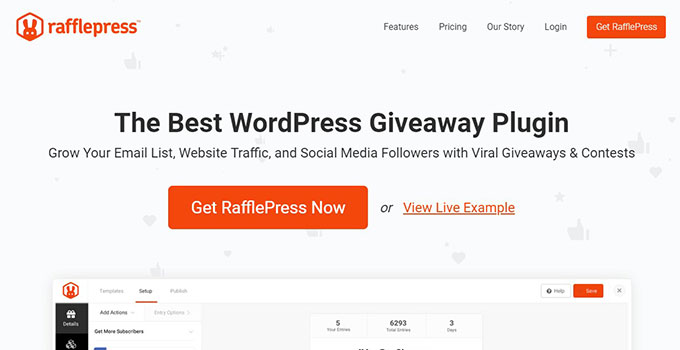 RafflePress is the best giveaway and contest plugin for WordPress. You can create a giveaway in minutes without touching any code.
It comes with pre-built templates so you don't have to create your contest from scratch and the drag-and-drop builder makes it easy to customize your contest to reach your goals.
RafflePress also comes with ready-made bonus actions including the 'Write a Blog Post' action.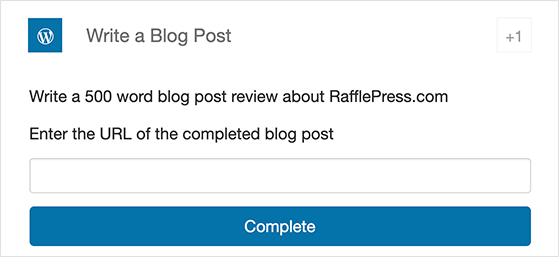 Contestants can paste the link to their shared document in the field provided and they'll be rewarded with extra giveaway entries for submitting it.
Just make sure to add giveaway rules that inform participants that they grant permission for you to publish their content by entering.
That's it! Now you know how to get contributors for your blog. Simply follow these tips and soon you'll have a ton of new content for your site.
What methods have you used to get guest contributions on your blog? Let us know in the comments!
If you liked this post, make sure to also check out our complete guide on guest posting. It goes into detail about how to make guest blogging a successful part of your content marketing strategy.
And don't forget to sign up for our email newsletter so you can receive similar content straight to your inbox!
Keep reading the article at Blog Tyrant. The article was originally written by Zakiyah on 2021-10-21 16:48:08.

The article was hand-picked and curated for you by the Editorial Team of WP Archives.