W
ondering how to get contributors for your blog? In this article, we'll share a few tips on how to get high-quality blog posts from other writers.
When you start a blog, you might consider accepting guest posts for it. Guest blogging is when someone else writes content for your website, typically in exchange for a backlink or payment.
Accepting guest posts can be an excellent tactic to grow your audience and develop authority in your industry. Plus, it can save you time and help you get fresh new content for your blog easily.
In this article, we'll show you how to get contributors for your blog. We'll go over how to find people to write for your blog, how to accept posts from them through WordPress, and more.
Let's get started!
Why Accept Guest Posts on Your Blog?
If you accept guest posts on your blog, that means you're allowing another writer, blogger, or company to publish content on your website.
In this example, Business.com published a guest post on their blog from another writer, Thomas Griffin, the co-founder of OptinMonster: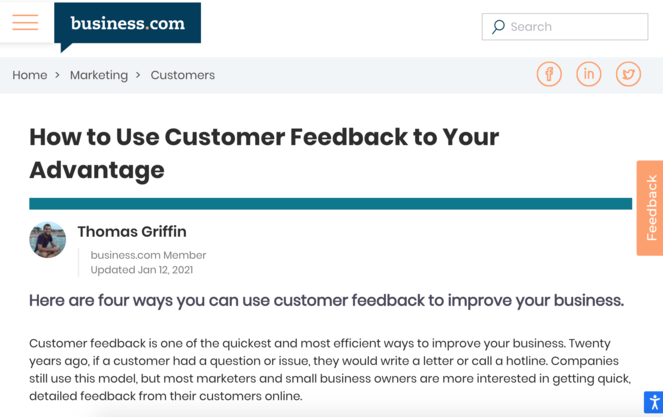 Accepting guest posts is a great way to grow your blog without having to do a bunch of hard work yourself. Because when a guest writer publishes content on your site, they'll share the blog post with their audience, followers, and friends.
This introduces your blog to a bunch of new people who can become fans of you.
Aside from this free marketing, publishing guest posts on your blog comes with many other benefits…
Build Relationships with Other Bloggers
Accepting and publishing content on your site can help you build relationships with other professionals in your niche. Networking comes in handy when trying to build exposure, grow an audience, and boost engagement for your blog.
Save Time Creating Content
Getting other bloggers to write for your blog saves you time so you can work on other aspects of your blog and business. When you're able to get continuous submissions, you can easily build a healthy editorial calendar filled with high-converting blog content that you don't have to write yourself.
Increase Publising Frequency
When you accept content from guest writers, you can publish new content more frequently. The more content you publish on your blog, the easier it is to rank on search engines and drive more traffic to your site.
Position Yourself as an Authority
With other experts contributing blog posts on your site, it makes you look like an authority
[…]
This article was written by Zakiyah and originally published on Blog Tyrant.