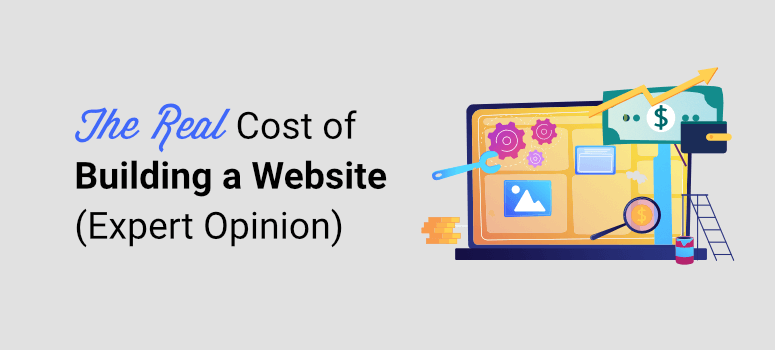 Do you want to know the real cost of building a website?
The amount you spend on making a website depends entirely on your budget, goals, and the type of website you want. It also relies on several other things including your domain name, web hosting, theme, plugins, tools, and so on.
In this article, we'll show you how much creating your own website will really cost.
To make it easy for you to navigate this post, we've created a table of contents below. Feel free to skip ahead to the section that interests you the most.
Different Ways to Make a Website
When you want to create a website, you generally have 3 options:
1. Hire a website developer
There are professional web developers who will build your site and launch it for you.
Website designers don't have a standard rate that's applicable to all websites. Across the globe, website designers charge between $30 to $200 per hour.
There are some web developers who charge an upfront fee and determine the total price based on your requirements.
The pricing also depends on the website content and whether you want a one-page website or multiple pages that include a homepage, contact us, about us, and more.
You can find developers and freelancers on sites like Upwork or Fiverr. Keep in mind, a lower price doesn't mean it's a better option. It's important to choose a developer who knows what they're doing and is worth the price they charge.
2. Hire an agency
Agencies let you tap into a pool of resources because they usually have expert web designers, developers, graphic designers, and marketers working together.
Website design costs can be in a price range of $500 to $10,000 or higher depending on the agency you pick and your requirements.
After your site is built, most agencies offer to manage your site and they'll charge you website maintenance costs. They'll take care of backend technical tasks and make sure your website is updated, backed up, and secure.
3. Do it yourself (DIY)
There are plenty of platforms like WordPress, Wix, and SquareSpace that let you easily build your own website without any coding knowledge! You don't need even basic HTML skills.
If you're starting a small business and don't want to spend a fortune on your website, you can still make a website within your budget.
By doing it yourself, you get complete control of customizing your site. And though website building seems like a tedious task, it's actually quite easy and can take just a couple of hours.
In this post, we'll focus on the cost of making a website on your own. First, let's take a look at what you'll need to build a site so that we can determine the average cost.
What Do You Need to Build a Website?
Designing a professional website on your own is easier than you think. It's also budget-friendly which is great for small business owners.
To get started, here are the top 3 requirements for any type of website.
Domain name (e.g. Google.com, IsItWP.com)
Web hosting (depending on your website builder)
Website builder (e.g. WordPress, Wix, Weebly)
1. Domain Name
Your domain name is your website's address on the internet, like Google.com or IsItWP.com. It's what your customers type into their browsers to access your website.
Once you register a domain name, you'll get the right to use that name for your website for a year. You are required to renew your domain from the same domain name registrar as long as you want to keep the name for your site. And if you ever lose interest in a domain name, then you can let it expire so that someone else can purchase it.
If you need help coming up with a great domain name, check out our free tool: Free Website Name Generator. Also, see our post on the best blog name generators.
2. Web Hosting
Web hosting is like the home of your website. This is where you store the content and files of your website.
When a visitor tries to access your website by typing in your web address (domain name), then they'll be directed to the website files stored on your web hosting server.
Oftentimes, the term web hosting refers to the company that rents out their computer/servers to host your website and provides internet connectivity to ensure your website is available online around the clock.
Some of the popular web hosts include Bluehost, GoDaddy, Hostgator, and SiteGround. These companies offer different types of web hosting services such as:
Shared hosting is the cheapest option but it means you'll be sharing a server with hundreds, maybe thousands, of other websites. A more secure option would be dedicated hosting but it comes at a higher price.
You can read more about different types of web hosting services.
If you specifically want to build a WordPress site, then we recommend you choose a WordPress hosting service. In most cases, both shared and WordPress hosting costs pretty much the same. The only major difference is that WordPress hosting comes preinstalled with WordPress on your hosting account. This offers great convenience so you don't have to manually install WordPress on your web hosting account.
If you're still unsure about which hosting option is best for you, see our comparisons: Shared vs VPS vs Dedicated Hosting and WordPress Hosting (Shared vs Managed).
3. Website Builder
Whether you're an absolute beginner or a seasoned designer or developer, you'll need to use a website builder to make a website. Regardless of your skillset, a website builder makes it easy to create a website the way you desire. Plus, it also enables you to easily add essential features like SEO tags, navigation menu, sidebar, and plugins without any hassle.
There are some builders that serve as an all-in-one platform and take care of the domain name and web hosting for you. But we don't recommend them because you lose control of your site's configurations, web development, and customizations.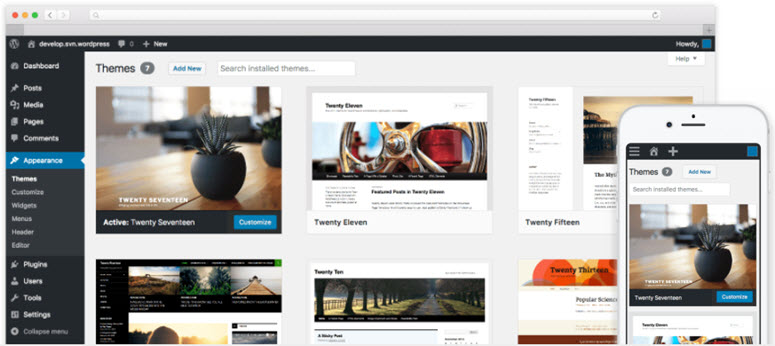 Out of all the website builders in the market, we strongly recommend WordPress.org. It's the most flexible and easy-to-use web builder. It's popularly known as a content management system or CMS.
WordPress is #1 not just for us. 40% of all website owners around the world also choose this platform. You get complete control over your website's configurations, design, and functionality.
There are themes and templates you can use to get started so you won't have to create a site from scratch. Plus, it gives you endless possibilities to customize and enhance your website the way you want.
As your website grows, WordPress makes it easy to scale. This is something a lot of other builders lack.
WordPress is a free and open-source software. You'll need to purchase a domain name and web hosting in order to install WordPress and start building a website on top of it.
For more on this, we've covered our reasons for choosing WordPress here: Why use WordPress.
Estimating the Cost Based on Your Goals
Before you build your site, it's important to ask yourself a few questions to understand your goals. This helps you avoid overspending when setting up your WordPress website.
1. What's the realistic budget for your website?
Building a website that you can't afford will be a disaster. Double-check your budget before you spend on premium themes or plugins.
We always recommend you keep the costs as low as possible when you're starting out. At the same time, we don't recommend depending only on free software. While some free tools are great, they usually have limited features and relying solely on them can stunt your growth.
Spend your budget wisely on what you need in order to build the site and grow it.
Keep in mind, most premium tools, plugins, and themes have free trials and moneyback guarantees so you can try the software before you make an investment.
2. Do you need a custom-built website?
Installing a pre-built WordPress theme is the easiest way to roll out a new website. It also helps you save on costs, so you don't have to hire a WordPress developer.
However, if you want to give a unique look and feel to your website, then you'll have to build a custom WordPress theme, either by yourself or by hiring a developer. Rates charged by WordPress developers vary from $30 to $200 an hour.
3. What features will you need?
When starting out, you won't need all the bells and whistles that you see on other cool websites. Even if you start small, it's essential to write down the list of features you'll need down the line.
This helps you streamline the entire development process and focus on features that are of high priority. It also helps you minimize the cost as you grow.
How Much Does Building a Website Cost You?
The cost of a website greatly depends on what kind of website you want. Simple websites are much cheaper than eCommerce sites.
If you're looking to create a website with advanced features, then you'll need to be prepared for a higher cost.
To explain this better, we've broken this section down into 3 parts:
1. How Much Does Building a Regular Website Cost?
Depending on your website or business needs, website development costs anywhere between $100 and $500.
To build a small website, you'll need to have a budget for the domain name and web hosting. A domain name usually costs around $14.99 per year and web hosting around $8.99 per month. 
This means you can get started with an initial investment of $122.87. This will include a domain name and hosting plan for 1 year. This can be quite expensive for you, especially if you're just starting out.
That's why we've worked out a deal with Bluehost to offer our users a free domain name, free SSL certificate, and 65% off on web hosting.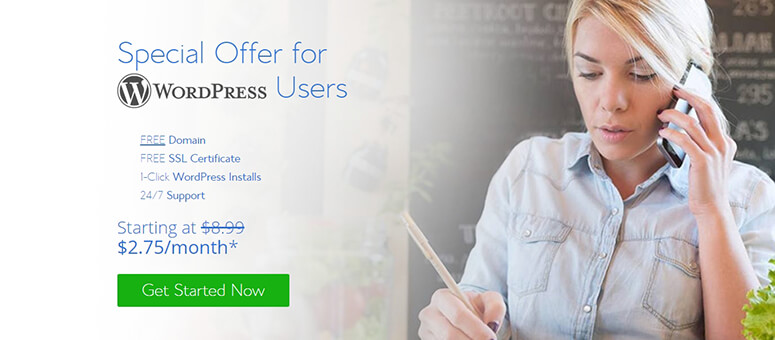 Click Here to Claim This Exclusive Bluehost Offer »
Bluehost is one of the largest hosting companies in the world. They have been involved in the WordPress community since 2005, and they are an officially recommended hosting provider by WordPress.org.
We've done a thorough analysis of what Bluehost has to offer, its performance, and more. See our Bluehost review for more details.
Next, you'll also need a few tools to help you build and manage your website. To help you save on cost, we've picked the top free WordPress themes and plugins from the WordPress repository.
Here are a few essential plugins you can download for free from WordPress.org:
These free plugins make it easier to create and manage your site, and at the same time, they improve user experience as well.
Total Approximate Cost:
The estimated pricing for an entry-level website will be:
Web hosting: $33 (at $2.75 for 36 months)
Domain name for 1 year: Free
SSL certificate: Free
WordPress website builder: Free
Essential plugins and themes: Free
You'll need an investment of $33 to get started with building a regular or basic website on your own. This cost is a good estimate for blogging, influencers, coaches, small businesses, or those who want to establish an online presence without any frills.
2. How Much Does Building an Advanced Website Cost?
Installing a free theme and plugins gives you a head start towards building a WordPress website with a minimal budget. As you grow and your needs evolve, you might want to enhance your website with more additional features.
Adding more features also means your custom website cost will start to increase.
If you're anticipating growth, then it makes sense to switch over to a more powerful hosting service like SiteGround's GoGeek plan.
Of course, it costs a little more than Bluehost. However, it comes with a lot of premium features like staging, faster performance, and the ability to handle up to 100,000 visitors per month. Read our complete Siteground Review to learn more about this web hosting company.
You can use our SiteGround coupon to get 60% off for the first year of your hosting.
You may also want to find a premium WordPress theme to give your website a professional appearance. The best thing is that premium themes often come with extra features and priority support. See our expert selection of best WordPress themes for some great premium WordPress themes you can install on your site.
Here are some essential premium WordPress plugins we recommend for your growing website:
Essentials
Appearance
Digital Marketing
Security
There are many more WordPress plugins and services that you can add. Each paid service or addon that you add will increase the cost of your WordPress site.
Total Approximate Cost:
Depending on the premium products you choose, your website setup cost can be anywhere between $500 and $2,000 per year. This estimate is good for websites that include large and small business websites, big-time bloggers, and other sites that are growing exponentially.
3. How Much Does Building an Online Store Cost?
The eCommerce industry is booming and research shows that it's been growing 3X faster than traditional retailers. If you're looking to step into an eCommerce business, it's the right time to start an online store.
Creating an online store helps you expand your business around the globe, 24/7. Best of all, compared to offline businesses, it's easy to start an online store without breaking your bank account.
You can choose hosted platforms like Shopify and BigCommerce. They serve as an all-in-one solution for online stores where they take care of website hosting. However, you won't have as much control as you'd like over your web design and customizations.
You can also create your online store on WordPress using a plugin called WooCommerce. It's absolutely free and is the most popular and comprehensive eCommerce plugin for WordPress.
You'll need to buy both a domain name and hosting plan but you'll get complete control of your website.
While there are many eCommerce hosting companies, we recommend using the Bluehost WooCommerce plan when you're starting out.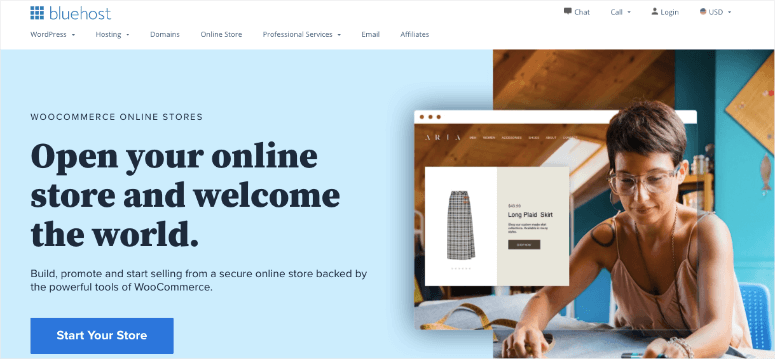 The Bluehost WooCommerce plan comes with all the set of features you'll need to get your online store up and running on WordPress. A few benefits of the Bluehost WooCommerce plan are:
WooCommerce pre-installed: The WooCommerce plan comes pre-installed with WordPress and WooCommerce which makes it easy to start an online store.
SSL certificate: To handle payments on your online store, you may need an SSL certificate. An SSL certificate is also included in your Bluehost WooCommerce plan.
Dedicated support: A team of dedicated WordPress experts is standing by 24/7 to assist you.
A free domain name: You can waive off the domain registration fee for a year.
Total Approximate Cost:
If you want to build an entry-level eCommerce website powered by WooCommerce, our estimate for the initial investment for a 3-year period is $466.20. Here's the breakdown:
WooCommerce web hosting: $466.20 (at $12.95 for 36 months)
Domain name for 1 year: Free
SSL certificate: Free
WordPress website builder: Free
WooCommerce store: Free
Essential plugins and themes: Free
While web hosting will cost around $155.40 per year, you'll need to pay for your domain name from the second year. Taking that into consideration, we estimate that an eCommerce store will cost approximately $170 per year.
The price may go higher if you'd like to install premium addons and a premium theme for your online store.
If you're looking for an alternative to Bluehost, then check out these best WooCommerce hosting providers.
Building a Website – How to Avoid Overpaying
Starting small is the best way to avoid overpaying and cut down on spending. To save on costs, you can always explore the free WordPress theme and plugin directories to enhance your website.
Once you start attracting visitors, you can consider adding a premium theme and premium plugins. To stay within your budget, always keep an eye out for WordPress deals and coupons to get huge discounts on your purchases.
A growing business website will also need a more powerful hosting configuration than an entry-level website. You may also need to optimize your WordPress server on a regular basis. To operate your site on a server that's uniquely optimized for the security configuration of websites, consider hosting your site on dedicated hosting server.
We hope this article helped you understand how much building a website actually costs.
If you're ready to create your website now, we also have several step-by-step tutorials and informational guides:
These tutorials are packed with everything you need to know while creating a website, blog, or online store.
Keep reading the article at IsItWP – Free WordPress Theme Detector. The article was originally written by Editorial Team on 2021-10-22 07:00:00.

The article was hand-picked and curated for you by the Editorial Team of WP Archives.