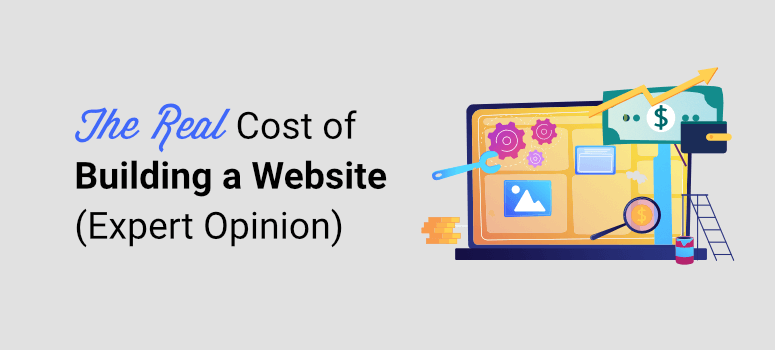 Do you want to know the real cost of building a website?
The amount you spend on making a website depends entirely on your budget, goals, and the type of website you want. It also relies on several other things including your domain name, web hosting, theme, plugins, tools, and so on.
In this article, we'll show you how much creating your own website will really cost.
To make it easy for you to navigate this post, we've created a table of contents below. Feel free to skip ahead to the section that interests you the most.
Different Ways to Make a Website
When you want to create a website, you generally have 3 options:
1. Hire a website developer
There are professional web developers who will build your site and launch it for you.
Website designers don't have a standard rate that's applicable to all websites. Across the globe, website designers charge between $30 to $200 per hour.
There are some web developers who charge an upfront fee and determine the total price based on your requirements.
The pricing also depends on the website content and whether you want a one-page website or multiple pages that include a homepage, contact us, about us, and more.
You can find developers and freelancers on sites like Upwork or Fiverr. Keep in mind, a lower price doesn't mean it's a better option. It's important to choose a developer who knows what they're doing and is worth the price they charge.
2. Hire an agency
Agencies let you tap into a pool of resources because they usually have expert web designers, developers, graphic designers, and marketers working together.
Website design costs can be in a price range of $500 to $10,000 or higher depending on the agency you pick and your requirements.
After your site is built, most agencies offer to manage your site and they'll charge you website maintenance costs. They'll take care of backend technical tasks and make sure your website is updated, backed up, and secure.
3. Do it yourself (DIY)
There are plenty of platforms like WordPress, Wix, and SquareSpace that let you easily build your own website without any coding knowledge! You don't need even basic HTML skills.
If you're starting a small business and don't want to spend a fortune on your website, you can still make a website within your budget.
By doing it yourself, you get complete control of customizing your site. And though website building seems like a tedious task, it's actually quite easy and can take just a couple of hours.
In
[…]
This article was written by Editorial Team and originally published on IsItWP – Free WordPress Theme Detector.