Gradient background animation can be a beautiful design technique for making background colors come to life on your website. It is a perfect solution for those who want something more lifelike than a static background color without having to resort to slow-loading video background. The basic idea behind gradient background animation is to use CSS to create enlarge and animate a gradient background to create seamless moving color transitions.
In this tutorial, we are going to show you two ways you can create gradient background animations in Divi. The first combines a custom CSS snippet that animates the gradient colors chosen in Divi's built-in settings. The second way animates multiple modules with a radial gradient background over a row or section background. The setup is actually quite simple for such a beautiful result.
Let's get started!
Sneak Peek
Here is a sneek peek at both ways we can create gradient background animation in Divi.
#1 Gradient Background Animation with CSS Snippet and Divi's Background Option
#2 Gradient Background Animation Using Divi Modules with Radial Gradient Backgrounds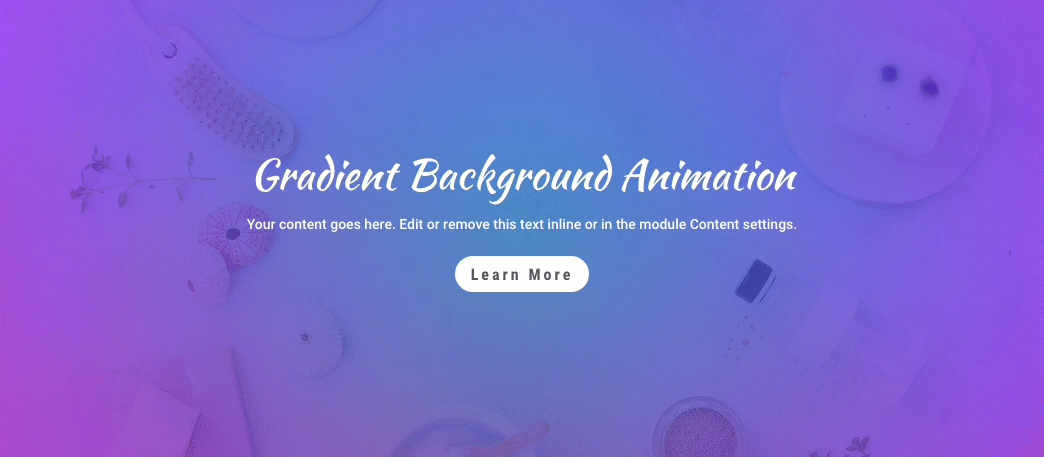 Download the Layout for FREE
To lay your hands on the designs from this tutorial, you will first need to download it using the button below. To gain access to the download you will need to subscribe to our Divi Daily email list by using the form below. As a new subscriber, you will receive even more Divi goodness and a free Divi Layout pack every Monday! If you're already on the list, simply enter your email address below and click download. You will not be "resubscribed" or receive extra emails.
To import the layout to your page, simply extract the zip file and drag the JSON file into the Divi Builder.
Let's get to the tutorial, shall we?
What You Need to Get Started
[…]
This article was written by Jason Champagne and originally published on Elegant Themes Blog.