The age of digital marketing has seen the need to create high-converting, professional, and creative landing pages. Whether selling an eBook, online software, or a high-ticket course, your potential customers expect to interact with a landing page at some point. In this guide, we'll walk through the various tools and methods you can use to build your next landing page with the power of AI.
What is a Landing Page?
In the world of web design and digital marketing, a landing page usually refers to a page specifically designed for lead generation and conversion. Most landing pages are created to have users take one specific action. Whereas regular pages on a website might have a variety of endpoints or goals, a landing page's mission is singular. Some essential aspects of a landing page include:
Captivating Headlines: Since landing pages focus on one main call to action, the section headings used throughout it must be attention-grabbing.
Convincing Copywriting: Copywriting is different from traditional content writing. Your landing page copy should be more sales-driven and focused on getting your visitor to complete the goal set for it.
Engaging Visuals: Landing pages should have engaging visuals like images and videos to help illustrate your products or services.
Social Proof: Adding social proof like testimonials or reviews can help build trust with your audience and increase sales and conversions. No landing page is complete with a testimonial or reviews section.
Clear Call to Action: Whether it is a button, an email opt-in, or a contact form, every landing page needs a clear call to action to make it easy for users to take the step you want.
What are the Benefits of Creating a Landing Page with AI?
Creating a successful landing page can be time-consuming and expensive, especially when hiring professionals. But with the help of AI, you can create landing pages with all the essential elements without wasting time and money to get professional results.
Here are some of the benefits of using AI to create your landing pages:
Faster Development: AI allows you to build landing pages quickly. AI has progressed to the stage where you can create content, generate images, and spin high-quality videos quickly and efficiently. All of these features are important when building a solid landing page.
Professional AI Copywriting: AI writing tools can help you add professional copywriting to your landing page consistent with your brand and conversion goals, making headlines pop and the content more engaging and compelling.
Custom AI Visuals and Videos: Various AI tools can quickly create a landing page's welcome video or sizzle reel. And there are powerful AI art generators for creating high-quality images and illustrations for your landing page. This can save you significant time and money from hiring a professional.
Integrated Automation: With AI, it's possible to add a level of automation to the interactions that your users experience on your landing page. Integrations with third-party tools, A/B testing, dynamic content, and others are examples of automation AI can help you bring to your landing page. Furthermore, the actual landing page-building can be automated with AI.
Enhanced Personalization: Tailoring content and features to the needs of your users is easier to do with AI. Quickly increase user engagement by utilizing AI tools that bring individualization to your landing pages. AI Chatbots are a common way to personalize the user experience your future customers may have on your landing page.
Deeper Data Insights: AI can also analyze and process data to improve landing pages. User behavior analysis, conversion rate optimization (CRO), and other insights can be gleaned, processed, and analyzed more easily with AI. Furthermore, running AI-driven tests can help you fine-tune your pages for your future customers.
Now that we've looked at some benefits of using AI to build your landing pages let's learn how to do this practically.
Ways to Create Landing Pages with AI
There is a myriad of ways that you can create landing pages with AI, including:
Using AI website builders or landing page generators
Using AI Tools and Platforms for help
Using AI Page Builders and Plugins for WordPress
First, look at how AI website builders can help us build landing pages.
Using AI Landing Page Generators to Create Landing Pages Automatically
Many website builders can be used to create landing pages for your product or service. Most come with a library of modules, a repository of templates, plus apps and add-ons to include additional features. Some website builders have taken this a step further. By including AI in their platforms, there are a few AI website builders on the market that you can use to generate and optimize landing pages.
For example, Hostinger's AI Website Builder takes four simple steps to create a website. Plus, you can quickly generate landing pages for your site using their AI assistant.
Wix ADI is another AI website builder by Wix, which can generate entire websites and landing pages with a single prompt. It also has an AI Assistant within its builder to adjust your landing page content with the power of AI. For example, Wix's AI Text Creator within Wix Studio can generate titles, paragraphs, and more based on easy-to-use prompts.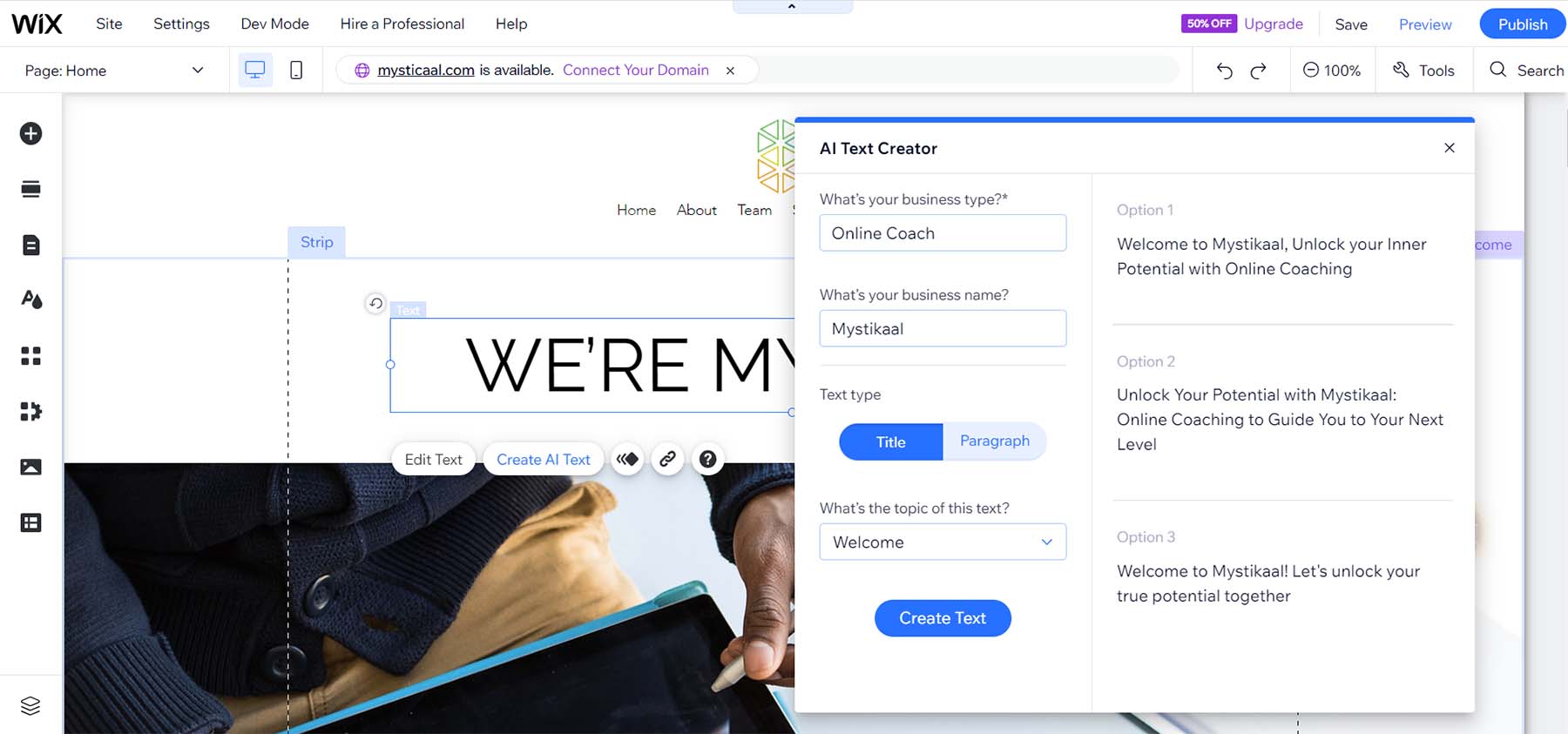 We have compiled a list of the top AI website builders to study if using an AI website builder is a good choice for your landing page.
Creating Landing Pages With the Help of AI Tools
Not all website builders or platforms have built-in AI solutions for generating an entire landing page for you automatically. However, you can still use external AI tools to help create more effective landing pages on any website platform. Most website builders and CMS platforms like WordPress will have many premade landing page templates or themes you can use to get a high-quality landing page up and running in minutes. Then, you can use other AI tools to finish the job. When you blend these tools, great things can happen, resulting in landing pages with the best each software can offer.
For example, you can use ChatGPT or an AI writing tool, Jasper, to create professional copywriting for headlines, content, and essential CTAs for your landing pages.
You can also use AI image generators like Midjourney to create beautiful digital art that you can use on your landing pages.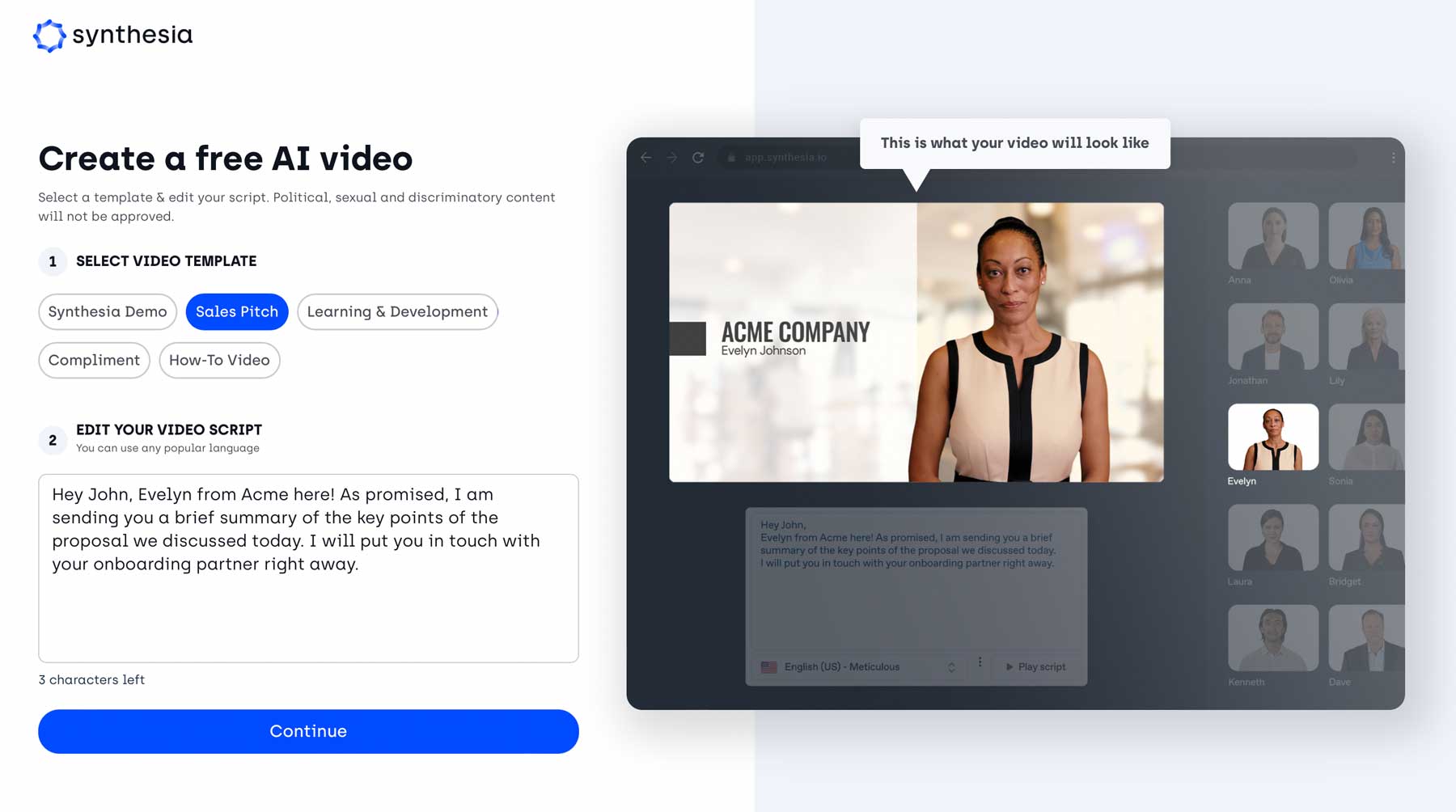 AI video generators like Synthesia are at the cutting edge of creating professional tutorials and sales pitch videos for you to use on your landing page. You can create compelling and captivating landing pages for your next launch by interweaving the wealth of tools available in the AI space.
Create Landing Pages in WordPress Using AI
Finally, WordPress is joining the ranks of tech products employing AI in their ecosystem. From themes to plugins, you can now find more than a handful of WordPress AI tools that you can use to create your next landing page.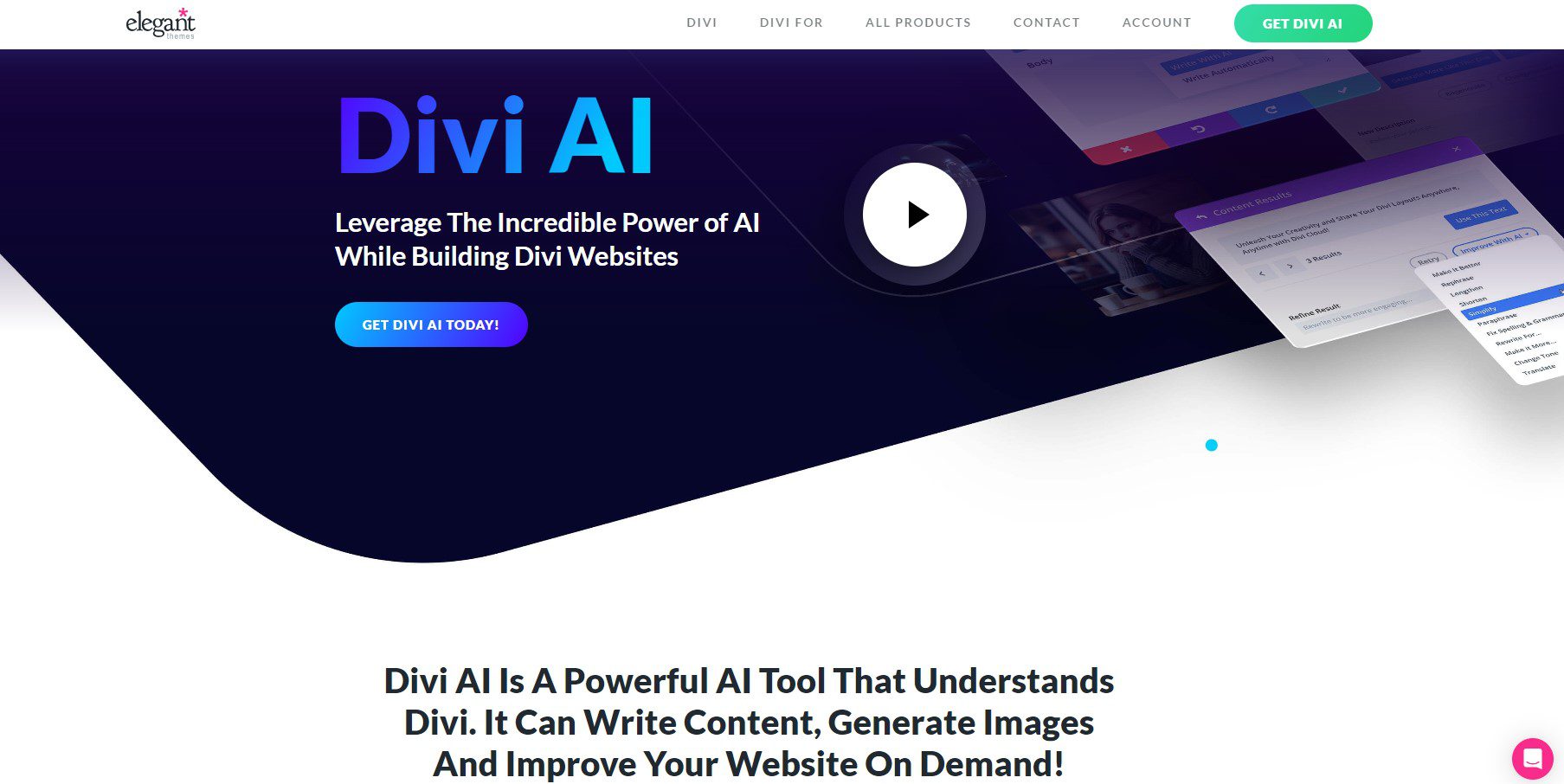 A plugin like AI Engine brings chatbots, code creation, image generation, and other AI features to your WordPress website. Installing the Uncanny Automator plugin lets you bring automation and AI to your WordPress website. Furthermore, themes like Elementor and Divi bring AI into the theme space. Divi AI, combined with its no-code builder, split testing, and marketing integrations, makes it a solid choice for building a landing page with WordPress and AI.
How to Create a Landing Page with AI in WordPress (Step by Step)
At this point, we've learned the differences between a typical web page and a landing page. Additionally, we understand the various ways we can use AI to build a landing page. Now, we'll use Divi to create our landing page's layout and essential sections, like our hero area and call-to-actions. Then, we will create a landing page in WordPress with Divi AI.
1. Map Out Your Landing Page with AI
Creating an outline before building your landing page puts you on the right track to a successful launch. An outline will guide you on the sections to create, the headings to use, and the potential add-ons or plugins you'll need to invest in for your landing page to run smoothly. We can use a chatbot like ChatGPT to generate an outline for our website.
To start, navigate to ChatGPT. Then, enter a prompt. This prompt generated an outline to promote a podcast episode, "Outline a simple four-section landing page for a podcast episode." This was the outline that was created: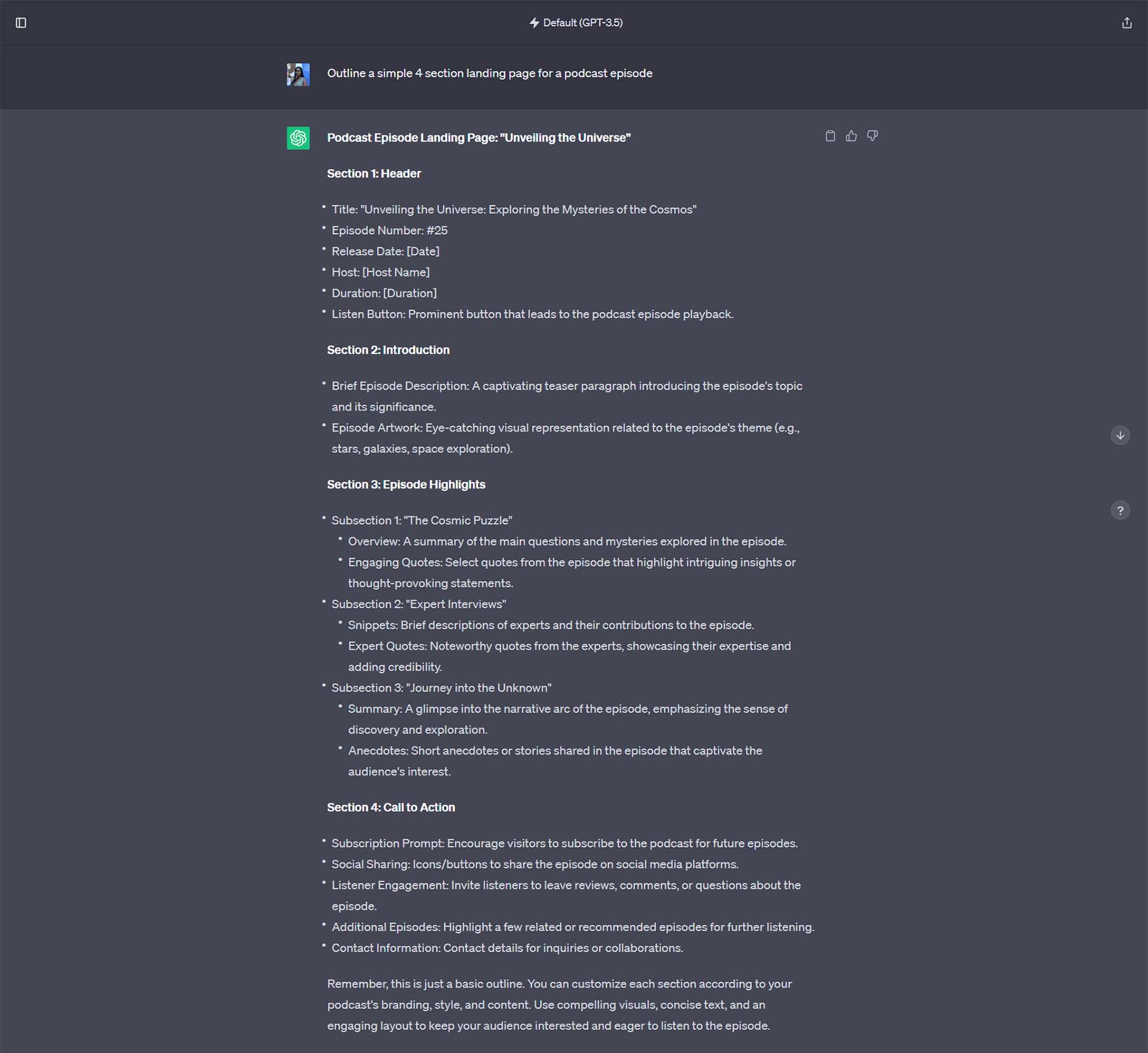 ChatGPT has provided a simple guide on the titles, call-to-actions, and content we can create on our landing page. This can help inspire us as we create. With our outline in hand, let's build our WordPress installation.
2. Setup WordPress
There are a few ways that you can set up your WordPress install. We have a step-by-step tutorial showing you how to install and set up WordPress. At the bare minimum, you'll need a domain name and web hosting to get your WordPress website off the ground. When it comes to the installation of the WordPress CMS, you can use your web host's one-click installer. However, it would be best to install WordPress manually for more customization. Once your WordPress install is live, you can now move on to install Divi.
3. Install Divi and Divi AI
We'll use Divi with Divi AI to build a landing page in WordPress. If you are new to Divi, you will need to get a membership and download Divi from your member page. Follow this great walkthrough of how to install Divi, which goes in-depth about downloading the theme file, installing it in WordPress, and authenticating your website.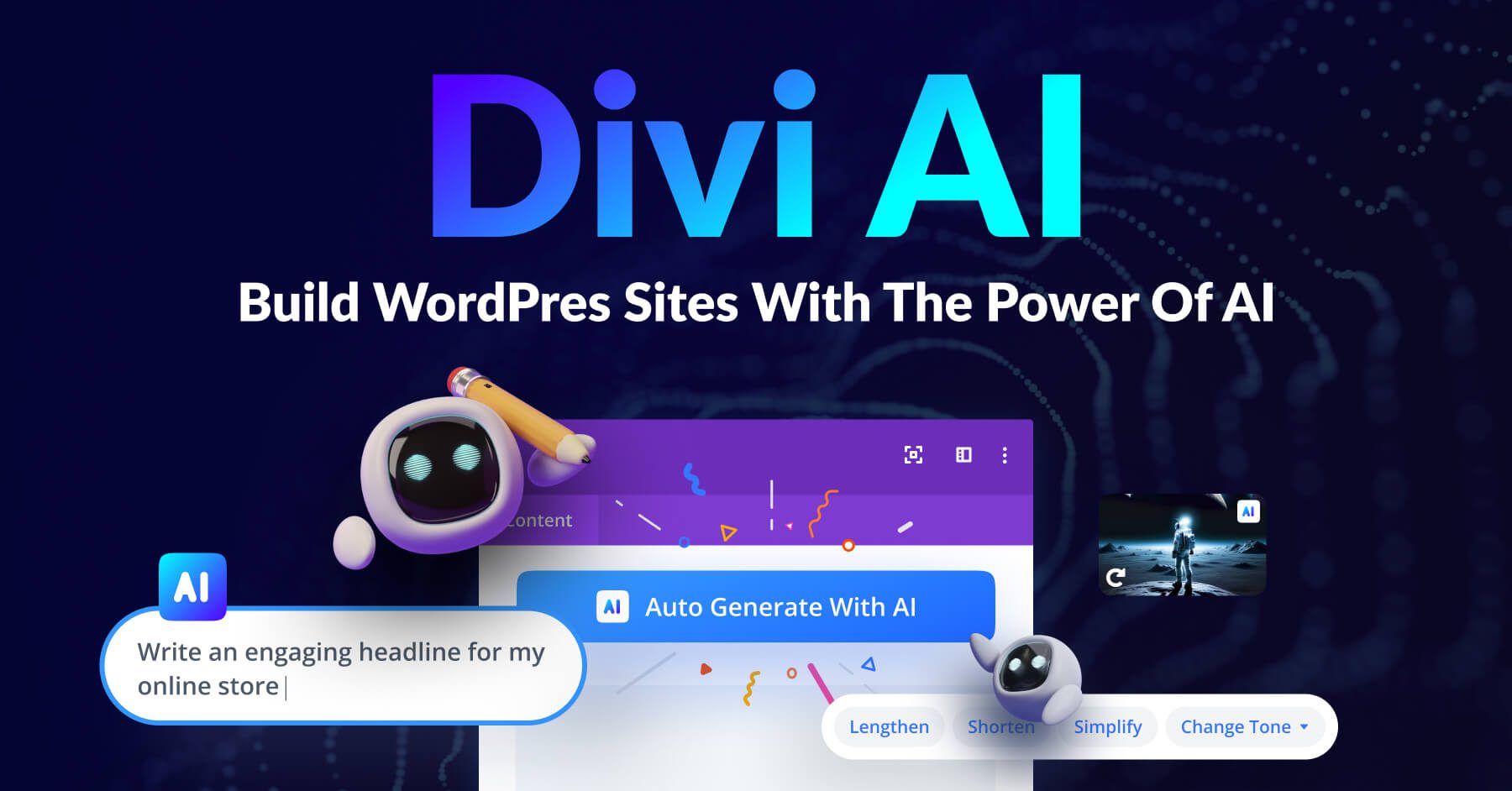 Building your landing pages with Divi and Divi AI is an intelligent choice. Divi has a powerful no-code page builder, making building beautiful yet complex landing pages quick and easy. Divi has a vast library of landing page templates optimized for conversions and can help you meet your targets. Coupled with Divi AI, your landing page is taken to the next level. Divi AI can automatically generate content by just scanning your page context. It can also create unique, custom digital art that can be resized, upscaled, and downloaded for use in other marketing materials. Choosing to use Divi and Divi AI to power your next landing page build is the best way to create your sales and squeeze pages with AI.
4. Set Your Website's Site Name and Tagline
Divi AI uses your website's site title and tagline as a starting point to create on-brand and relevant content for your website. After we have installed WordPress and Divi, we must set these two up. After logging into your WordPress dashboard, hover over the Settings menu from the left-hand menu. Then, click General.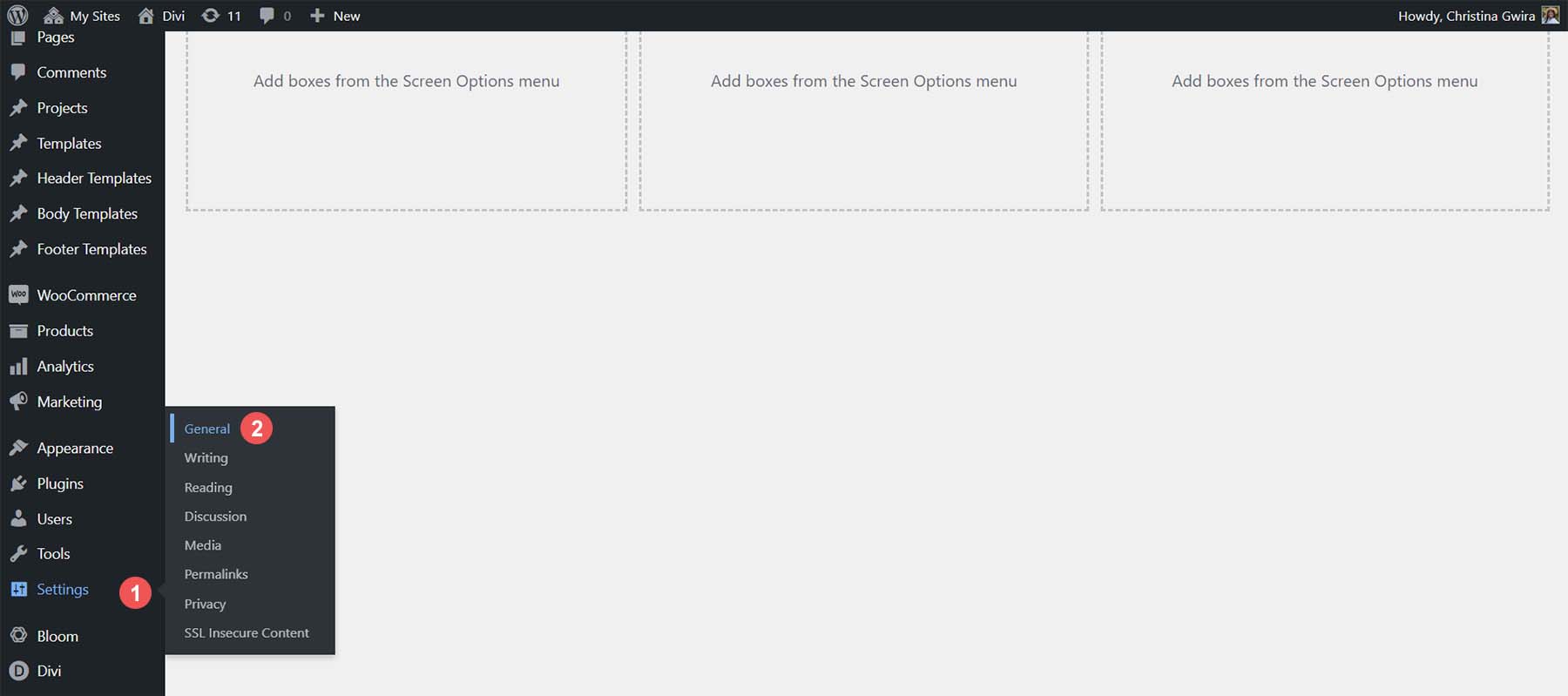 Next, enter your site title, as well as your tagline. We included one of the keywords we'd like to use as we optimize our content for search engines – podcast – within our site title and tagline.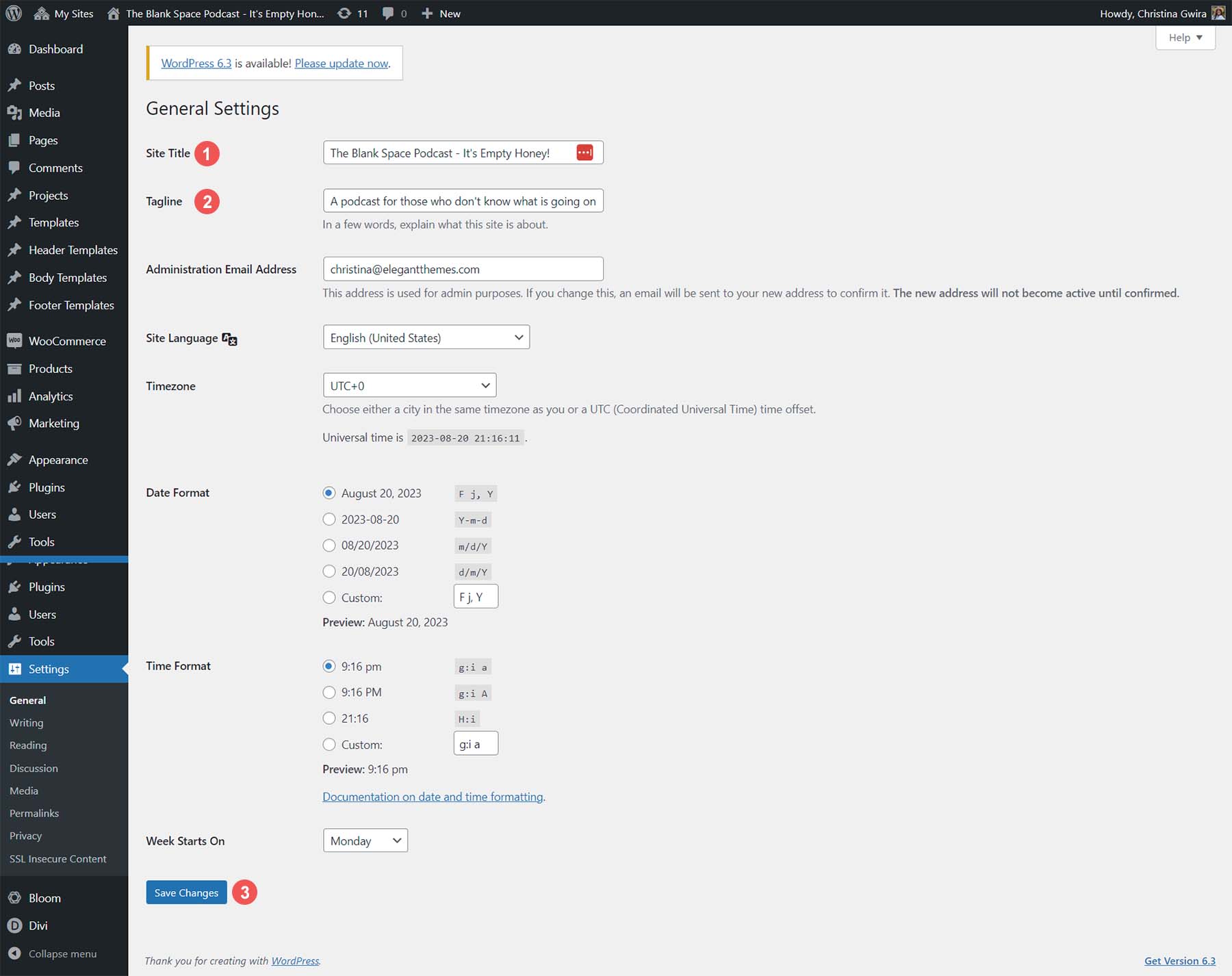 Finally, click on the blue Save Changes button. Next, we will begin creating and laying out our landing page in Divi with Divi AI.
5. Create Your Landing Page
We'll create a landing page in this guide to encourage listeners to join our email list. Hover over the Pages link from the left-hand menu to create a new page. Next, click Add New.
Next, give your page a title. Then, click the blue Publish button to create your page. Finally, click the purple Use Divi Builder button to activate the Divi Builder.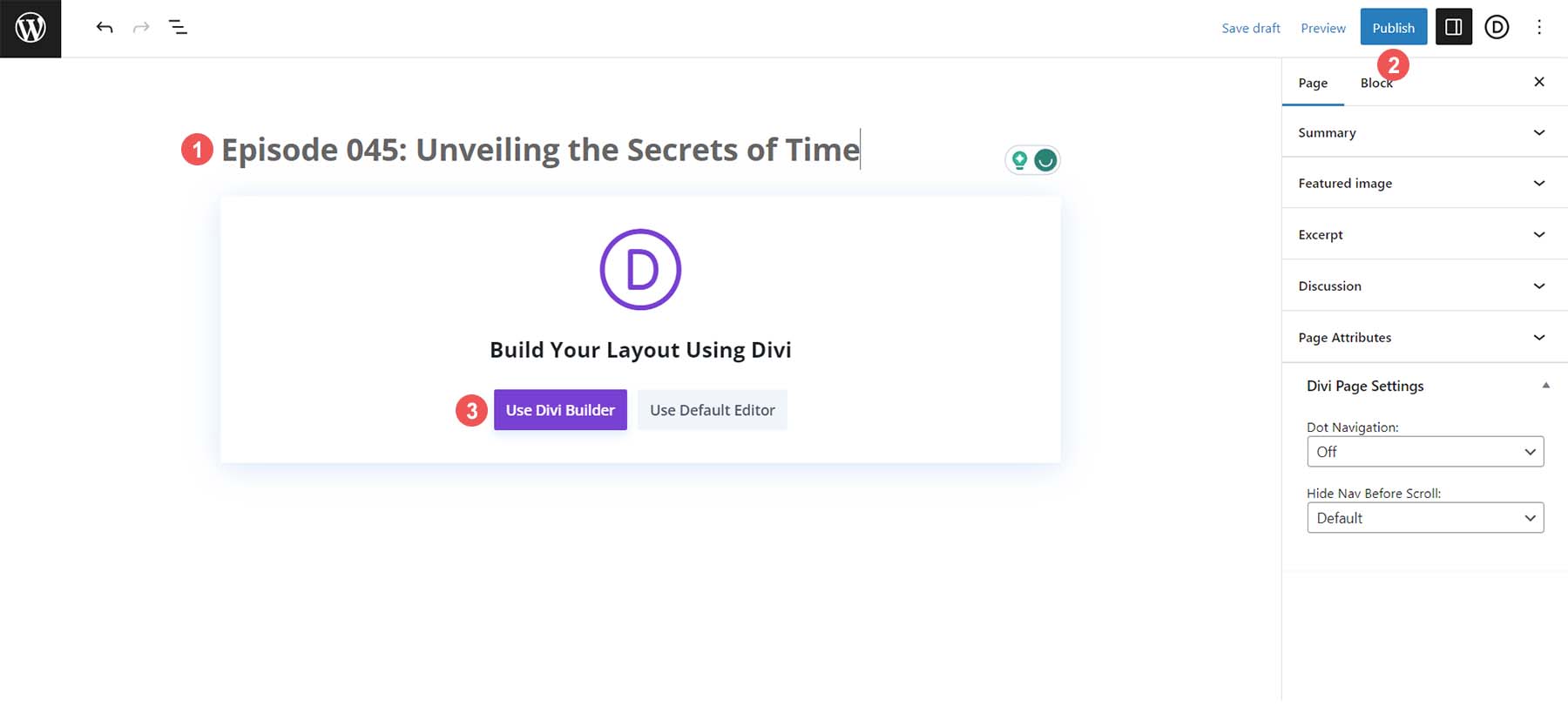 You'll have three options to create a new page in Divi. We'll use a layout from the many layout packs Divi provides. So, click the purple Browse Layouts button to open the Divi Layout Library.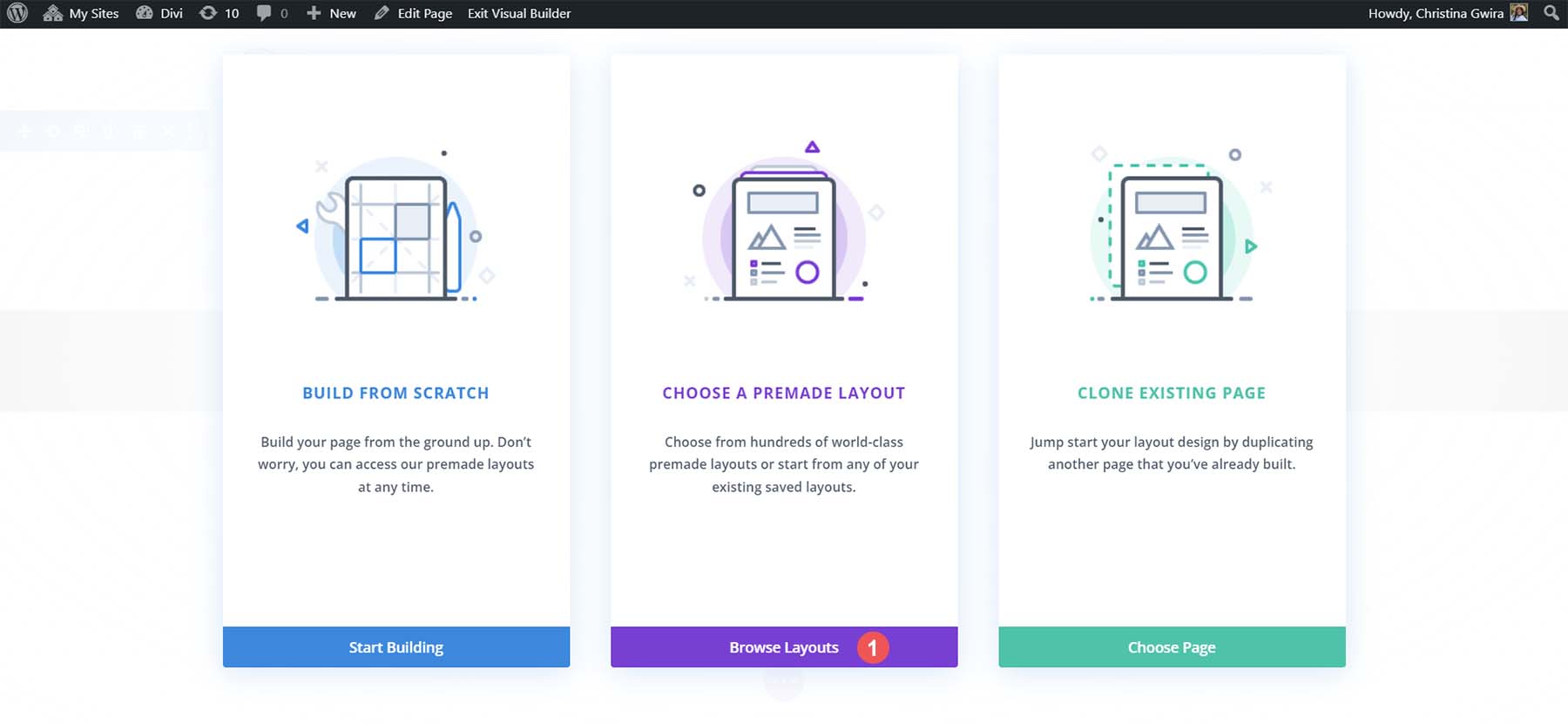 Next, enter podcast in the search box to pull up the various podcast layouts from the Divi Layout Library. We'll be using the landing page layout from the Podcaster Layout Pack.
Next, click the blue Use This Layout Button.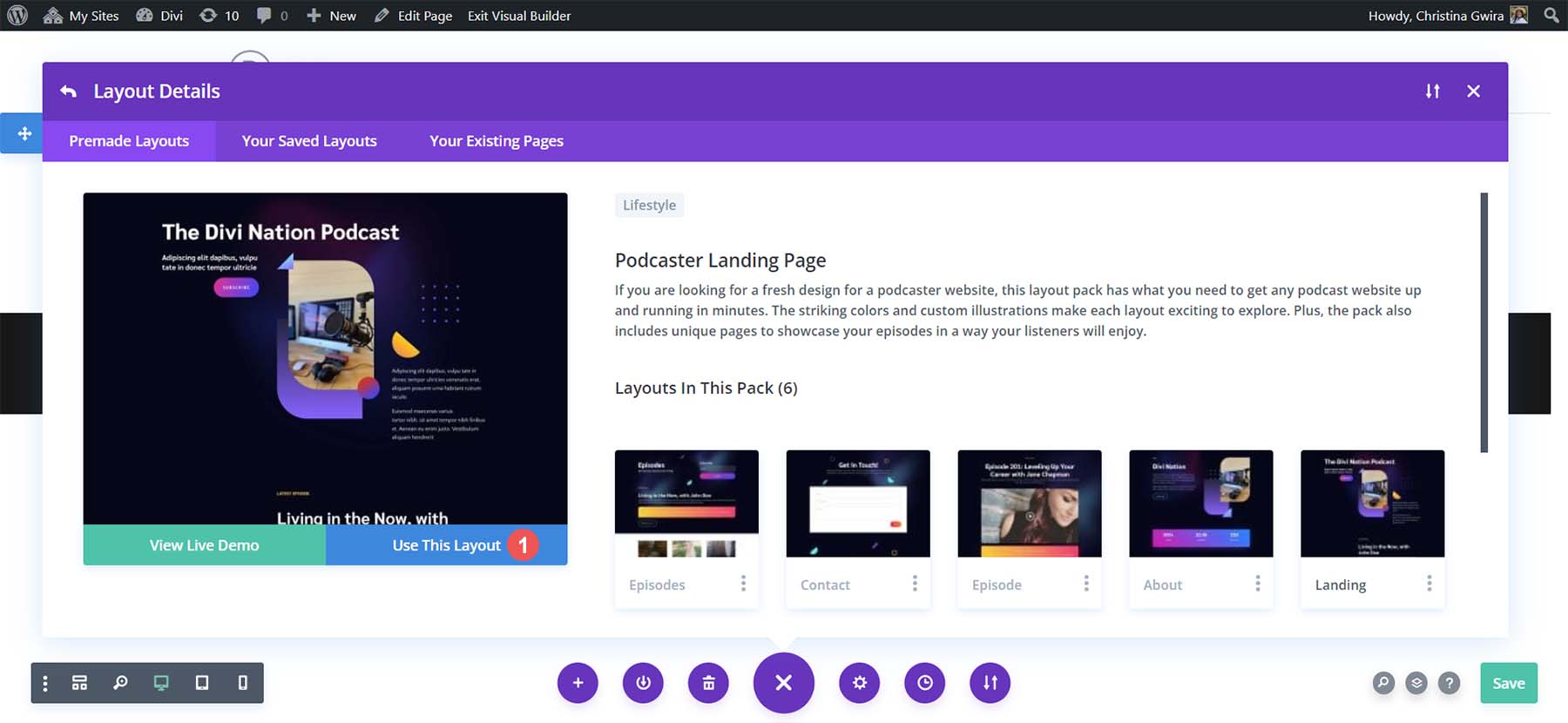 Once your layout is installed, click the green Save button at the bottom right of your screen.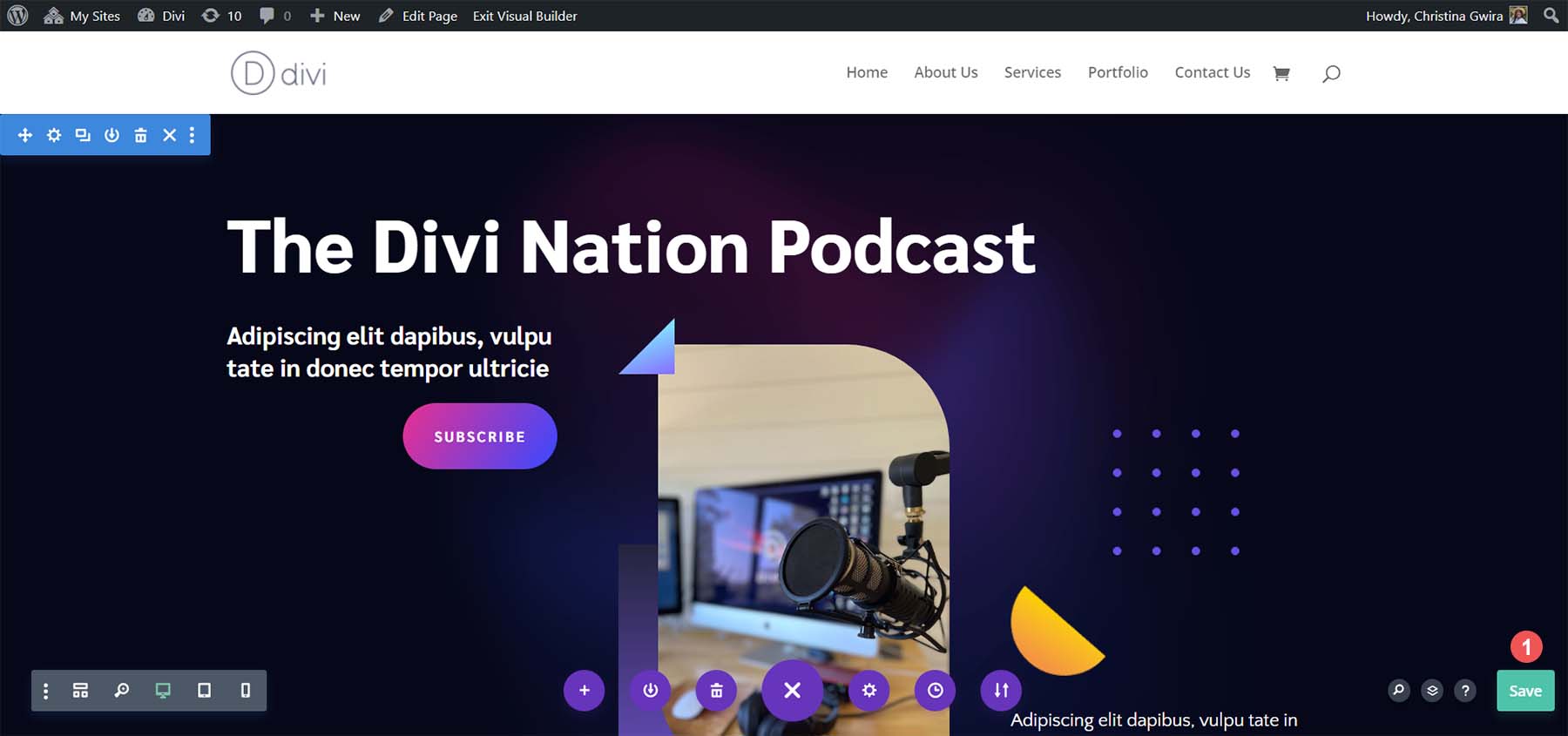 We'll use the Divi-provided layout with all its sections for this tutorial. Now that our page layout is in place, we can begin editing and adding our landing page copy with Divi AI.
6. Add an Exciting Section Title
While the free Divi layout packs contain some language within their layouts, we can create better and more impactful content for our landing pages using Divi AI.
Setting Up the Initial Text Module for the Hero Section
While we have an outline from ChatGPT, we will follow the flow of the default landing page from our layout for this tutorial. To start, let's add a title to our hero section. Click on the gear icon over the Text Module. Here, we will add an exciting title to encourage people to sign up for our mailing list, which is the primary goal of our landing page.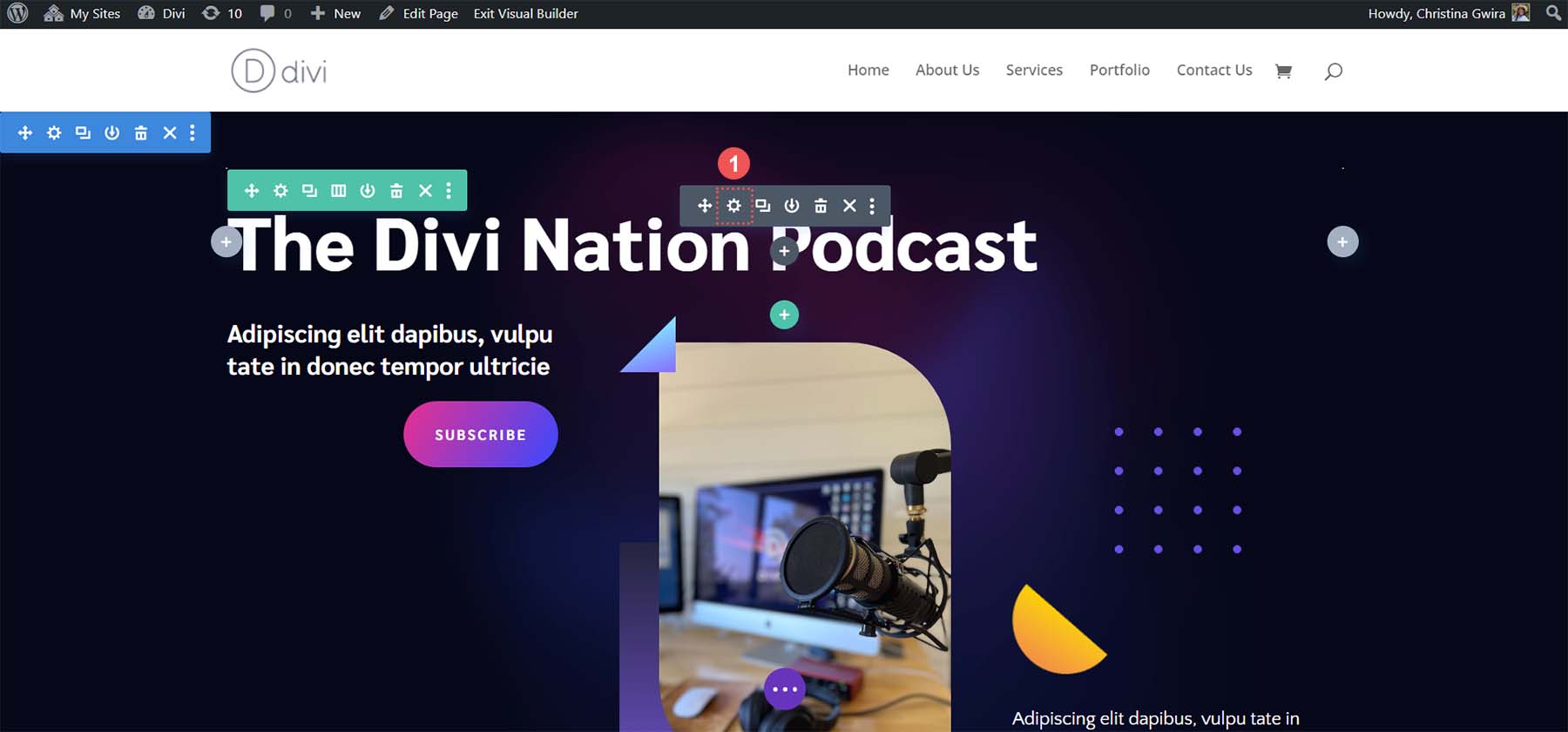 Next, click the Divi AI icon. Then click Write with AI. This will activate Divi AI.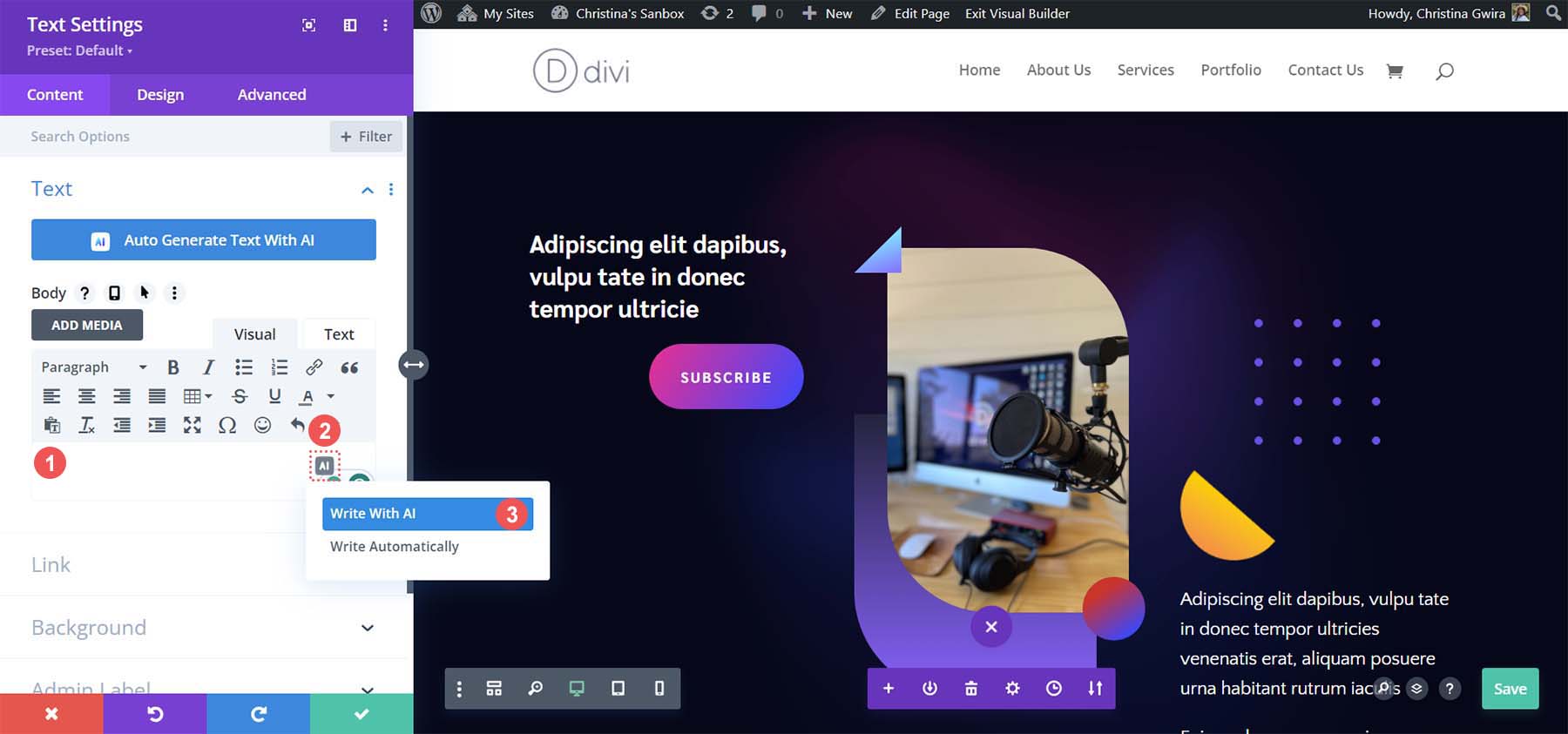 Now that Divi AI is activated let's create a title for this landing page that will encourage users to sign up to our mailing list. To do this, change the content type to title. Then, add a prompt to the text field. Our prompt was, "Create an exciting page title, encouraging people to join our podcast's mailing list." Finally, set the added context of our title to This Page Content.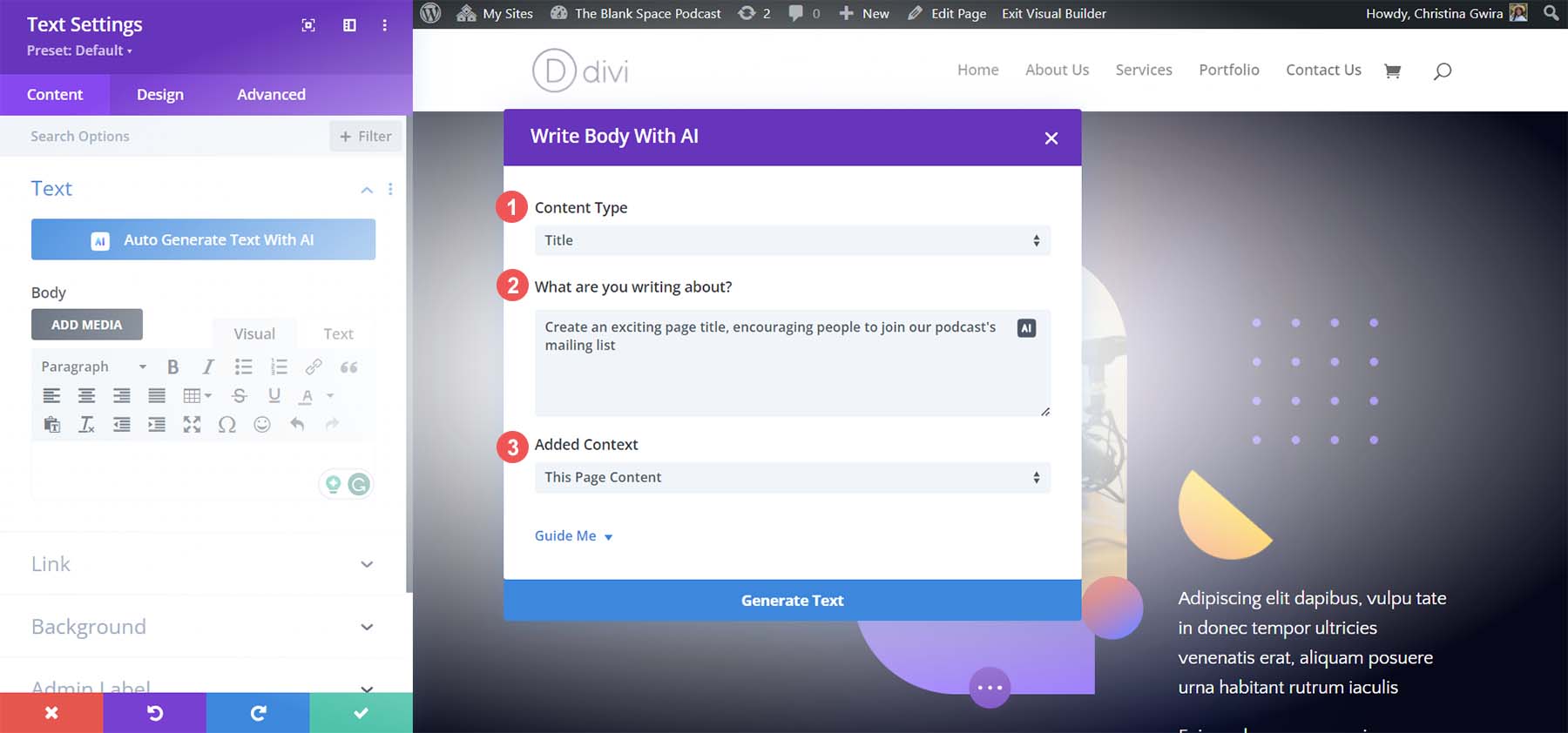 Divi AI generated this title for our landing page: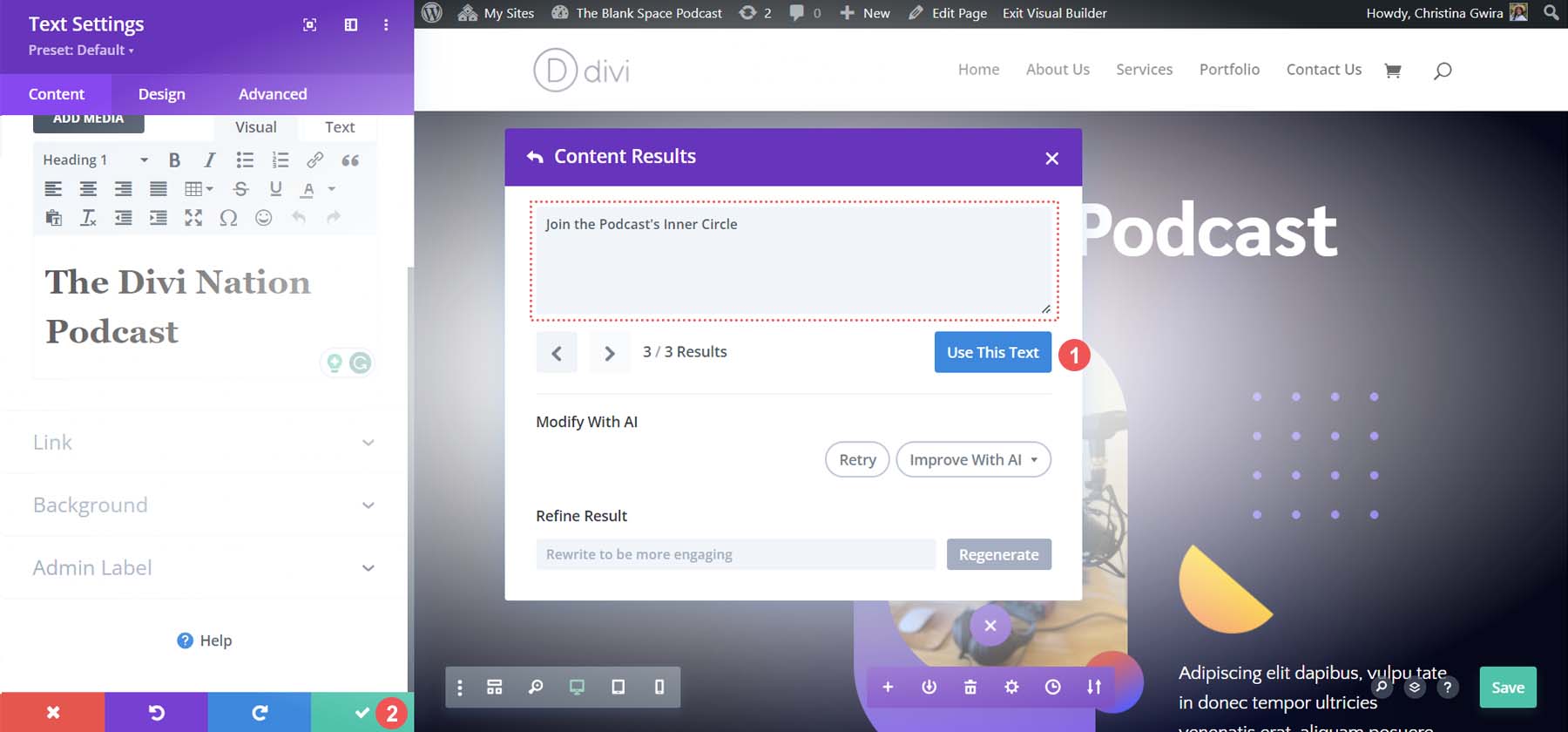 As opposed to simply having the name of our podcast on our landing page, Divi AI created a title for our landing page that entices viewers to join our podcast's inner circle, our mailing list.
Using Divi AI to Refine the Hero Section's Subtitle
Notice we have two Text Modules in our hero section. Again, we want to focus on promoting our podcast's newsletter. Let's add some additional text to our hero section to do this. Before we add our content, let's save our styling using Divi's copy and paste feature—Right-click on the text module. Then, click Copy Module Styles.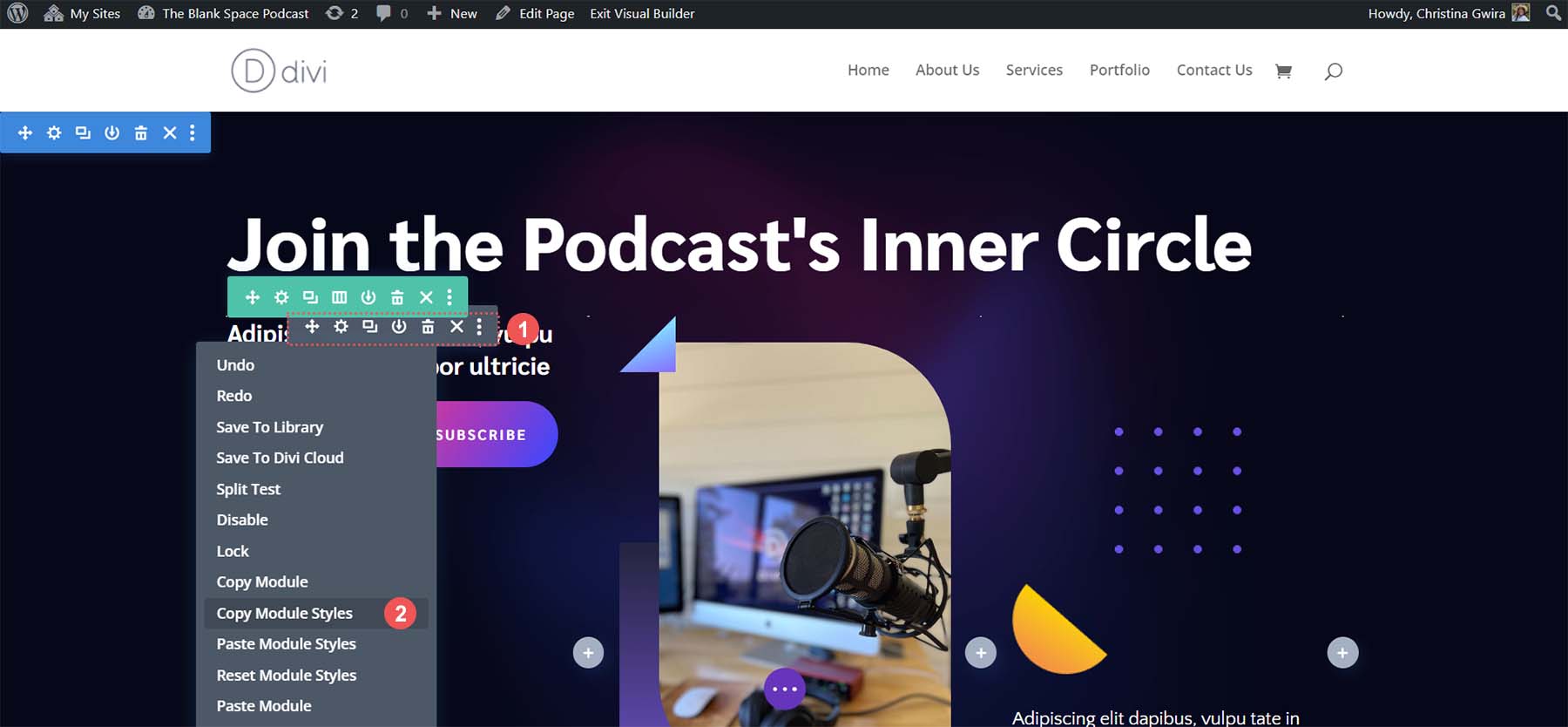 Now, let's click on the gear icon for the first Text Module.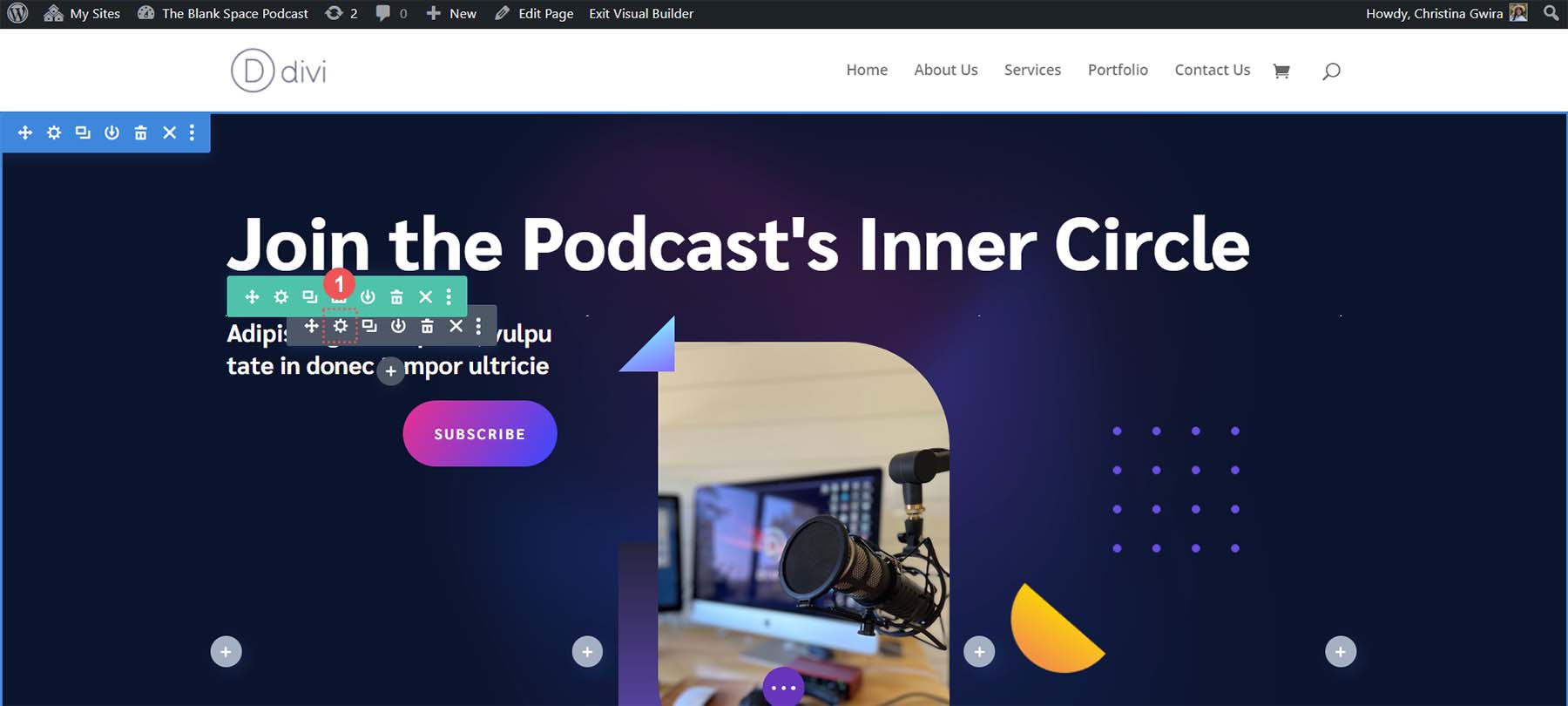 Next, we navigate to the text editor and click the Divi AI icon. Now, we'll click on the Improve with AI button.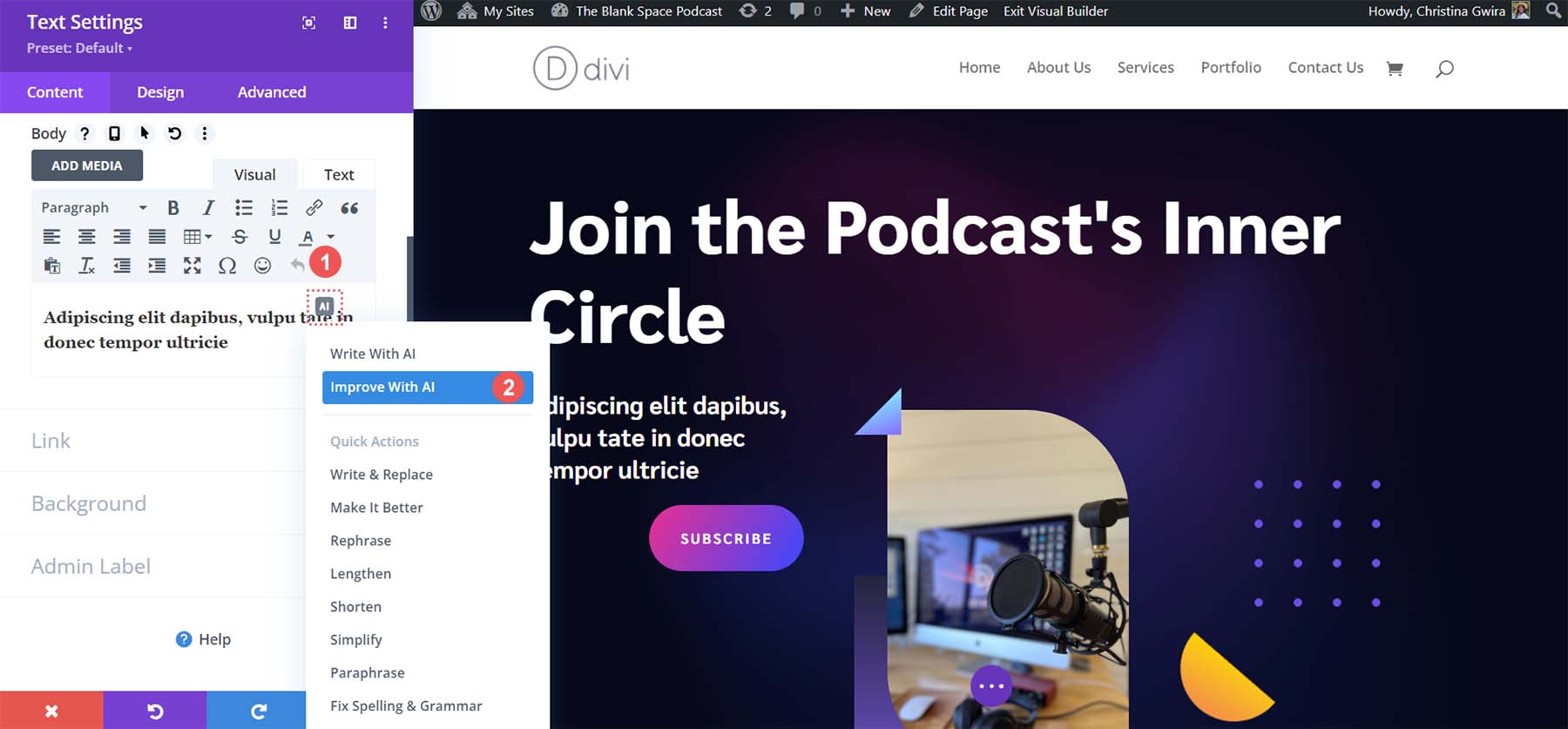 With Divi AI activated, we will set the Content Type to Title. We will use the following prompt to generate our subtitle: "Create a compelling statement getting viewers to join our email list." Thirdly, we'll change the Added Context to This Section. Lastly, click the blue Generate Text button.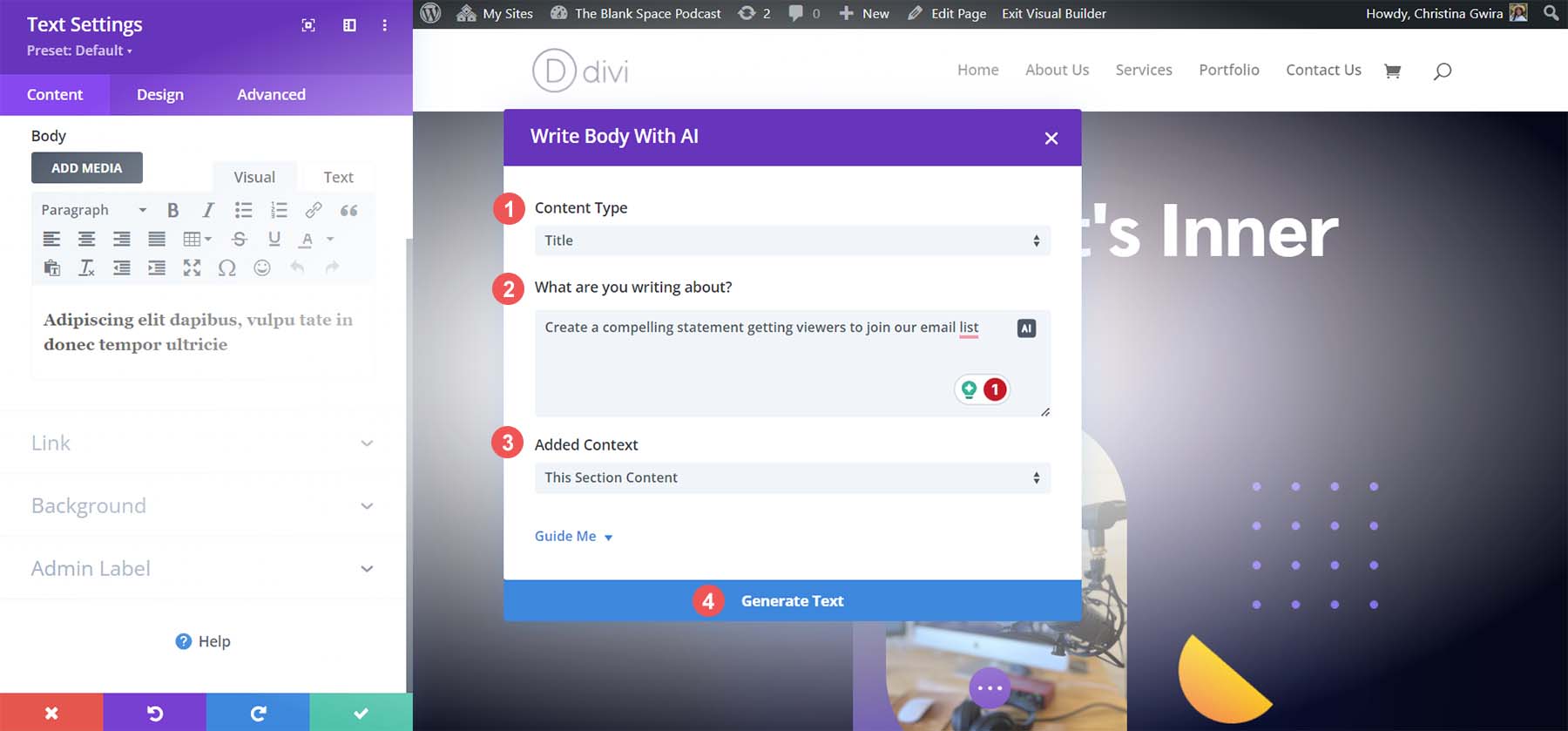 This is what Divi AI created to support our title and the primary goal of our landing page: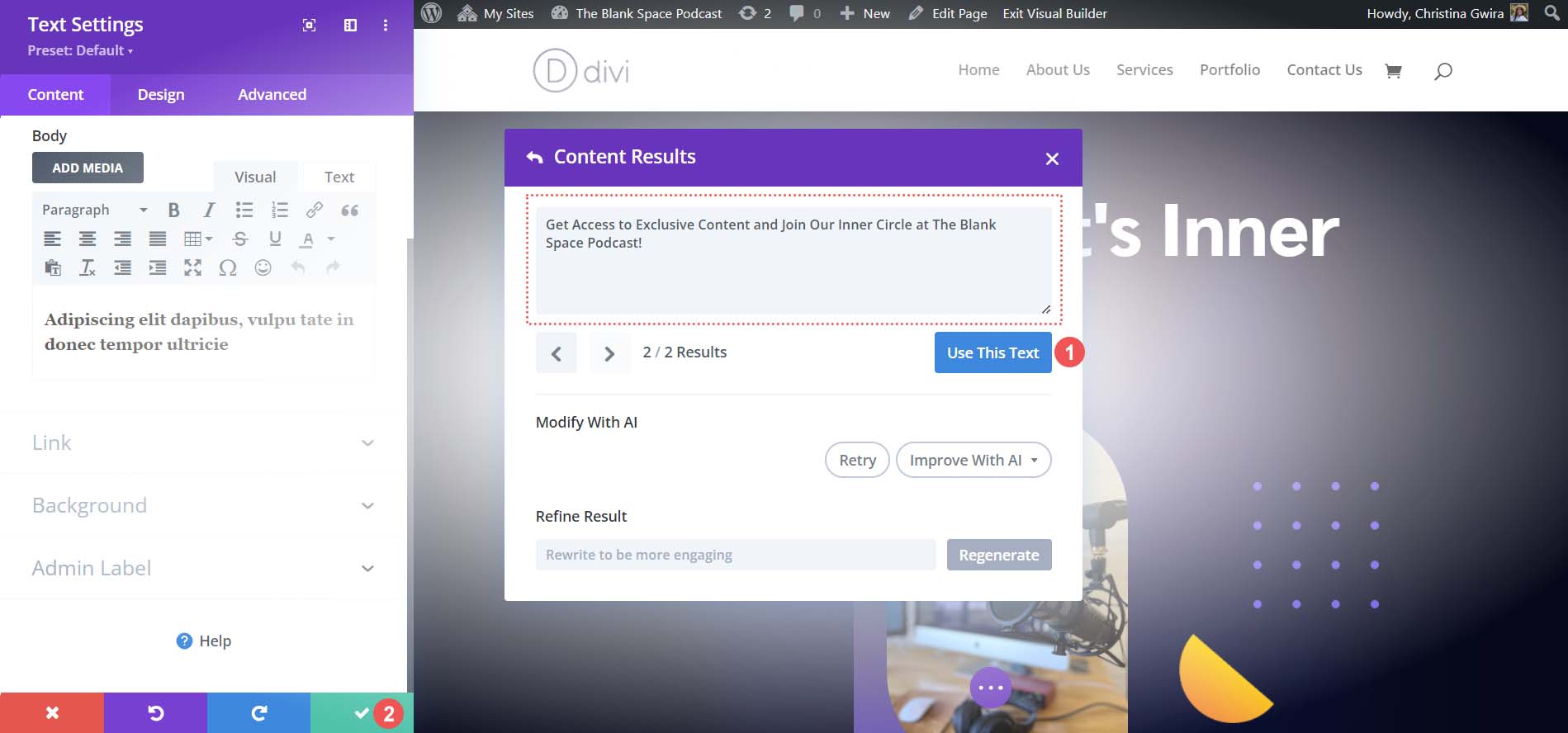 Divi AI was able to pick up that we had called our email list the "Inner Circle" and was able to use that and establish continuity on our landing page with our subtitle. Now, we click on the blue Use This Text. Then, click the green check mark to save our content. Don't forget to paste back the module styles!
7. Create Content for Section
Our hero section has its title and subtitle created, so we can move on to creating content for the final Text Module within this section. As before, we click the gear icon to edit our Text Module.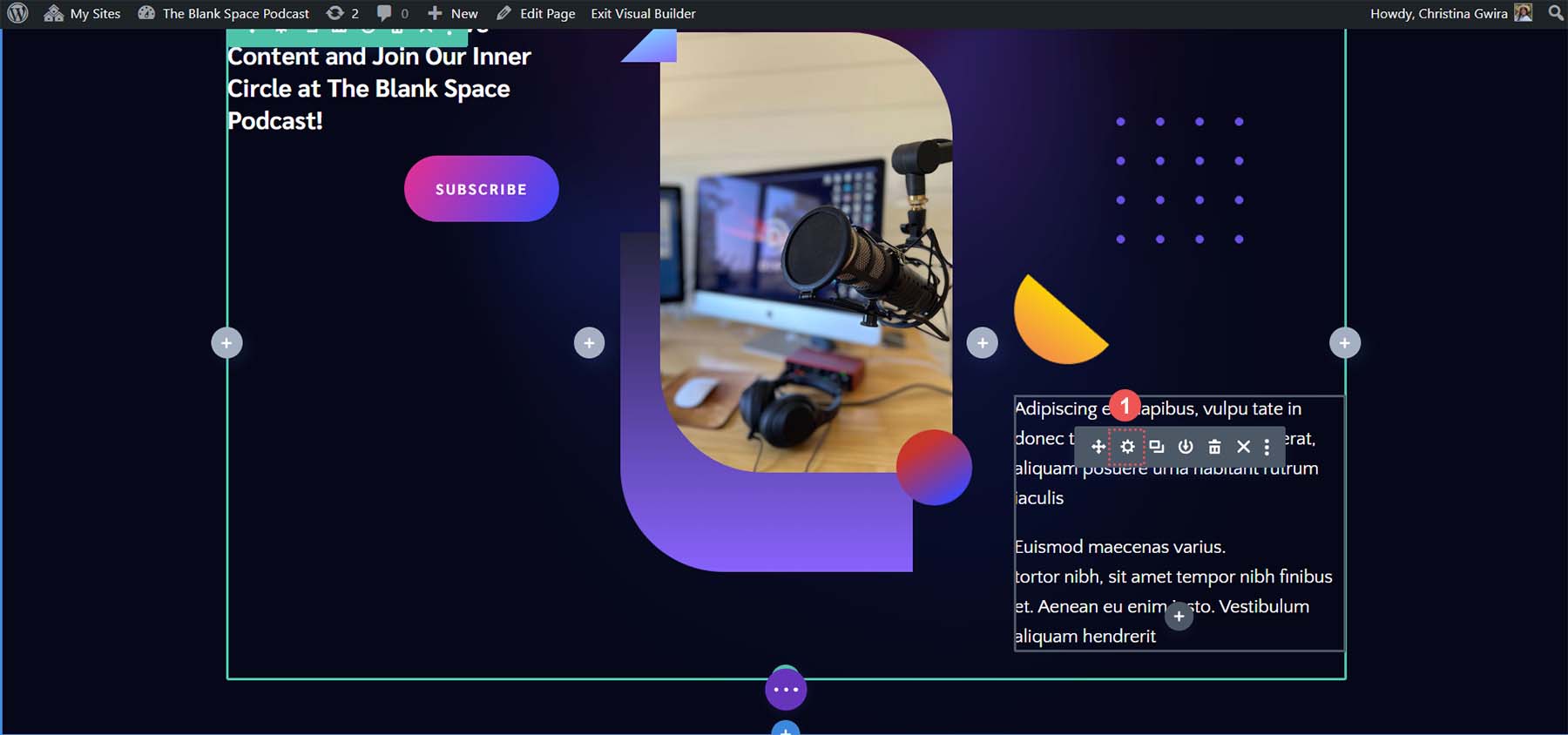 Next, we will use another Divi AI feature to improve this copy. Click on the Divi AI icon. Then, click on the Improve with AI text link.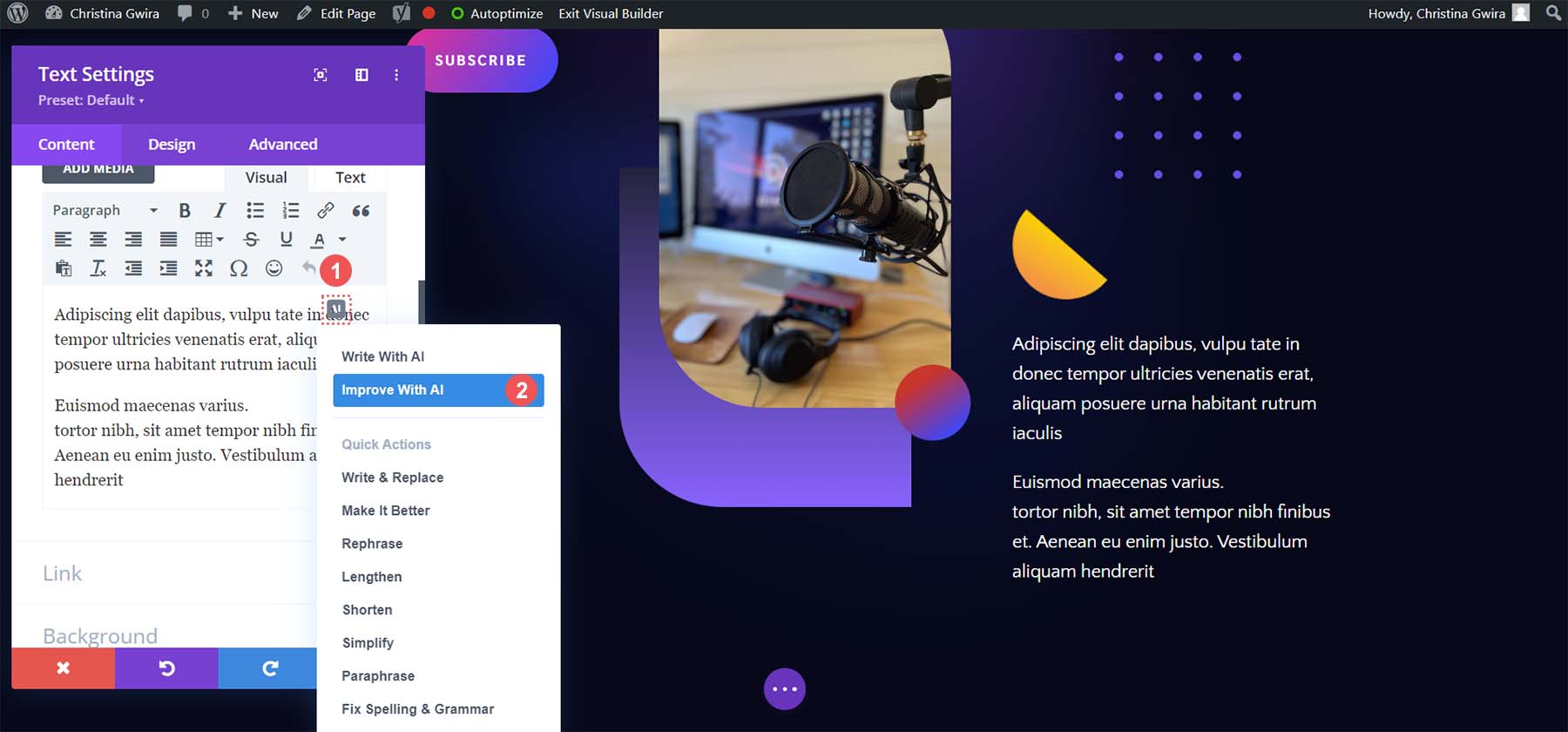 Before we enter our prompts, we will click on the Guide Me text link. We are now presented with a comprehensive modal box with additional settings that we'll be using to create the final content for our hero section.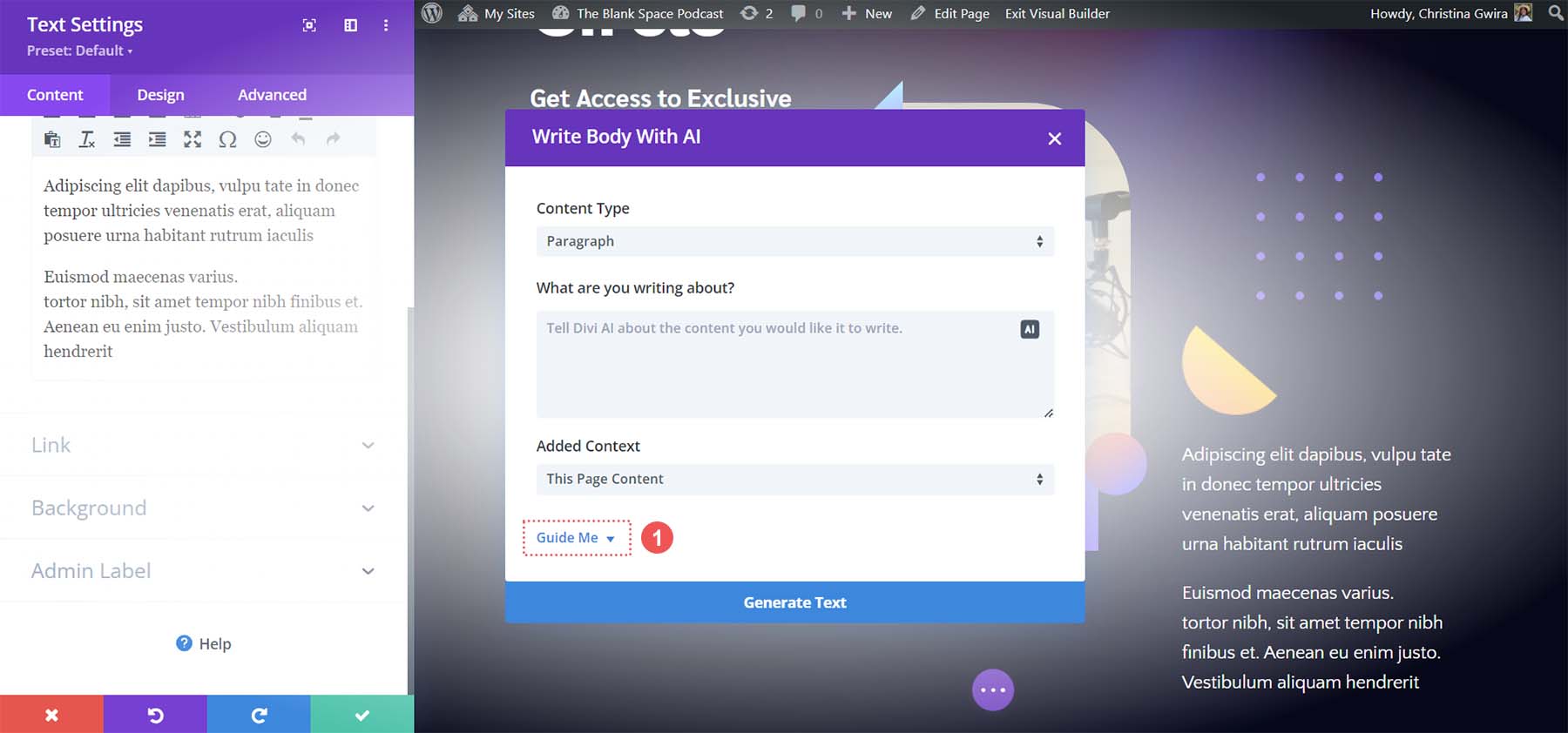 For our hero section, we set the content type to a Paragraph. Then, we specified our prompt, "Encouraging people to join our newsletter and listen to our podcast." We want to change the context of this Text Module to This Section's Content. For our tone of voice, we want to set it to Creative. We add a keyword to help with search engine optimization. Lastly, we don't want the text to be too long, so we set the content length to precisely three sentences.
Divi AI was able to add our podcast name, provide some information about our podcast, and encourage viewers to subscribe. This is the power of using Divi AI to build your landing page! To finish with our section, click the blue Use This Text button. Then, click the green check mark to save our changes.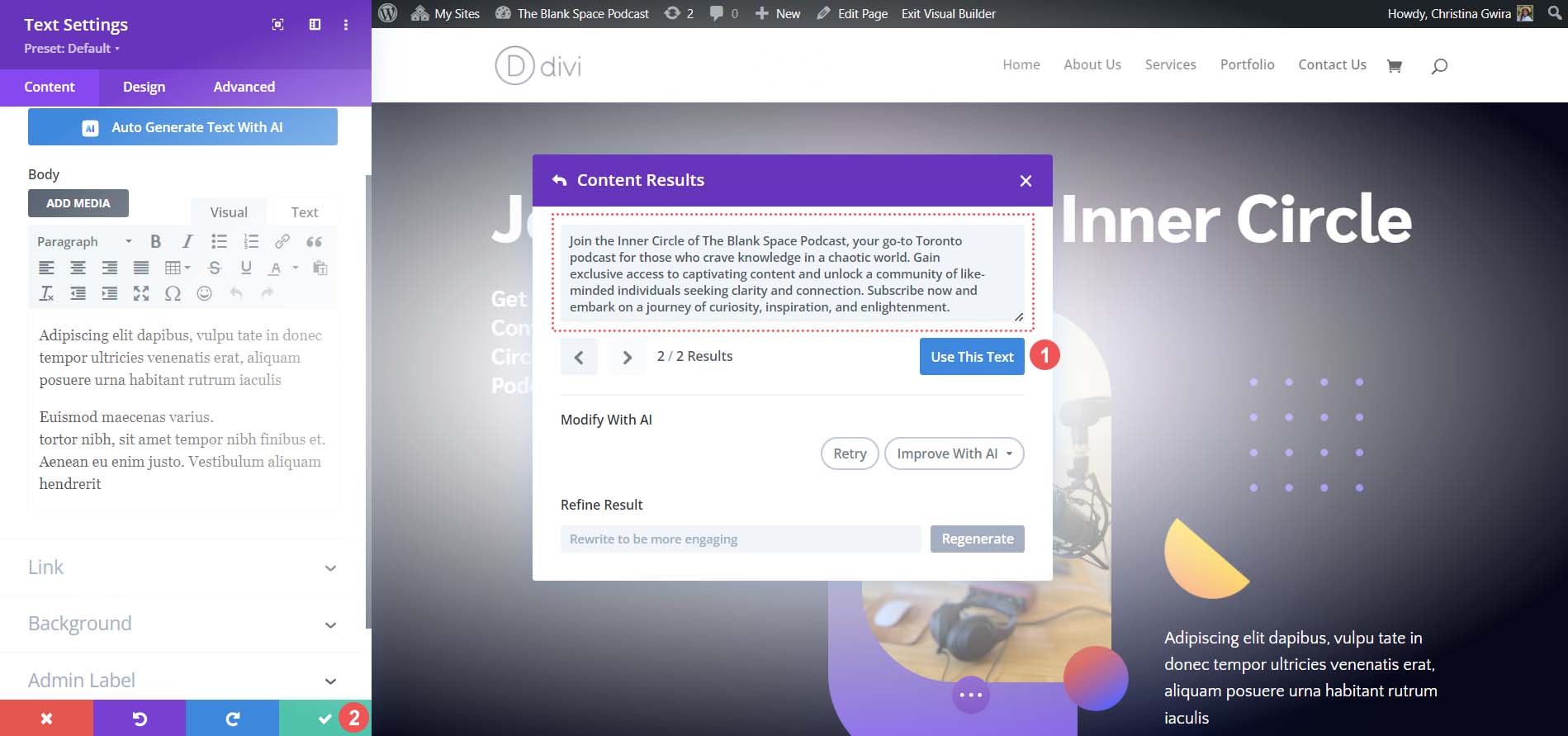 This is what our hero section looks like thus far: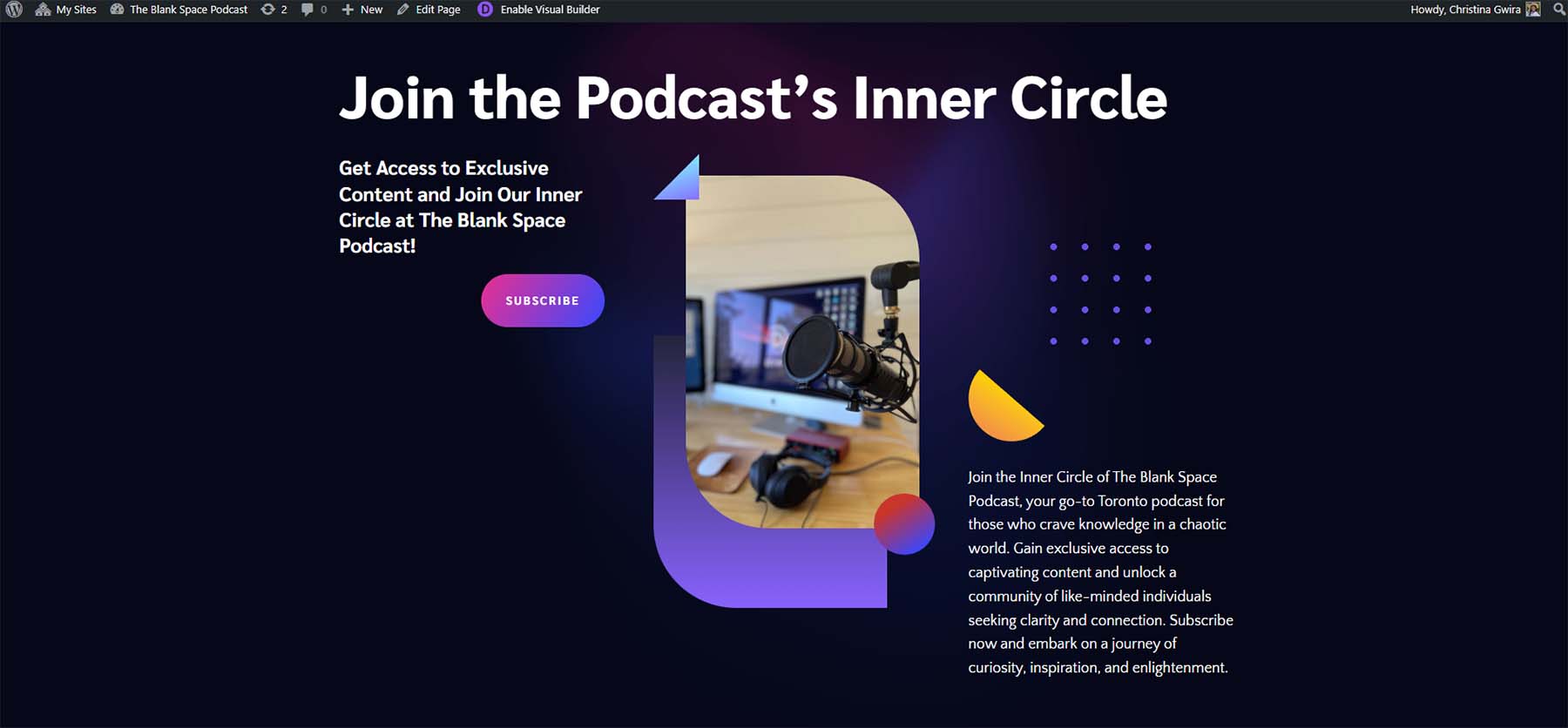 By only inputting our podcast title, we were able to generate supporting content for our landing page that is on-brand, unique, and flows well with the rest of the content on our landing page. Before we finish with our hero section, let's create a new image with Divi AI.
8. Generate Unique Digital Art for Your Landing Page
Divi AI not only works with text but can also work with images. We will replace the Image Module within the hero section with a custom image created by AI. To begin, let's click on the gear icon for the image.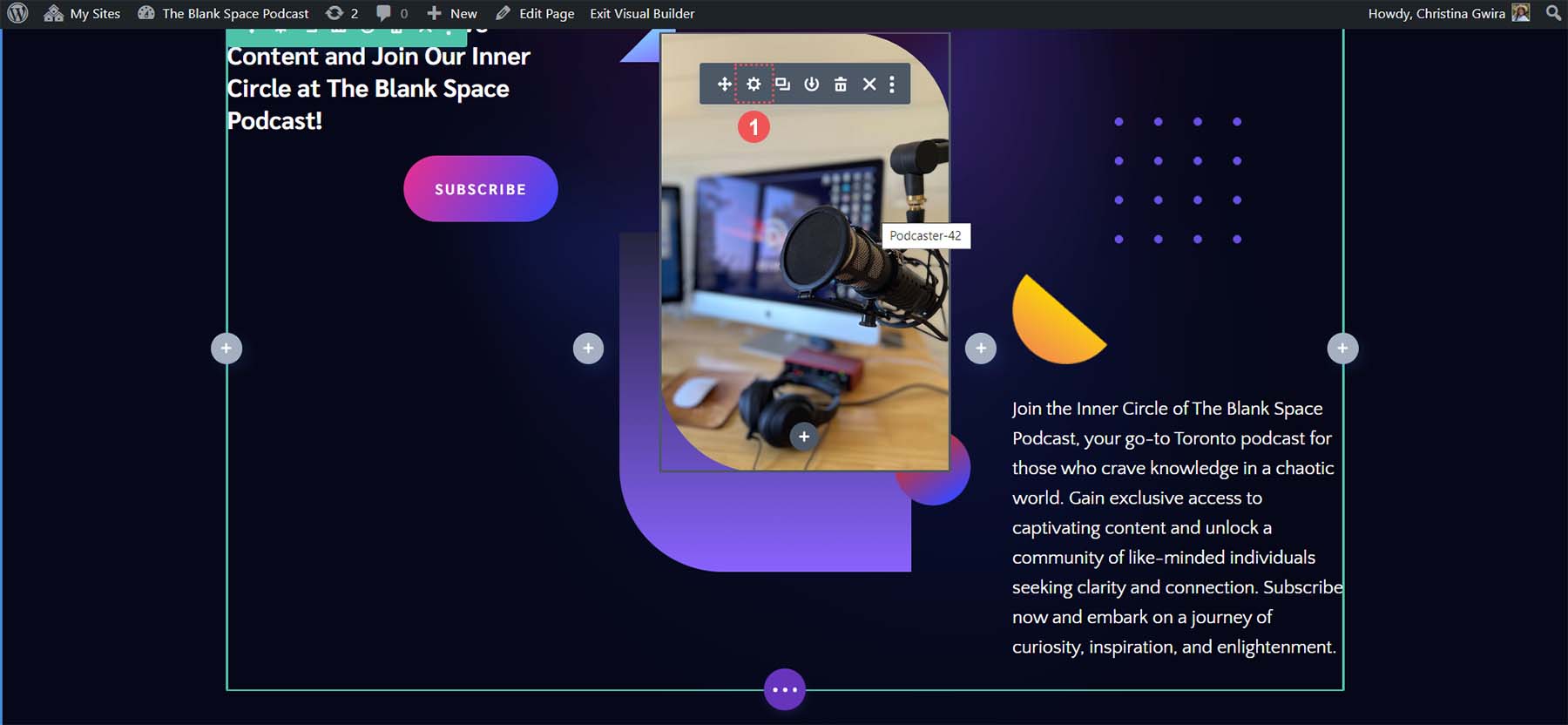 Next, click the Divi AI icon. Then, click the Generate with AI link.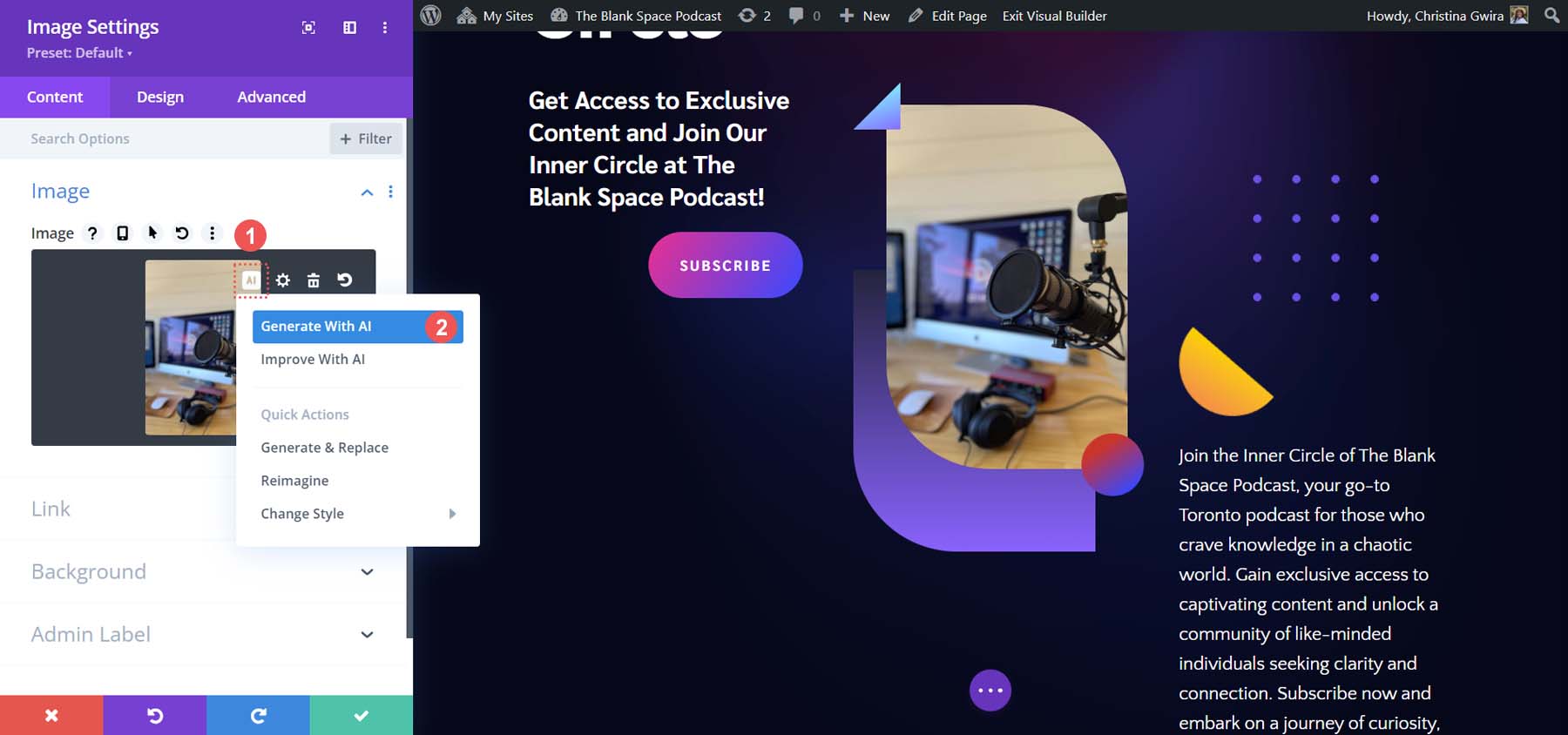 Now, we can enter a set of options into Divi AI. Following the landing page style, we set the Image Style to Cartoon. Then, we issue a prompt to Divi AI, "Create an illustration podcast equipment with a cityscape." Next, we set the aspect ratio to portrait and assign a size to our image.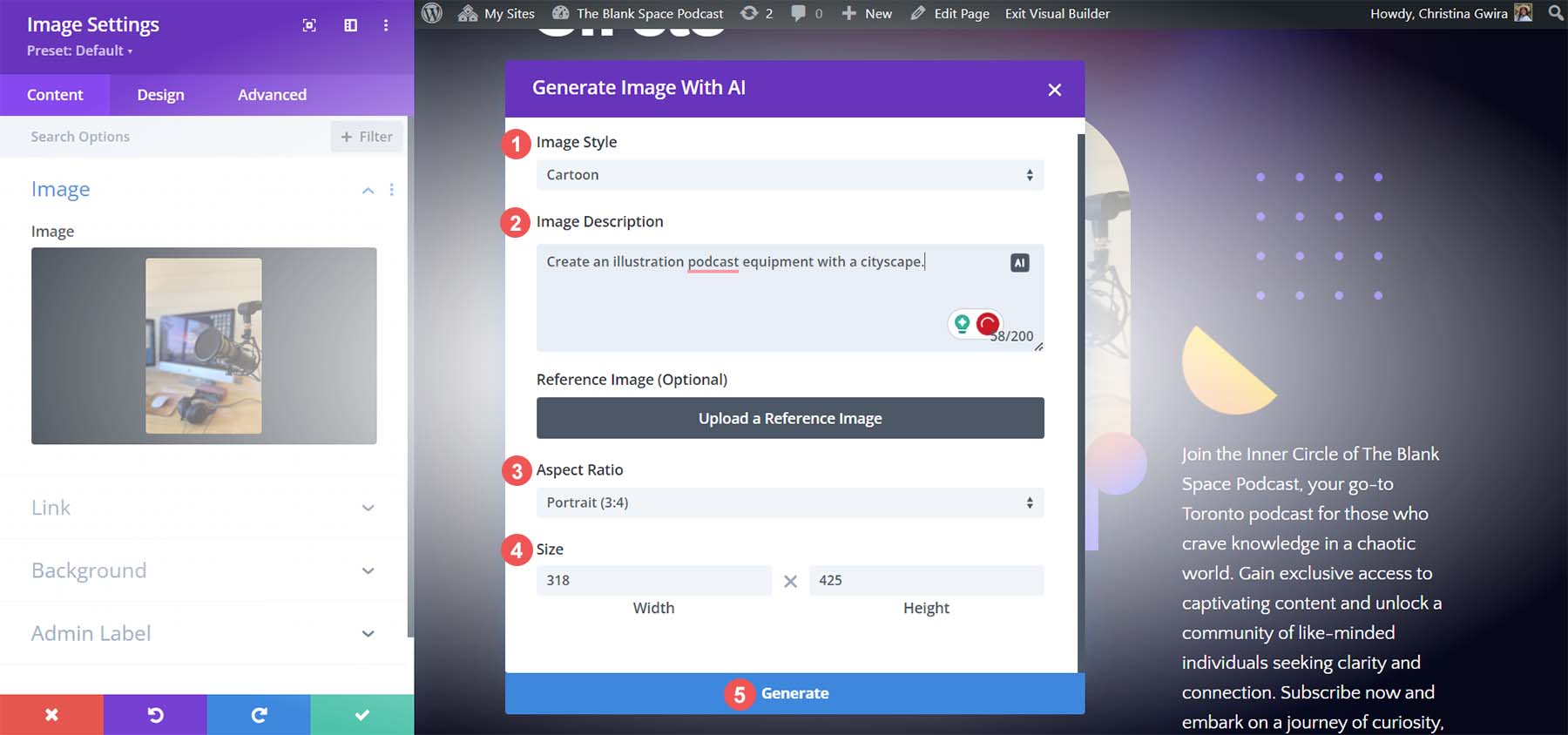 With these commands, Divi AI creates unique, custom digital art that we can use on our website and in other marketing materials. Once we've selected it, click the Use This Image button. Finally, click the green checkmark to save our new digital art piece.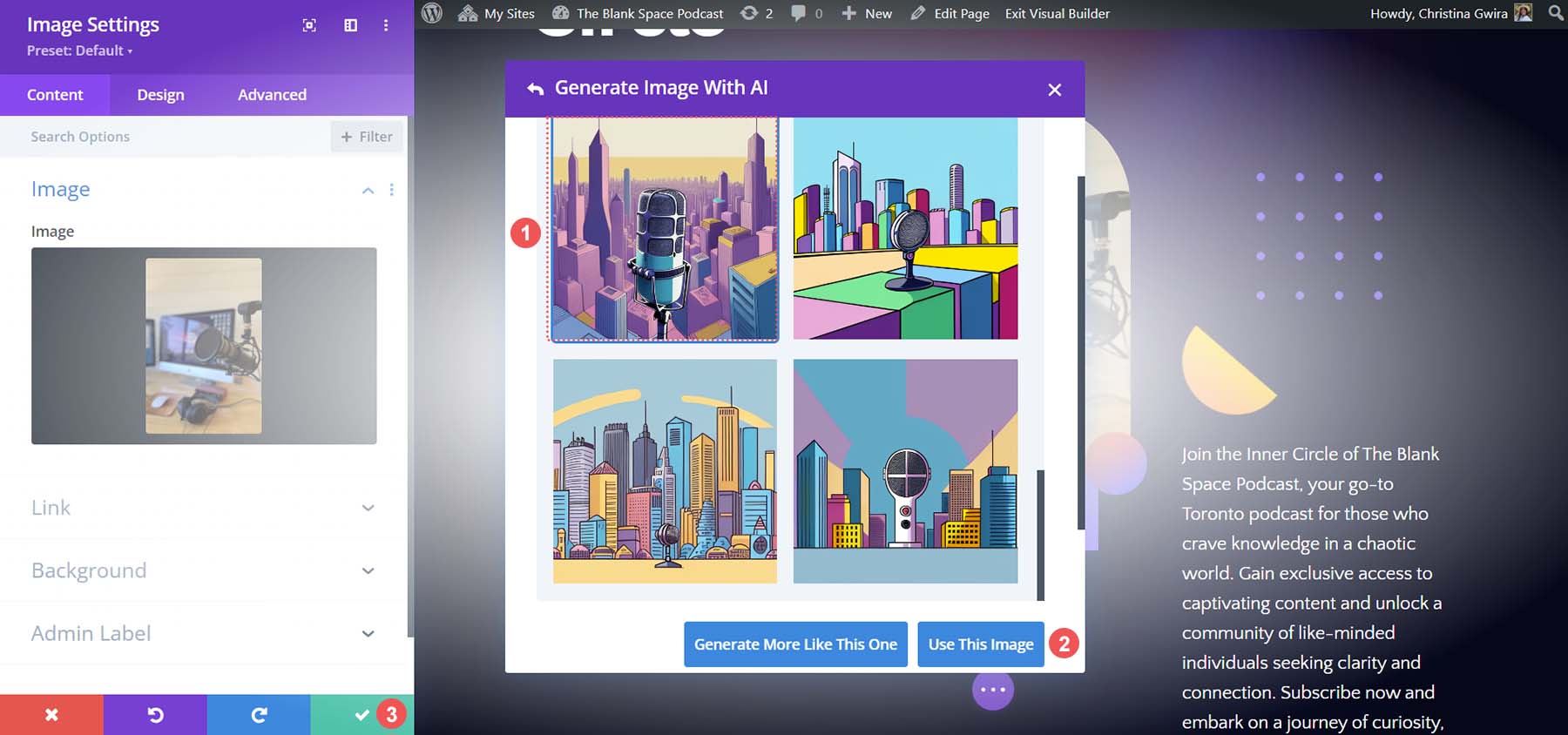 Now, this is what our hero section looks like: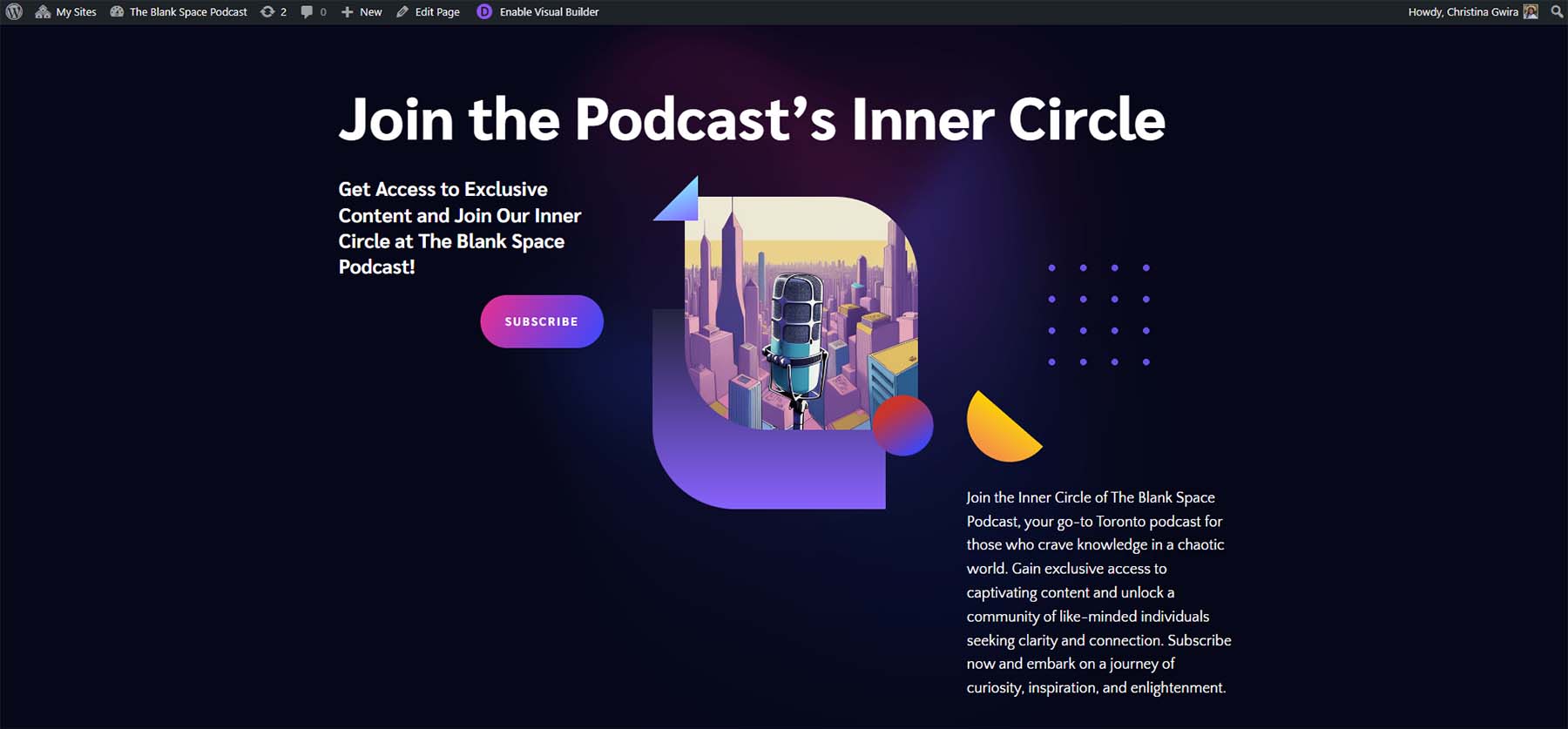 Divi AI created our headline, encouraged users to join our podcast, told users about our email list, and generated a piece of custom digital art. A task that could be done across multiple tools has been simplified with Divi AI. Continue this process for the other sections of your landing page using prompts and Divi AI's quick actions to efficiently create landing page images and written content.
9. Add Modules and Call-to-Actions to Your Landing Page
After creating your landing page's content, it's time to focus on the most essential aspect of a landing page: the call to action. This landing page layout has multiple Button Modules throughout. It also has a bold section with an Email Optin Module in the footer. Let's see how Divi AI can transform this section into a compelling call-to-action for our landing page.
First, click the gear icon on the Text Module with the title of this section. Remember to copy the styling!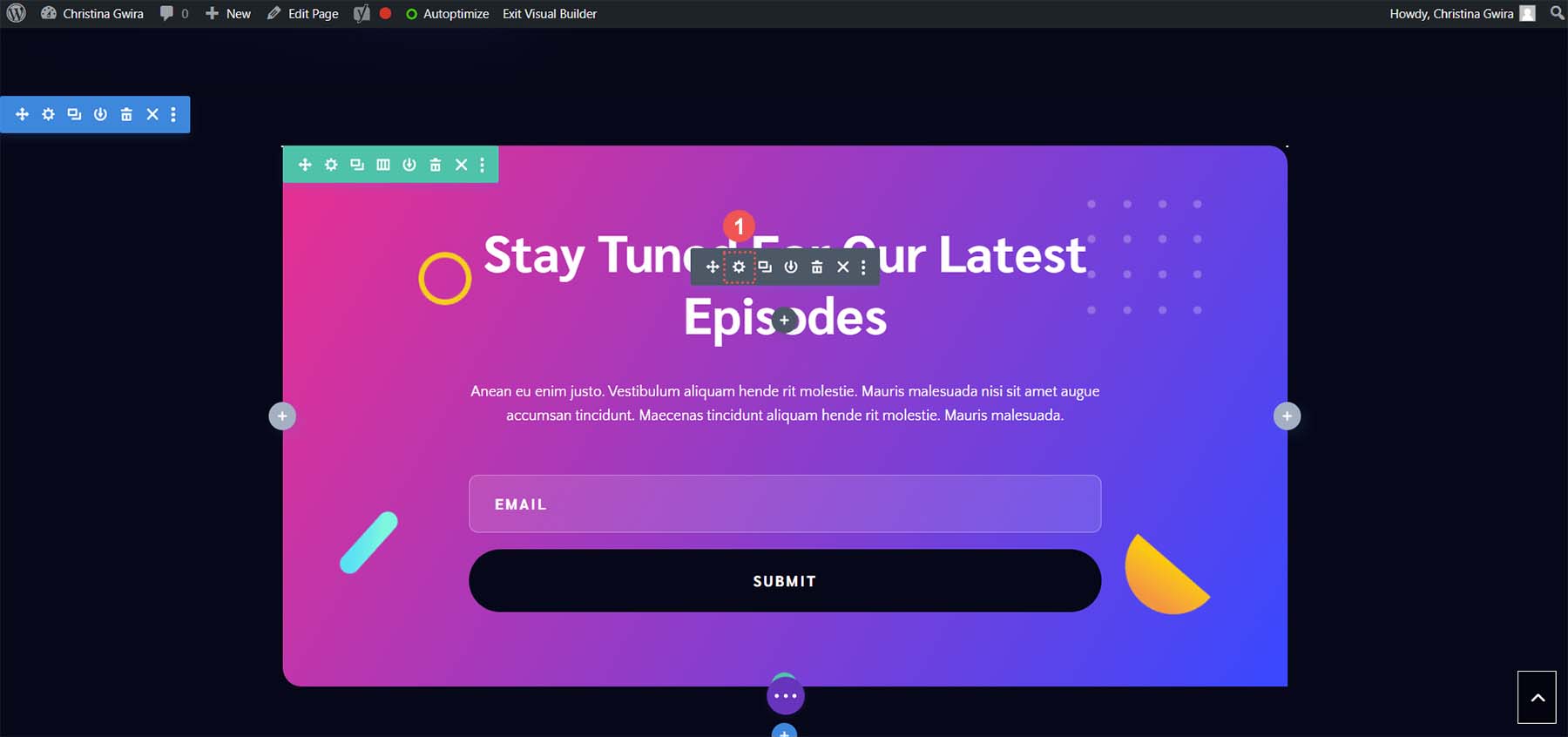 Next, click the Divi AI icon. Then, click the Write With AI text link.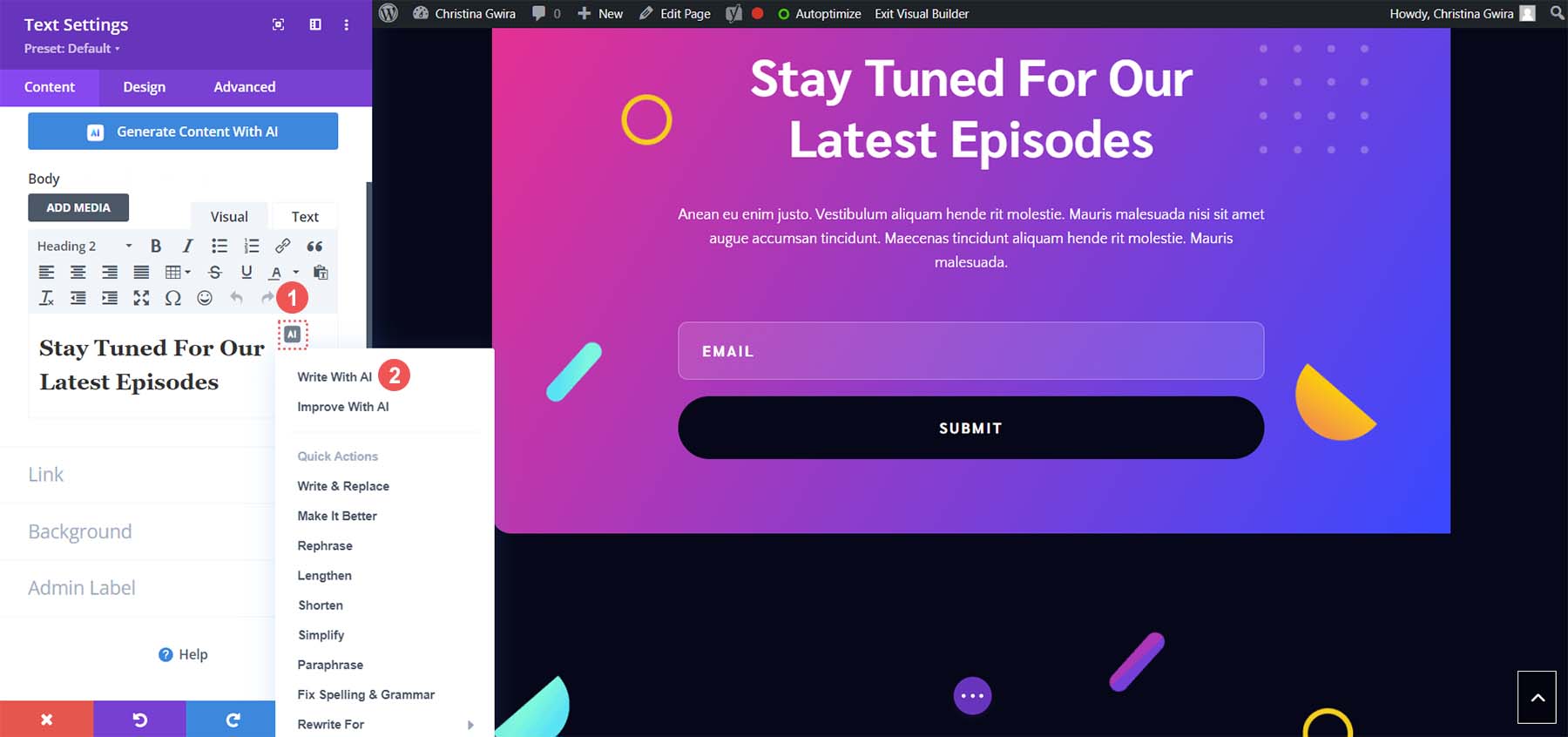 Next, change the Content Type to Title. Give Divi AI a prompt to create an engaging title to encourage viewers to subscribe to your email list. Finally, click This Page Context for the added context of this Text Module.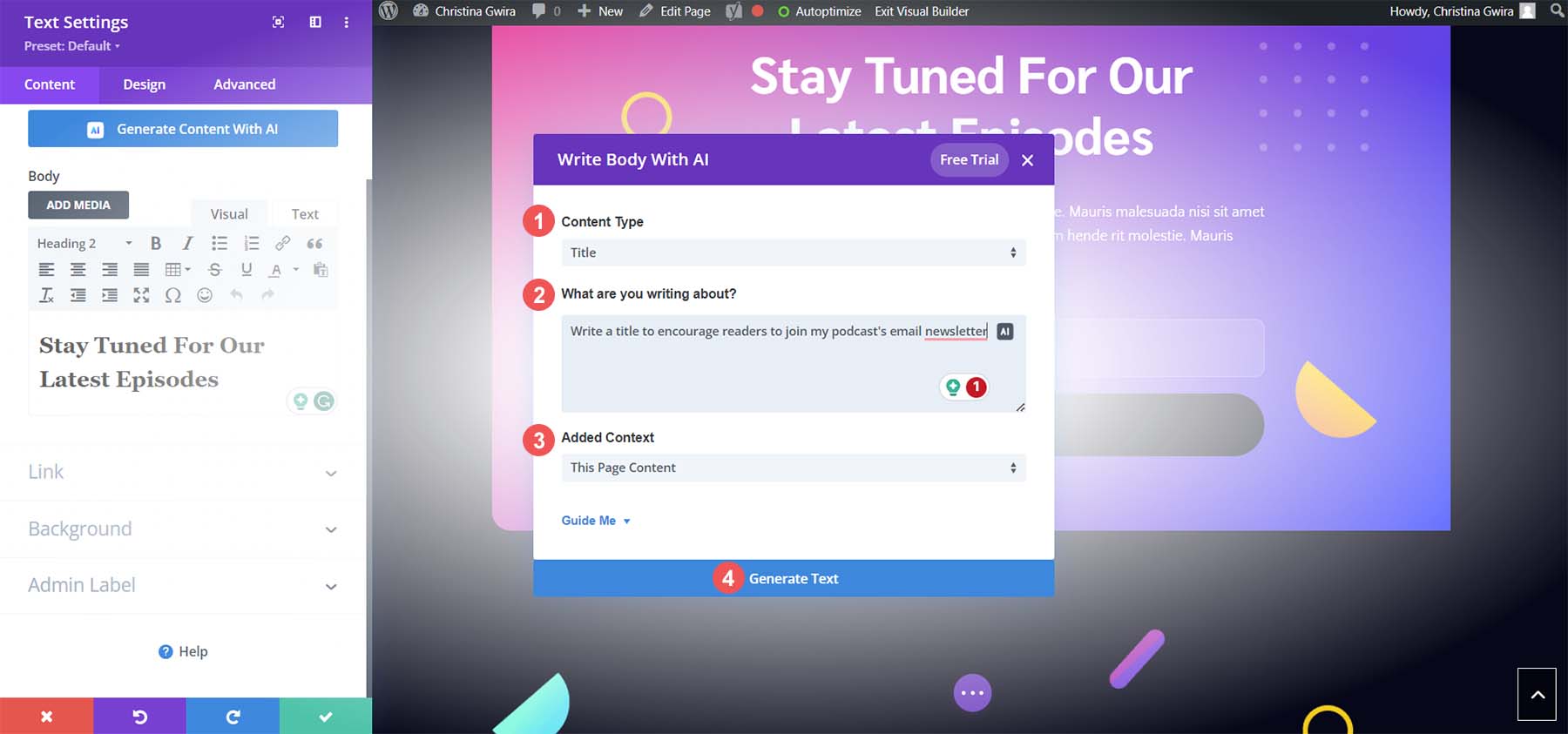 While this title is good, we can improve it with Divi AI. Click the Improve With AI button. Then, click Change Tone. Finally, click Funny. We've used a funny tone throughout creating the content for our landing page. So, it follows that we'd want to use that same voice when creating our call-to-action.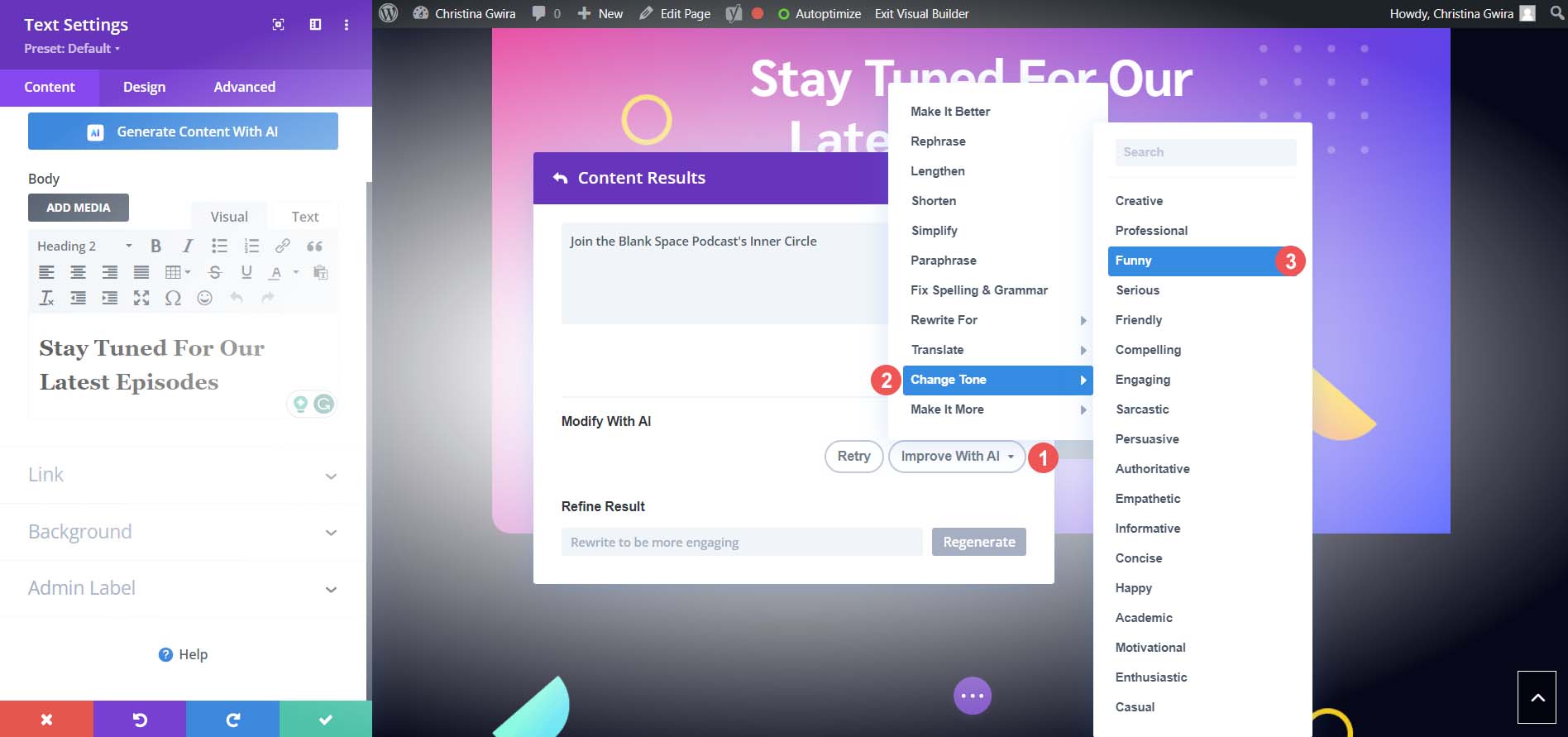 Our new title matches closely with the tone of voice of our landing page! As such, click the blue Use This Text button and click the green checkmark to save our work.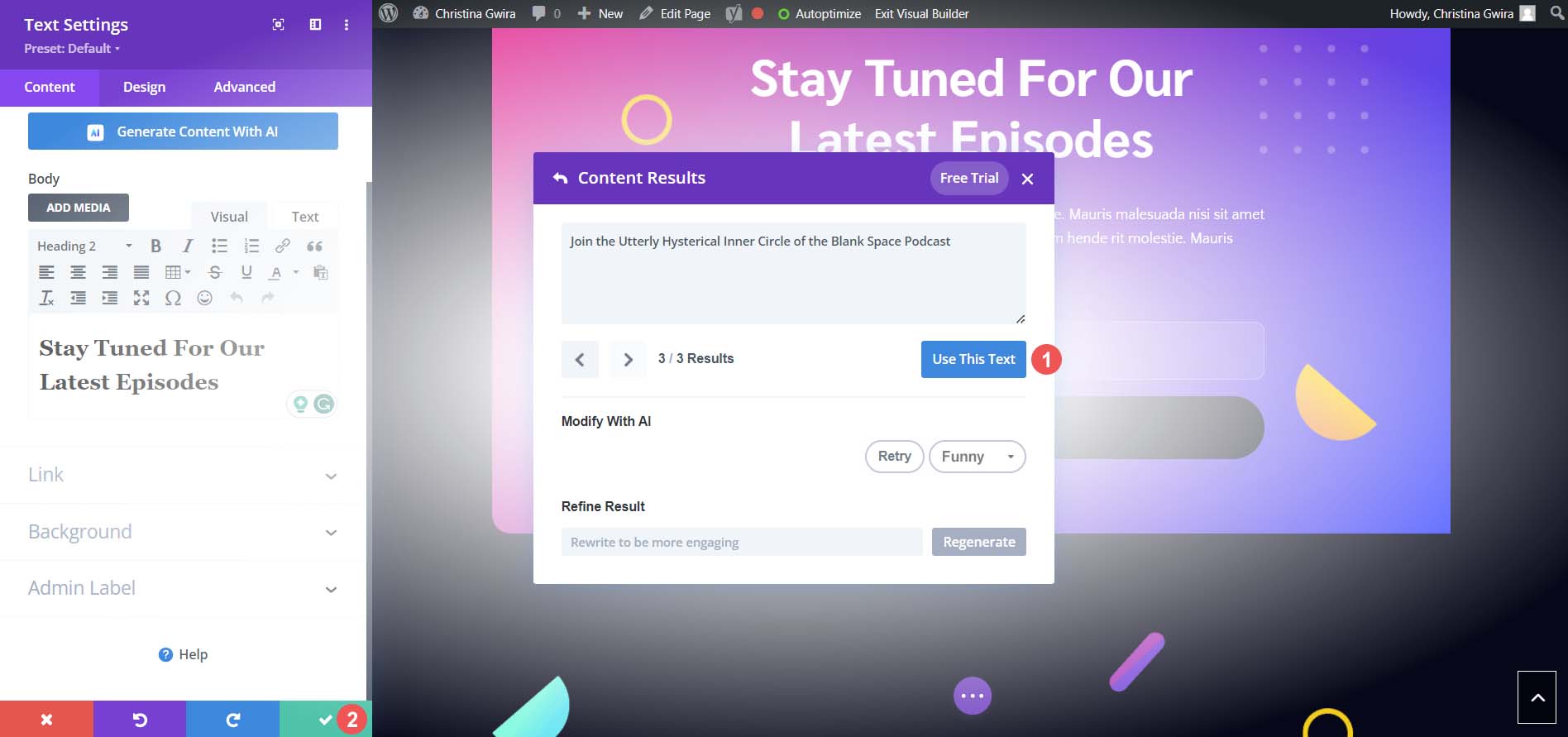 Now, let's create the body text for our call to action.
Create Content for the Call-to-Action Body
Firstly, click on the gear icon for the body text module and remember to copy the module's styling.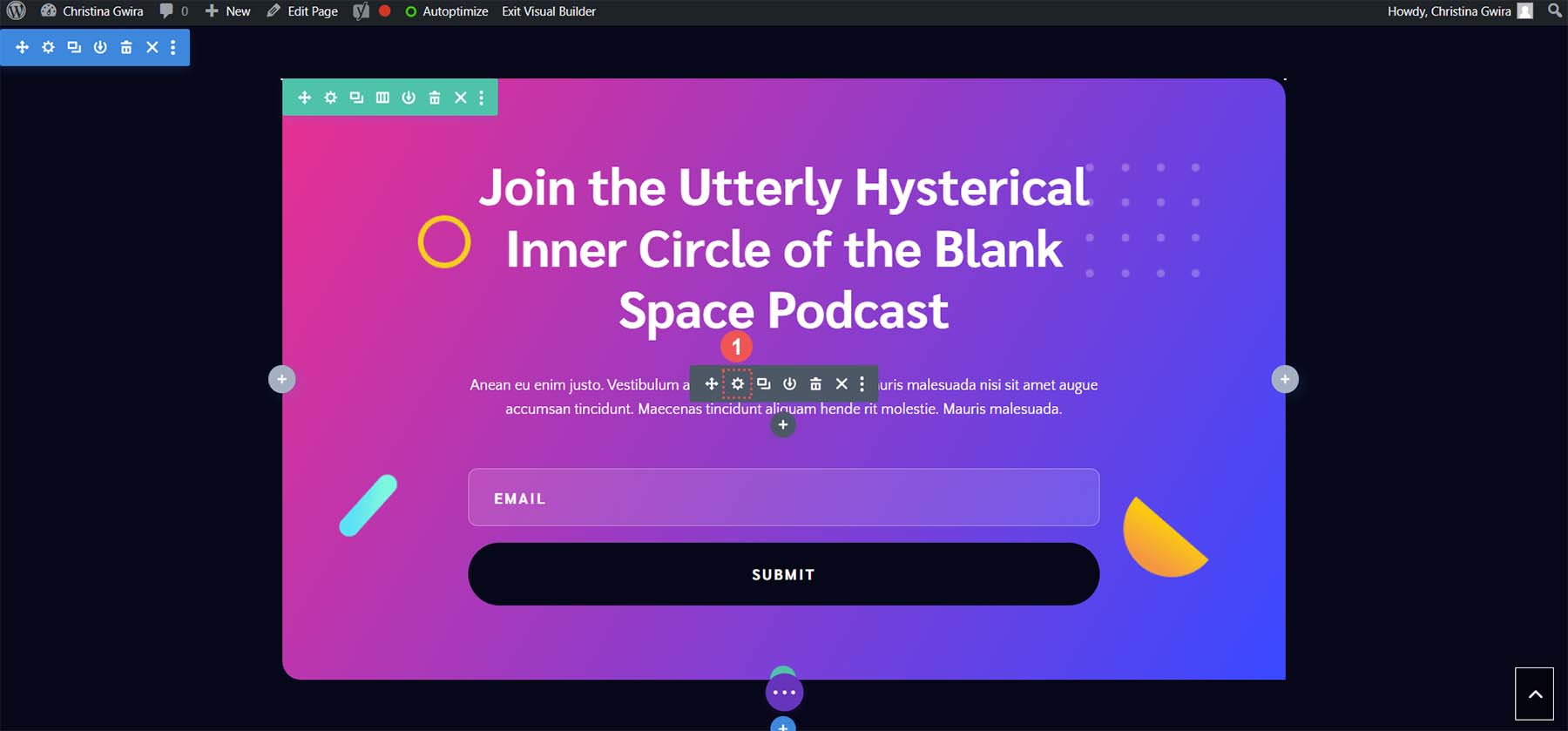 Then, click the Divi AI icon within the text editor. Click the Write with AI text link to start writing copy.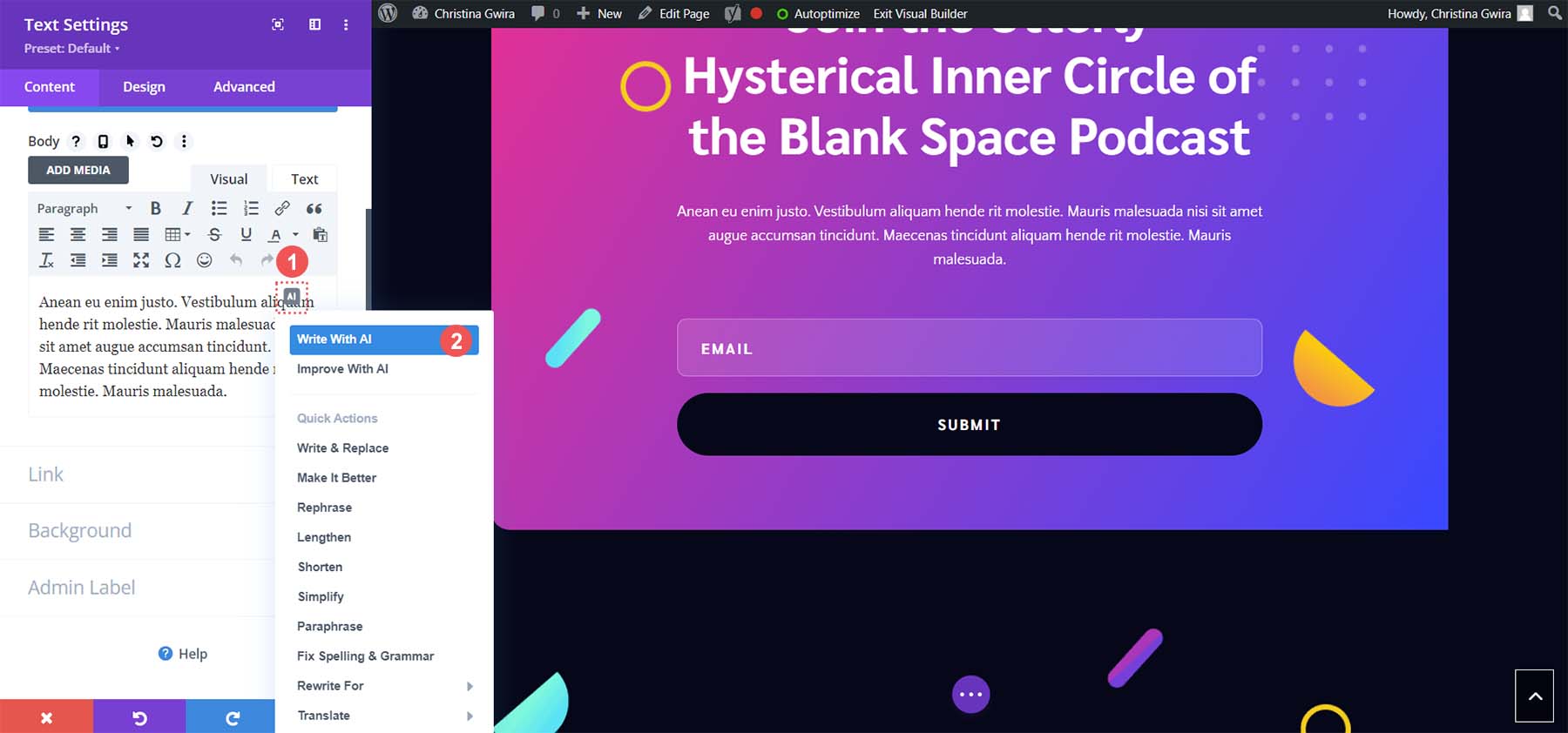 For our body text, set the Content Type to Paragraph. Next, give Divi AI a prompt to create a copy to encourage our website views to subscribe to our email list. Finally, set the Added Context to This Page Content.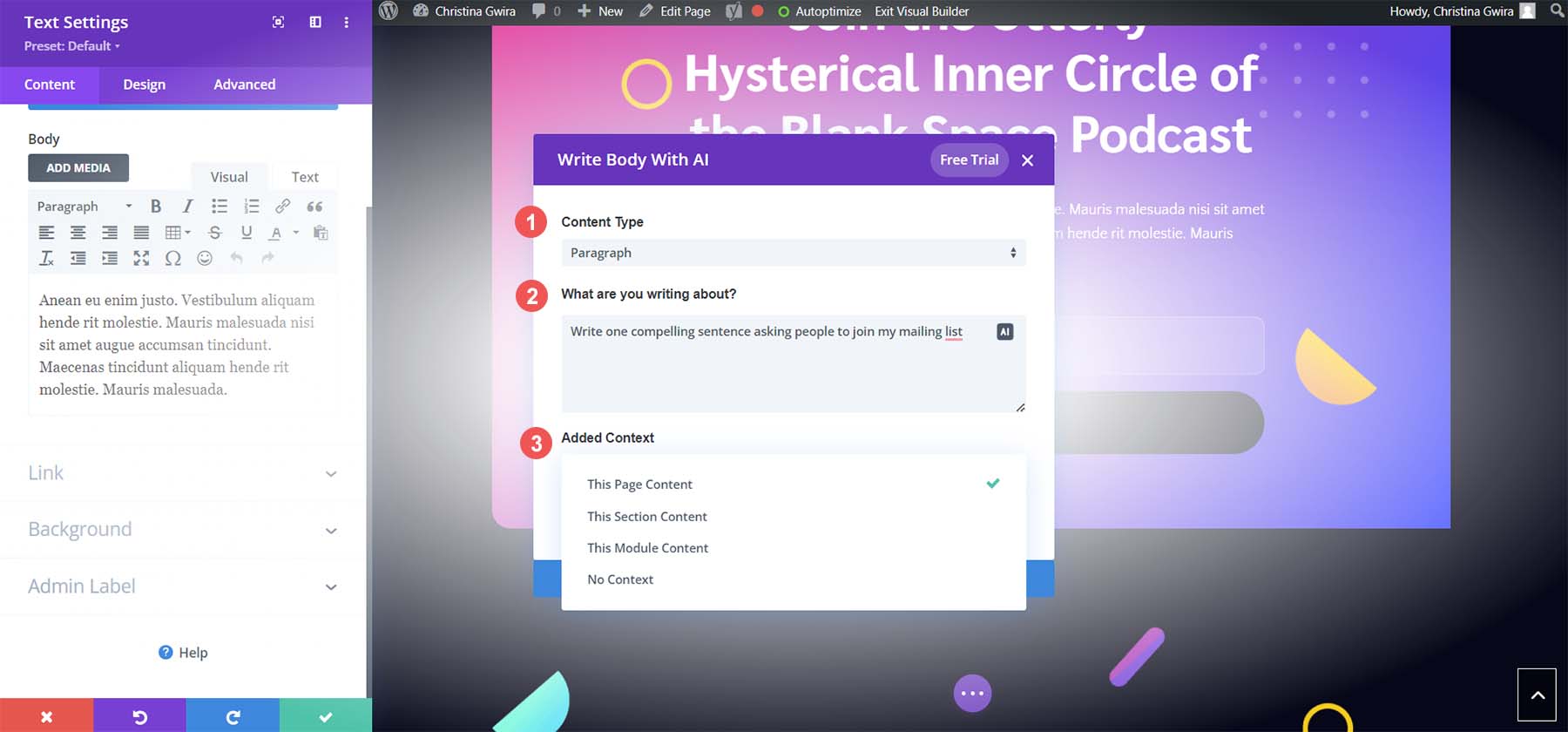 The body text created takes from content within our page and provides ample information to potential listeners on the benefits of signing up for our newsletter. So, click the Use This text button and the green check mark to save our call-to-action body text.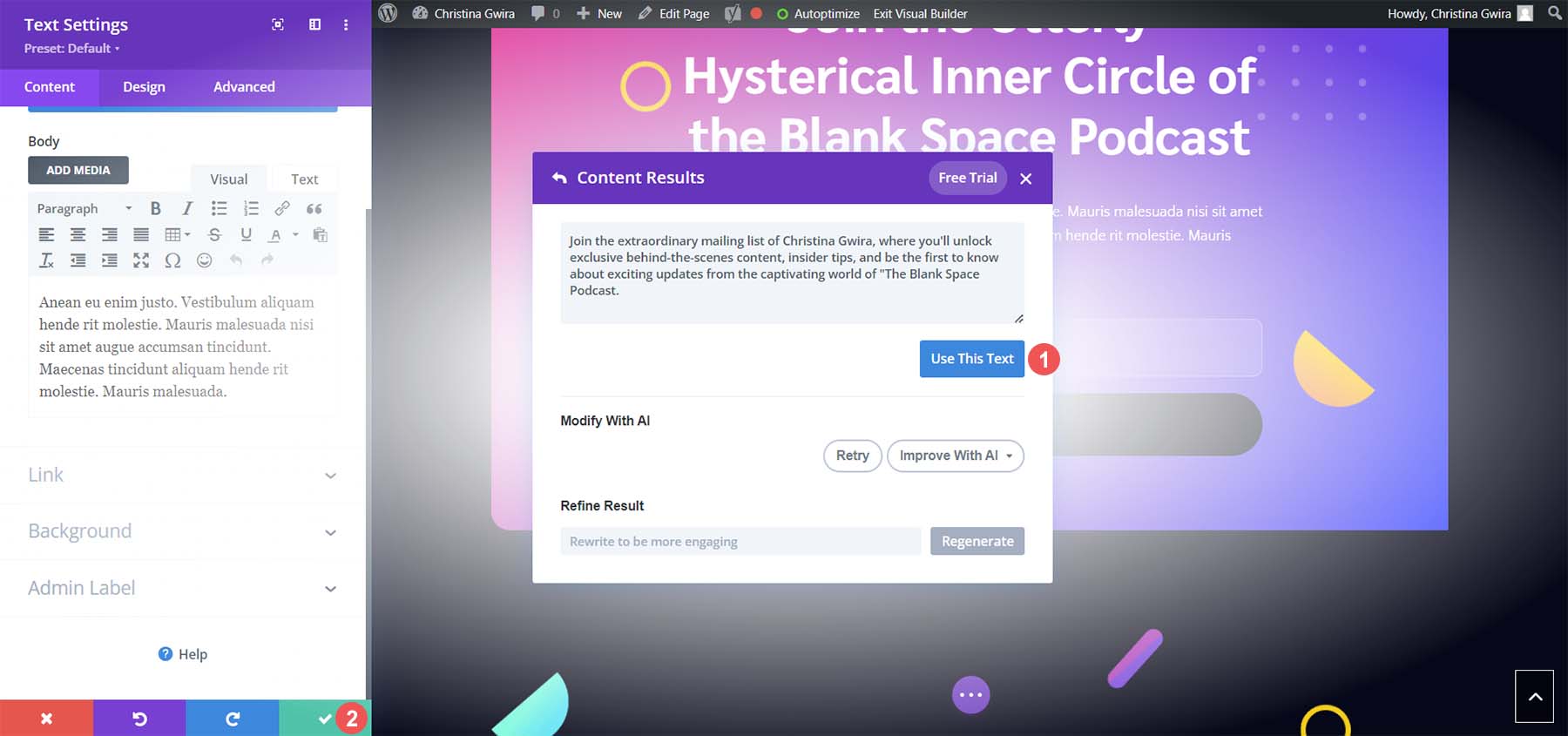 The last part of our call-to-action is our Email opt-in module. We'll use Divi AI to create some new text for our button.
Change the Call-to-Action Button Text
First, click on the gear icon to edit the Email Optin Module.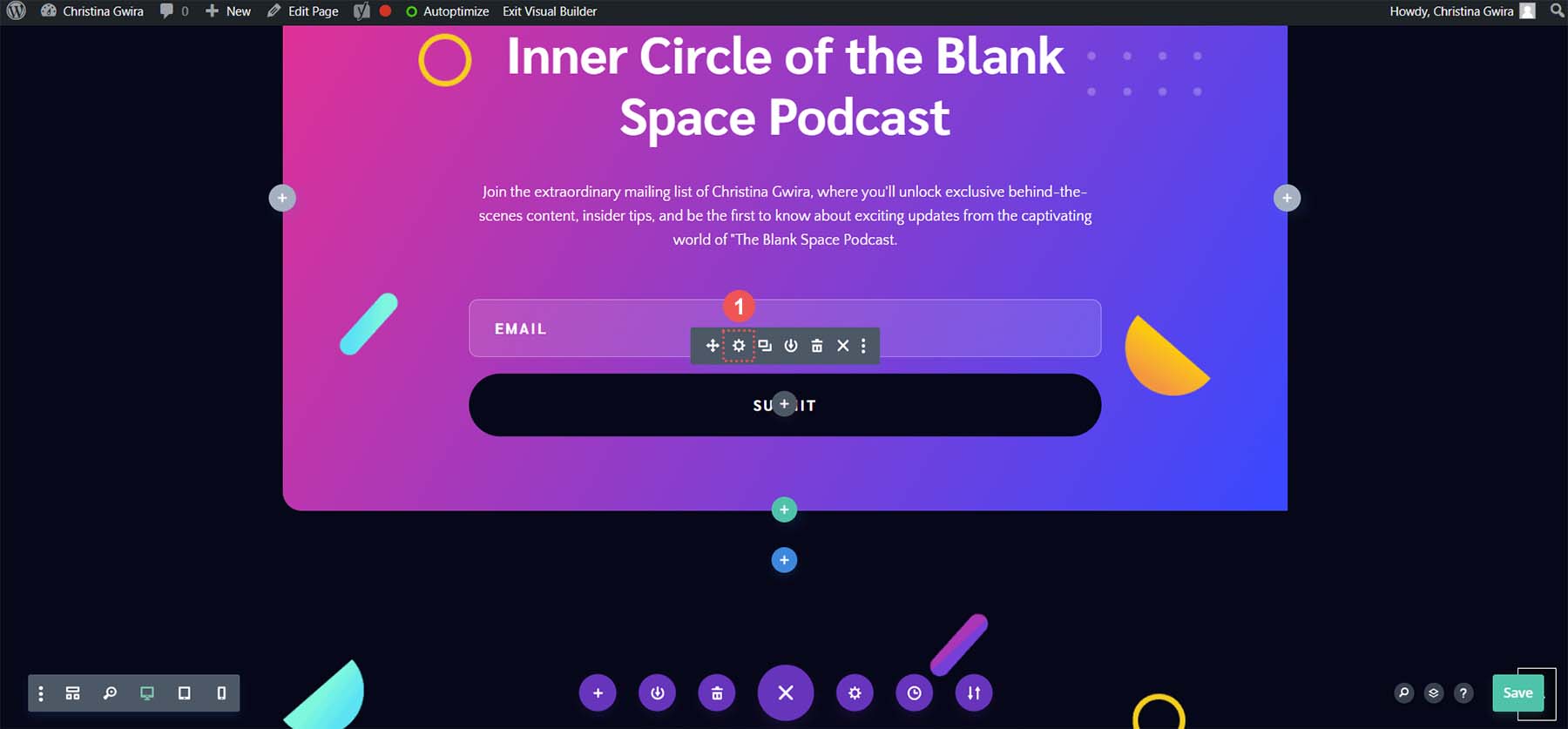 Next, click the Divi AI icon from within the text box on the Email Optin button. Then, click Write With AI.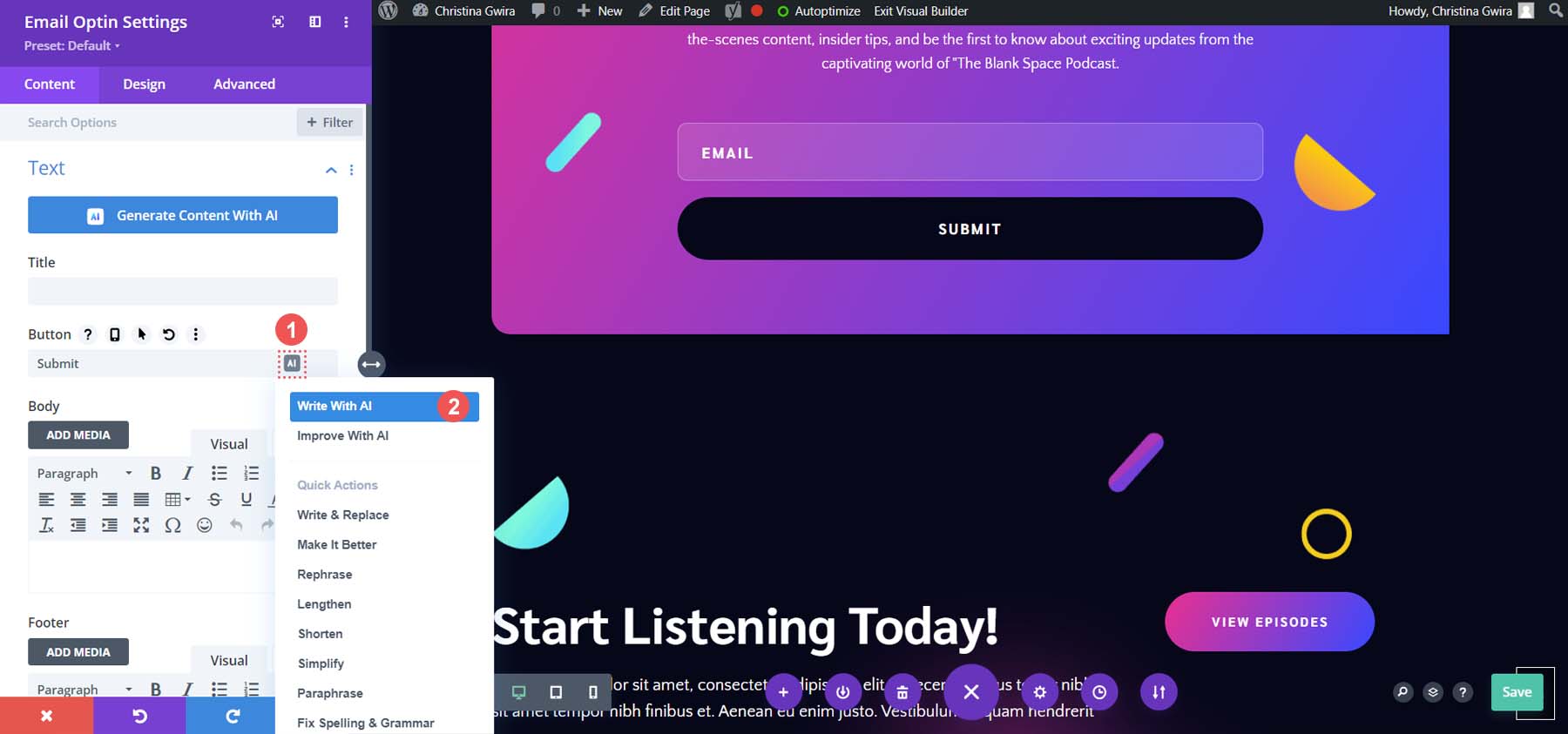 Then, set the Content Type to Button. Leave the prompt area blank. Lastly, set the Added Context to This Section Content.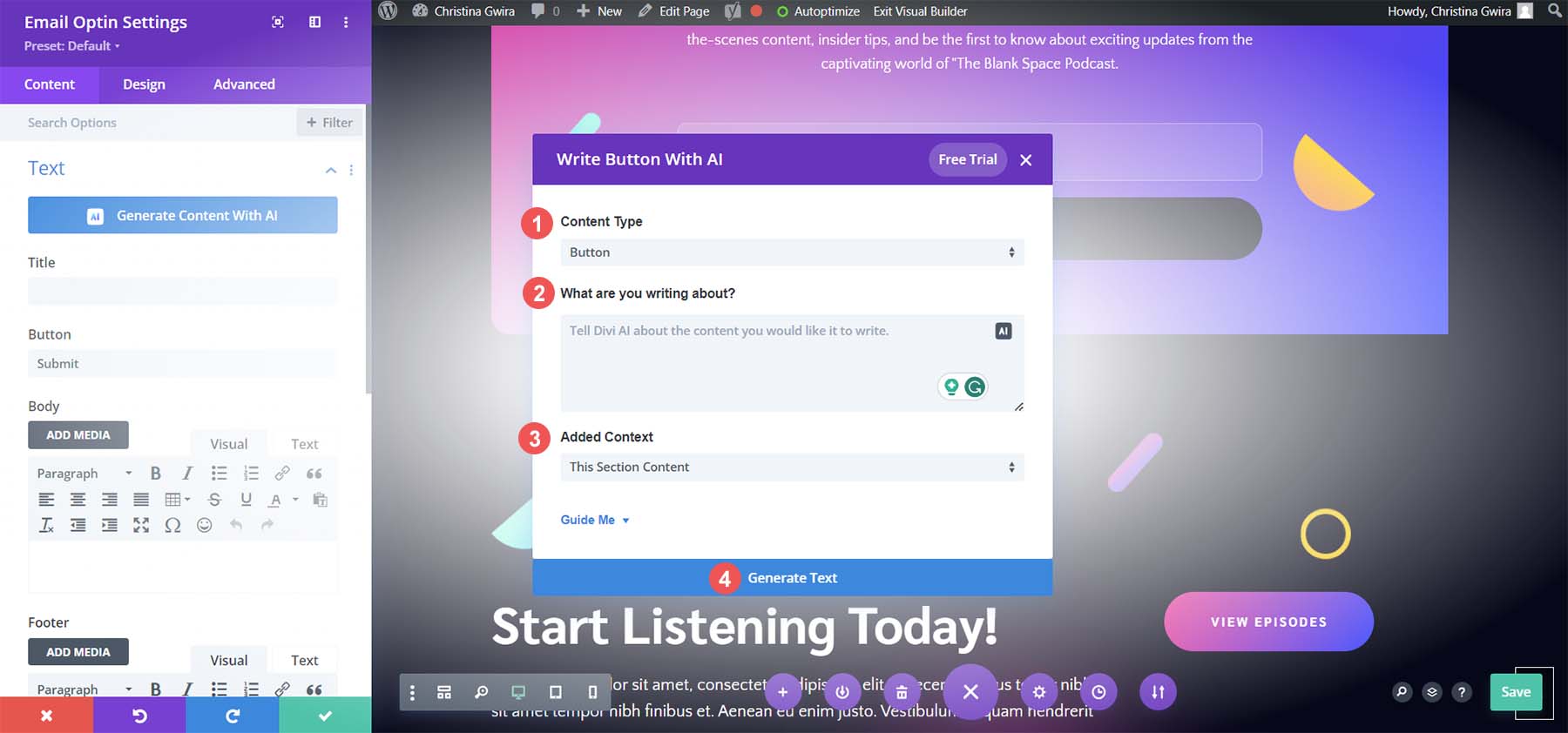 Finally, Divi AI creates a witty phrase for our button. We'll use this text, so click the blue Use This Text. Finally, click the green checkmark to save our Email Optin Module.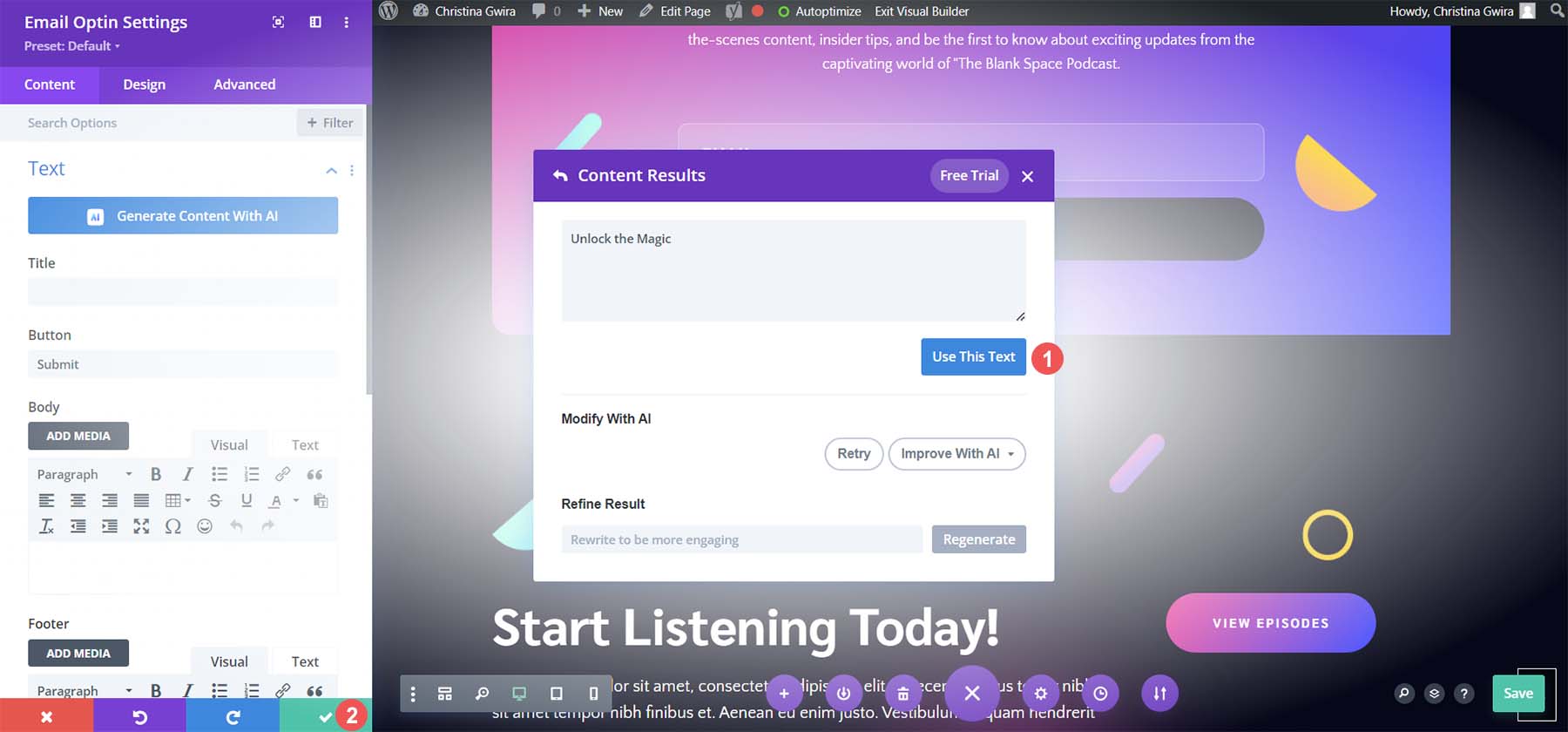 With that, we've used Divi AI in various ways to create content for our landing page. Whether it's titles, body content, or call-to-actions, Divi AI is the perfect tool to help you build your landing pages with AI.
Optimizing Your WordPress Landing Page with AI
Now that our landing page has been created, there are a variety of ways to enhance the landing page with AI tools:
Check spelling and grammar: You can use Divi AI's Spelling and Grammar quick action to ensure your content has no mistakes. Also, don't forget to read through your AI-generated content to ensure that it flows well for human readers.
Don't forget to add keywords and optimize for search: Divi AI allows you to add keywords to your content. Adding keywords to your content helps you get found by search engines, which will help more people find your product or service's landing page online. Additionally, using a solid SEO plugin will help your landing page's search ranking.
Compress images: A good WordPress AI tool that you should consider using is ShortPixel. This tool helps to compress your images while maintaining the quality of your photos and images on your landing page.
Consider adding a chatbot: Setting up a chatbot can help drive conversions. Using an AI chatbot like Tidio, you can answer your users' frequently asked questions, better prepping them for a sale.
Collect and showcase testimonials: Use plugins like Strong Testimonials or Thrive Ovation to display your testimonials and other forms of social proof on your landing page.
 Add a video intro or explainer video to your hero section: Placing a well-made video above the fold of your landing page is a great way to engage views, tell your brand story, and build a personal connection with visitors. A professional video can be very impactful for a website. If you're on a budget, consider using an AI video generator to make your landing page's video stand out.
After considering these things, you are on your way to creating a beautiful yet practical landing page with WordPress and AI.
Conclusion
There are many ways to create a landing page with AI. Today, there are hundreds of AI-powered tools that you can use simultaneously to build a robust landing page. AI content creators like Jasper and Copy.ai provide high-quality, search engine optimized content on the fly. Midjoureny are image generators that bring your digital art to life through the power of a few simple prompts and templates. Website builders like Hostinger and Wix are slowly adding AI into their website-building process. Divi AI can bring aspects of these tools together, helping you create a standout landing page powered by AI. To stay on the cutting edge, consider using AI as you build your landing pages. Save time, increase productivity, and gain new perspectives that can help increase your bottom line.
Keep reading the article at Elegant Themes Blog. The article was originally written by Christina Gwira on 2023-09-16 08:00:07.

The article was hand-picked and curated for you by the Editorial Team of WP Archives.