D
o you want to learn how to create an online course with WordPress? Keep reading to find out how to develop an online course and make money online. 
Creating an online course is a popular way to monetize your blog. With an online course, your blog readers are able to pay to learn more about the subject you're teaching. 
But, how do you get started?
In this article, we'll show you how to create an online course with WordPress and make money online. 
Let's go!
Why Create an Online Course?
As we mentioned before, creating an online course is a great way to monetize your blog. 
Blogger Kate Kordsmeier made a whopping $117,497.93 in January 2020, according to her income report. And the majority of that revenue came from the online course she offers!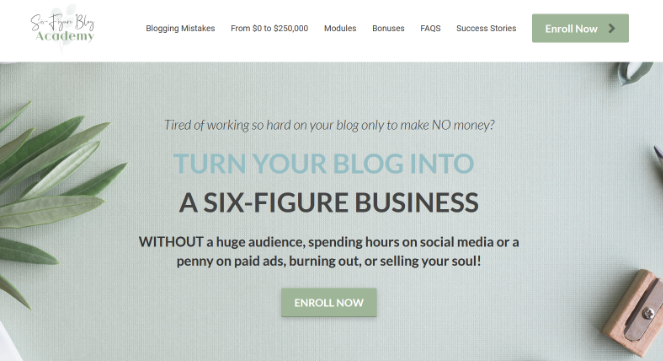 Developing an online course requires only a very small investment to start and you don't need a lot of technical knowledge. 
Plus, you only need to create your course once, and then you can sell it over and over again. So, you can start generating passive income from your blog. 
As you can see, creating an online course has the potential to bring in big bucks!
There are other benefits to creating an online course too, including: 
You can provide more valuable content to your blog readers. 
It's an effective way to establish authority and credibility in your niche.
You can expand your reach and attract a new audience to your site.
You can build a community of like-minded individuals. 
And eLearning is incredibly popular these days, so you don't need a huge following to get results quickly. 
Now that you know why you should create an online course, let's take a look at what you need to get started. 
Online Course Creation Checklist
You might be wondering, how do I create an online course for my website? Doesn't that take a lot of work? 
Don't worry. 
It might seem difficult to create an online course, but it's actually pretty easy with WordPress. 
All you need to start your online course is:
A Domain Name – This is your website's address, like www.BlogTyrant.com. 
WordPress Hosting – This is where your website's files are stored. We recommend Bluehost, it's the best WordPress hosting on the market. 
An LMS Plugin– An LMS (learning management system) plugin helps you easily create and manage courses on WordPress. 
If you haven't created a website yet, check out our guide on how to start a blog for step-by-step instructions.
[…]
This article was written by Allison and originally published on Blog Tyrant.