Have you ever wanted to show different page elements to different users based on their user role or logged-in status? How about showing specific elements based on date and time? A third-party plugin for Divi called Divi Magic adds these features to Divi, giving you a lot more control over who can see certain elements and when they can see them.
Divi Magic adds a new set of visibility tools to every standard section, row, column, and module. You can use these controls to set the visibility based on the users' logged in status, the user roles, or date and time. In this article, we'll take a look at Divi Magic, see what it can do, and see how easy it is to use.
Divi Magic Visibility Settings
A new set of features are added to the Visibility section in the Advanced tab of each section, row, column, and module. It works in the backend and frontend builders as well as the Theme Builder. The new features allow you to choose who can view the module and specify if you want it to display at a specific time.
The options for who can view the module includes everyone, logged out users, and logged in users. This level of control lets you provide special offers, limit the information that's shown on the page, etc. This is helpful for online shops, schools, etc.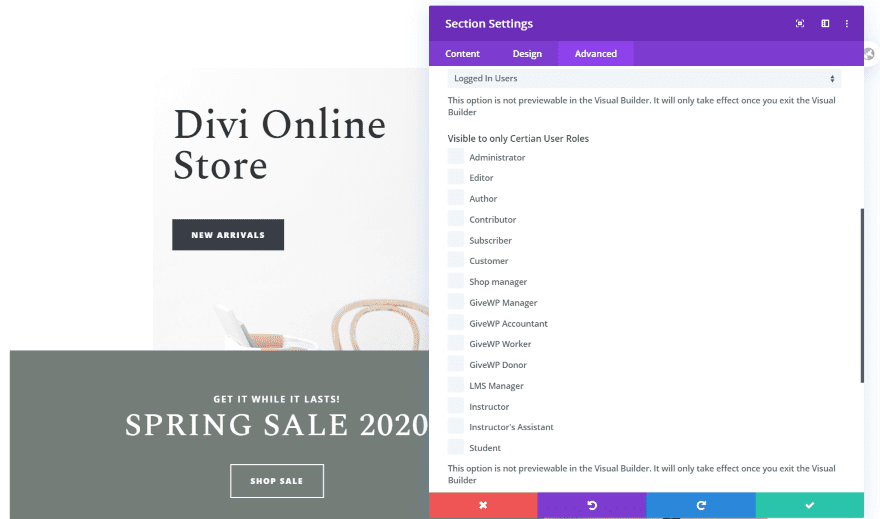 Choosing logged in users adds a new list where you can select specific users. This includes the standard WordPress users and any extra users that you've added. My example shows users from WooCommerce, LifterLMS, and GiveWP because I have those plugins installed.
[…]
This article was written by Randy A. Brown and originally published on Elegant Themes Blog.