Website loading speed is crucial for maintaining great SEO and reducing a website's bounce rate. There are lots of caching plugins available that can boost performance, but most caching plugins are generic. They work with the major settings for most themes rather than targeting specific needs or features of a theme. Now, there's a caching plugin that was designed specifically for Divi.
Divi Rocket is a third-party plugin that was designed to be "Divi aware." It's familiar with how Divi works, and with Divi sections and modules. It knows what to cache and what to check on a Divi page when regenerating cache. In this article, we'll take a look at Divi Rocket, see what it can do, and see how easy it is to use.
Installation and Activation
Before you can use Divi Rocket you need to enter your license key. Go to Divi > Divi Rocket in the dashboard menu. Once you activate the plugin, the menu tabs will unlock where you can make selections and perform tasks.

The menu design is similar to the Divi menu design. It looks elegant, but it's also easy to understand and follow (unlike some caching plugins that have too many settings that are hard to follow and set up). It also adds a menu to the admin bar where you can clear the cache for the current post (when viewing the site from the frontend), the entire cache, and see the settings.
Tasks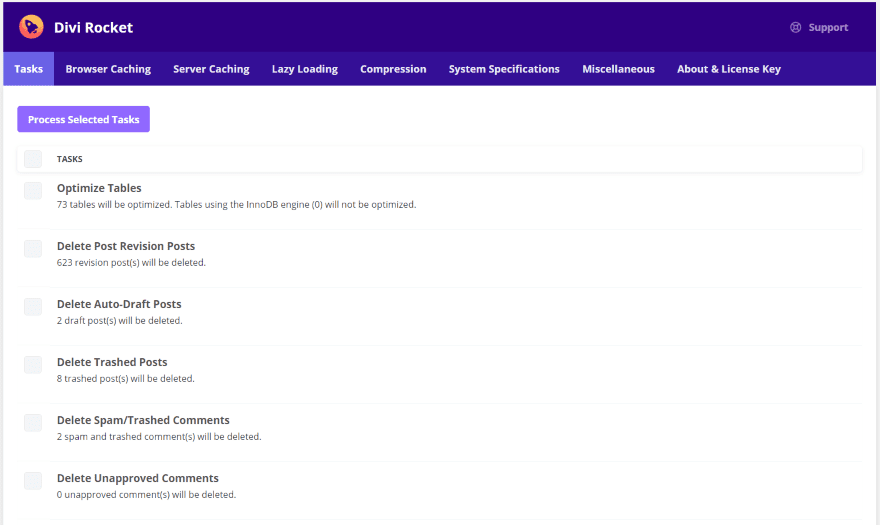 The Tasks tab includes 12 tasks that optimize or delete files. The tasks include:
Optimize tables
Delete post revision posts
Delete auto-draft posts
Delete trashed posts
Delete spam or trashed comments
Delete unapproved comments
Delete pingbacks and trackbacks
Delete
[…]
This article was written by Randy A. Brown and originally published on Elegant Themes Blog.