Creating and sharing content is a big part of every marketing strategy, from big to small brands worldwide. Just this blog post is a fantastic example of that, and you're probably doing the same with your business. But what happens after you hit publish?
If you're anything like most companies out there, you probably share it on your social channels once and then go on with creating your next post. Don't you feel like that is a bit of a waste of time? Don't you think you can achieve more with every piece of content that you publish? Whether it is on your blog or YouTube?
There must be a better way, right, to help you to keep on sharing your content to your audience on your terms. We're not talking about sharing the same old message over and over again. No, we're talking about creating a library of social media content with unlimited variations on how you can share your content.
Keep your audience engaged, give them interesting stuff that they liked in the first place, or otherwise, they would not have started to follow you.
Evergreen Content Poster Saves the Day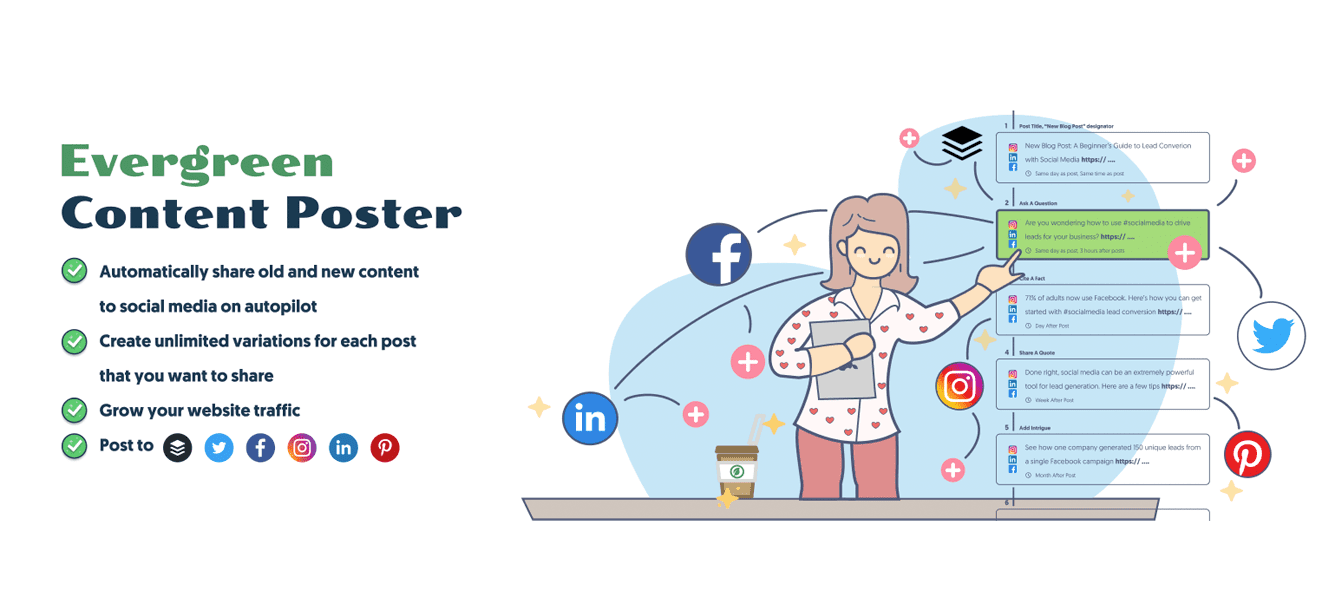 It allows you to create a community of people who'll appreciate your brand and help it grow and flourish by sharing your evergreen content with them.
However, you may be wondering if you need to share the same message twice? Isn't that going to upset your followers? The short answer is no; the longer answer, nope.
Why Is Resharing Your Content Important
You see, the thing with organic reach on social media is that it has been on the decline year over year. At the moment, just on Facebook, it is around 5% of your followers. And think about Twitter; if your followers are not watching their Twitter timeline the moment you post, they probably won't see your post as well.
So, that means that even if you post something unique, the chances of someone seeing it organically (we're not talking about boosting posts here) is getting closer to zero every year. You might think that your followers see everything you do online, but if that were the case, you would see a lot more engagement on your content than you would now.
Therefore, if not all of your followers see your content all the time, they probably won't notice that you shared a link to your evergreen content multiple times, especially if you package that message in different ways.
You can:
Post an interesting question that you will be answering in your piece of content.
Ask your followers if they've ever encountered a problem that your content helps solve.
Post an exciting statistic or piece of data that you bring up as part of the source information for your post.
Send an @mention to an influencer you mention or link to in your post, but use the mention later
[…]
This article was written by Editorial Staff and originally published on WP Newsify.