Even top writers need another pair of eyes to check their copy before it's ready to publish. When you can't have your own editor, you'll need a powerful grammar checker to rely on. No matter how many times you proofread your final draft, you're bound to miss a mistake. Your brain corrects the copy in your head because you expect it to be correct, so typos and errors easily slip through. The Ginger grammar checker can be used on your computer or mobile device. In addition to flagging mistakes as you type, it also has a built-in dictionary and thesaurus that you can reference. The Ginger grammar checker can be used for free, but the Premium version says it comes with advanced editing tools.
Unfortunately, there are obvious grammar mistakes on the Grammar Checker page, which doesn't instill a lot of confidence in the user. The copy here should be perfect. The mistakes don't mean the tool itself won't work perfectly, but it's not great for branding that this type of tool has obvious mistakes in its own copy.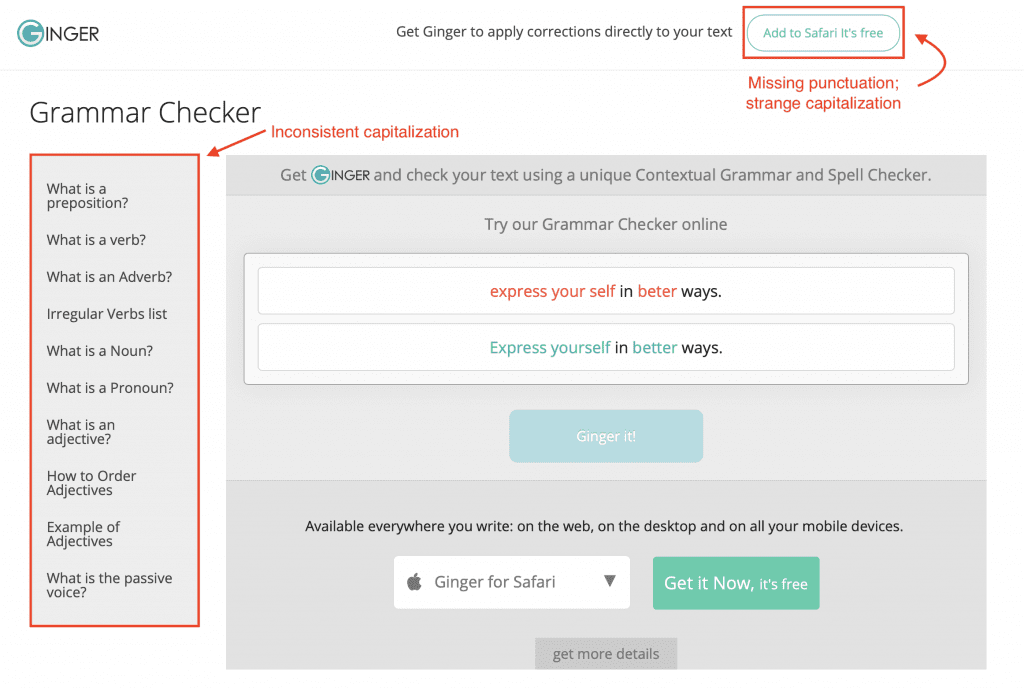 Different Ways to Use the Ginger Grammar Checker
At first, it looks like Ginger's offerings are pretty straightforward. There's a landing page for each product. However, as you start to look into each one, some of it is misleading.
The top of the homepage has an "Add to Safari" button, but when you click, it takes you to a page that says Ginger isn't available as a Safari extension. Instead of bothering with that link, scroll to the very bottom of the page. The footer lists different ways to use Ginger:
There's also a Ginger for Mac page, but it just says that there isn't a Ginger for Mac app and to use the extension instead. This is the only page where you can actually download the Safari extension, but when you try to install it, there's an error message.

[…]
This article was written by Lindsay Pietroluongo and originally published on Elegant Themes Blog.