D
o you want to get more traffic to your blog with image SEO? 
Images are an amazing way to engage readers and add life to your blog. But they're also very important for SEO.
Image SEO isn't talked about as much as normal SEO practices, so it's common for beginners to build a blog without optimizing images. To us, this is a missed opportunity. 
Every blogger should know about image optimization, which is why we created a complete guide about image SEO. You'll learn what it is, how to apply it to your blog, and the best image optimizer tools. 
Let's get to it! 
What Is Image SEO? 
Image SEO is simply optimizing your images for search engines. When you apply image SEO to your blog, it helps: 
Rank High in Search Results
We all know that Google can crawl your written content. But did you know that your images are crawled too? 
That's right! Just like written content, search engines want to know what your images are and why they're in your blog post. 
This is why image SEO is so important—optimization helps Google understand and rank your images in search. 
Speed Up Your Site
Most unoptimized image files are large, clunky, and take up space on your blog. As a result, your website will slow down. 
A slow website affects your SEO rankings and traffic. So you want to make sure your website is as fast as possible. 
Luckily, it's easy to optimize your image files and speed up your site. You'll read about the best ways to optimize image files later in this guide. 
Optimize for Google Image Search
Along with normal search, you can also optimize content for Google image search. For instance, someone might look up adorable photos of Golden Retrievers.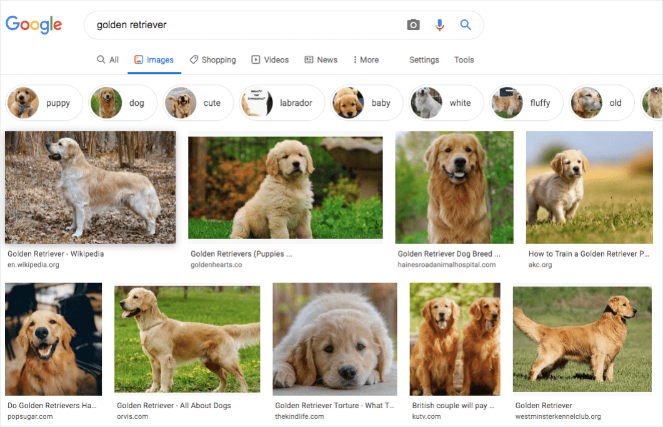 Notice how the first image is from Wikipedia. This means Wikipedia is ranked #1 on Google image search for Golden Retrievers. So if a user clicks on the image, they'll go straight to Wikipedia's article. 
Imagine if your blog post ranked #1 on Google image search and normal search! Your blog would get even MORE web traffic than usual.
See how important image SEO is? It's a great way to boost traffic, rankings, and clicks.
Everyone should optimize their images… but how do you do it? 
7 Image Optimization Techniques to Follow 
You're probably thinking, what's the most important element of image SEO? 
Well… there's not just 1 important element of image SEO, there are actually 7 important elements.
And we'll go over each one in this section. 
1. Choose Useful Images 
If you read other blogs, then you've probably seen images that
[…]
This article was written by Jessica and originally published on Blog Tyrant.