A
re you looking to do keyword research for your new blog? If so, you've landed on the right place. In this guide, we'll show you how to do keyword research—the right way.
Imagine you've just started a blog but you don't get any traffic from search engines because nobody is searching for what you're writing about.
Don't worry, we won't let this happen to you. In this guide we'll cover how to find keywords, how to use keyword tools to your advantage, how to choose the right keywords, and everything else you need to know about how to do keyword research.
So, if you want more traffic and higher rankings, then you'll love this guide. We have kept this guide as jargon-free as possible without holding back on any detail. 
Let's get started!
Before we show you how to do keyword research, let's start with the basics. 
What Are Keywords?
Keywords are words or short phrases that you add to your blog posts and website to get traffic from Google or other online sources.  
For example, a food blogger writing about easy lunch ideas for kids might use keywords in their content like:
"Lunch ideas for kids"
"School lunch ideas"
"Cheap lunch ideas for kids"
By targeting those keywords, when someone searches those terms on Google, the food blogger's content is more likely to come up near the top of search results.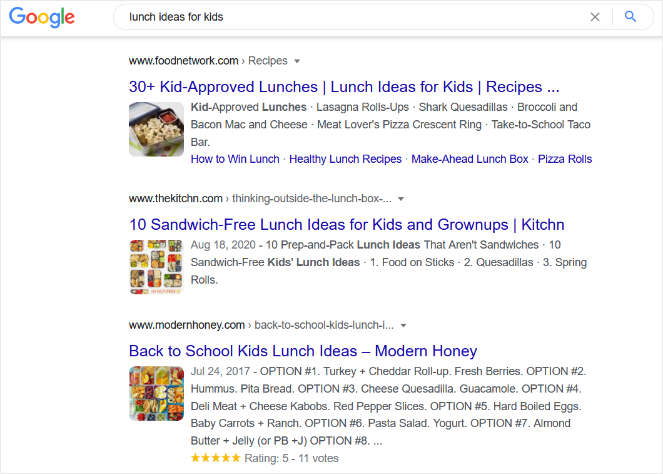 Back in the day content creators use to stuff keywords in their content so that they could easily rank on Google. Even though stuffing keywords makes for a terrible copy, it still worked. But Google evolved and started penalizing content that stuffed keywords.
There are few rules of thumb when it comes to optimizing your content with keywords:
Your copy should be easy to read. Write for readers first and SEO second.
Don't stuff keywords in your content, they should only be 2% of all your copy.
Make sure your keywords are used naturally and distributed throughout your copy.
Use your keyword(s) within the body of your blog posts, page title, headings, and the meta description.
Using keywords is one of the most effective ways to get more traffic to your blog.
But, you have to figure out which keywords are the best to use if you want them to work. That's where keyword research comes in.
What Is Keyword Research?
Keyword research is the process of finding the exact words and phrases (keywords) that people use in search engines and other platforms like YouTube.
Once you have a list of keywords, you further analyze and compare them to find the best ones. Then, you use those
[…]
This article was written by faizan and originally published on Blog Tyrant.