A
re you looking for the latest blogging statistics and trends?
Keeping up with the most recent figures can help you identify gaps in your blogging strategy and give you fresh ideas to try.
In this article, you'll discover what type of content to include and how often to publish blog posts, so you can rank higher and increase your traffic.
Let's get started!
General Blogging Statistics
How many blogs exist today?
There are over 1.7 billion websites on the internet today. And it's estimated that over 600 million of them have blogs.
Over 34% of all websites use WordPress as their content management system, and it remains the fastest growing blogging platform: 

How many people are blogging?
According to Statista, the number of bloggers in the United States is set to reach 31.7 million users in 2020. 
ConvertKit found that 69% of bloggers were in the 25-44 age range, and 23% were 45 or older.
How many blog posts are written every day?
More than 2 billion blog posts were published worldwide in 2018. That's 5,760,000 blog posts per day, and 4,000 blog posts per minute. 
Want to see the live data? Head over to Internet Live Stats to see how many blog posts have been written today. 
Bloggers using the WordPress.com platform, produce about 70 million new blog posts, and receive 77 million new comments each month.
Back to the top
Blogging Duration Stats
How much time do bloggers spend writing their blog posts? 
The Orbit Media Annual Blogging Survey reckons that on average, bloggers take 3 hours 57 minutes to write a blog post: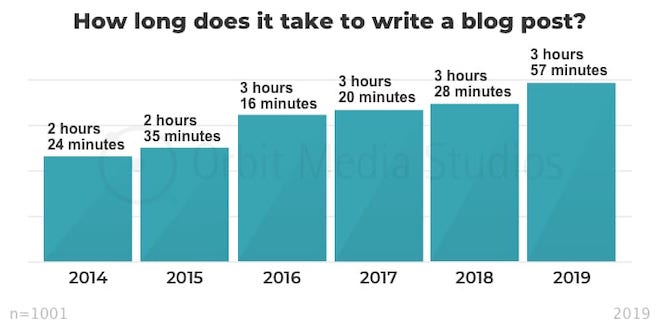 Over the past
[…]
This article was written by David and originally published on Blog Tyrant.