Joost de Valk
Joost de Valk is the founder and Chief Product Officer of Yoast. He's a digital marketer, developer and an Open Source fanatic.
In the Yoast SEO plugin, you'll find a focus keyphrase input field for every page on your site. Here, you can enter the keyword or keyphrase you'd like the page to rank for in Google. If you do, Yoast SEO will run a check on the content of that page to see if search engines will recognize what your page is about. Here, we'll explain what the purpose of a focus keyphrase is and how to choose it well.
Table of contents
Looking for keyphrase suggestions? When you've set a focus keyword in Yoast SEO, you can now click on 'Get related keyphrases' and our SEMrush integration will help you find high-performing keyphrases!
What is a focus keyword?
The focus keyword or keyphrase is the search term that you want a page or post to rank for most. When people search for that phrase, they should find you. If you set a focus keyphrase for a page with Yoast SEO, the plugin evaluates the page's content and provides feedback on how to improve the content to increase the chances of ranking higher for that search term.
You'll find the input field for your focus keyphrase in the Yoast SEO sidebar on the right side of your editor. If you don't see the Yoast SEO sidebar, click on the Yoast icon on the top right of your screen first.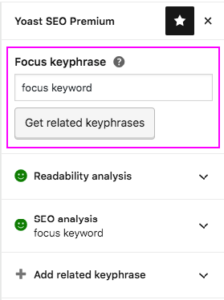 You can also find the focus keyphrase input field in the Yoast SEO meta box below the post editor: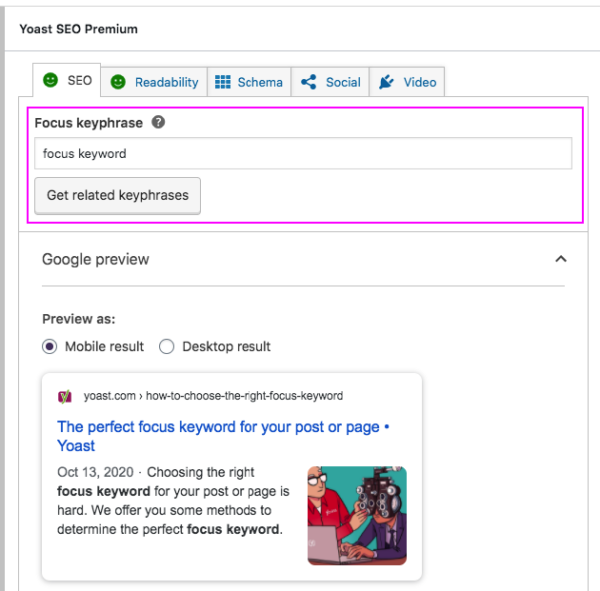 You'll find the feedback to improve your content in the SEO analysis tab. If you amend your page with this feedback, it will be easier for search engines to recognize what your post or page is about.
Check out this video to see how it works:
Why a focus keyphrase?
Regularly adding quality content to your website or blog is a good SEO strategy. Google sees that your website is active because you add new information and you increase the volume of your content.
But randomly adding content to your site isn't very useful. You have to craft a keyword strategy, and based on that strategy you should create high-quality content your audience is looking for. When you write those
[…]
This article was written by Joost de Valk and originally published on SEO blog • Yoast.