A
re you looking for social proof examples for bloggers? In this article, we'll share powerful social proof examples you can use to build trust and boost conversions. 
When you start a new blog, it can be difficult to get visitors to trust you. And they need to trust your blog if you want them to become loyal readers, email subscribers, or customers. 
So, how do you increase trust? 
By using social proof on your blog!
Adding just a few forms of social proof to your blog will help you build trust with new visitors and improve your conversions. 
Let's look at some of the best social proof examples you can use on your blog. 
But first, let's go over what social proof actually is. 
What is Social Proof?
Social proof is a psychological and social phenomenon where people look to the actions of others to decide what to do in a particular situation. 
For example, if a restaurant has a ton of great reviews, you're more likely to order from that restaurant; you already know that a bunch of other people enjoyed the food from there, so you'll probably enjoy it too. 
That's social proof in action. 
There are 6 types of social proof:
Customers – Social proof from your existing customers or readers.
Experts – Social proof from credible experts in your industry. 
Celebrities – Social proof from celebrities or social media influencers.
Crowds – Large numbers of people that enjoy your blog or product.
Friends – Social proof from friends of your website visitors. 
Certifications – A certificate or badge from a credible 3rd party entity. 
A lot of companies use these social proof marketing techniques to encourage people to do business with them. 
And you can use the same social proof strategies to turn visitors into loyal readers, get more email subscribers, and generate more sales. 
19 Social Proof Examples
Now that you know what social proof is and why it's so powerful…how do you show social proof on your blog?
Let's dive into social proof examples you can use. 
Blog comments are a great way to show social proof. With blog comments, visitors to your site can see that other people are enjoying your content and finding it helpful.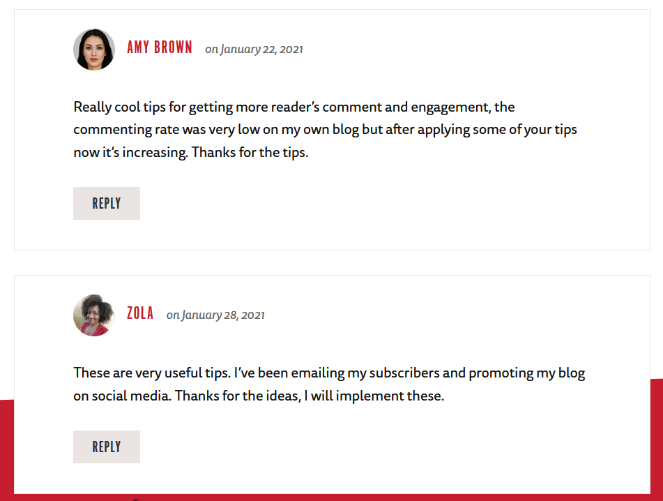 Comments like these show that your blog is a great resource to learn from and it will encourage new visitors to read more of your posts. 
Plus, it will also encourage visitors to leave a comment themselves, which helps boost engagement. 
If you don't have a lot of comments on
[…]
This article was written by Allison and originally published on Blog Tyrant.