Home /
Hosting /
Pressidium Hosting Review: An Excellent Reputation – But Are They Worth The Money?
By Colin Newcomer
August 28, 2020
Considering using Pressidium to host your WordPress site?
Pressidium don't generally get nearly as much coverage as some of the most popular managed WordPress hosts, such as WP Engine, Kinsta, or Flywheel. However, they still boast some big-name clients, including LearnDash (the WordPress LMS plugin), Backlinko, and a variety of universities.
In our Pressidium review, I'll put them through the paces and help you decide whether or not you should join those other clients.
I'll start by going over Pressidium's features and how they differentiate themselves from most other managed WordPress hosts with their high-availability architecture. Then, I'll go more hands-on and test their performance, take you on a tour of their dashboard and WordPress plugin, and test their support responses as well.
Overall, I was impressed with Pressidium and think they offer an excellent hosting product. However, they're also a little more expensive than other hosts, so you'll need to decide if that investment is worth it. The goal of this review is to help you make that decision.
Let's dig in..
Pressidium Features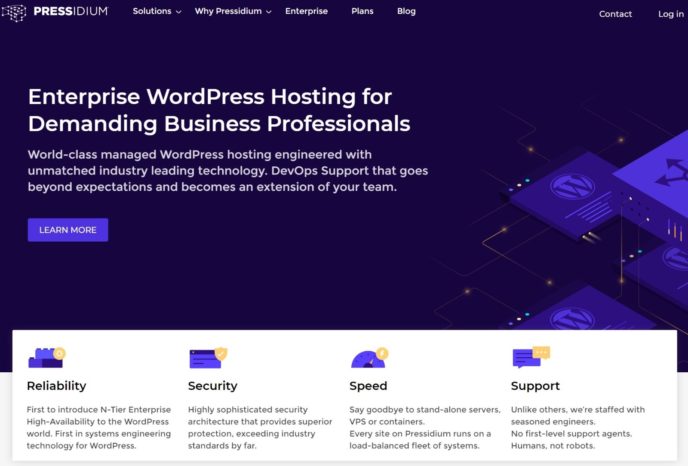 In this first section, I'm not really telling you anything you couldn't learn from the marketing copy. However, I think it's important to go over these details because Pressidium do things a little differently when it comes to server architecture (though you'll still get all the managed WordPress hosting features you'd expect).
Pressidium Are High-Availability WordPress Hosting — What Is That?
The most unique thing about Pressidium is that all of their plans use high-availability architecture. If you go to their landing page, you'll see this brought up a lot because it is one of the biggest differentiating features. So — what does that mean?
With "regular" hosting, there's only one copy of your site/database running at a time. If this single copy goes down, your site goes down because it's the only copy running.
High-availability hosting changes that by running multiple identical versions of your site (called nodes). If one version of your site has problems, the high-availability architecture can seamlessly redirect visitors to the other copy so that there's zero downtime. Basically, it adds reliability and redundancy, which is why high-availability is an important thing for most large organizations.
Beyond reduced downtime, there are also some other potential benefits to this approach:
[…]
This article was written by Colin Newcomer and originally published on WinningWP.