A
re you looking for ways to increase conversions on your blog? Don't worry, we've got you covered.
Generating traffic is just the first step, if you can't convert that traffic then that traffic means nothing. As a blogger, it's your job to analyze why visitors aren't converting and remove any barriers to conversions.
Below, we'll look at some quick and easy ways that will help you increase conversions on your blog, whether you want to boost subscribers or sales.
Let's get started!
1. Write Clear Headlines
Headlines are the first and the most noticeable thing your readers see on your blog. They need to make a good impression. If you get it right, you can increase your conversions by a lot.
Your headlines should grab the attention of your readers.
A good headline will entice readers to click on your website's URL on the search results and get them hooked to read your blog.
You should use power words to trigger a psychological and emotional response. According to OptinMonster, using power words can increase your conversions by 12.7%.
Some examples of power words are:
Giveaway
Incredible
Freebies
How-to
Guide
You can get the full list of power words here.
We also recommend using IsItWP's headline analyzer tool. It will help you assess your headline. Simply add your headline in the bar and click Analyze.
It will show you the overall score. You can then make the necessary changes based on its recommendations.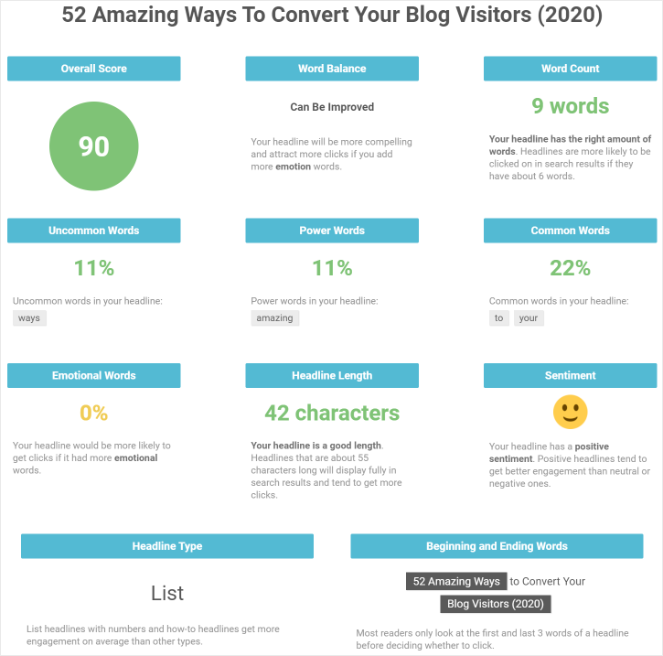 A clear, attention-grabbing headline will encourage users to check out what you have to offer.
2. Write Copy That Talks to Your Readers
Let's be honest, your customers don't care about you or your business. They only think about the benefit they can get by using your product.
When you're writing copy, make sure it appeals to your readers—highlight the benefits of your product and how it can be used to improve your customers' lives.
You can make your copy more customer-focused by using "you" and "your" instead of "we" and "our."
We have discussed this in detail in our blogging strategy guide.
3. Use Bullet Points
People don't read the full content of a blog post or webpage usually; they like to skim through. Using bullet points makes your copy very scannable.
Bullet points make your copy easy to understand and helps your readers quickly absorb the information.
When creating webpages or writing a blog post, make sure to summarize your product's benefits by using bullet points.
Read more on how to write the perfect blog post.
[…]
This article was written by faizan and originally published on Blog Tyrant.