Making sure your site has no errors is quite vital for establishing a solid business. The Website SEO Stats made it easy for you to scan your site for common SEO errors, so you don't have to torture yourself by using a different tool for everything you want to check.
This article focuses on the Website SEO Stats tool and its uses to ensure your site is running on all cylinders. This checker offers a variety of categories to choose from, including keywords, errors, XML, Page Speed, and others.
For testing, we will look at WP Pluginsify, and all of the screenshots are real-time representations of what Website SEO Stats can do.
Additionally, if you are, besides scanning your site, looking for a perfect hosting platform, we would love to advise you to check out WPMU DEV.
A web developer's dream. WPMU DEV's all-in-one WordPress platform gives you everything you need to manage, update, optimize, secure, and host client sites – all under one roof. Get 20% off any of their plans. Free trial included.
Title Tag

The title tag shows the length of your title on your site with the primary purpose of checking if it is too short or too long for presentation purposes. It is vital that a title is concise and contains all of the necessary keywords.
As you can see, the title page for this particular site is a little lengthy and nears the upper limit of characters (70). A shorter, more direct title is more pleasing for the eyes and eventually leads to more views.
Keywords

The keywords a site uses are how a web browser can find the site online. The more relevant the keywords you use, the more readings your site will receive within the HTML code.
You can also see which keywords are most frequently used by an audience and which areas are lacking. This site, as you may see, has a decent amount of keywords.
XML Sitemap

An XML sitemap is an ideal way of checking the internal workings of your site's URLs. Submitting an XML sitemap to Google or Bing will allow the browsers to more accurately display your website on relevant web searches.
Domain Registration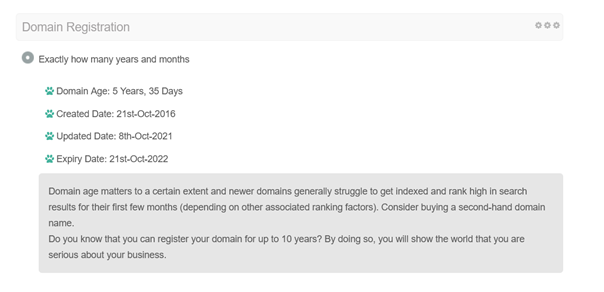 Checking your domain age is important to see where you stand in general searches. As the image says, the longer your domain is registered and the longer it stays up, the more prevalent your site will be in searches.
In general, if a website is new, it will take some time to gain traction online. This domain has been in use for more than 5 years.
WHOIS Data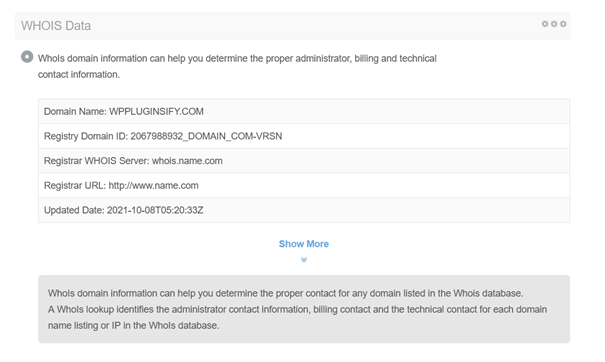 WHOIS Data allows you to check any domain for extensive information regarding billing, technical issues, general information. Using this simple checker, you can usually find the entire record of a domain.
So, it would be best if you considered checking it out for any technical questions regarding a domain.
Page Indexing

Page indexing shows the number of pages your site has. The more pages present, the easier it is for bots to check your site on web searches. Adding additional pages is strongly recommended to have a more substantial web presence.
When you fail to check the number of pages, specific bots may be unable to crawl your site and index its existence on the internet. This site, for example, does not have many pages and demonstrates that it could improve the internal linking and architecture.
Backlinks

The presence of backlinks is vital to make sure that other sites quickly access your site. The more backlinks you have, the more likely it is that a larger audience will visit your site.
This site, for example, has a fairly solid amount of backlinks, so many users quite easily find them. It is essential to have a solid online presence to increase your reputation and means of business.
PageSpeed (desktop)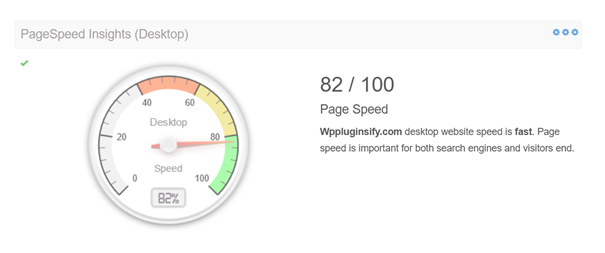 Speed is paramount when anything over the internet is concerned. It is much easier to navigate a speedy page and get to the content you require when you have a quick page.
Website SEO Stats offers a great speed checker to make sure your page is optimal and ready to go. It measures speed through the means of a 0-100 graphic, giving you a general approximation of how efficient your site is.
For example, this site has a speed rating of 82/100, making it quite decent when speed is concerned.
PageSpeed (mobile)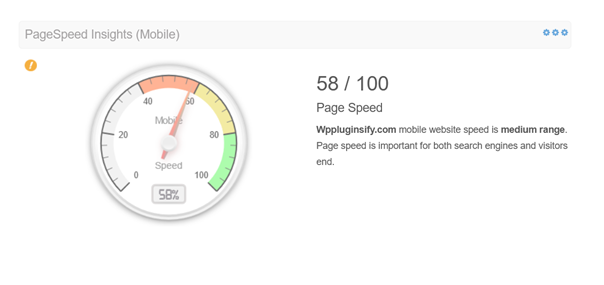 Like many things concerning the efficiency of sites, there is a general difference between what a mobile interface can do and what a desktop can.
Usually, a page that owners didn't give much attention to will perform more poorly on the mobile side of things. Also, we can see that that is the case on the site tested in the screenshot. It has a speed rating of 58/100, which is a medium range.
Analytics

Analytics, in general, are a great tool to check what your audience does on your site. Site traffic and activity are significant to you and your business in the long run.
When you use backlinks on numerous other websites, your site will undoubtedly receive more traffic. This site already has an analytics tool, so nothing needs to be changed there.
Social Data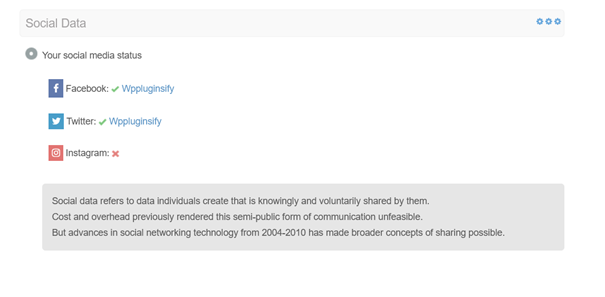 A deep understanding of how your site is running is crucial. However, in the technologically savvy world, you also have to have a solid social media presence. Especially when you want to get the word out about your site, services, and business.
The wider you reach in the social media sphere, the more people will know about you. Furthermore, this is why you should make sure that the person managing your socials is a warm, friendly one, capable of attracting people to your site with engaging rhetoric.
Conclusion
With that, we have come to the end of this article. Website SEO Stats tool is an excellent means of testing and checking your site for common SEO errors plaguing many other sites.
Using their in-depth analytics service, you can examine your domain's most profound and technical aspects and improve upon any errors that the checker might find.
It is vital to make sure that your site is running optimally, for you to ease the stress of running your site. But also for your clients to have a generally pleasing experience.
Keep reading the article at WP Pluginsify. The article was originally written by Maja Cizmic on 2021-12-01 15:21:55.

The article was hand-picked and curated for you by the Editorial Team of WP Archives.