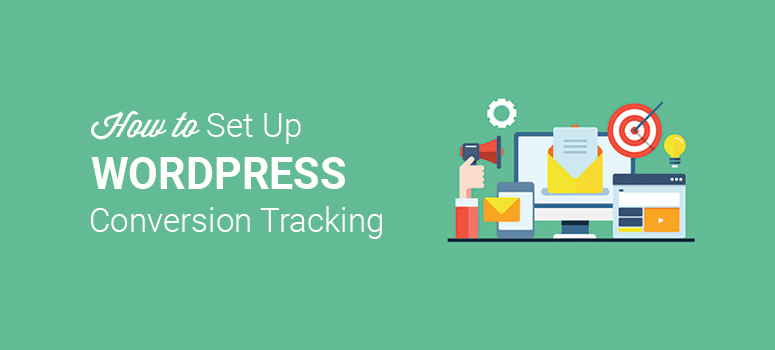 Do you want to set up WordPress conversion tracking?
Conversions are the key to the growth of any business. And, you should track lead conversions to analyze how well your marketing campaigns are performing.
Conversion tracking also helps in shaping the strategy of your business. It provides you the data your need to keep growing your business.
In this article, we'll show you how to set up WordPress conversion tracking for your website. But first, let's get clear on what conversion tracking actually means.
Since this is a long article, we created a table of contents for your assistance. This helps you jump to any section quickly.
Table of Contents
What Does Conversion Tracking Do?
Conversion tracking helps you find the marketing channels that are driving the most sales. This way, you can improve your marketing strategy to further increase your revenue.
On the other side, the conversion tracking data will also show resources where you invested your marketing efforts and not getting the results you want. With detailed tracking, you can find out your customers' journey and understand their roadblocks.
You can then make changes to remove those hurdles and continue tracking conversions to see the results.
In other words, conversion tracking will provide the data of your success and shortcomings, so you can design your marketing campaigns to grow your business.
Why does any of this matter?
You can invest time and money to promote your brand, but if you don't track the output of your efforts, then you won't know if your investments are paying off.
You should know how many conversions you get in a specific period from a specific resource to measure your marketing success.
Now that you know why this is so important, let's take a look at some of the best tools to set up WordPress conversion tracking.
WordPress Conversion Tracking Tools
Google Analytics is the most popular and free tool to track your website traffic and conversions. It provides complete data on your traffic sources, user activity, and custom reports.
It lets you set up conversion tracking for your marketing campaigns, Google Ads, Facebook Ads, and so on. Wondering how you can do it all with Google Analytics?
Let's enable WordPress conversion tracking step by step!
Enabling WordPress Conversion Tracking in Google Analytics
To enable conversion tracking, you need to add Google Analytics code to your website.
We recommend using MonsterInsights, the best Google Analytics plugin with advanced tools to add complete and detailed analytics to your WordPress dashboard.
[…]
This article was written by Editorial Team and originally published on IsItWP – Free WordPress Theme Detector.