A
re you wondering how to start a forum on your blog but don't know what steps to take? In this article, we'll teach you the process so it's easy to set up on your own.
If you've just started a blog, online forums are a great way to develop a community and have discussions on relevant topics. Plus, they can help you drive traffic to your blog to build your readership and boost engagement.
But with so many forum tools available, it might be difficult to narrow it down to the best one. And how do you add a forum in WordPress anyways?
In this article, we're going to show you step-by-step how to add a forum to your blog.
What Is a Forum?
A forum is an online discussion board where users can share their thoughts, content, media, questions, and more. It gives communities a way to easily interact and share their ideas, usually on specific topics.
Here's an example of a forum on a popular wedding blog called WeddingBee: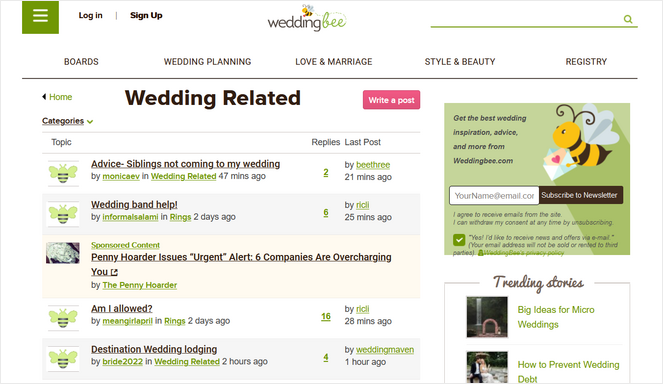 Users can ask questions about wedding-related issues and get helpful advice from other community members.
In another example, a health and food blog called The Blood Sugar Diet uses its forum so users can submit topics, questions, and feedback on topics like diet, exercise, and mindfulness.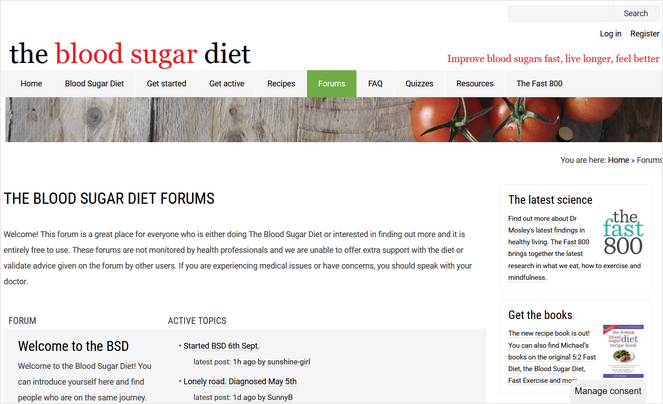 You can create a forum on your blog about any topic you want to discuss with your readers. But, we recommend that your forum relates to your blog niche, this will make it easier to attract your target audience.
Why Add a Forum to Your Blog?
Forums give everyone an outlet to speak their minds and connect with others who have similar interests and pain points.
And it's important that you build a community around your blog to develop a loyal readership that keeps coming back. Without a sense of belonging, many will turn to the next blog.
But, with an active forum on your blog, you can stand out from the competition and keep users coming back again and again.
Aside from building a community, here's what else a forum can do for your blog:
Improve SEO & Boost Traffic
Your public forums will be filled with keywords and fresh content which can actually help you improve your search engine rankings and drive more organic traffic to your blog.
You can get to know your target audience better by starting an online discussion around topics in your industry. This helps you come up with future blog post ideas and
[…]
This article was written by Zakiyah and originally published on Blog Tyrant.