D
o you want to learn how to start a lifestyle blog but don't know where to start? Look no further, we'll walk you through it step-by-step.
Starting a lifestyle blog is an excellent way to share your passion with the world. If you do it right, you can turn your hobbies and interests into a full-time blogging career.
But how do you start a blog related to your lifestyle and be successful?
Don't worry, we'll show you how.
This guide will go over how to start a lifestyle blog in easy steps.
Let's get started!
What is a Lifestyle Blog?
A lifestyle blog is a type of website where a blogger writes about their own life, experiences, interests, or daily activities.
Because of this, lifestyle blogs are often more personal than other types of blogs. Rather than just sharing the latest news about an industry or teaching readers about a subject, lifestyle bloggers share their personal experiences to inspire others.
And with lifestyle blogging, you don't have to stick to just 1 topic. You can create content about various subjects relevant to your life like parenting, cooking, fitness, beauty, college life, and everything else in between.
Let's take a look at some examples of lifestyle blogs for better understanding…
Lifestyle Blog Examples
If you're looking for inspiration, you can find many lifestyle blogs on the internet. We've shortlisted some of our favorite lifestyle blogs and listed them down below.
1. Camille Styles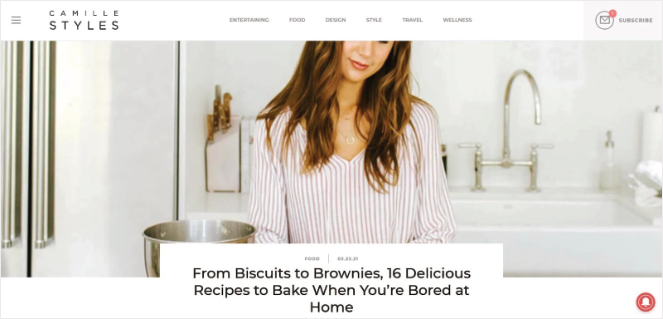 Camille Styles is a lifestyle blogger based in Austin, Texas. She offers a unique approach to fashion, home decoration, travel, food, and wellness.
Aside from sharing her personal advice in blog posts, she also recommends her favorite products through an affiliate program.

With affiliate programs, you can earn a commission anytime someone clicks on your link and buys the product. It's a great way to monetize your lifestyle blog. More on that later…
2. Wit & Delight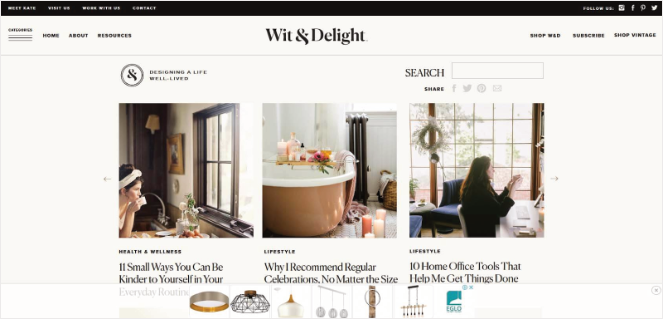 Wit & Delight is another awesome lifestyle blog about fashion, food, drinks, parenthood, and more. The blog was founded by Kate Arends when she was in debt and worried
[…]
This article was written by faizan and originally published on Blog Tyrant.