A
re you using testimonials to your advantage? If you're not, you're missing out on the opportunity to turn more visitors into subscribers and customers. In this article, we'll show you how to get testimonials and how to use them effectively.
When you start a new blog or business, it can be difficult to convince people to subscribe to your newsletter or buy the product or service that you offer. That's where testimonials come in.
Testimonials are a powerful way to encourage visitors to become subscribers and customers.
But, how do you collect great testimonials?
If you're not sure how to get testimonials, check out these 11 proven strategies.
Before we dive in though, let's take a look at why testimonials are so powerful. 
What is a Testimonial and What Makes It Amazing?
A testimonial is similar to a review, here's the definition:
A testimonial is a truthful endorsement whereby someone testifies to the quality of a product, person, or service.
You'll notice a few things in that definition:
It has to be truthful
Making up testimonials is unethical. Also, people can usually see right through a fake testimonial, so it makes your site less trustworthy, not more.
It is an endorsement
A testimonial really has to be coming from someone who is personally willing to endorse your product or website. That means they should have used it.
It should mention the qualities
It's not really good enough for that person just to say they've tried it; they should also say they liked it and why.
Want to see good examples of testimonials? Check out the customer testimonials from OptinMonster below.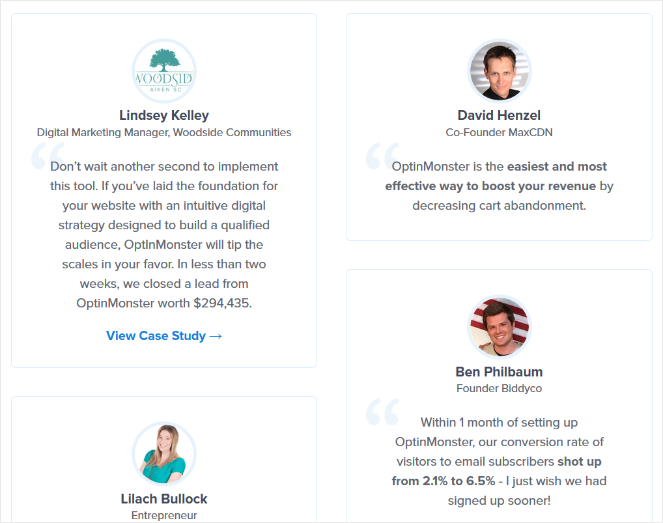 Glowing, honest testimonials like these act as social proof for your business. What is social proof?
Social proof is a phenomenon where people look to the actions of others to figure out what they should do in a certain situation.
For example, if you're looking to buy a new TV, you'll check out online reviews to make sure you're choosing the right product before you buy it. Or, if you're looking for a new restaurant to eat at, you'll probably choose one with lots of great reviews rather than a restaurant that has no reviews at all.
When a business shows proof that it has happy customers, you'll be more likely to become one of them.
You can use social proof like testimonials on your website in a similar way to convince people to choose your blog or online business. 
And take a look at these social proof statistics that show how important and powerful testimonials are:
97% of consumers look at reviews before purchasing.
Testimonials can increase conversion rates on sales pages by 34%. 
A single good review can increase conversions by a whopping 10%!
Now that you know how testimonials can help your blog or business, let's move on to the juicy part: check out these 11 tips on how to get testimonials.
1. Search on Social Media
One of the easiest ways to get testimonials is to find and use what people are already saying about you on social media.
Social media is an amazing source of testimonials for almost any type of blog or online business. People go there to vent, socialize, or praise things so (if you're doing things well) you'll notice a steady stream of people saying amazing things about you.
Testimonials that come from social media also have the added benefit of looking more authoritative because your blog or online business must be great to have people praising it on the internet! 
To find what people are saying about you on social media, do a search for your blog or business name on platforms like Twitter and Instagram.
For example, here's a great testimonial for Panera Bread that we found by searching the name on Twitter: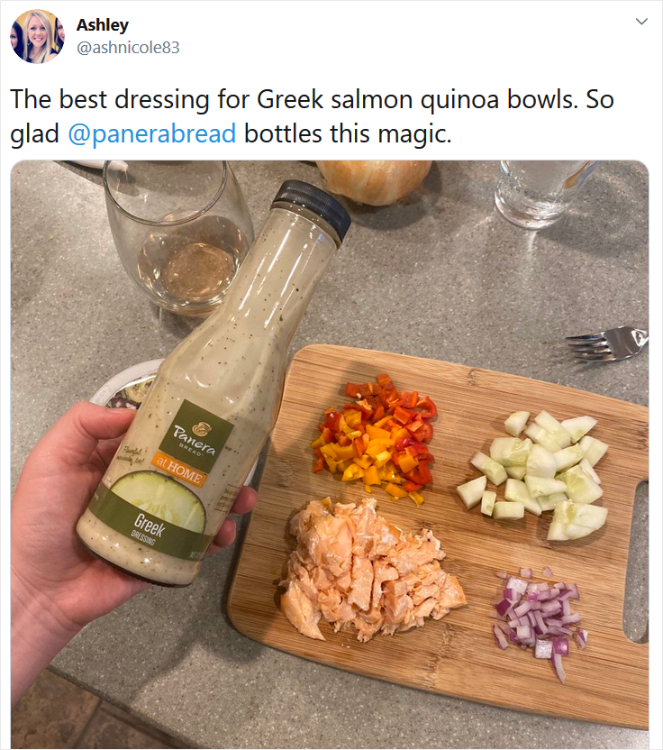 Type your blog or business name into the search bar and see what comes up. You never know what wonderful things people are saying about you online unless you look for them.
You can also use social media monitoring tools like Buffer, Hootsuite, and Mention that will alert you about mentions of your business or certain keywords. 
When you discover a good testimonial for your site on social media, you'll want to display it on your website.
Using a social media feed tool like Smash Balloon is the best way to do this.
Smash Balloon makes it easy to display testimonials from Facebook, Twitter, Instagram, and even YouTube.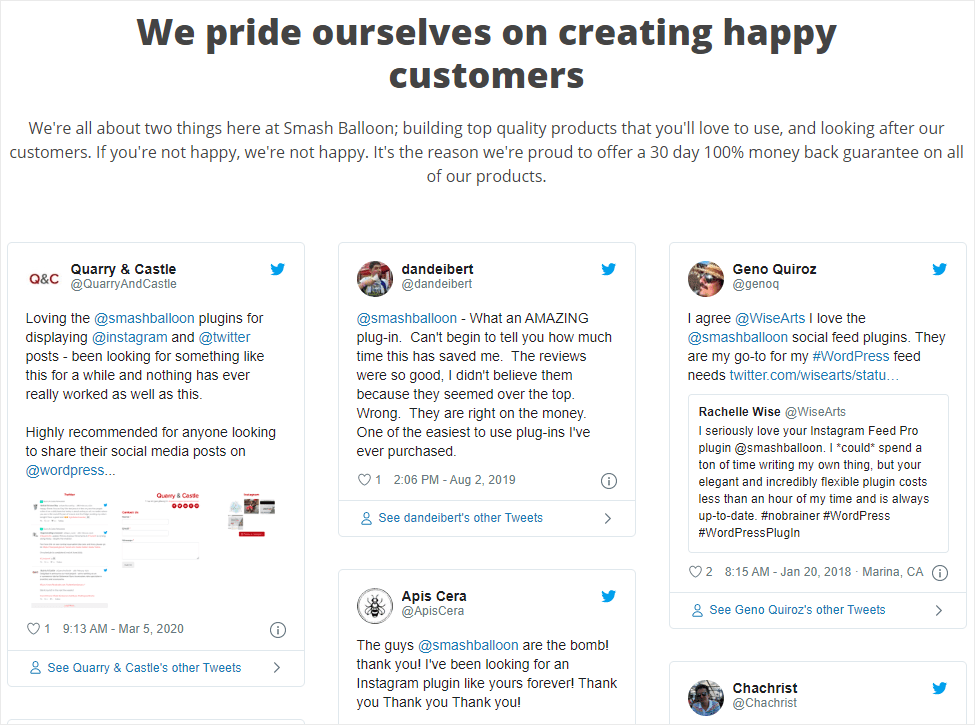 For step-by-step instructions, see this guide on how to embed your Instagram feed on WordPress.
2. Ask to Use Quotes From Emails People Send You
Another way to get testimonials from what people are already saying about you is by using quotes from emails.
For example, one of your blog readers might send you an email letting you know how much they enjoy your content and how helpful your tips have been for them.
That can be used as a testimonial!
Just remember, you should ask the permission of the person before you use that particular person's email message in public. That's very important so you don't break their trust!
Email testimonials look really good because, like social media, it shows that someone has taken the time out of their day to send you an email about your website or product.
3. Check Out the Comments on Your Blog
If you have been using Blog Tyrant's strategies to get more comments you might have a lot of little gems just lying around on your blog.
Sometimes it can be hard to use blog comments for testimonials because they're often very specific to the post that you're pulling them from. But, once and a while, you can find some general praise that will make for a great testimonial.
You can take a screenshot to grab the whole comment and give it some context. All the better if they have set up a Gravatar to display their profile photo.
And if you need more comments on your blog, at the end of your posts, say something like: "Have any of our tips helped you? Let us know in the comments below!" to encourage readers to give their feedback. 
4. Ask for Testimonials on Social Media
Instead of just waiting for people to say something about your business on social media, ask them!
If you need testimonials for your online business, it's totally okay to ask your audience and your customers for their feedback.
So, create a post on social media asking for testimonials or reviews. Here's how BREWSKI Beers does it: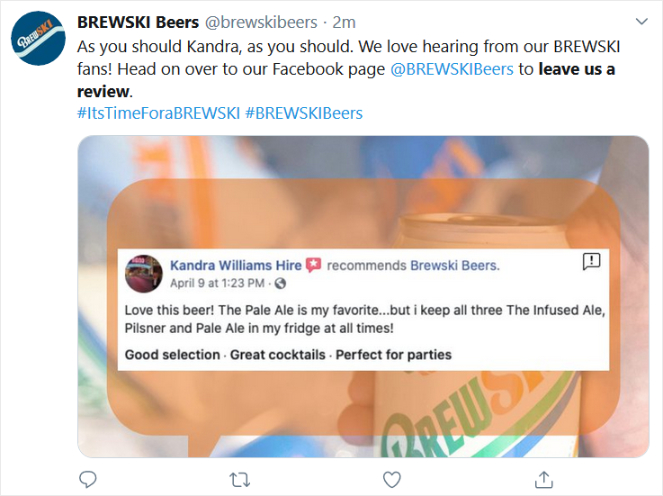 Notice how when they ask for more testimonials from their fans on social media, they include a screenshot of a review someone has already left them. This is a great way to encourage your followers to provide their feedback; when users see that other people are leaving reviews, they'll be more likely to share their opinions as well.
It also gives them an example of what a good testimonial looks like, in case they're not sure what to write.
In the post, they also direct people to their Facebook page. Facebook pages have a built-in review area that makes it easy for people to leave testimonials for a business. If you don't have a Facebook Page, you can simply direct people to leave a comment instead.
Remember, testimonials can come in forms other than text. For example, a photo taken by a customer that features and praises your product can act as a testimonial too. 
In this Instagram post, Lush Cosmetics asks their followers to send in their photos using the hashtag #LushShowAndTell for a chance to be featured on their feed.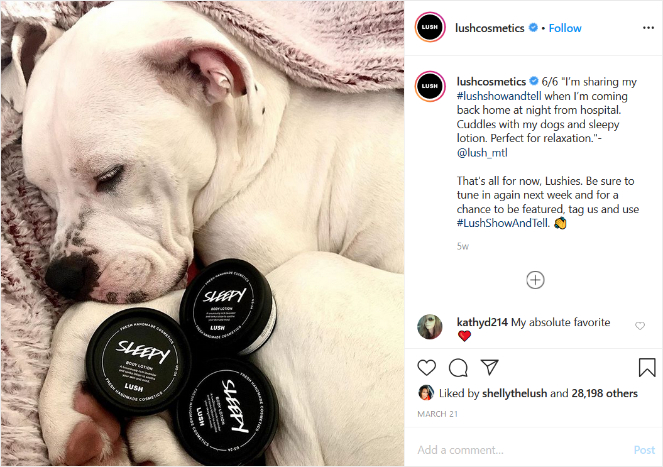 Create your own branded hashtag (this makes it easier to track submissions) and a post on social media asking your followers to share their photos to get more testimonials like this. 
Here's a great tutorial on how to run a social media photo contest. This is the easiest way to get lots of photo testimonials.
5. Do a Testimonial Swap
Online businesses rely on testimonials to build trust and drive sales. So, you can imagine how happy a business would be if you left a great testimonial for them. So happy in fact, that they'll be more likely to give you a testimonial in return.
If your online business and another business have used each other's products or services, you can do a testimonial swap.
It's kind of icky to tell a business that you'll only give them a testimonial if they give you one. Instead, write a testimonial, let the business know about it, and encourage them to do the same for you.
And remember, you should only do testimonial swaps with businesses or blogs that have used your product or service and vice versa. 
6. Offer a Free Product In Exchange for a Testimonial 
Many new bloggers or online businesses also offer a free product in exchange for an honest testimonial.
This is especially common with authors; they'll send a free copy of their newest book to other authors or their biggest fans in exchange for a review. If you're a blogger, you might have even had companies reach out to you offering a free product in exchange for a review on your blog.
So, if you're selling a product like an ebook, for instance, sending out a few free copies can be a good way to get testimonials.
Then, you can display those testimonials on your site, like Ali Luke does for her book Irresistible Ebooks, to generate more sales.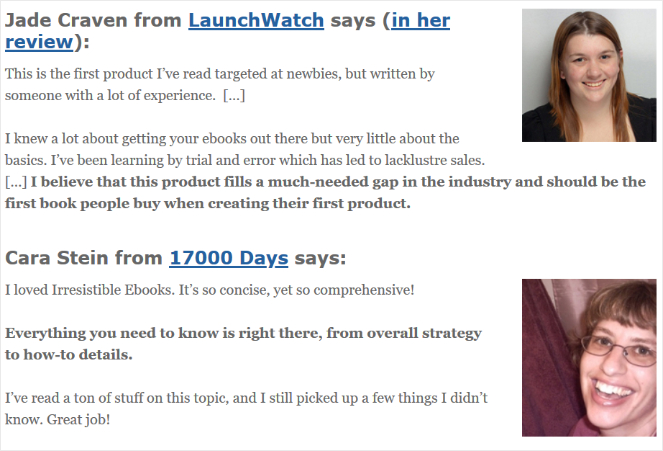 Remember, if you provide a free product in exchange for a testimonial, make sure the agreement is written, clear, and agreed upon. You wouldn't want to send out free products and get nothing in return. 
7. Send an Email Asking for Testimonials
You can also get more testimonials by sending out a good old fashioned email. Email marketing is an effective way to get more testimonials because you can send your request straight into the inboxes of your subscribers or customers.
Plus, your subscribers and customers are your biggest fans—most of them would be happy to give you a good testimonial if you asked them.
(If you haven't gotten started with email marketing yet, check out our guide on how to do email marketing which includes tips on growing your email list.)
Here's an awesome email that TrustPulse uses to ask their customers for testimonials and reviews: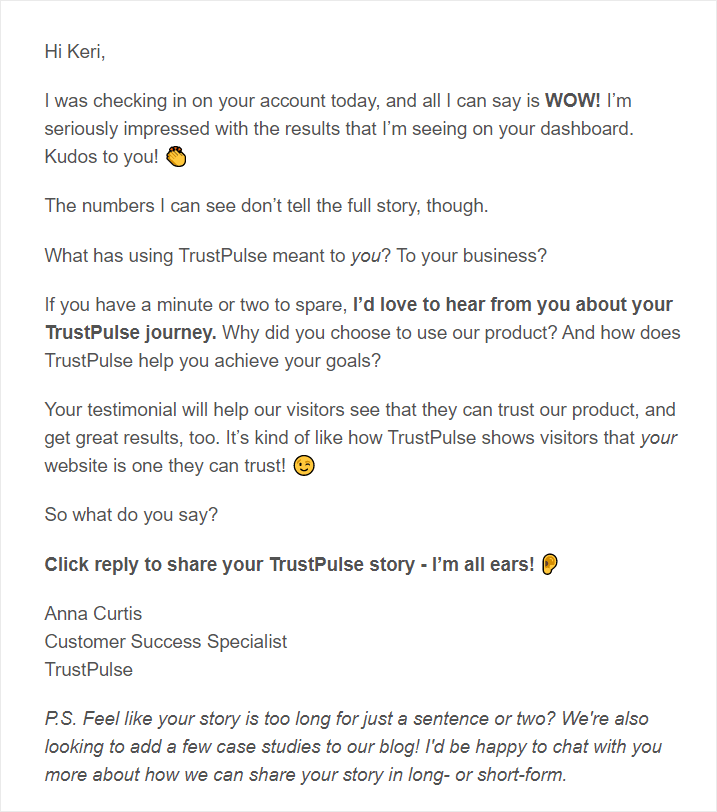 This email works so well because it compliments the customers' results using the product and provides prompting questions like "How does TrustPulse help you achieve your goals?" that can help users when writing a testimonial.
It also makes it easy for people to send their feedback; all they have to do is hit "Reply" to provide a testimonial.
To get even more testimonials, it's also a good idea to send an email to customers or clients right after a positive interaction with your business, like having a customer service issue resolved quickly.
The positive experience the customer had with your business is still at the top of their mind, so they'll be more likely to submit a glowing testimonial.
By sending an email at the right time and to the right person (like after finishing a project with a client), you could even get the opportunity to turn a testimonial into a case study.
Case studies are like longer, more detailed testimonials that share the results you achieved for a specific customer.
You can share a case study on your site in the form of a blog post like OptinMonster does: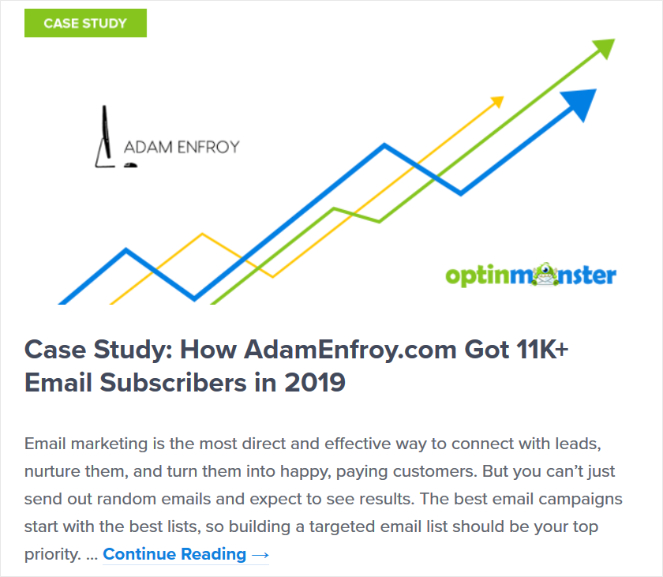 With testimonials and case studies on your site, you'll be able to skyrocket your sales!
Take a look at this post to learn more about writing an epic case study. 
8. Create a Survey
Surveys are a great way to collect customer feedback on specific areas of your business. But, survey participants can only provide answers to the questions you give them which won't result in testimonials you can use for your business.
Unless you ask them for a testimonial at the end of your survey!
If people are taking the time to fill out your survey, they're probably more than willing to leave a short testimonial for you as well, if they're happy with your business.
So, make sure to include a field at the end of your survey for testimonials.
Using a tool like WPForms, you can easily create a survey and add it to your WordPress website. 
And using conditional logic, you can only ask people for testimonials if they leave a 5-star rating.
You can customize your survey however you like including adding a text box to accept testimonials and adding a star rating option as well. 
Here's how to easily create a survey form on your WordPress site.
9. Build a Submission Form on Your Site
You can also use WPForms to create a submission form to collect testimonials.
As you can see in the example below, instead of adding a number of questions like on a survey form, you can get straight to the point and ask for a testimonial. 
Not only will you be able to collect testimonials with a form like this, but you can also automatically display the testimonials you receive on your website.
You can add a form like this to any part of your site including any post or page, sidebar widget area, or footer section. That way, your website visitors can easily see your request for testimonials.
10. Use a Popup to Ask for Testimonials
Still worried that a bunch of visitors to your site won't see your submission form? Don't worry, you can use a popup to let visitors know you're looking for testimonials too!
A tool like OptinMonster makes it easy to create eye-catching popups for your website with their drag and drop builder.
While you might be aware that you can use OptinMonster to create email newsletter signup forms to grow your email list, you can also use it to get more testimonials.
For example, with OptinMonster you can target a returning visitor to your site and display a popup that says "Wanna give us a rating/testimonial? Click here!" Then, you can redirect them to your submission form page or landing page.
Like this: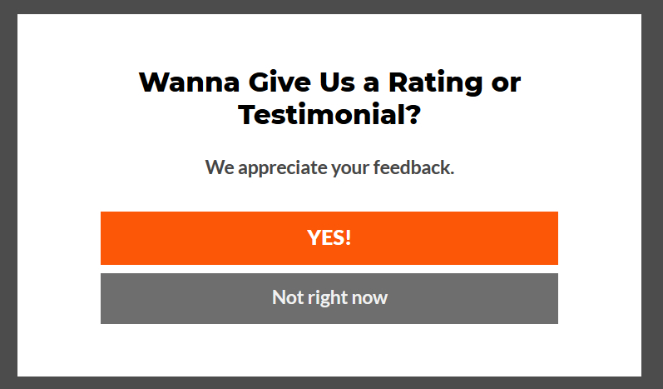 Popups are effective because they're able to grab the attention of users that are browsing on your site. The more people that are aware you're asking for testimonials, the more testimonials you'll get!
You can follow this step-by-step guide on how to create a yes/no popup to get started.
11. Add a Notification to Your Site
Another way you can grab the attention of users and ask for testimonials is by adding notifications to your site.
Notifications are similar to popups—they still pop up on the screen—but they're a little more discreet, usually popping up in the bottom corner of the screen.
With a notifications app like TrustPulse, you can add notifications to your site easily. Here the company HiFi Spin uses a TrustPulse notification to send users to a help form.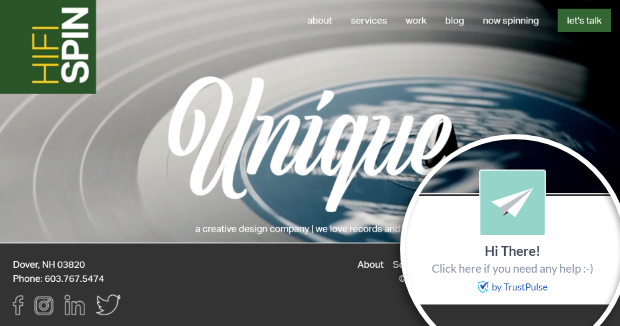 But, you can easily change the message on this notification to ask for testimonials and send users to your submission form page.
This is a perfect way to ask for testimonials without disturbing the visitors on your site. 
How to Use Your Testimonials Smartly
Now that we've covered how to get testimonials we should move on and talk about where and how to use them smartly.
Why do we need to use them smartly?
As with most things in blogging, it is a real waste of time if you get something good (like traffic, subscribers, etc.) and then lose them because you don't use them properly. 
Testimonials really only have the desired effect if you use them in clever ways. 
So, let's take a look at some tips for using testimonials effectively.
1. Use them at friction points
One of the most important steps of using testimonials smartly is using them in the right places. You need to place the right testimonials at places where people need to read them.
For example, if you have an expensive product that you are selling you should try to use testimonials that talk about how much value the product adds or how affordable it really is once you start to use it. This helps people overcome the friction point of not wanting to pay too much money.
On Casper's product pages they use testimonials to sell their expensive mattresses. Take a look at the testimonial below. It mentions the high quality of the mattress and encourages shoppers to treat themselves.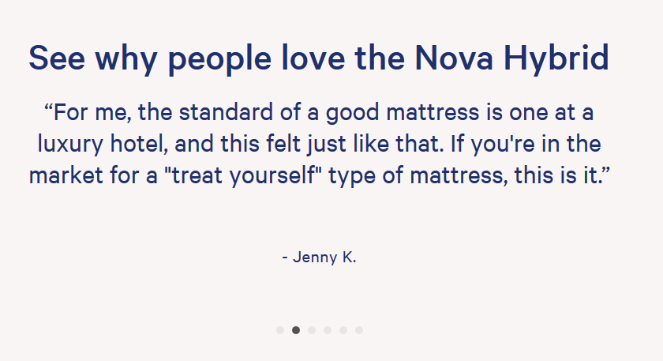 This is exactly the type of encouragement that many shoppers will need in order to take the plunge and buy. 
Try to think about some other places on your site where people might get "stuck," like sales pages or landing pages, and find a testimonial for those spots. 
You can also create a separate testimonial page so that users can easily find testimonials on your site, like Elegant Themes does: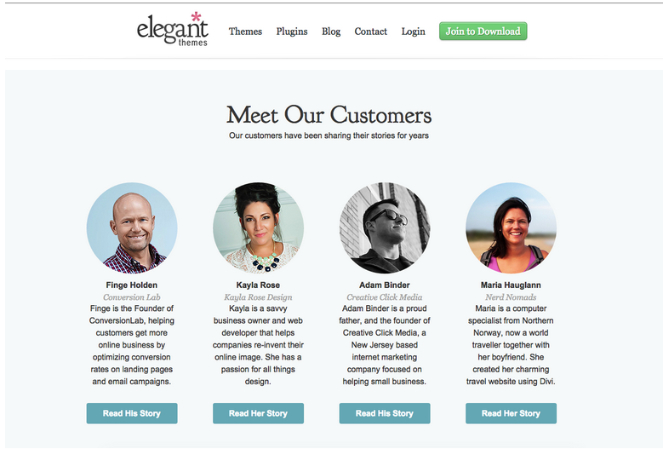 2. Design them professionally
Sloppily designed testimonials really cheapen your website. It's important to make sure the design fits in with your overall brand while still ensuring that the testimonial makes an impact.
When you use a plugin like Smash Balloon to add social media testimonials to your website, it's easy to create beautiful designs and layouts.
Here's an example of an Instagram feed layout you can add to your website with Smash Balloon: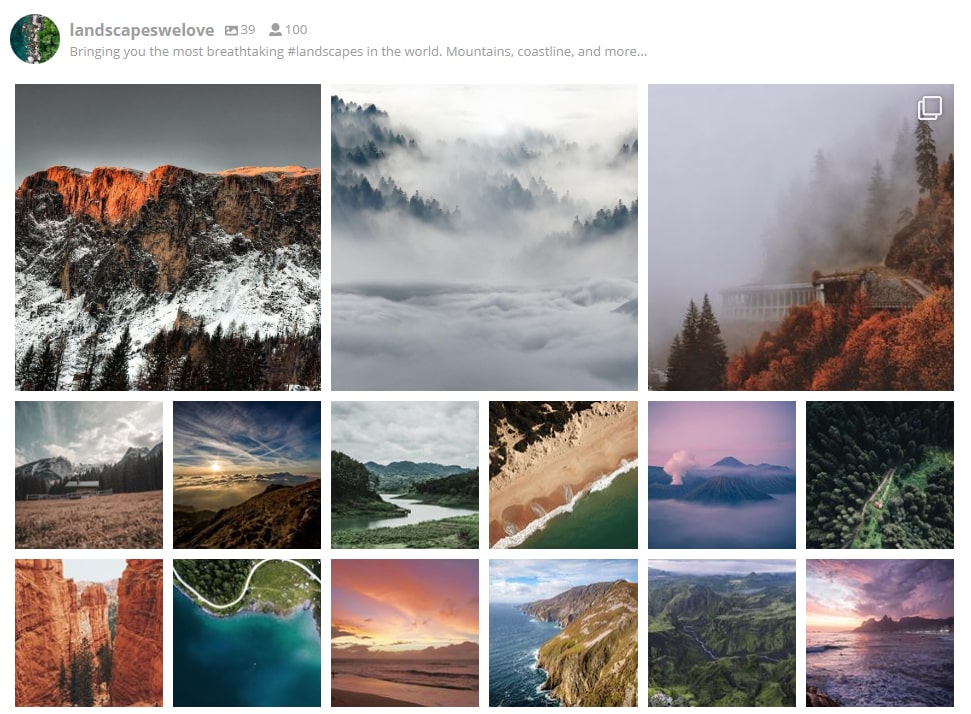 3. Include the necessary elements
When you display a testimonial it is not enough to just show the actual text or praise itself. That stuff needs to be accompanied by some critical elements that make the testimonial complete.
A photo
Without a professional-looking image of the person the text looks boring or made up. People connect to human faces.
A website or business
Sometimes when you just have the person's name it looks a little made up. By adding a website or business URL you are giving it more legitimacy.
A location
This is not always necessary but it is sometimes quite useful to show the person's location. For example, if the testimonial is for a shop in California it's helpful to show that the customer is local to the area.
4. Don't forget video testimonials and other formats
The last thing you should keep in mind is that nowadays there are a lot of different ways to use testimonials that might actually be more impactful than the traditional text testimonial.
For example, a video testimonial might work better for your website. Many people prefer watching videos over reading. Plus, with a video testimonial, users can connect with your happy customers "face-to-face" which makes it more compelling. 
Check out this video testimonial for the company 99designs.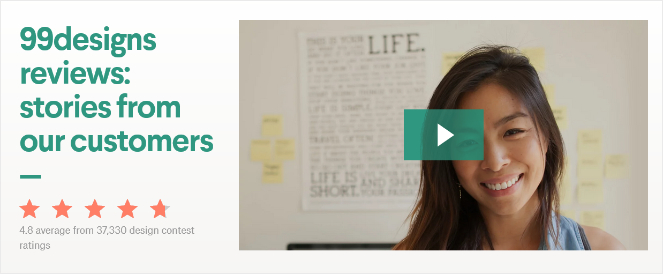 They place this engaging video testimonial from a happy customer right at the top of their testimonial page to make the biggest impact. 
There are other formats of testimonials you can consider as well. 
If you have a podcast, adding audio testimonials to your episodes could be a good idea. 
Try and think about different formats that your testimonials can take and implement them in places where it might have a dramatic effect.
That's a wrap!
Now that you know how to get testimonials and how to use them effectively, you'll be able to generate more leads and make more sales than ever before!
If you enjoyed this post, you might be interested in learning more ways to convert website visitors into email subscribers or customers. So, check out our guide on how to write blogs that convert!
Want more blogging tips like these? Make sure to subscribe to our email newsletter so you can get the expert advice you need to grow your blog.
Keep reading the article at Blog Tyrant. The article was originally written by Allison on 2020-05-21 08:00:45.

The article was hand-picked and curated for you by the Editorial Team of WP Archives.