A
re you using testimonials to your advantage? If you're not, you're missing out on the opportunity to turn more visitors into subscribers and customers. In this article, we'll show you how to get testimonials and how to use them effectively.
When you start a new blog or business, it can be difficult to convince people to subscribe to your newsletter or buy the product or service that you offer. That's where testimonials come in.
Testimonials are a powerful way to encourage visitors to become subscribers and customers.
But, how do you collect great testimonials?
If you're not sure how to get testimonials, check out these 11 proven strategies.
Before we dive in though, let's take a look at why testimonials are so powerful. 
What is a Testimonial and What Makes It Amazing?
A testimonial is similar to a review, here's the definition:
A testimonial is a truthful endorsement whereby someone testifies to the quality of a product, person, or service.
You'll notice a few things in that definition:
It has to be truthful
Making up testimonials is unethical. Also, people can usually see right through a fake testimonial, so it makes your site less trustworthy, not more.
It is an endorsement
A testimonial really has to be coming from someone who is personally willing to endorse your product or website. That means they should have used it.
It should mention the qualities
It's not really good enough for that person just to say they've tried it; they should also say they liked it and why.
Want to see good examples of testimonials? Check out the customer testimonials from OptinMonster below.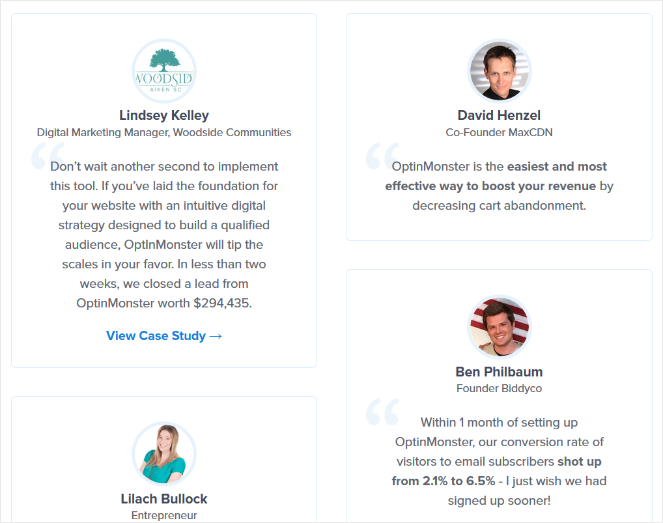 Glowing, honest testimonials like these act as social proof for your business. What is social proof?
Social proof is a phenomenon where people look to the actions of others to figure out what they should do in a certain situation.
For example, if you're looking to buy a new TV, you'll check out online reviews to make sure you're choosing the right product before you buy it. Or, if you're looking for a new restaurant to eat at, you'll probably choose one with lots of great reviews rather than a restaurant that has no reviews at all.
When a business shows proof that it has happy customers, you'll be more likely
[…]
This article was written by Allison and originally published on Blog Tyrant.