By Kevin Muldoon
Last updated: February 16, 2020
Successful webmasters understand the importance of leveraging all of the high-visibility areas of a website: These spaces need to be used for maximum effect if you and your visitors are going to get the most out of your site. In this post, I'll be focusing on one area of impact: The very top of the screen.
A notification bar is one of the best ways to target this valuable top-of-the-screen space. If you're unfamiliar with them, notification bars are used to display short, but important, messages via small, brightly colored strips that anchor to the top of the screen.
Notification bars are the ideal alternative to popups. Their position at the top of the screen ensures maximum visibility without disrupting a visitor's flow, making them far less intrusive. For many webmasters, this is the perfect compromise, and, because of this, notification bars have surged in popularity.
Another reason for their popularity is their versatility — notification bars can perform a number of functions, such as displaying important announcements, recruiting new subscribers to a mailing list or linking to important content.
They're particularly great for driving conversions and for displaying effective calls to action.
Today, I'll be introducing you to six of the best WordPress notification bar plugins available.
Let's get started…
1. Announcement Bar ($19)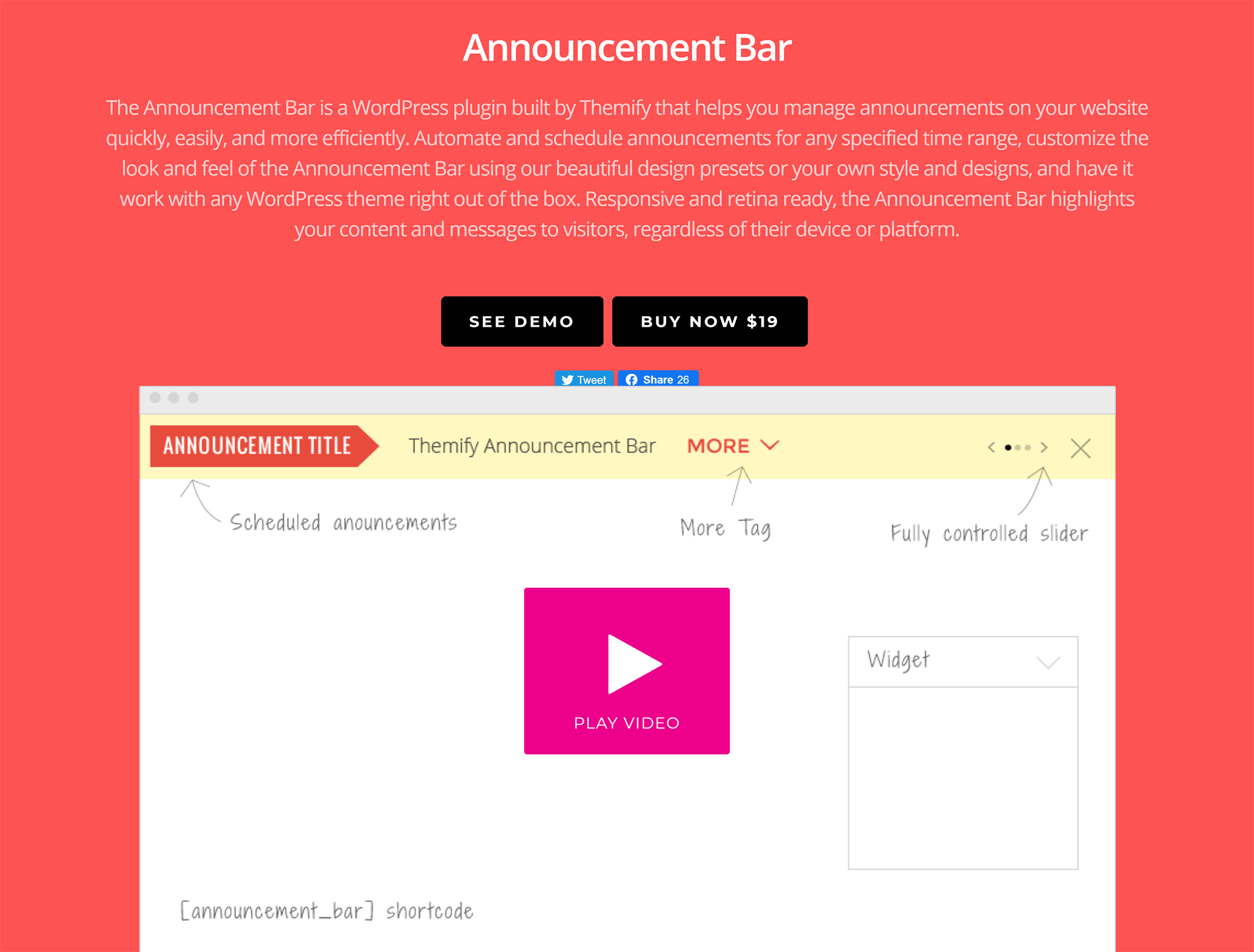 Announcement Bar is an affordable notification solution from Themify that allows you to display a bar at the top or bottom of your pages.
The developers created a custom post type for announcements, which means that the process of adding an announcement is the same as adding a new blog post or page.
Underneath the editor you will see a custom panel for configuring your notification bar. You can define the start date and end date for your bar as well as the button link and text.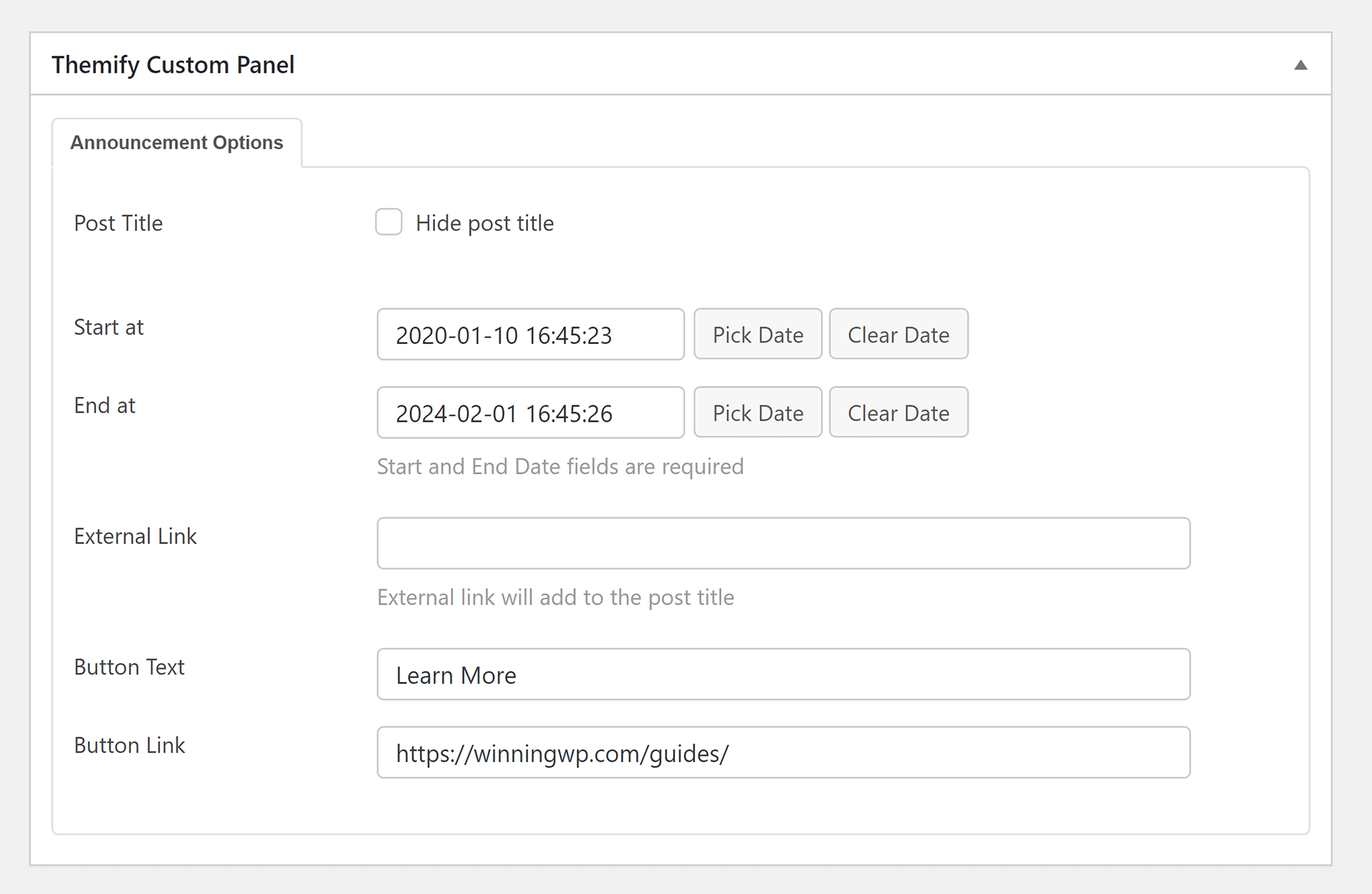 Since the main part of the notification bar is created in the WordPress editor, there is no limit to what you create.
You can assign announcements to categories and use the WordPress editor to format text, insert images and share quotes. There is support for Google Maps too and, if you wish, you could integrate videos and shortcodes from other WordPress plugins you have installed.
Notfication bars can be displayed across your website or on specific posts or pages. A shortcode is available too, which can be used in posts and pages or in WordPress templates.
A widget is also available. Unfortunately, the widget stopped all other widgets on my website displaying. I tested this with a number of WordPress themes and this issue was there in every one.

The main settings page allows you to set how many words are displayed before the user has to click to see more. Text can also be slid across the screen. A host of slider options are available to help you do this.
The position of the bar can be set too and you can make the bar fixed or absolute.
In the design tab you can select how text is aligned, the font style and the design style. Clicking on custom appearance button will give you full control over the fonts and colours that are used on your bar.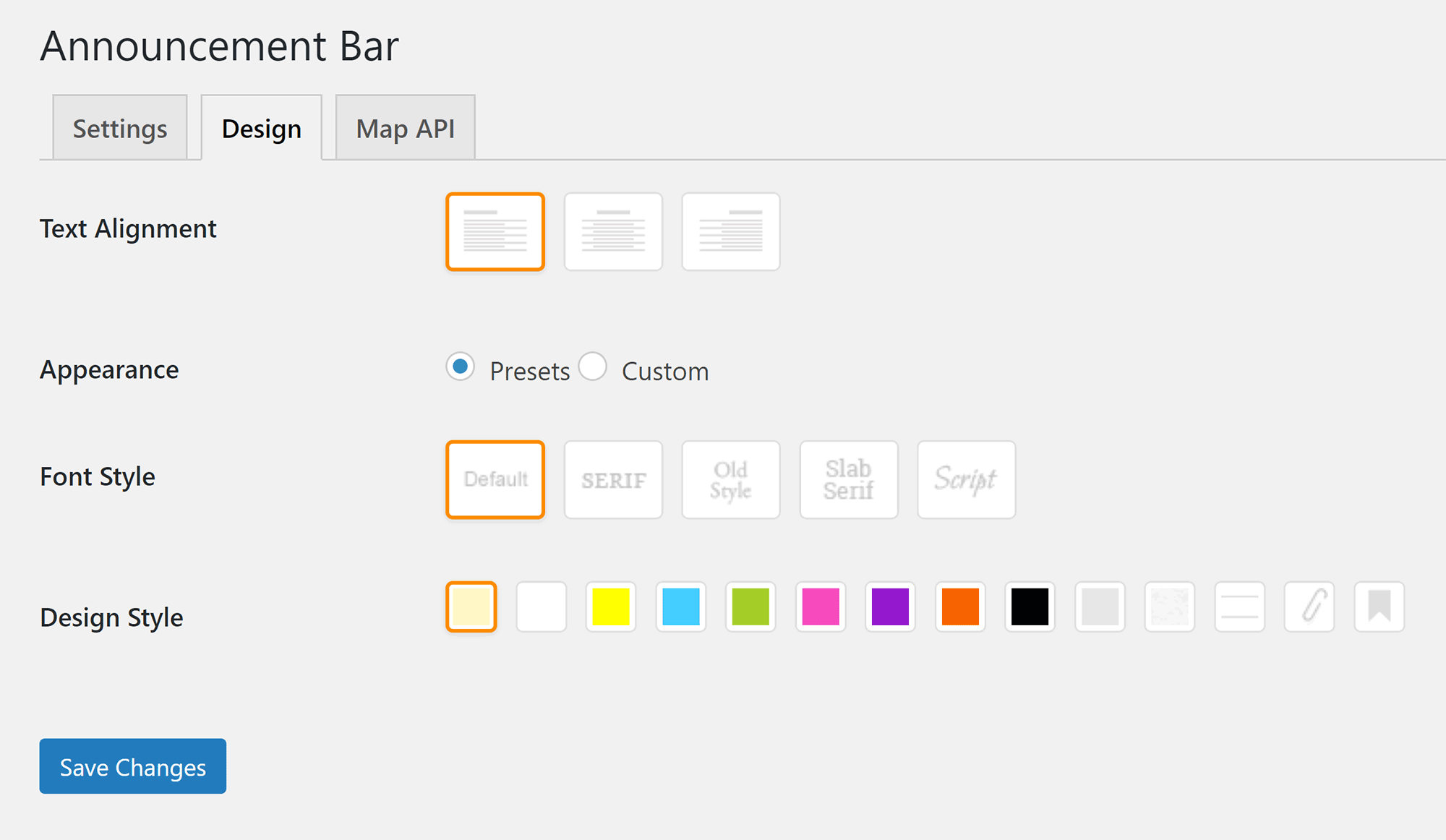 At only $19, Announcement Bar is an enticing option.
The plugin is incredibly easy to use, has a great look and lets you create an unlimited number of notification bars.
2. Hello Bar (FREE / $29+)

Hello Bar is a hosted notification bar service that aims to convert your visitors into customers.
Once you have signed up for a free account, you will be asked what your goal is. You can choose to grow your email list, drive target to a specific URL, let visitors know about a promotion, make an announcement, allow users to call you in one click or promote your social media accounts.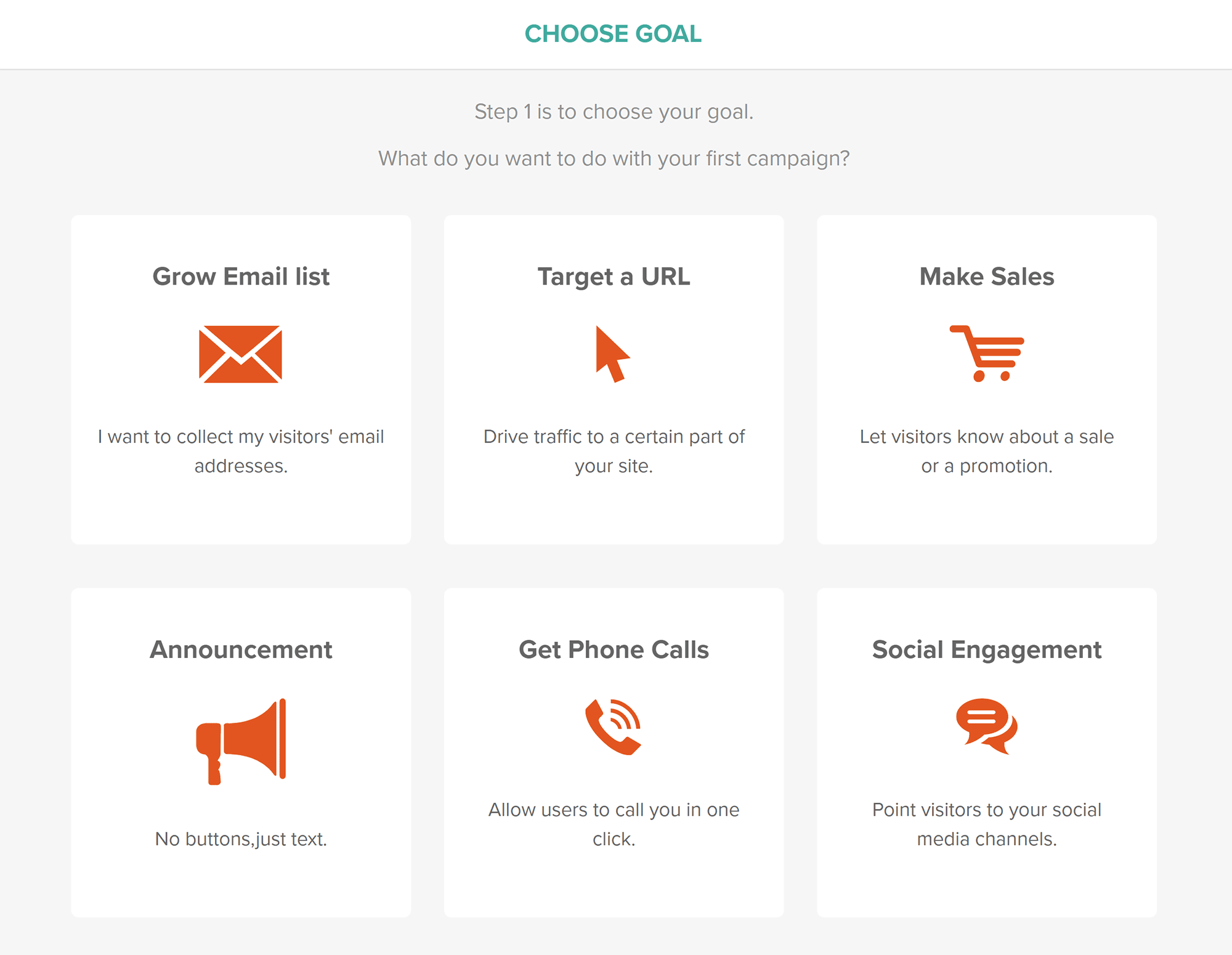 You will then be taken to a customiser that lets you change every part of your notification bar. The text, button, colours and styling, can all be modified.
Dozens of pre-made colour schemes are available for selection, but if you prefer, you can let Hello Bar automatically adjust colours to match the colour scheme on your website.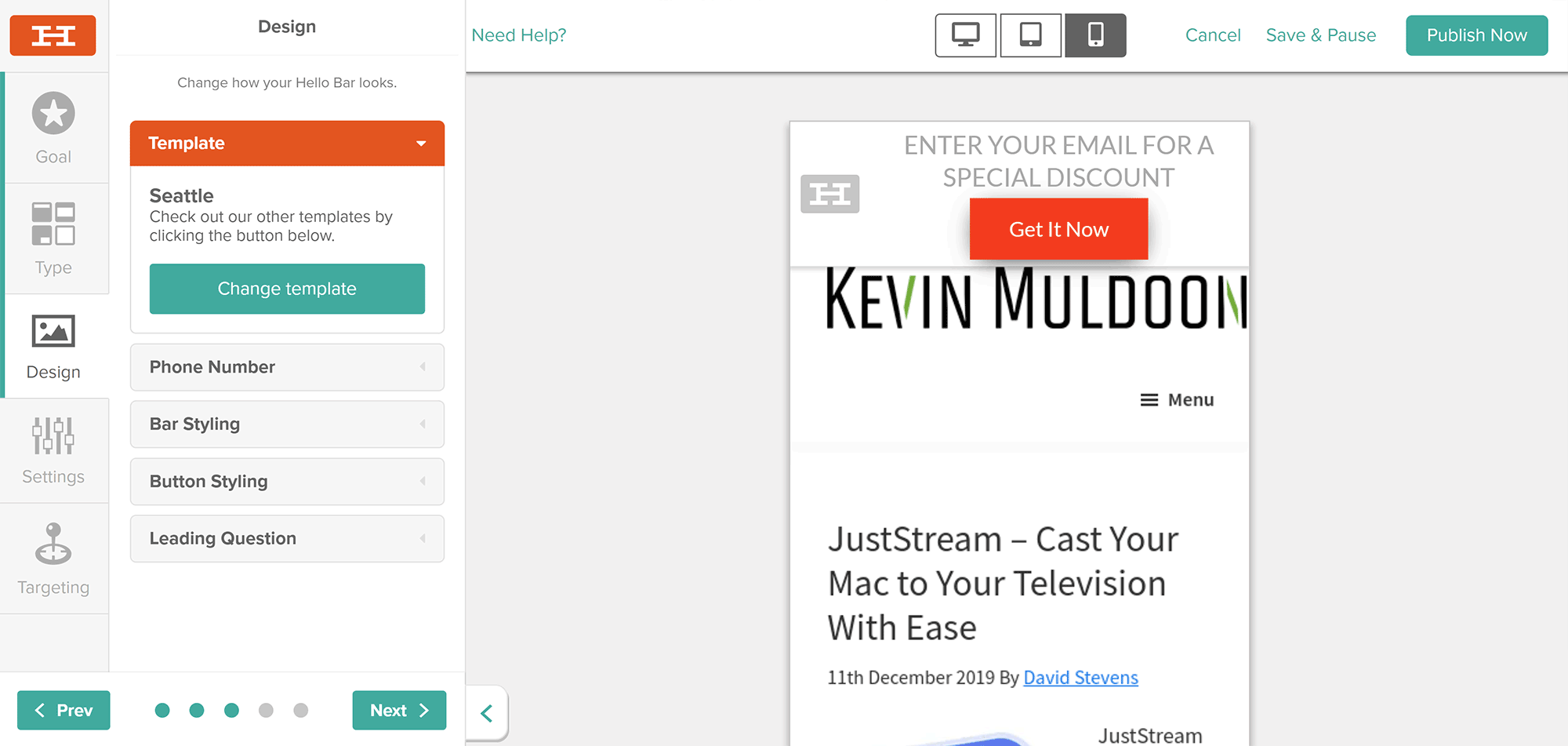 In this area, you can go back and change the goal of your notification bar if you wish. For example, from an announcement to collecting emails. You can also define whether the bar is displayed to everyone, mobile visitors or only those who land on your website home page.
Other settings you can configure include allowing visitors to close the bar, whether there is a delay before it is loaded and whether it is displayed as users scroll down the page.
Buttons are displayed at the top of the customiser to preview your notification bar on desktops, tablets and mobiles.
When you are finished you can save your design or publish it. Once you have published the notification bar, you will be shown how you can install it on your website. HTML code is provided, however if you install the Hello Bar WordPress plugin, all you have to do is copy and paste the Hello Bar site snippet code to activate the bar on your website.
No further options are available in the WordPress plugin. It's merely used as a bridge between your website and the main HelloBar website.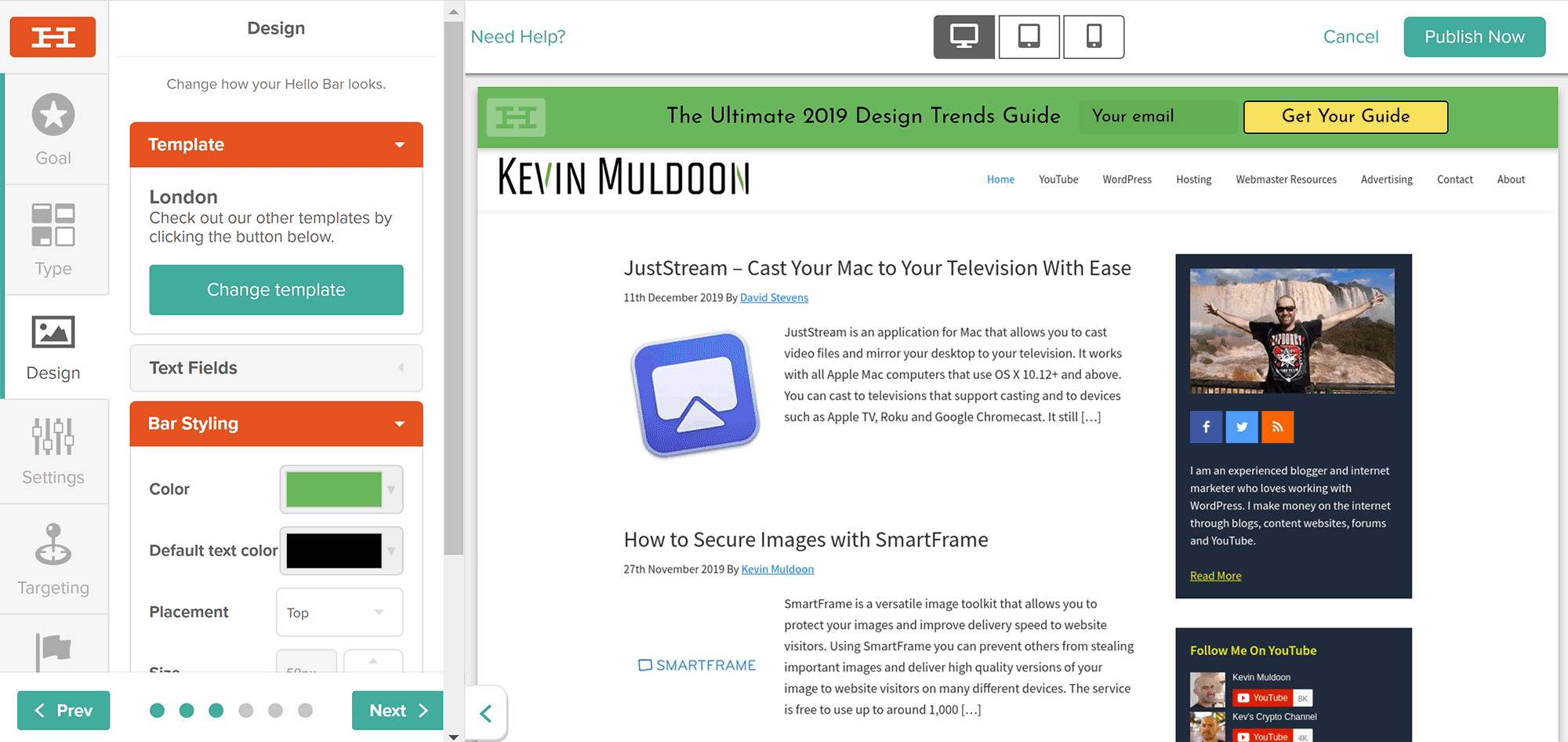 Not everyone will want a hosted notification bar solution, but Hello Bar does offer many advanced features that alternative solutions do not.
Their free plan is suitable for 5,000 views per month and allows up to 10 bars to be created. One A/B split test is allowed too.
Two premium plans are available. You will need to select one of these plans in order to remove the Hello Bar branding from your notification bar.
Upgrading allows an unlimited number of bars to be created and adds advanced design features, targeting features and A/B testing. Integration with third-party services such as Zapier is made available too.
The growth plan costs $29 per month and allows up to 50,000 monthly page views. The elite plan costs $99 per month and allows 500,000 monthly page views.
If you like Hello Bar, you should also check out Sumo. Their Smart Bar works in a similar way and can be displayed at the top or bottom of your pages.
3. WP Notification Bars (FREE / $19+)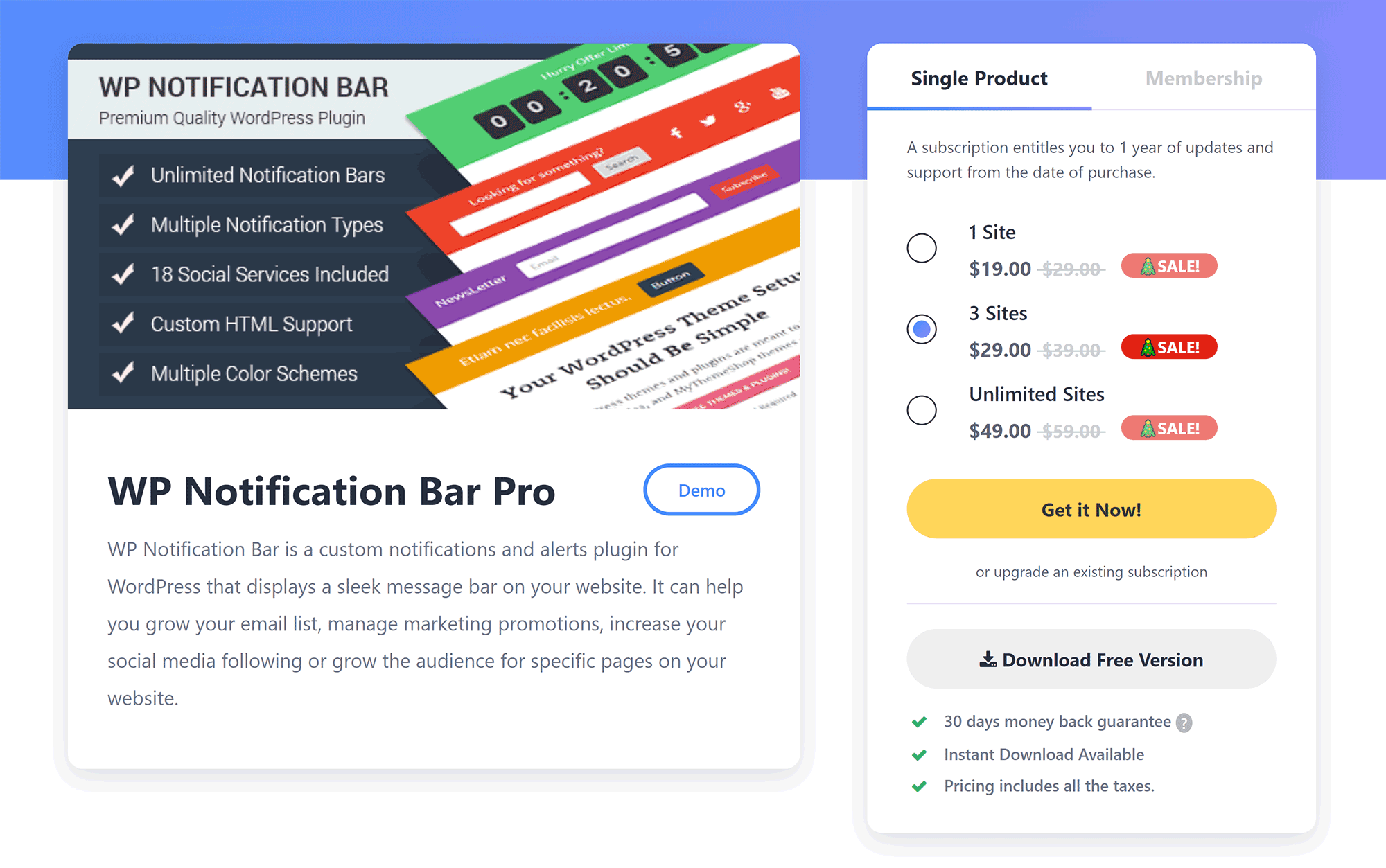 WP Notification Bars is a user-friendly solution that lets you customise the text and colours that are displayed to visitors.
The free version of the plugin is available on WordPress.org.
You can define whether the bar can be closed by visitors, whether it is placed in an absolute or fixed position and what the content width should be.
The content of your message can be added in the content tab. Whilst WP Notification Bars does use a custom post type, unlike Themify Announcement Bar, the WordPress editor is not used. You can, however, just copy and paste what you want into the custom box, including HTML code and shortcodes from other WordPress plugins.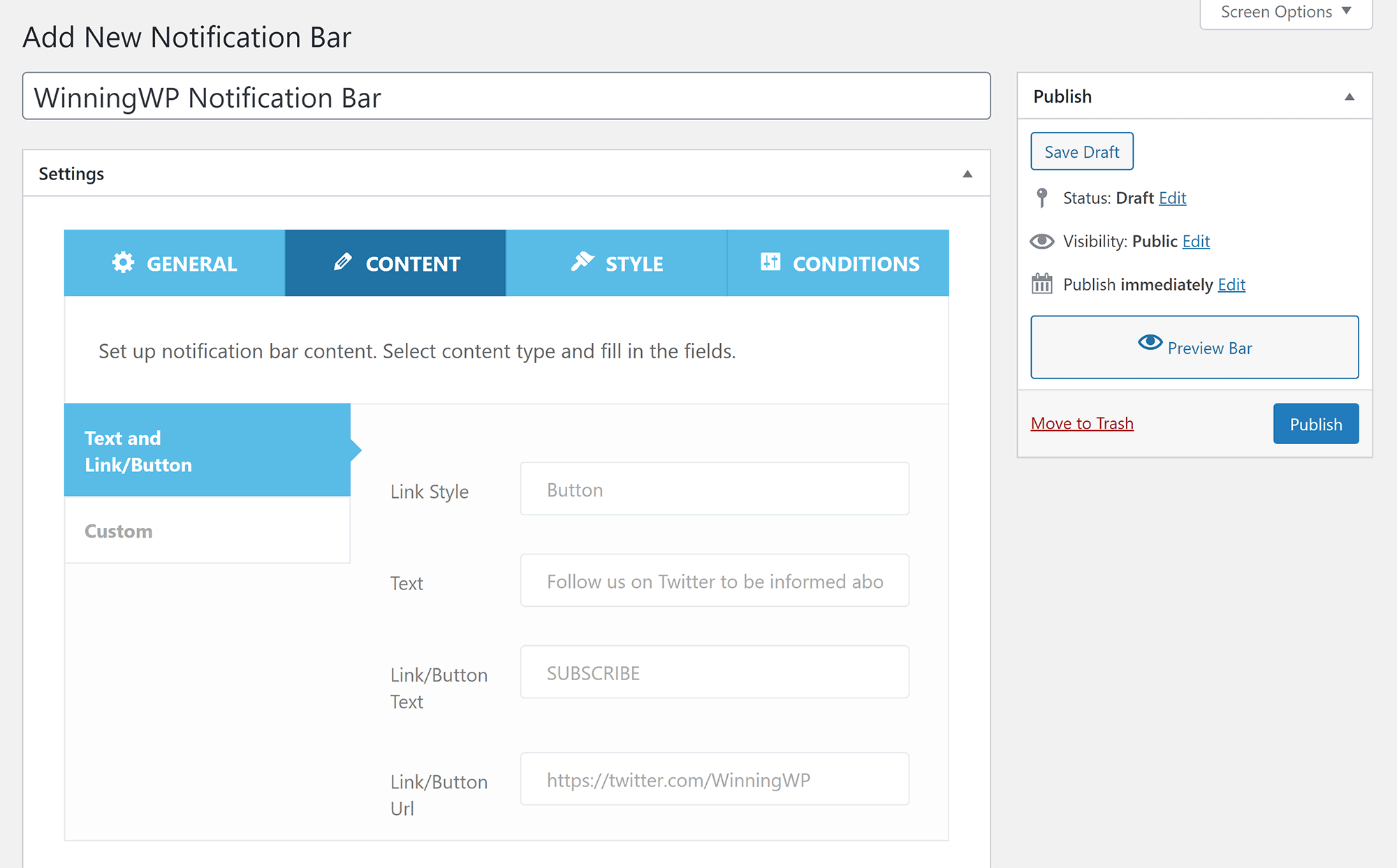 In the style tab, you can set the background colour, text colour and link colour. The font size can be defined too.
One feature I love about WP Notification Bars is the ability to control who sees the bar.
You can specify whether the bar is, or is not, displayed on the home page, posts or pages. These same settings can be applied to visitors from Google and Facebook.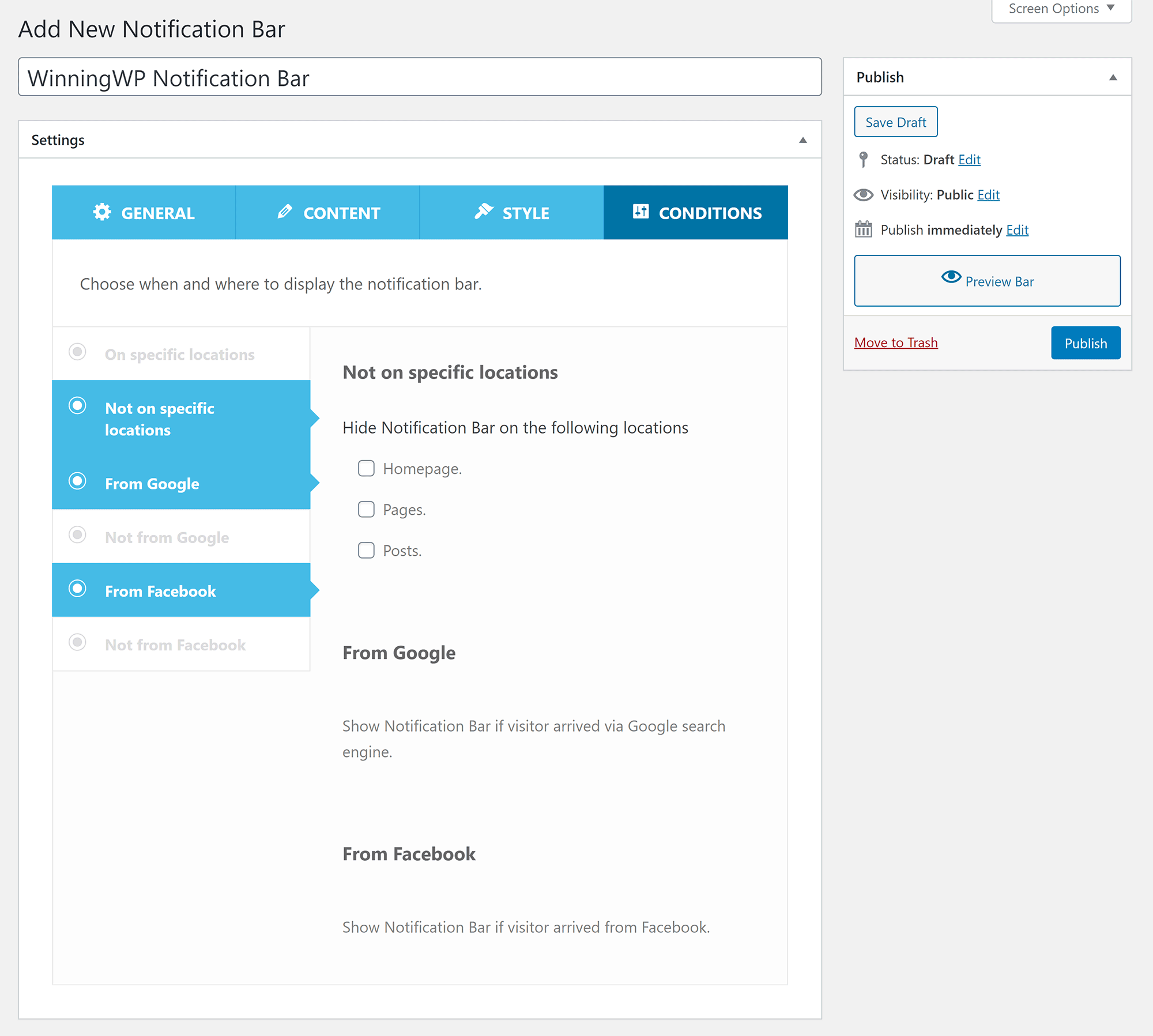 WP Notification Bar Pro currently retails at $19 for a single website license, $29 for three websites and $49 for an unlimited license.
Alternatively, you can gain access to the pro version by purchasing a MyThemeShop membership. Retailing at $8.29 per month, the membership gives you access to 77 premium WordPress themes and 18 premium WordPress plugins.
The pro version adds a lot of additional functionality. This includes A/B split testing, the ability to import demo content, support for 18 social media services, search forms, newsletter forms, countdown timers, analytics, videos and more.
It also expands the number of available conditions by giving you the option to restrict the bar to mobile visitors.

The core version of WP Notification Bars has everything you need to display messages via a notification bar, however the pro version takes everything to the next level and is available for only $19.
4. Top Bar (FREE / $16+)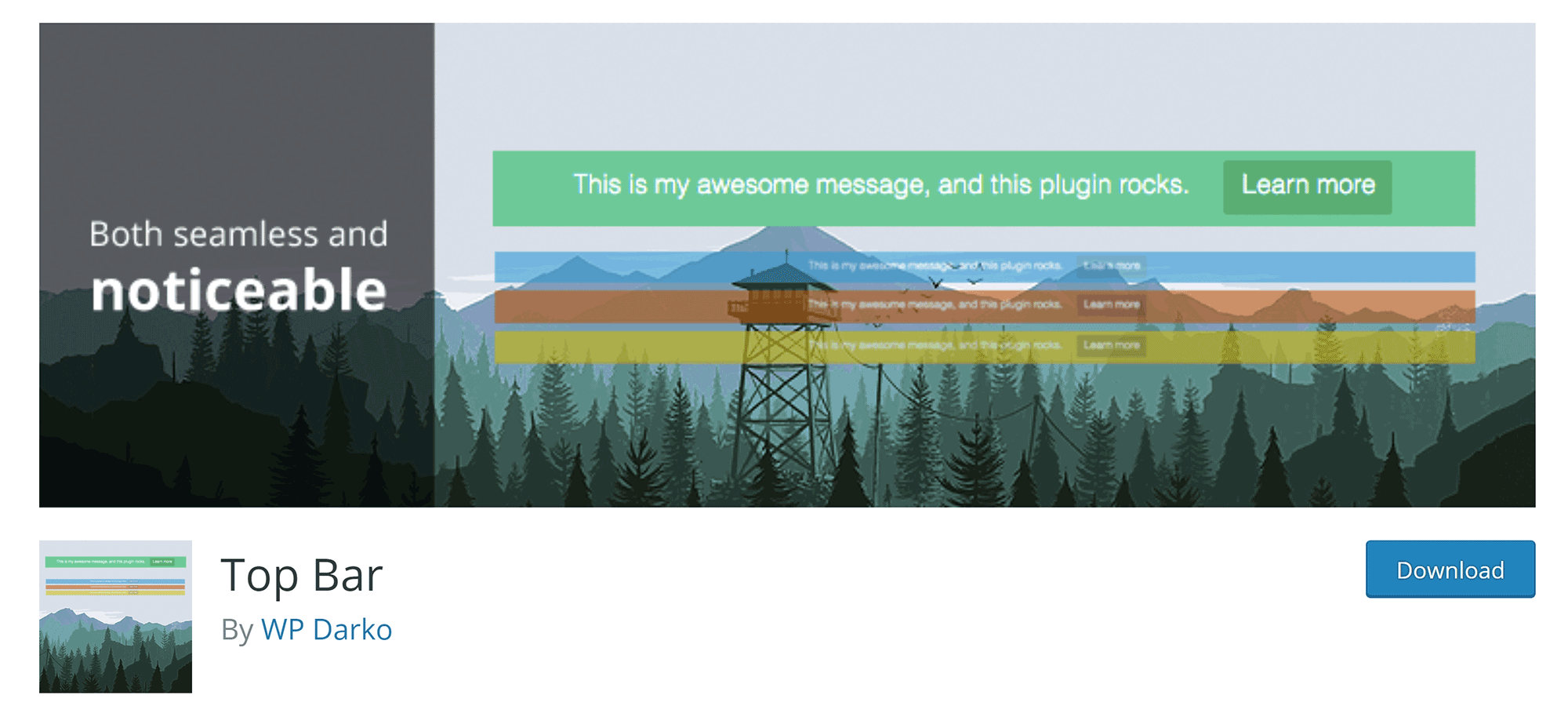 If you are looking for simplicity, Top Bar is for you. This basic notification bar WordPress plugin places all customisation options and settings in one page.
In the settings page, you can define whether the bar is active and whether the bar remains fixed when users scroll down the page.
The background colour of the bar can be changed too, but there is bizarrely no option for the colour of the font colour so you need to ensure the background colour works well with white text.
Your text message and button information are also configured in this main settings page.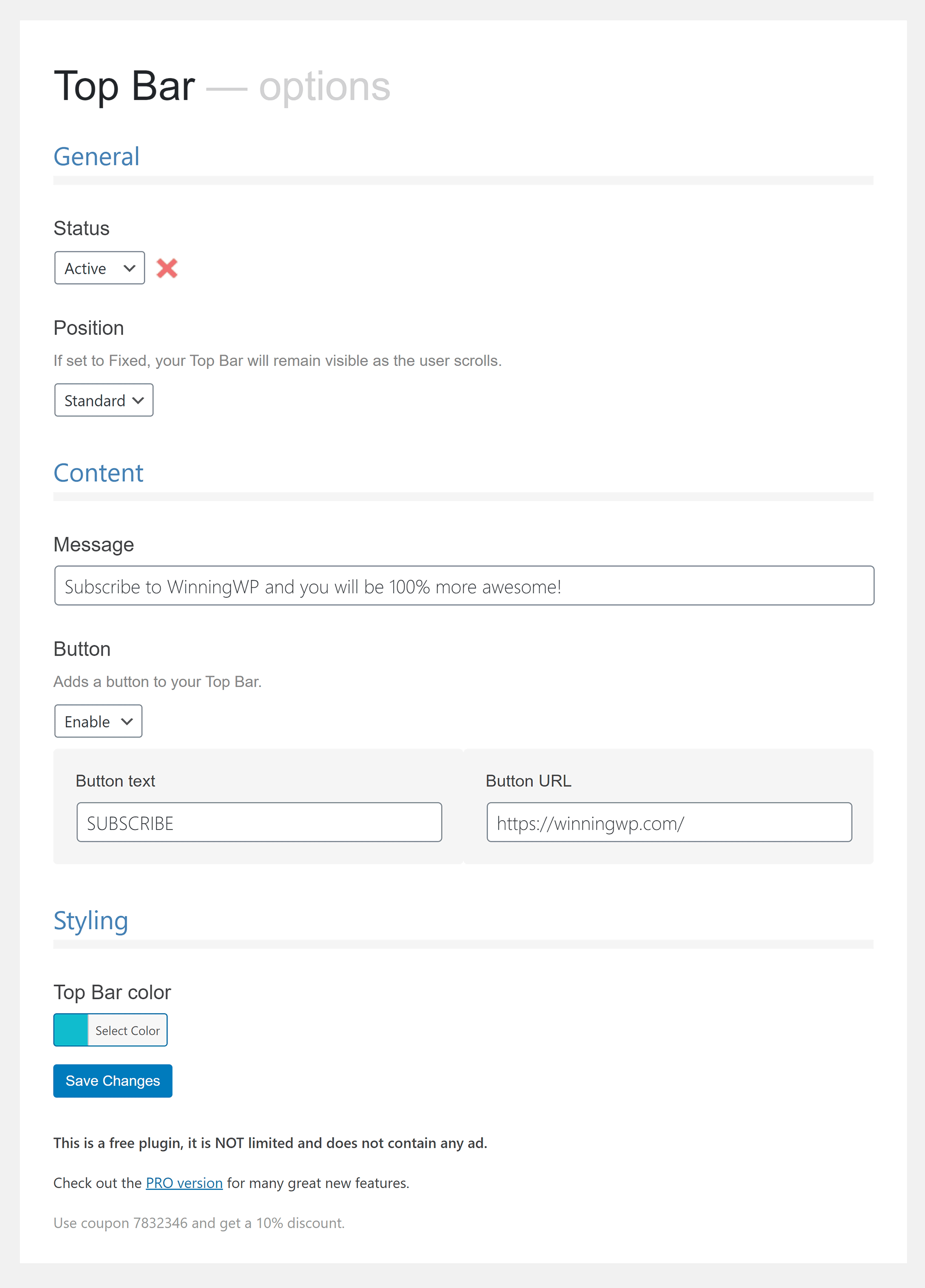 The free version of Top Bar states "This is a free plugin, it is NOT limited and does not contain any ad". Whilst I do appreciate the plugin not displaying any advertisements, I do recognise the plugin is quite basic when compared to alternative solutions.
For example, you can only create one notification bar in the settings area and you need to upgrade to Top Bar Pro in order to make the notification bar have a mobile-friendly responsive design (it's the only notification bar solution in this list that is not natively responsive). You also need to upgrade to give visitors the option of closing the bar.

Top Bar Pro costs $16 per year for a single website license and $39 per year for an unlimited website license.
Upgrading allows you to set a delay until your notification bar appears to visitors and you can restrict the bar to guests or registered users.
The pro version of Top Bar also lets you display the bar at the bottom of the page and there are a couple of additional styling options such as changing the font size.
Styling customisation is, however, still quite limited, but this is something I am willing to forgive as the notification bars Top Bar produces look so great.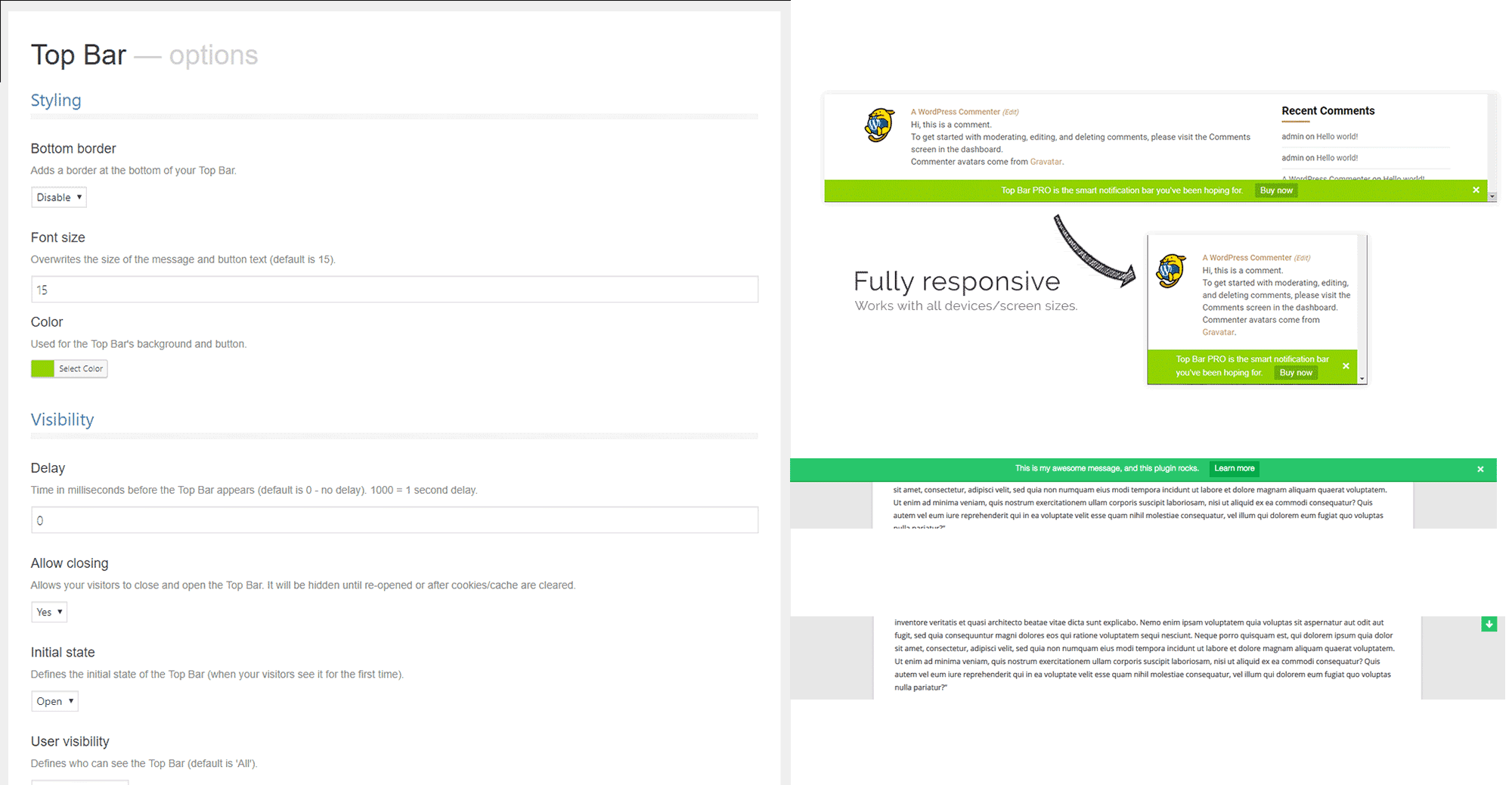 Some people may be frustrated by the limitations of the free version of Top Bar, but I quite like the simplicity of it as I tend to just display simple messages via notification bars. Plus these limitations are easy to forgive as the notification bar looks great.
The pro version is fairly priced and has some interesting features that improve the plugin considerably, however I do feel there are better alternatives in the premium market.
5. Easy Notification Bar (FREE)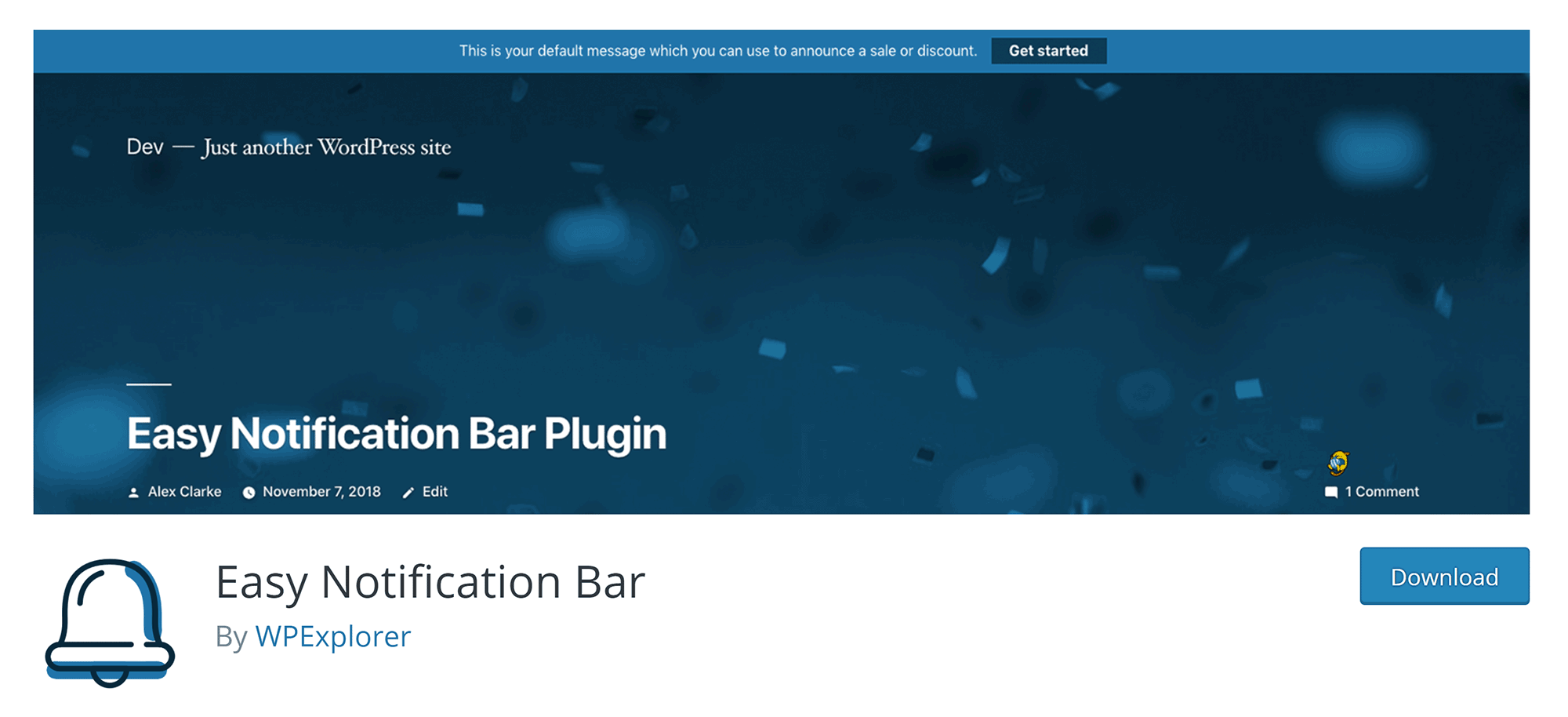 Another straightforward notification bar I love is Easy Notification Bar.
Developed by WP Explorer, this WordPress plugin is one of the few notification bar solutions that places all settings in the WordPress theme customiser. This means that any changes you make can be viewed in real-time.
You can change the message, background colour, text colour, text alignment and text size. The button text and link can be defined too. If you like, you can make the button link nofollow and open the page in a new tab.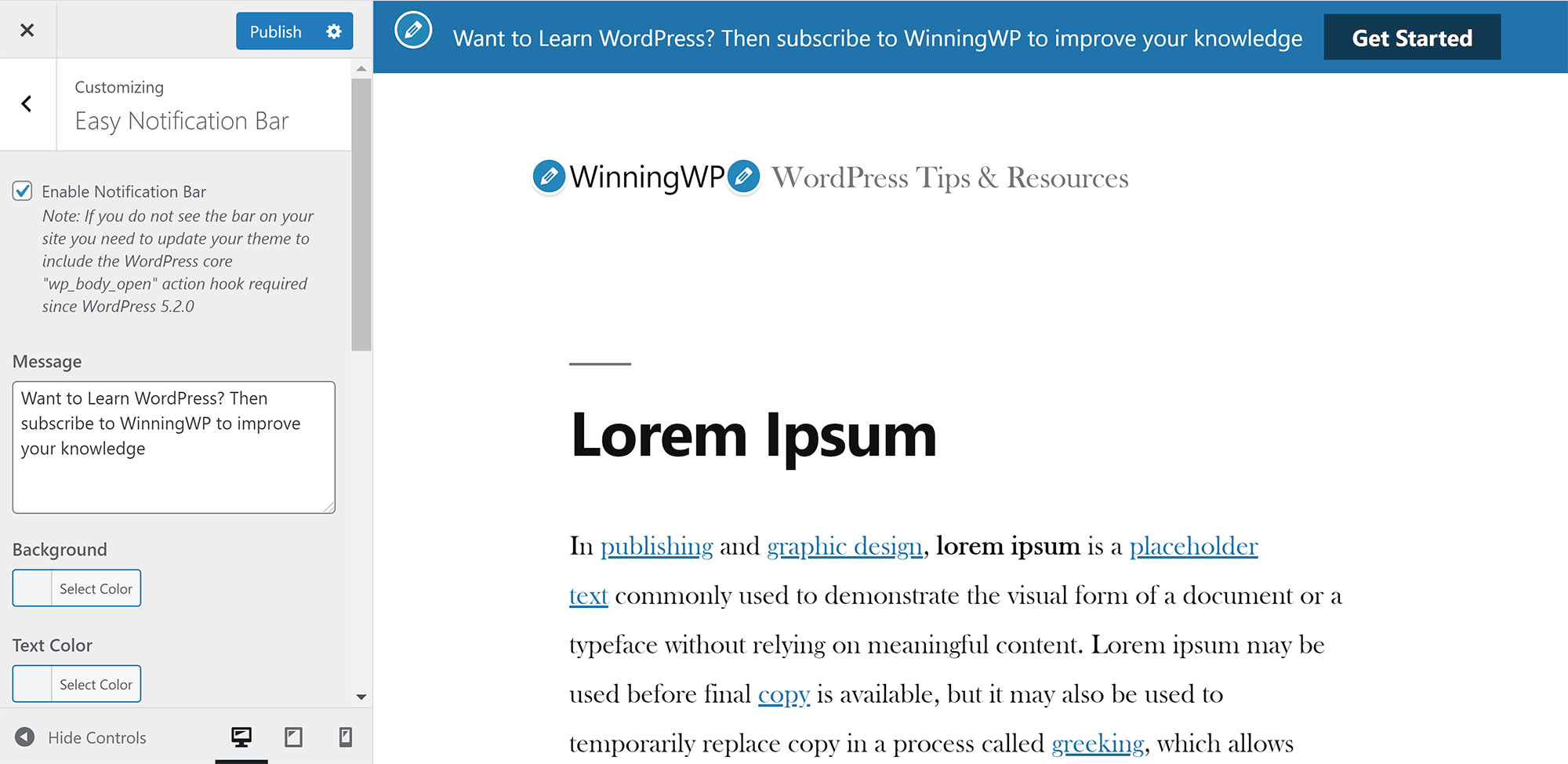 One thing you cannot currently change is the colour of the button.
Instead, when you change the background colour, the plugin will change the button colour to a darker colour so it stands out.
This actually works really well in practice, but I would still love to see the option of defining my own button colour.

Easy Notification Bar is undoubtedly a simple notification bar solution. It does not allow visitors to close the bar and it lacks the ability to lock the bar to the top of the page as visitors scroll.
If, however, you just need to display a text message and button at the top of your pages, Easy Notification Bar is a great solution and you will love how it integrates with the WordPress customiser.
6. Apex Notification Bar (FREE / $22)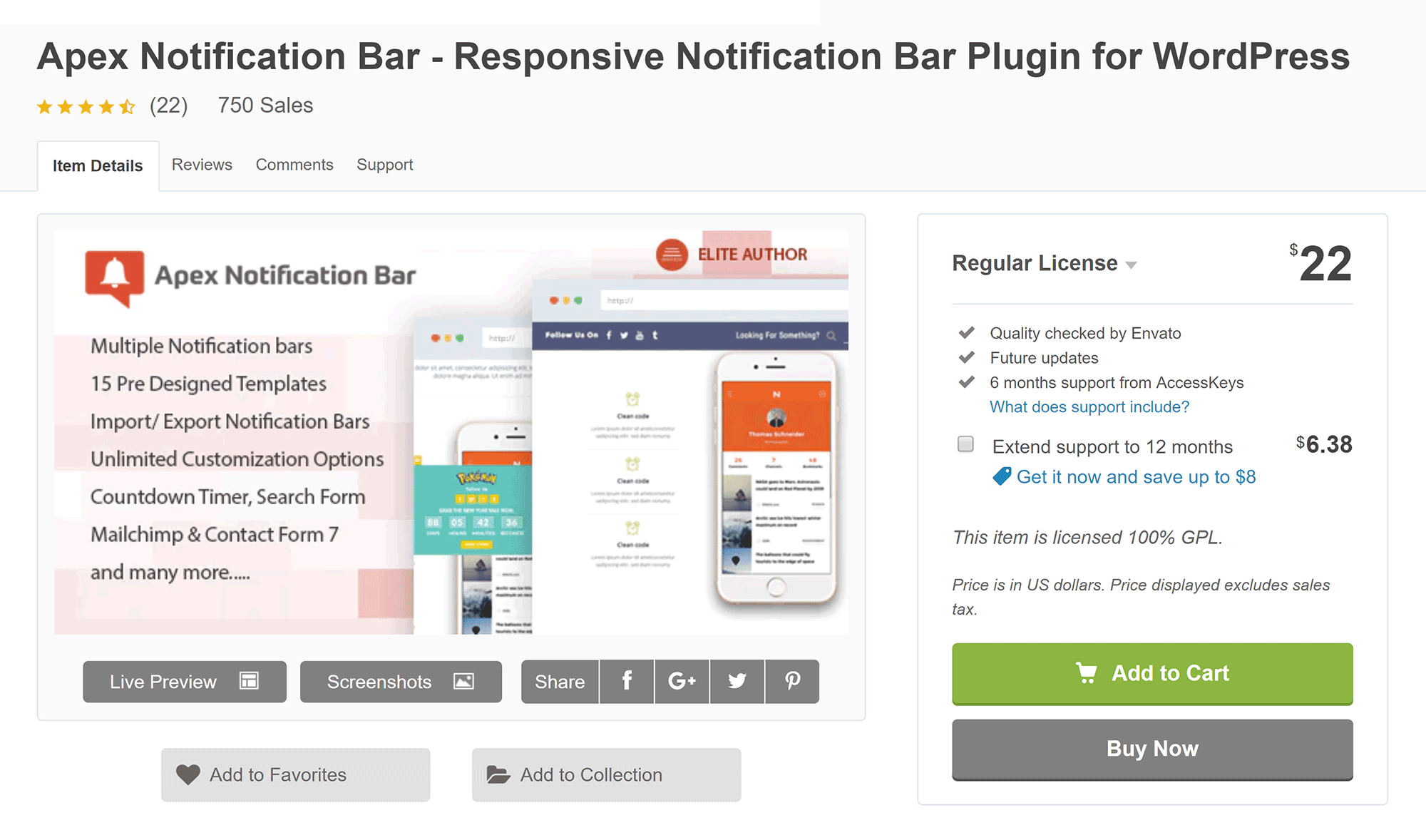 If you want full control over how your notification bar is structured, check out Apex Notification Bar. Both the lite and full version of the plugin allow you to style your bar as you see fit.
In the general settings area of Apex Notification Bar Lite, you can enable and disable the notification bar, enable the bar for mobile visitors and position the bar at the top of the page, bottom of the page or use an absolute position.
If you wish, you can choose to only show the notification bar on your home page.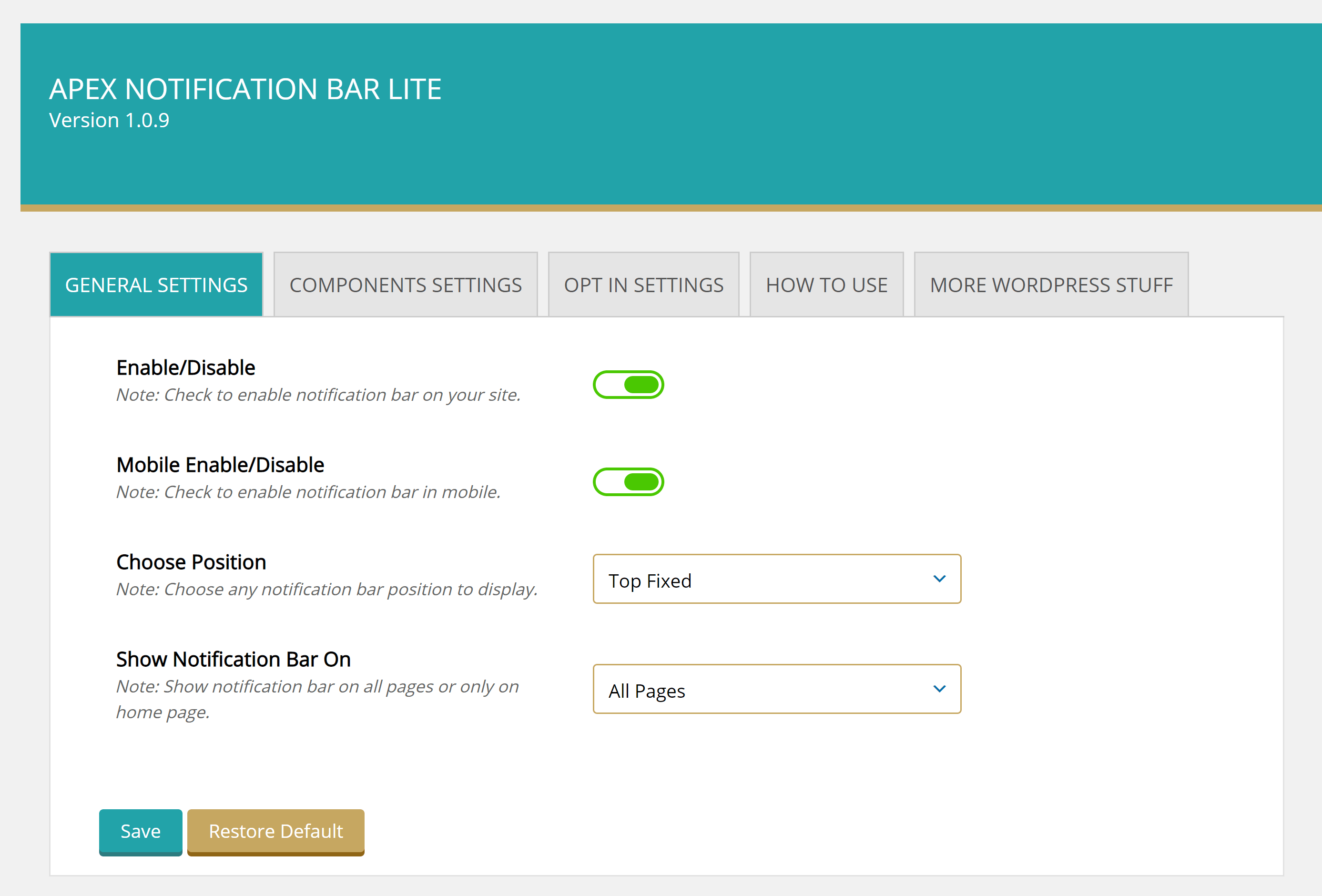 Most plugin settings are in the component settings area.
The bar layout tab allows you to select from one of five colour schemes. You can customise the styling yourself in the next tab.
Every aspect of the bar and button design can be modified. This includes colours, fonts, font sizes and even link colours and hover colours. My only gripe is that when you choose to customise styling yourself, you start with a blank canvas. Therefore, you need to go in and modify every single colour.
The components setup tab is where you customise your notification bar content. You can choose to use text/HTML, an opt-in form, post title, search form or social media icons.
The last tab allows you to define visibility. In this area, you can select to show or hide the bar after a period of time or always show the bar. You can also allow visitors to close the bar.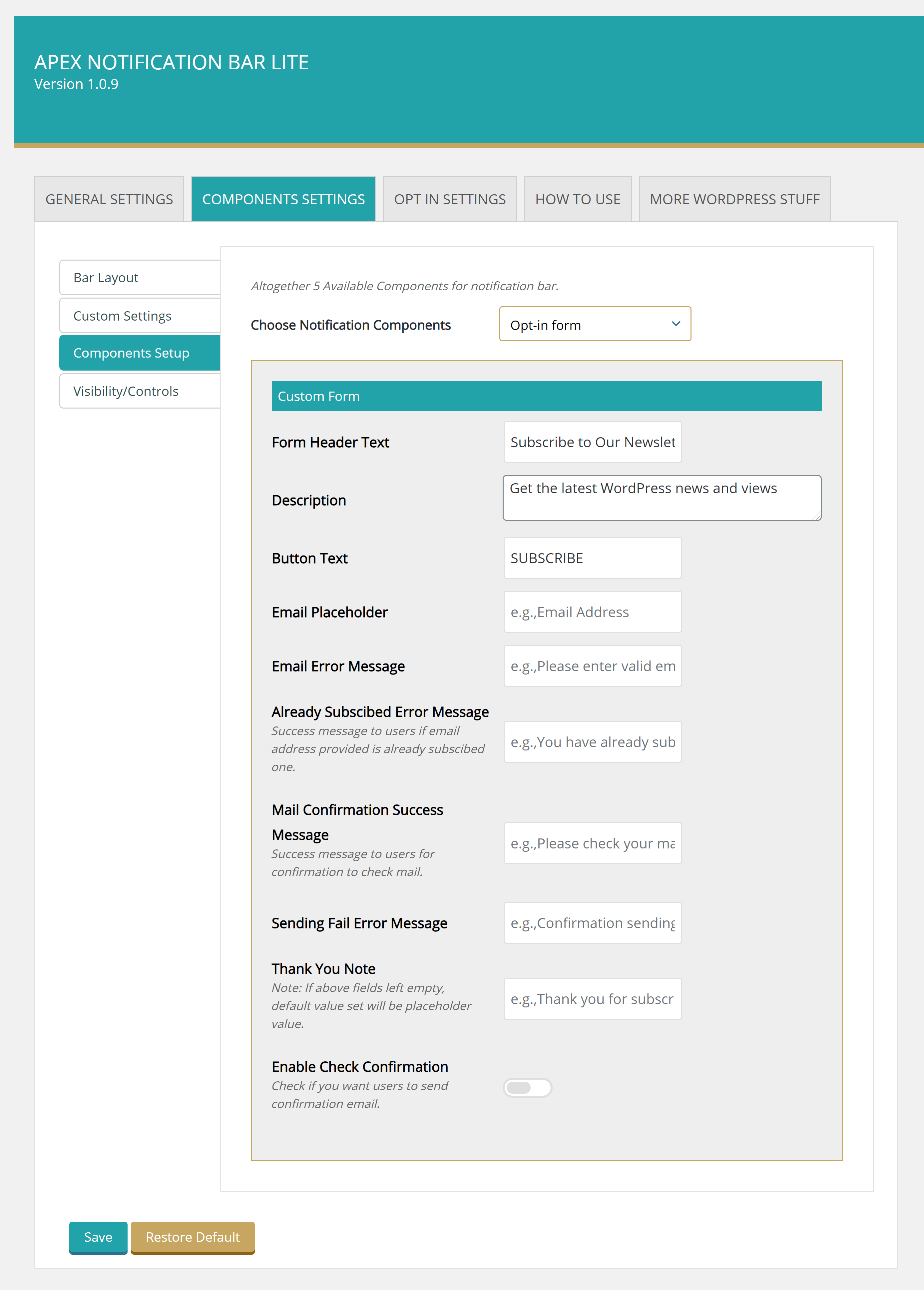 The full version of Apex Notification Bar, which retails at $22 on CodeCanyon, adds dozens of useful features.
It features 15 pre-made templates and a further 20 templates with a christmas and new year theme. The pro version lets you place the bar at the top, bottom, left and right of the page. If you want, you can display multiple bars on a page.
When you upgrade, you truly open up what you can do with Apex. Additional functionality includes custom logos, custom image backgrounds, custom icons, Twitter feeds, RSS feeds, countdown timer, video popups, effects, email marketing integration and more.
Another cool feature is the ability to make the bar larger. You can take advantage of this to display maps, banners, videos and widgets.

Apex Notification Bar is a great choice for those of you who want more control over what is displayed in your notification bars.
Apex Notification Bar Lite has a lot of features that other developers charge for, whilst the full version adds dozens of additional features that help you integrate rich media.
One to check out.
Honourable Mentions
During our research, we came across many useful notification bar solutions that just missed our list.
WPFront Notification Bar is a fantastic free solution that comes with dozens of options. It gives you full control over your bar colour scheme, where the bar is displayed and how the bar operates.
Another good solution is HashBar. The plugin has great support for WordPress page builders and is a good choice for displaying an email sign up form.

If you use MailChimp to manage your email lists, you will love MailChimp Top Bar. This addon for Mailchimp for WordPress lets you add a customisable MailChimp sign up form to the top of your pages.
My final recommendation is Advanced Floating Content. In addition to displaying a bar at the top and bottom of your pages, the plugin lets you float menus and bars in a number of different areas.
Final Thoughts
If you are looking for simplicity, I recommend trying Top Bar and Easy Notification Bar. There are few bells and whistles, both both WordPress plugins will help you publish a professional looking notification bar.
Announcement Bar and WP Notification Bars bring more advanced features to the table and Apex Notification Bar gives you even more control.
Hello Bar is a great solution too, but be aware that you will need to pay a $29+ monthly fee if you generate over 5,000 monthly page views.
Used any of these WordPress notification bar plugins? Which do you think is best?
Original post written by Shaun Quarton. Updated by Kevin Muldoon – a professional blogger and WordPress enthusiast with a passion for technology.
Keep reading the article at WinningWP. The article was originally written by Kevin Muldoon on 2020-02-16 05:38:49.

The article was hand-picked and curated for you by the Editorial Team of WP Archives.