Home /
Plugins /
Top 25 Best Free WordPress Plugins for Every Website (2021)
By Colin Newcomer
Last updated: May 15, 2021
You've probably heard the old adage 'there ain't no such thing as a free lunch'. But, as much as I love Heinlein, in the world of WordPress, there actually is!
Without looking too hard, you can find heaps of amazing free WordPress plugins that add all sorts of helpful functionality to your WordPress site. Such plugins can help you to create better content, market your site more effectively, and keep it loading quickly and humming along smoothly… All without you needing to spend a dime.
As an ode to the generous developers behind these plugins — and to help you to find some great free WordPress plugins for your site — we've collected what we consider to be the best free WordPress plugins of all time, based on both personal experience and the user reviews/their popularity at WordPress.org.
We'll divide these plugins into four broad categories. Plugins that are good for:
Whether you're a casual user or someone who likes playing around with custom fields and post types, you should find some great free options on this list.
Let's get started…
Best Free WordPress Plugins for Creating Content of All Types
Whether you want to create a contact form, build more beautiful pages, or add eCommerce functionality to your WordPress site, these plugins can help.
1. Ninja Forms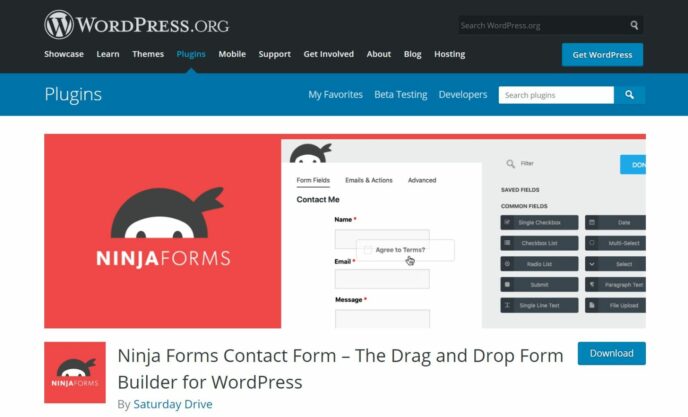 Every website needs a contact page, and, when it comes to contact forms (or other types of forms), Ninja Forms is one of the best free options you'll find. This is probably why it's active on more than a million websites.
It features a beginner-friendly drag-and-drop interface, and AJAX form submission so people can submit a form without a page reload.
And, if you ever feel limited by the (generous) free core version, you can always get extra functionality with Ninja Forms' huge library of premium extensions.
WPForms is also another great free option for forms — it really just depends on which interface you prefer. I like Ninja Forms' interface a little bit more, which is why I chose to feature it.
2. Elementor