Home /
Plugins /
Top Seven Best Google Analytics Plugins for WordPress (2020)
By Colin Newcomer
December 29, 2019
If you want to understand what visitors are doing on your website and where they came from, you need a web analytics tool. And when it comes to web analytics, there's one name that dominates the market — Google Analytics.
According to W3Techs, Google Analytics is used by 85.1% of all the websites with a known analytics tool. So basically, almost every website that you visit is probably using Google Analytics.
If you want to have your WordPress site join the club, there are two basic routes that you can follow to add Google Analytics to your site:
You can manually add the tracking code to your site.
You can use a Google Analytics plugin for WordPress.
The benefit of the second approach is that, in addition to making it easy to add the tracking script, most WordPress Google Analytics plugins also help you work with Google Analytics in other ways, like viewing your website analytics inside your WordPress dashboard and configuring more advanced tracking methods.
As the title of this post suggests, we're focused on the second approach in this post. Below, I'll share the seven best Google Analytics plugins for WordPress and help you pick the best one for your needs.
Active on over two million WordPress sites, MonsterInsights is the most popular Google Analytics plugin at WordPress.org. It comes from Syed Balkhi and Awesome Motive, who are probably best known for WPBeginner.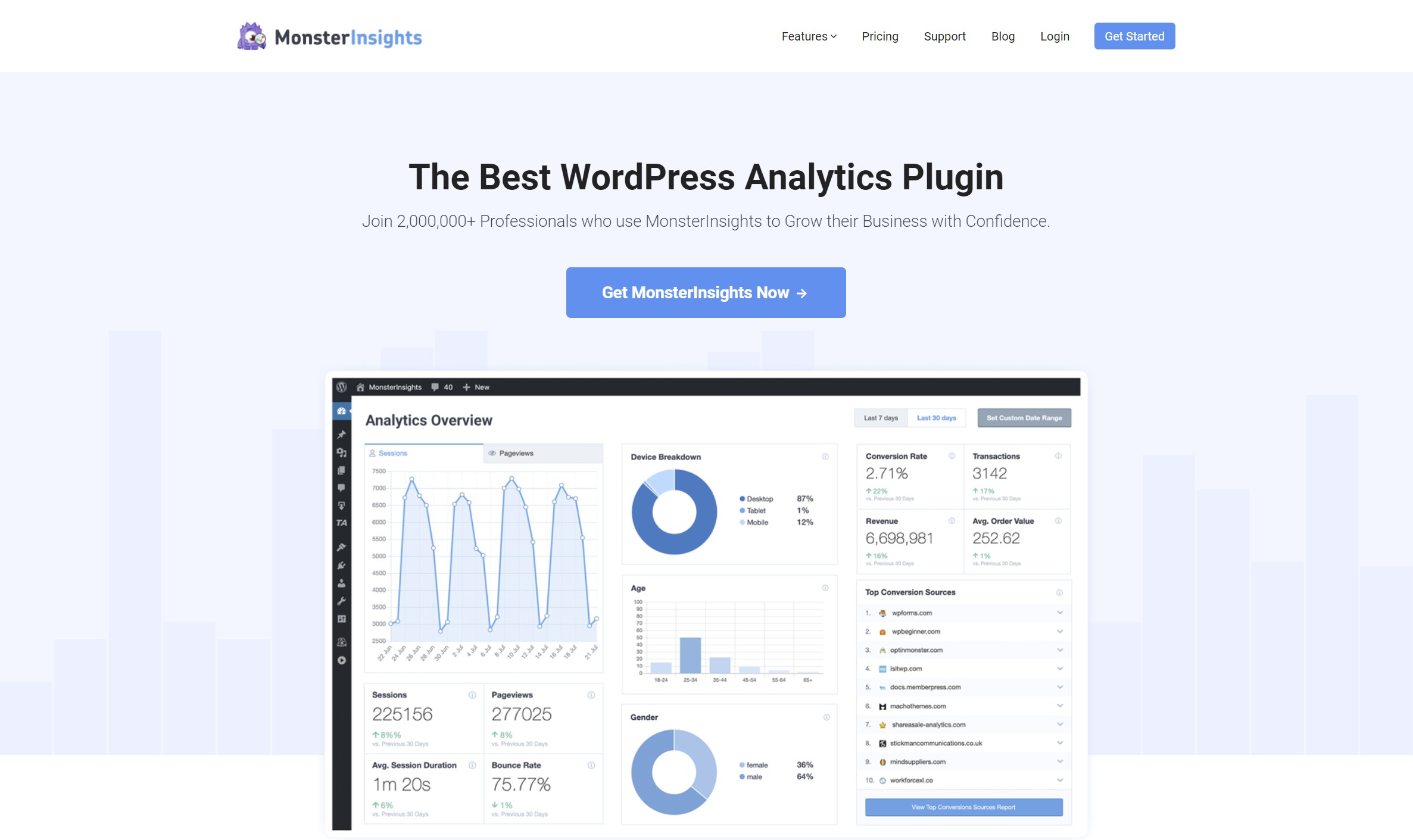 MonsterInsights does several different things to help you work with Google Analytics on WordPress. It:
Helps you add the Google Analytics tracking script to your site without needing to edit any code.
Lets you see Google Analytics data inside your WordPress dashboard.
Lets you set up more advanced tracking, like tracking link or button clicks.
Once you set it up, you'll be able to see stats for
[…]
This article was written by Colin Newcomer and originally published on WinningWP.