Home /
Plugins /
Top Six Best Learning Management System (LMS) Plugins for WordPress (2020)
By Colin Newcomer
Last updated: November 21, 2020
Searching for the best WordPress learning management system plugin?
It's never been easier to launch your own online course, and the popularity of learning management system plugins, or LMS plugins for short, is a big part of that. Thanks to these plugins, you don't need to be some tech genius to create your own course website — all you need is the right tool and you're ready to start sharing your knowledge online.
People want to consume your knowledge, too! Udemy, one of the most popular online course providers, has over 40 million students who have collectively enrolled in over 245 million courses.
However, when you use platforms such as Udemy, you have to play by someone else's rules. Most course providers prefer having full control over their course's earnings, management, and promotion, which is why using WordPress and one of these plugins makes such an attractive approach.
Your course is one-of-a-kind, though, so you need to make sure you pick the plugin that has all the features you need and will create a great learning experience for your students. To help you make that decision, I've rounded up the top seven WordPress LMS plugins.
Whether you just want a simple solution to create some basic courses or if you need heavy-duty quizzing and grading, you'll be able to find the right plugin on this list. Let's get started!
What to Look for in a WordPress Learning Management System Plugin
Picking a WordPress LMS plugin is a big decision. Once you choose a plugin, you're going to invest a good chunk of time into adding all of your course content, configuring the plugin's many settings, etc. For that reason, there's always going to be some degree of "lock-in" with any plugin that you choose.
Basically, you want to make sure you make the right decision from day one and you don't find out later that you forgot about some key feature that your course needs. While you can change learning management system plugins in the future, it's going to require a lot of manual effort (or you're going to need to pay a lot of money for someone to do it for you).
So — what are the important questions that you should consider when choosing an LMS plugin? Well, I can't cover all the specifics that might apply to your course, but I can highlight some of the biggest questions that will apply to most courses:
How will you present your course content? For example, some plugins are better than others at displaying video content, which is important if you're creating video lessons. Another important question is the lesson content editor — can you design courses using drag-and-drop or will you use the native WordPress editor?
Are you using quizzes and assignments? Consider features such as quiz question types, retakes, grades, assignment uploads/feedback, etc. Some online courses won't use any of these features, while others will rely on them heavily.
How can you monetize courses? Consider features such as one-time vs recurring payments, discounts, trial periods, etc. Additionally, some LMS plugins offer built-in Stripe/PayPal payment gateways while others rely on WooCommerce (and some give you the option to choose).
How will you restrict course content? For example, should your site unlock all the course content right away, or do you want to "drip" it out over time? Not all LMS plugins support content dripping. What about video content? Can you restrict the video files themselves so people can't share them? Or is your only option to embed videos from third-party sources?
Does it have the right integrations? Consider any important integrations that you need, such as BuddyPress (to create a social community around your course), bbPress (for a course forum), marketing tools (or Zapier), etc.
Again, this is not a complete list of every single feature to consider. But it's a good place to start as you read through the seven plugins below.
LearnDash ($159)
LearnDash is a popular, all-in-one LMS plugin for WordPress. It comes with an impressive range of features that make it a good choice for both universities and training organizations, and also for people looking to sell their courses to the public.
One great thing about LearnDash is that it integrates detailed course functionality and a drag-and-drop course builder with built-in payment and subscription management.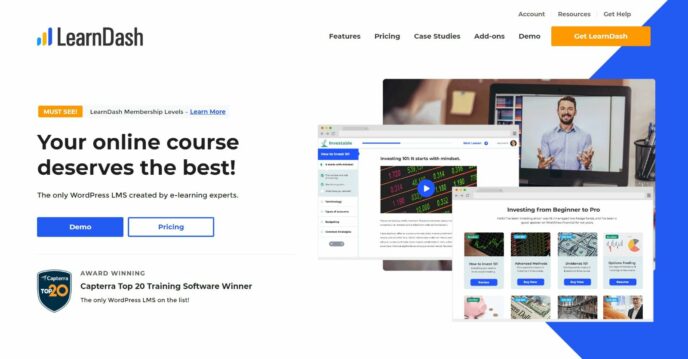 To build your courses, you'll use an intuitive drag-and-drop builder that makes it easy to create your entire course plan, complete with separate lessons and topics. You can also require prerequisite courses or quizzes to be completed before someone can start a certain course.
This builder integrates perfectly into the new WordPress block editor, which lets you use a familiar interface: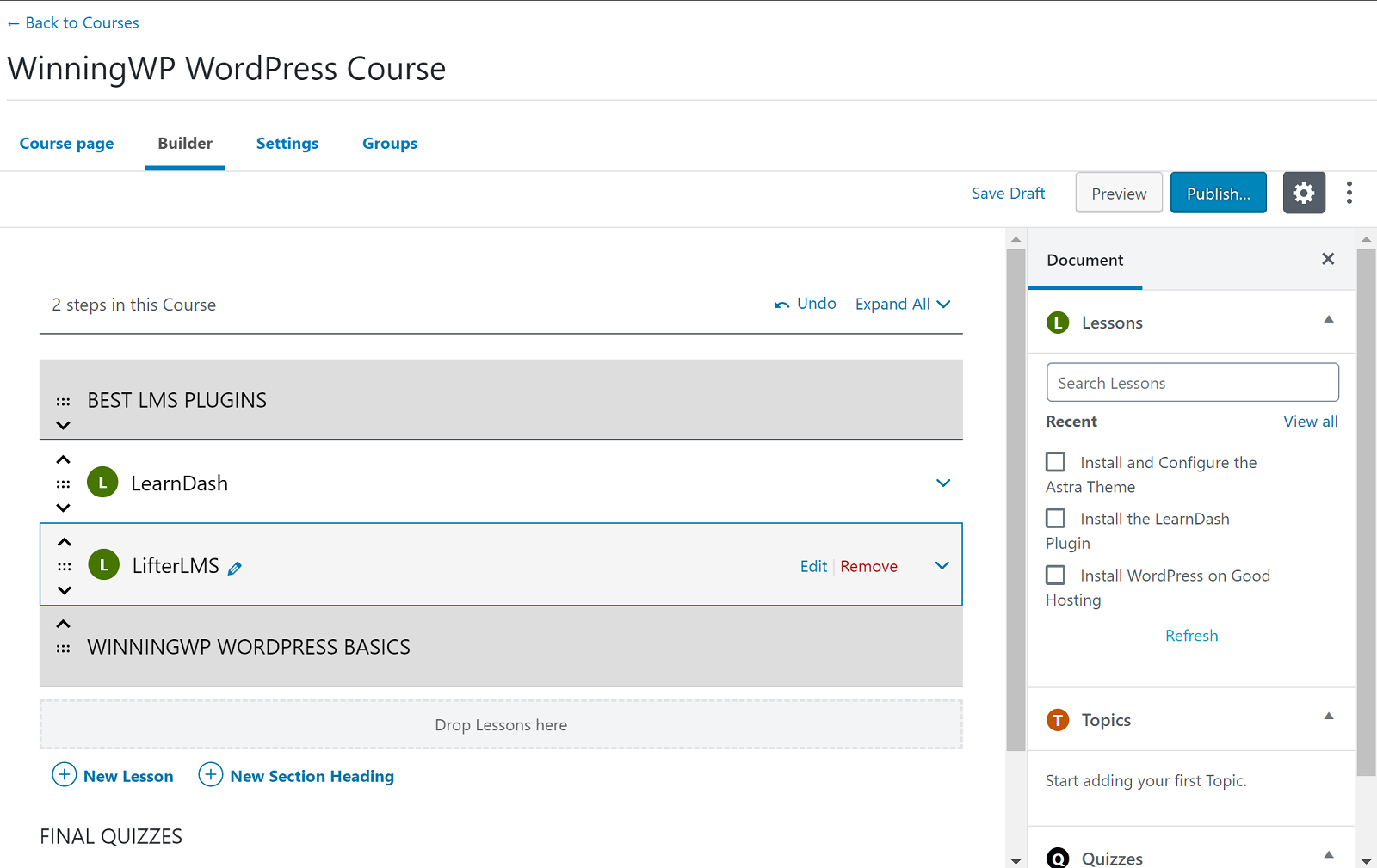 You can include multimedia in your course content, along with quizzes (eight different question types) and course forums. And the latest version — LearnDash 3.0 — includes a bunch of course templates and a distraction-free 'Focus Mode' to help present your course content in the most effective way possible.
Finally, to stop people from binging your course content in one sitting, you can drip-feed it over time.
From the back end, teachers get a thorough break-down of quiz performances. They can review individuals' answers, or check the overall group's progress by looking at statistics by question. And, if you want heavy-duty reporting, you can use the ProPanel Enhanced Reporting feature, which lets you monitor activity in real-time. This makes a good option for educational institutions.
Finally, there are also all the important monetization options. Without needing an external tool, you can charge one-time fees, or set up recurring subscription payments.
There are also some creative payment structures. For example, you can sell:
Memberships that give people access to all of your courses.
Bundles that include access to multiple courses at the same time.
Bulk course licenses that let businesses and organizations purchase your courses for all of their staff members.
? Read our full LearnDash review. You can also read our Teachable vs LearnDash comparison to see how it stacks up against a SaaS alternative.
Official website
LifterLMS (FREE)
LifterLMS comes in a free core version, and also offers a bunch of premium add-ons and bundles. Depending on your needs, it can either be quite affordable… or quite pricey.
It's highly regarded in the WordPress community, making it a great option for powering your courses. In fact, WP101 recently migrated its courses to LifterLMS — that's quite the endorsement!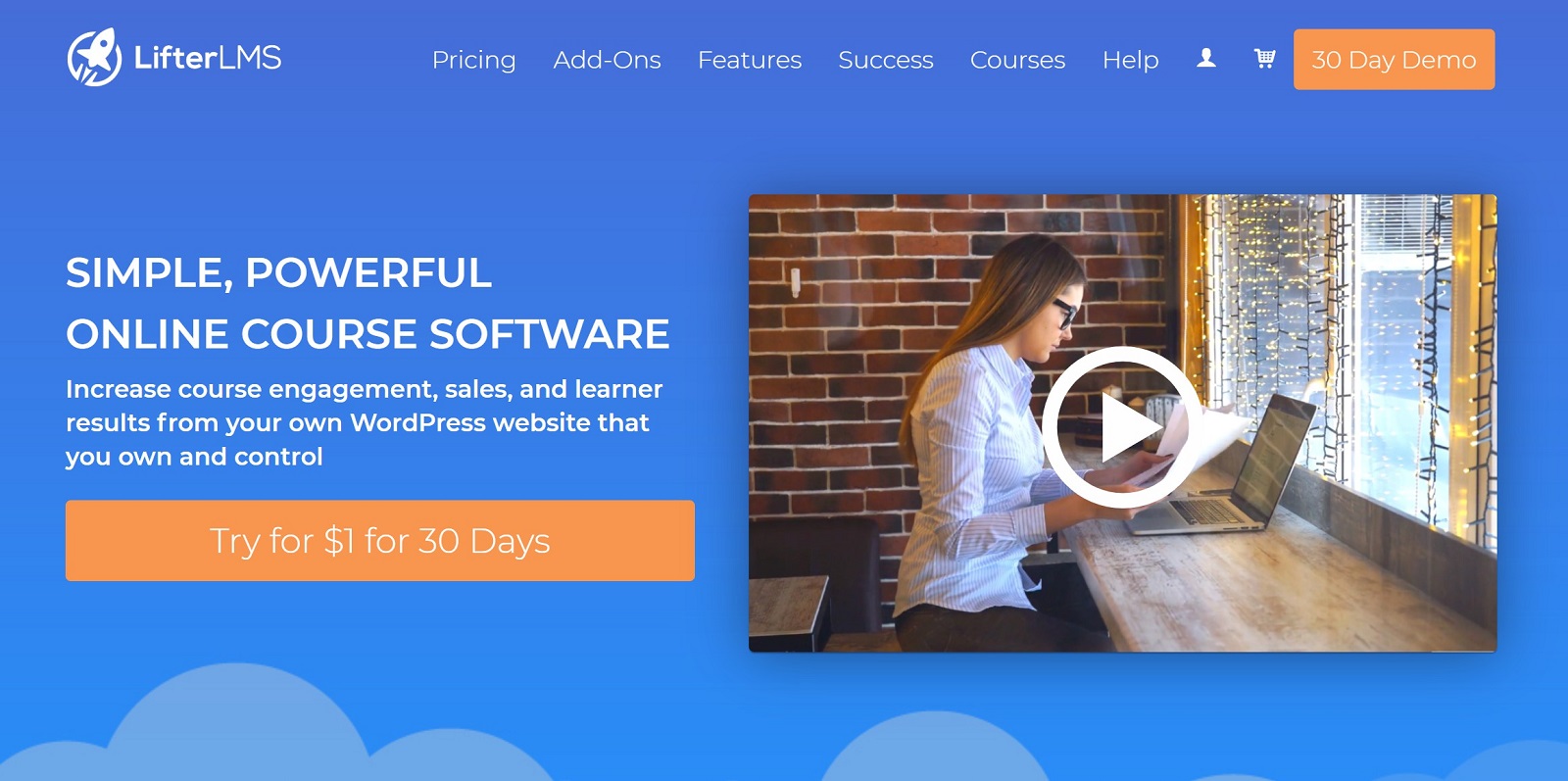 The plugin works like a membership website — students register or purchase a course, this upgrades their membership level, then they can access the relevant content.
As with LearnDash, you can build your course content using a drag-and-drop builder. Lessons can be text, video or audio-based, so you can target different learning styles. In fact, LifterLMS has one of the best ways of handling video content, which makes it a great option for video courses.
You can also include:
Quizzes, along with timers
Lesson downloads
Discussion areas
The full-screen, drag-and-drop course builder interface is great and makes things really streamlined: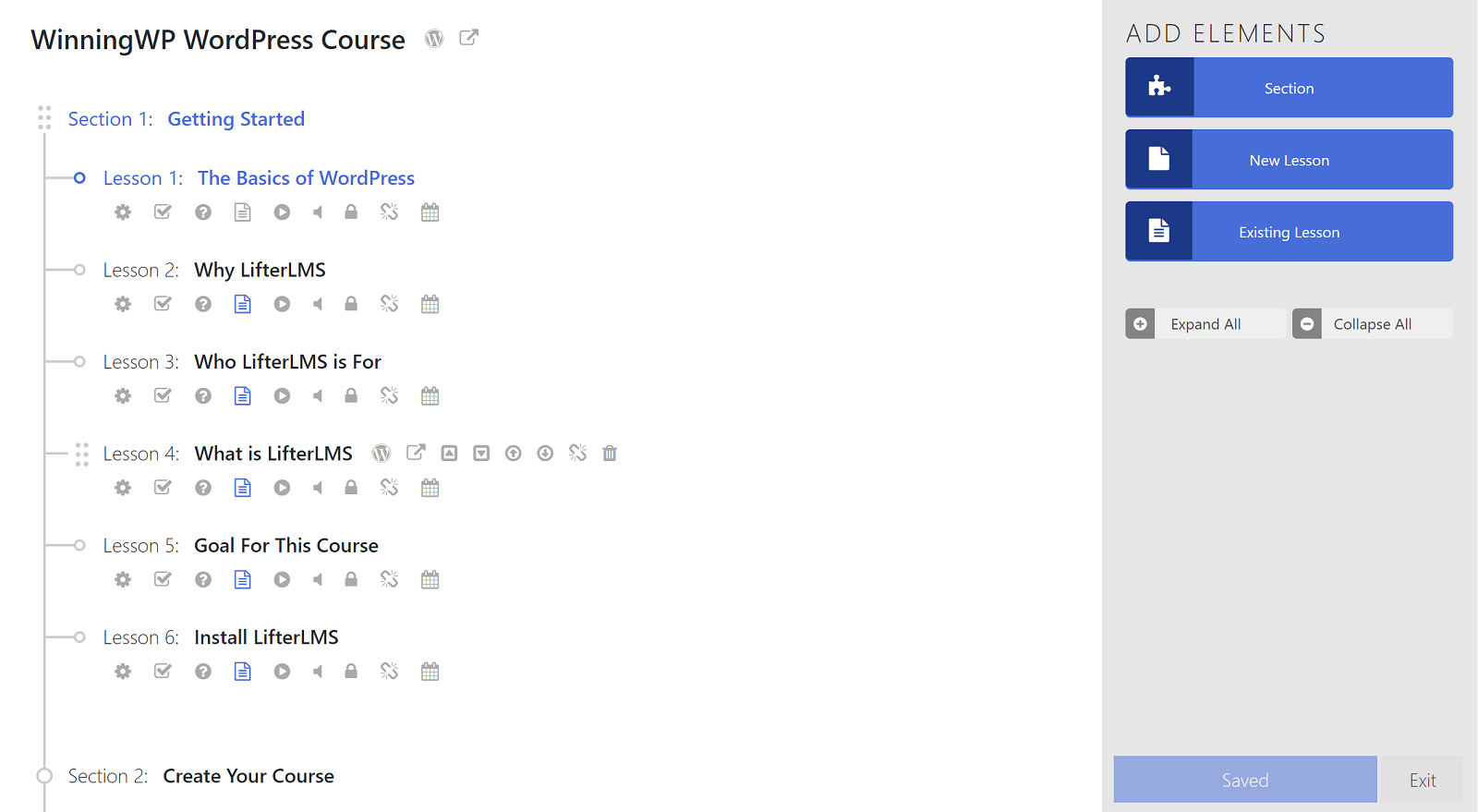 Also, like LearnDash, LifterLMS comes with built-in shopping cart functionality, which you can use to sell your courses. It supports one-time and recurring payments via three payment gateways:
Or there's a $99 WooCommerce extension that lets you use the WooCommerce checkout system to sell courses. However, if you go this route you'll want to remember that you might need some other WooCommerce plugins, such as WooCommerce Subscriptions ($199) for recurring payments. If you use LifterLMS' dedicated gateways, you can get recurring payments for much cheaper.
You can also get creative with coupons, course bundles, bulk sales, access plans and even an option to sell private coaching upsells. You can also create your own affiliate program, with built-in integrations with popular affiliate plugins.
Other useful features include content drip, analytics, personalized emails and gamification.
To access the premium features, you can purchase individual extensions or a bundle.
Because the free version is so feature rich, many people can get by with just a single payment gateway, which only costs $99. That's why I said it can be quite affordable.
However, if you need multiple add-ons, you'll likely want a bundle, which gets a little bit more expensive at either $299 or $999, depending on the features you need. In that case, you might be able to find better value with another plugin.
? Read our full LifterLMS review
Official website
WP Courseware ($125)
Next up, we have one of the most powerful and comprehensive learning management systems out there: WP Courseware.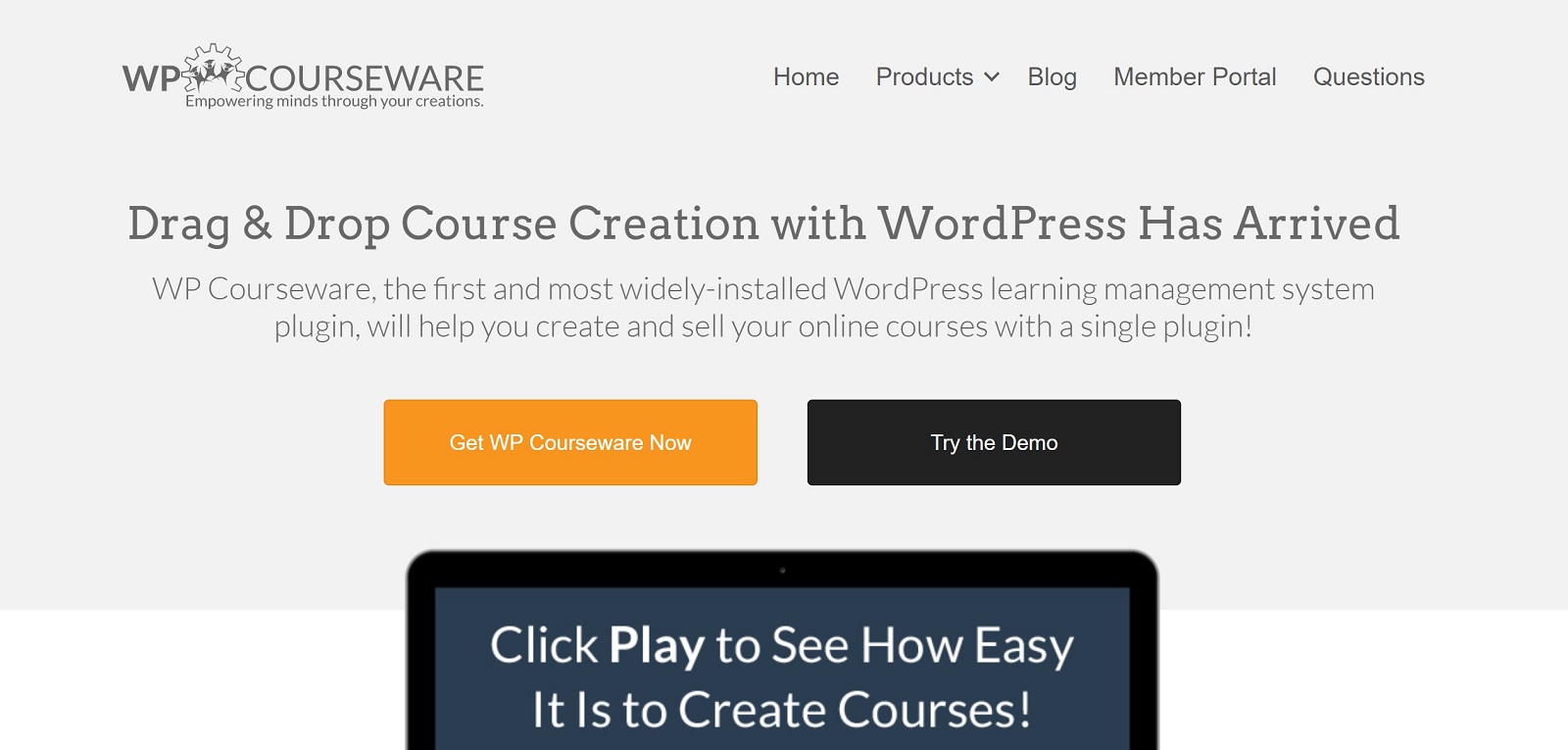 This plugin lets you split your courses into units — content pages that act like individual lessons — and modules. This gives your courses a familiar structure for students to work through at their own pace.
You can create units in the same way as typical WordPress posts — within each one, you can write text, share links and embed media (such as video or audio).
When you've crafted all of your units, you can use WP Courseware's intuitive drag-and-drop functionality to organize them into a logical order. Drag and drop lets you assign units to a module, and then re-order units/modules for optimal flow.
Of course, the ultimate aim of any eCourse is to help students to learn. To ensure your students are progressing, WP Courseware comes with a range of important features for quizzes and grades:
Multiple quiz question types, including multi-choice, open-ended questions and file upload.
Option to randomize quiz questions.
Time limits.
Control over the number of retakes.
Control over passing grades.
Downloadable quiz results (in PDF format).
WP Courseware also boasts a number of widgets designed to help students track their progress. My favorite is the course outline widget, which students can use to jump to specific modules and units. There's also a dynamic progress widget, so students know how much material remains in the current module.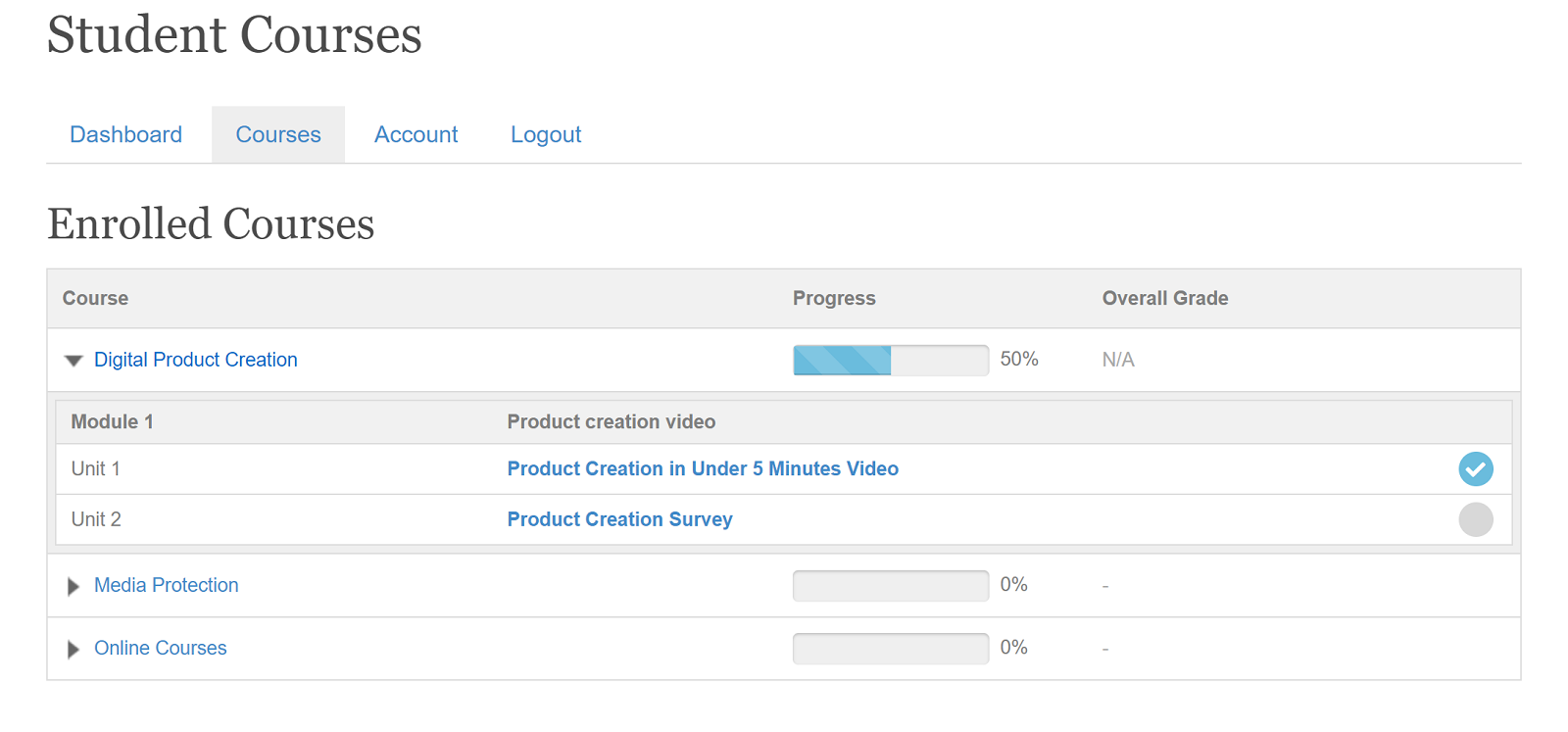 To keep students progressing at a similar pace, WP Courseware ships with drip-feed functionality, letting you restrict certain modules until a later stage. You can configure access to new modules to open at fixed dates, specified intervals after enrollment, or after the completion of prior modules.
To reward your students for completing the course, you can award personalized certificates. You can fully customize the certificates, which is great for adding custom branding.
WP Courseware was also developed to help you make money by selling your courses. The latest version includes a built-in shopping cart that supports both PayPal and Stripe. You can either sell your courses for one-time payments or charge recurring subscriptions. There's even an option to allow installment payments, which is great if your courses are on the pricier side.
You can also integrate with WooCommerce, EDD or a variety of WordPress membership plugins if you'd prefer to use those tools instead of the built-in shopping cart.
Finally, if you're offering video course content, one neat thing is that WP Courseware integrates with the S3 Media Maestro plugin from the same developer. This makes it easy to securely offload your video files to Amazon S3 while preventing unauthorized viewing — it's a great alternative to embedding videos from external sources because it lets you keep full control over your content.
WP Courseware licenses start from $125, which includes one year of support and updates. You can also test it out with a 30-day free trial.
? Read our full WP Courseware review or check out our LearnDash vs WP Courseware comparison
Official website
Tutor LMS (FREE)
Tutor LMS is a newer WordPress LMS plugin that comes from Themeum, an established WordPress developer. Since its initial launch back in September 2019, Tutor LMS has quickly grown and it's now active on over 20,000 sites, according to WordPress.org. More impressively, it also currently has a 4.8-star rating on 250+ reviews, which is quite good.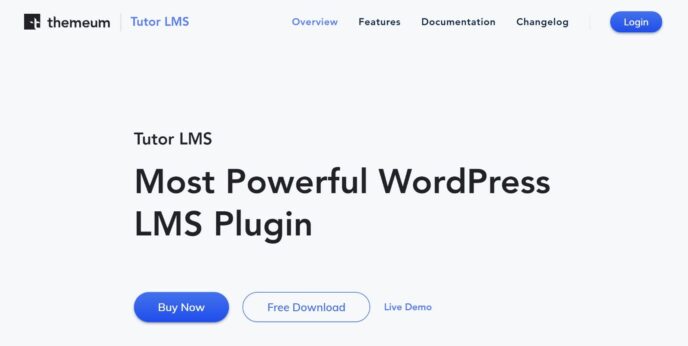 In using Tutor LMS, one of the first things that you'll notice is how well-designed the interface is right out of the box. Without any customization on your part, you'll already get a great-looking course interface on the front-end of your site, which makes you look professional and helps your students navigate.
One of the most unique features, however, is the ability to create your own online course marketplace with courses from different instructors, much like Udemy. Instructors can build their courses from the front-end of the site, which I've never seen in any other plugin. Instructors can also manage their own courses and you'll be able to automatically split revenue and let instructors initiate withdrawals. And again, the important thing is that your instructors can do all this from the front-end — they never need to set foot in the WordPress dashboard.
However, you don't have to use it as a Udemy clone, it also has all the features you need to create your own standalone courses:
Drag-and-drop course builder, including options to attach videos to lessons.
A front-end dashboard for students to manage their courses/progress.
A quiz creator with 10+ different question types.
Integrations with WooCommerce or Easy Digital Downloads to monetize your courses.
Distraction-free learning mode for course pages.
With the premium version, you also get the following useful features:
Content dripping.
Course prerequisites.
A grading system.
The option to add multiple instructors to a course.
Customizable completion certificates.
Support for recurring payments (the free version only supports one-time payments).
Finally, another area where Tutor LMS stands out is its user-friendly onboarding process. This makes it a great option for beginners because it makes it so easy to get up and running with your first online course.
You can download the free version of Tutor LMS from WordPress.org. Even with just the free version, it's still pretty capable. For more features, the premium version starts at $149 with one year of support/updates or $399 for lifetime support/updates.
Official website
LearnPress (FREE)
Like LifterLMS, LearnPress comes in a free core version, and has premium extensions to tack on extra functionality. These extensions are more affordable than LifterLMS' extensions, which makes LearnPress great for those on a budget.
Beyond those extensions, the LearnPress team also have another monetization method — they sell themes that are designed to pair with LearnPress. You don't have to use these themes to use the LearnPress plugin, but they do make it easy to quickly get up and running with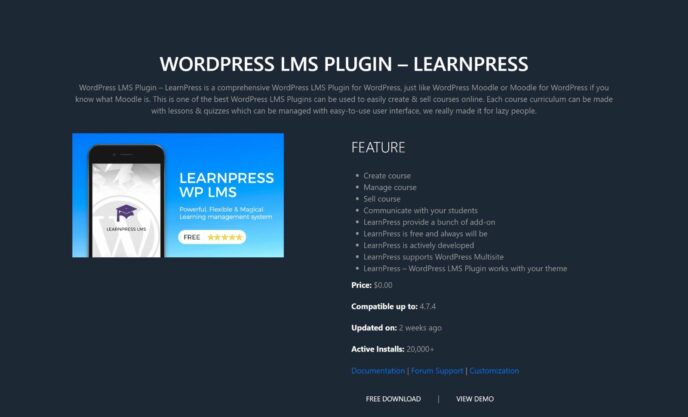 How does this affordable option compare with the pricier alternatives? Pretty well, actually. LearnPress is easy to use, comes with plenty of useful features and, as with many free plugins, is fully extendable.
You can create courses by navigating to LearnPress > Course > Add New. The builder looks exactly like the Classic TinyMCE WordPress editor, but you can configure the important details using a meta box that appears below the editor.
This drag-and-drop meta box lets you set up the entire curriculum for your course, including different sections, lessons and quizzes:
From the visual editor screen, you can also configure other important settings for your course, including final assessment details (and passing grade), maximum enrollments, course duration and number of retakes you want to allow. If you want to monetize your courses, you can also use this area to set up pricing details — the free core supports PayPal payment out of the box, with extensions available for Stripe and WooCommerce integration.
Students may want to help each other out, communicate with teachers or just plain socialize — you can achieve this by creating a dedicated course forum. LearnPress makes it easy to do this via its BuddyPress or bbPress integrations.
Speaking of add-ons, the LearnPress developers have released a whopping 26 to date — nine free and 17 premium. The free core is impressive in its own right, but these extensions — particularly the premium ones — let you add the fancy functionality that brings LearnPress more in line with the premium alternatives. Here are some of the most notable add-ons.:
You can also purchase a bundle of all add-ons for $250.
LearnPress is compatible with any WordPress theme, but the developer also sells 24 themes that are specifically designed to work with LearnPress.
Overall, LearnPress is a good option for those on a budget. However, it lacks some of the polish of more premium alternatives. For example, it's common to see issues with small bugs in the WordPress.org forums, which is why LearnPress only has a 4.4-star rating. That rating is certainly acceptable, but it's below other options on this list such as LifterLMS (4.7 stars) and Tutor LMS (4.8 stars).
Official website
Thrive Apprentice ($67)
Thrive Apprentice is a streamlined LMS plugin designed specifically for creating online courses. Thrive Themes, the developers, make a point of skipping some of the more academic-focused LMS features to just help you to create basic professional courses. This makes it a good option for marketers looking to create monetized online courses: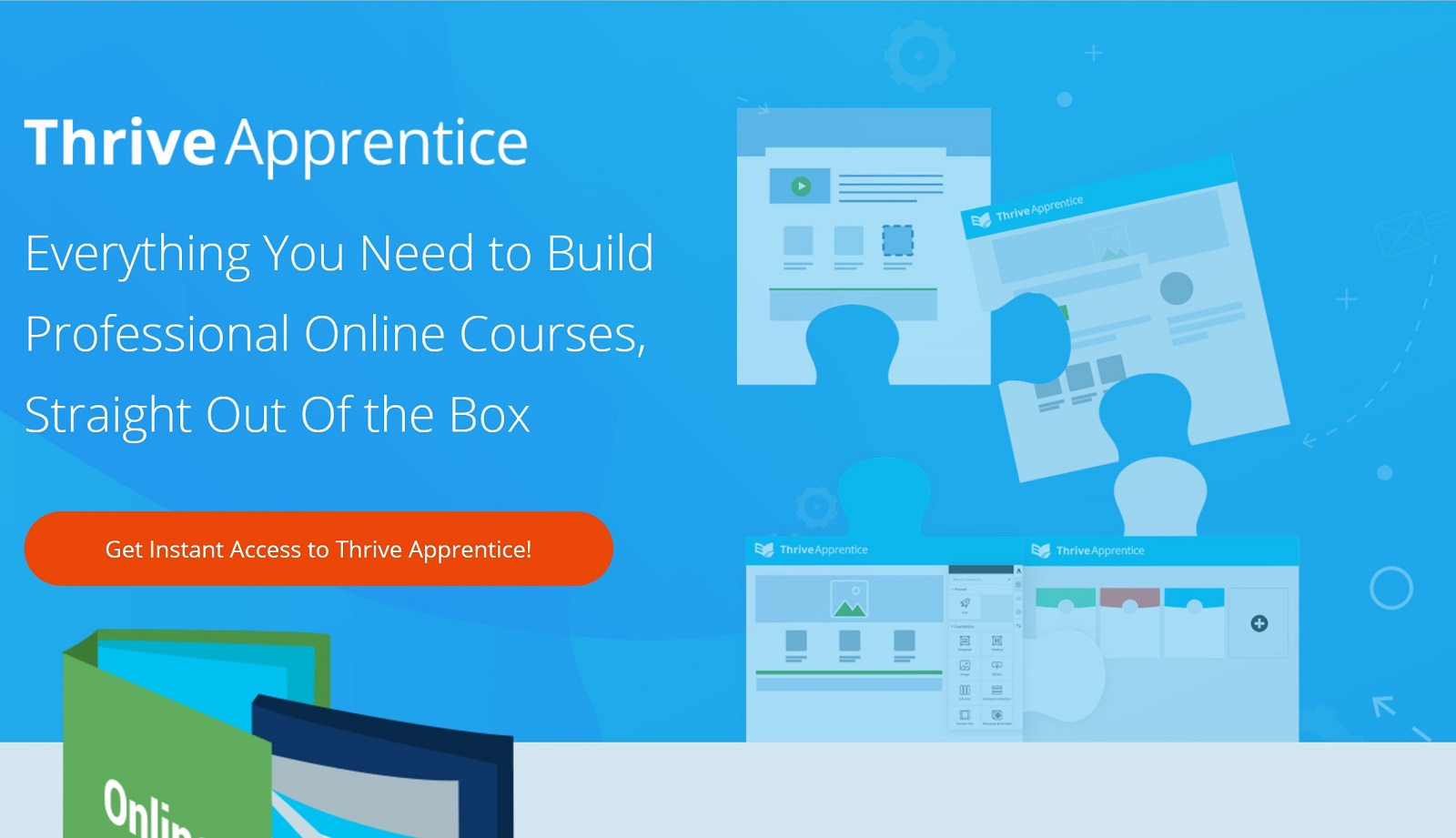 To build your courses, you'll use an intuitive drag-and-drop editor, along with a Thrive Architect integration to let you build your course content with drag-and-drop, too. This is nice because it gives you full control over exactly how your courses look.
You can create multimedia courses with text, images, videos, and more.
It doesn't offer built-in monetization options, but it does offer a SendOwl integration if you want to sell premium courses. You might view this as a pro or con depending on what you're looking for. The nice thing about SendOwl is that it gives you a lot of features, including an option to easily launch an affiliate program for your course. However, the downside is that it's an external service and you need to pay a monthly fee to use it (though it starts at just $15 per month).
Thrive Apprentice definitely doesn't have as deep a feature list as the other plugins, though. For example, it does not have:
Drip-fed content
Quizzes
Certificates/gamification
But, if you just want a streamlined way to create simple courses that look great (and integrate with other Thrive Themes products such as Thrive Leads), it makes a good, affordable option.
Thrive Apprentice starts at just $67 for use on a single site (plus what you'll pay to SendOwl — e.g. $15 per month). Or, you can also get it as part of the Thrive Themes membership, which includes access to all of the developer's themes/plugins (our review of the membership).
Official website
Sensei LMS (Free)
Sensei LMS is an LMS plugin from Automattic, the same team behind WordPress.com, Jetpack, WooCommerce and other big projects. That should give you confidence that Sensei LMS has real resources behind it both now and going forward.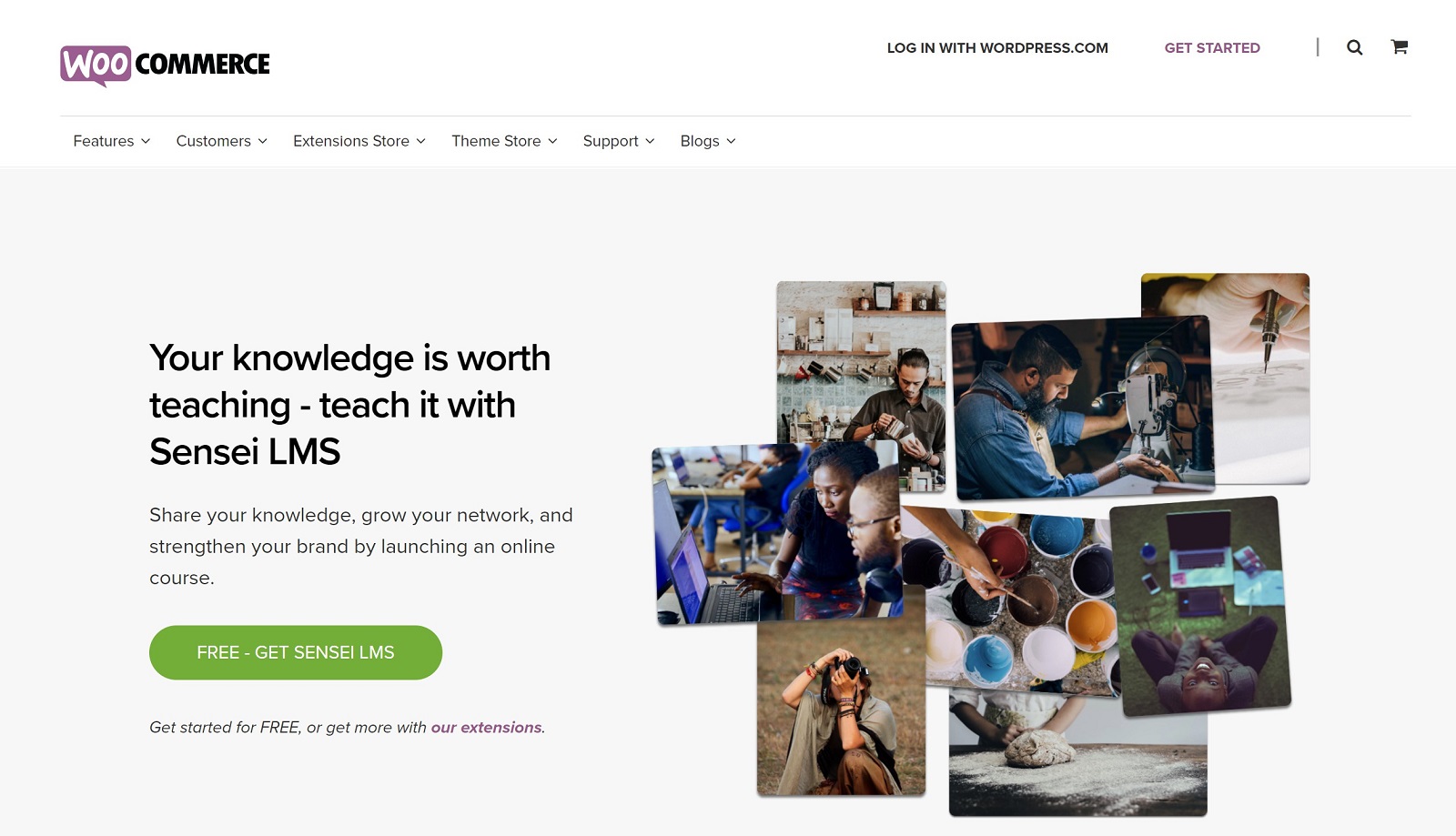 Sensei LMS used to be a premium plugin based entirely on WooCommerce, but the team released the core version for free at WordPress.org in 2019, making it another great free LMS plugin option. Additionally, with the latest version, you no longer need WooCommerce for the core Sensei LMS functionality (though the two do still integrate well together).
However, if you want to sell your courses, you'll need to pair it with WooCommerce and the $129 WooCommerce Paid Courses plugin.
Once you install Sensei LMS from WordPress.org, you can jump right into creating your courses.
There's no drag-and-drop course builder, as you get with a lot of the other plugins. Instead, you'll set up your Courses and Lessons using the regular WordPress editor, along with some new meta boxes: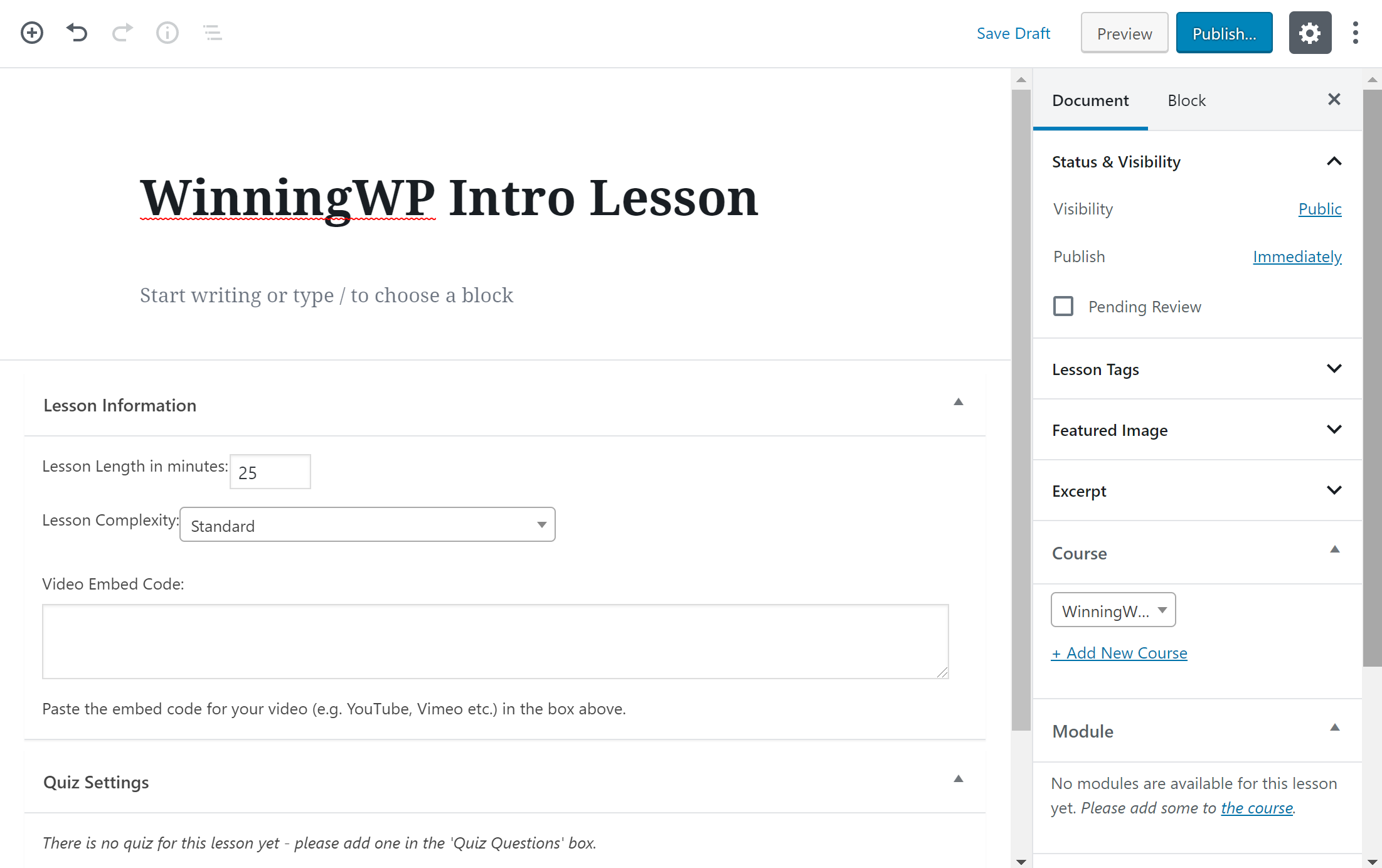 You can also embed videos and include quizzes, and there's a gradebook to help you to manage students' work.
In addition to the free core version and WooCommerce Paid Courses, Automattic also offers six free and premium extensions:
And remember — if you want to sell courses, you'll need the WooCommerce Paid Courses plugin ($129), along with maybe WooCommerce Subscriptions ($199) and WooCommerce Memberships ($199), depending on your needs. For example, if you want to offering recurring subscriptions, you'll need to spend that $199 on WooCommerce Subscriptions. This can actually make Sensei LMS pretty pricey if you want to offer paid recurring plans.
Official website
Which Is the Best WordPress Learning Management System Plugin?
Now for the really important question — which is the best WordPress learning management system plugin for your needs? Well, there's a reason this list features seven entrants — they're all good plugins in their own way.
However, that doesn't mean some aren't better than others for your situation. To help you focus your search, I'll make some recommendations on where to start your search and when you might want to branch off in a certain direction.
Start Your Search With These Two Plugins
First off, if you're completely unsure about where to begin, I would say to focus your search on LearnDash or LifterLMS…at least to start. These two are the biggest names in the LMS plugin space for a good reason — they both do a really great job of making it easy to create and monetize online courses.
As for choosing between them, I would say to start by playing around with the free version of LifterLMS at WordPress.org. If the free version does everything you need and all you need is payment functionality, you can just buy one of the payment gateway extensions for $99 and you have a very affordable LMS solution.
On the other hand, if the free version of LifterLMS can't handle what you need, it'll probably make more monetary sense to consider LearnDash. If you start needing multiple LifterLMS extensions, it can start getting very expensive very fast. LearnDash can probably give you the features that you need at a lower price because LearnDash gives you every single feature for one price.
Some Reasons to Consider the Others
Now — what about the others? Is there any reason to look beyond the big names? Of course — that's why they're on the list! Here are some of the strong points of the other options…
First off, I really enjoyed my time playing around with Tutor LMS because it does a great job of creating a user-friendly interface on both the front-end and backend. However, while the interface is nice, I would say the most unique thing about Tutor LMS is its revenue sharing/third-party teacher features. If you want to create something like your own online version of Udemy, Tutor LMS could be the best option for you.
Sensei LMS is also interesting to me because Automattic has given it renewed focus and seems to be putting a good number of resources into developing and improving it. A few years ago, Sensei seemed like it was just sort of "treading water", but now Automattic seems to be focused on moving things forward. Additionally, while you're no longer forced to use WooCommerce with Sensei LMS, it still has a really tight integration with WooCommerce, which is nice if you're planning to monetize your courses and want access to the flexibility of WooCommerce (though this can quickly get expensive).
Thrive Apprentice can be a great option if you're already into the Thrive Themes marketplace. For example, if you're using Thrive Architect for page building and Thrive Leads for list building, you'll feel right at home when jumping into Thrive Apprentice. It also has the unique approach based on SendOwl, which has nice benefits such as making it easy to create an affiliate program for your course.
However, in terms of the actual learning management part (e.g. quizzes and assignments), Thrive Apprentice definitely isn't equal to the others. For that reason, it's probably a better option for marketers looking to create online courses.
WP Courseware offers an all-around solid feature list. But where it's especially strong is in the value that it offers. Even on the cheapest tier, you can use it on two websites (whereas most other LMS plugins limit you to a single site). Additionally, the Professor license lets you use it on up to ten websites for the same price as LearnDash's one-site license. This can make it a great budget option if you plan to create multiple course websites.
What's the Best Free LMS Plugin if You're on a Budget?
Well, first off, I would give some advice that skimping on your learning management system plugin probably isn't a great idea if you're planning to monetize your courses. Because it's the foundation of your online course, this is one area you shouldn't be afraid to invest in.
However, I recognize that sometimes money is the overriding factor. In that case, you'll want to consider one of the freemium options:
LifterLMS
Tutor LMS
Sensei LMS
LearnPress
Overall, I would say that Tutor LMS is a great place to start if you want to sell paid courses with a free LMS plugin. It still gives you great features and lets you accept payments via WooCommerce even in the free version (though you will need WooCommerce Subscriptions if you want recurring payments).
On the other hand, if you don't need any monetization features, I'd recommend starting off with LifterLMS as it's probably the strongest free option in terms of the actual learning management features.
Using any of the above LMS plugins? Thoughts?
Colin Newcomer is a freelance writer and long-time Internet marketer. He specializes in digital marketing and WordPress. He lives a life of danger, riding a scooter through the chaos of Hanoi.
Keep reading the article at WinningWP. The article was originally written by Colin Newcomer on 2020-11-18 04:15:16.

The article was hand-picked and curated for you by the Editorial Team of WP Archives.