There is no doubt that email marketing plays a huge role if you're setting up an online shop. It allows you to reach your customers easily, notify them about new products, and maybe even offer a discount or two. But sending each email separately is a tedious and demanding process, so naturally, there are many tools out there designed to make your life easier. However, these can be divided into two main categories – free and paid.
Now, you shouldn't rush to any conclusions when it comes to either of these categories. To help you analyze their strengths and weaknesses, we will compare the top 5 free and top 5 paid email marketing tools and show you what you can expect. So let's get going!
Free Email Marketing Tools
Obviously, the main advantage of this category is that you don't have to pay for anything. But that also means you are somewhat limited in creating your email marketing strategies. The question, therefore, becomes: how big are the limitations and is what you get enough for you to grow your business.
To find that out, let's see what the top 5 free email marketing tools have to offer.
Sendinblue
Sendinblue is recommended pretty much across the board if you want a good free email marketing tool, and it's easy to see why.
First of all, the number of subscribers is unlimited, even in the free version (although you are limited by the number of emails you can send out each day, which is set to 300), plus it's really easy to create a visually attractive email.
You also get enough options to test the efficiency of the emails you send (A/B testing, heat maps), loads of features if you have a WordPress website, and it works wonderfully with Shopify. However, the most notable feature of this tool is the fact that it allows you to chat with your visitors in real-time, which can be absolutely huge if you're trying to reach out to your customers directly.
It's all very easy to set up (literally takes less than a minute), and you can even customize the chatbox a bit by adding your company's logo and stuff like that. So when it comes to free email marketing, it's really difficult to find something better.
SendPulse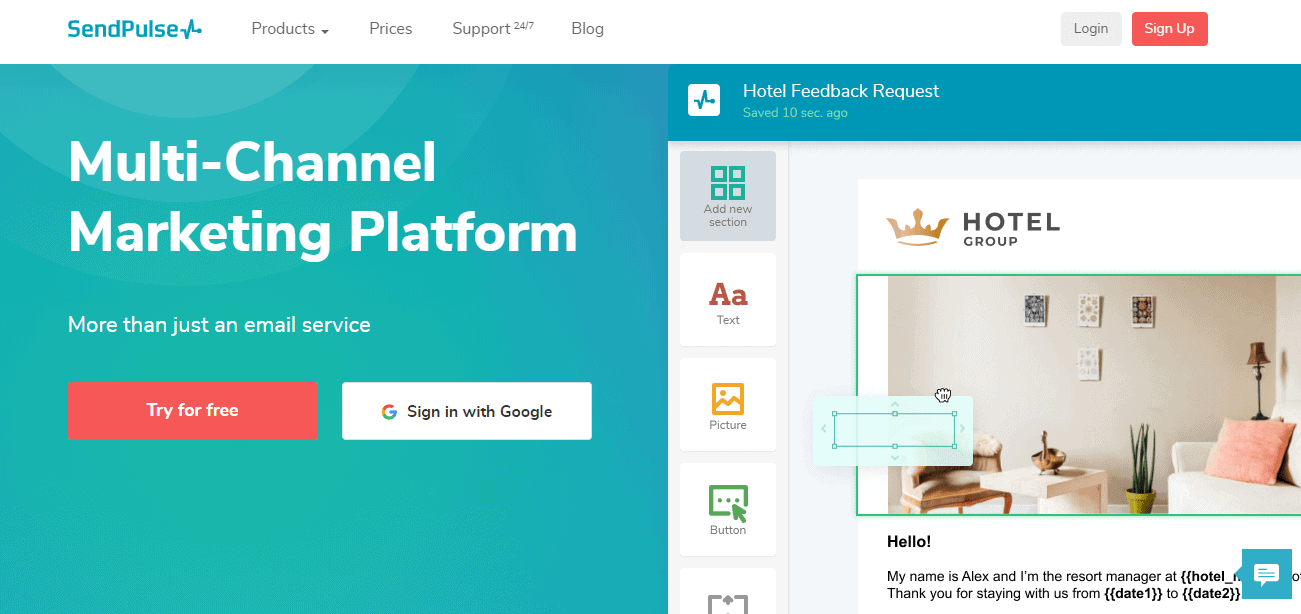 Another very good free email marketing tool, SendPulse has loads of pretty clever features that can save you time and make sending out emails much more efficient.
For example, you can easily rename the emails that were left unopened and then send them out again and take another shot at trying to spark interest in your subscribers for whatever your email may contain. But what is probably even more useful (and to me personally much more interesting) is the fact that this tool gives you the option to examine each subscriber individually and see how frequently they open your emails and how frequently they click on the links you send them.
This can be immensely valuable to you because you will be able to pinpoint who your most loyal clients are and maybe target precisely them in your future campaigns.
The free package SendPulse offers to support up to 500 subscribers but also allows you to send up to 15000 emails, which is great if you're just getting started and need a boost to help your business grow during its first phase.
OmniSend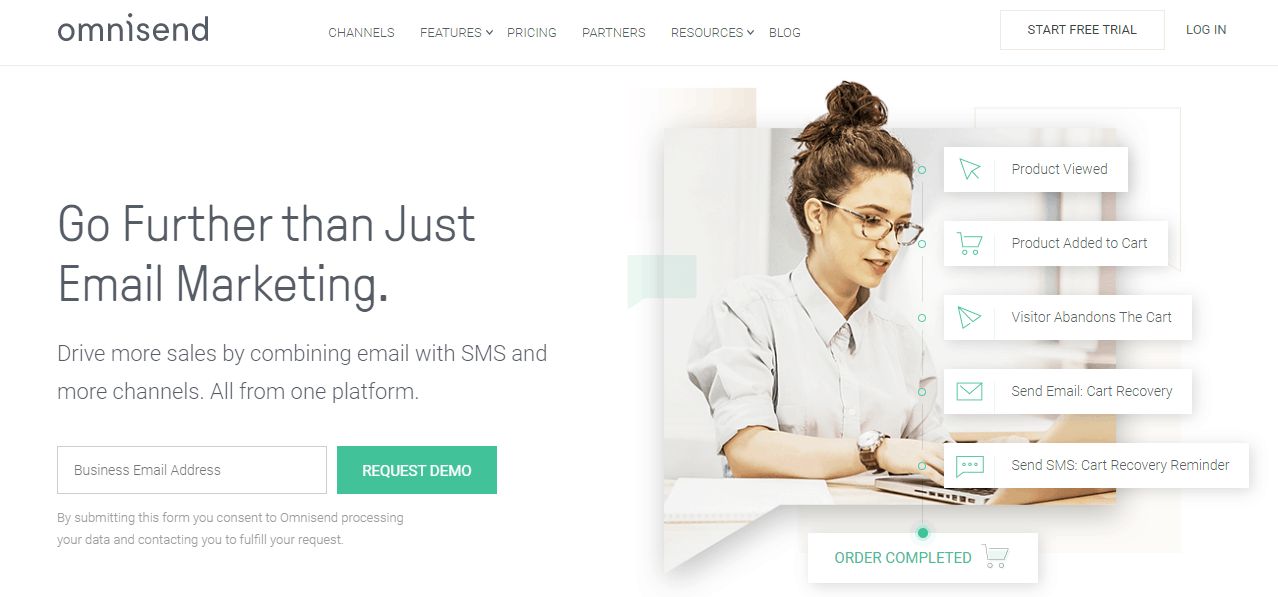 When it comes to sheer numbers, OmniSend is probably at the top of the industry when it comes to things you can get for free. The number of subscribers is not limited, and you can send out a whopping 15,000 mails each month and up to 2000 a day. That's just awesome! However, its interesting features don't end there.
The people behind this tool have made an effort to be quite creative when it comes to enticing your website's visitors to subscribe to your list. You can, therefore, expect pop-ups and even a wheel-of-fortune kind of game to attract people. That way, you will certainly stand out from the rest of the pack.
Furthermore, you can very easily pull any product you may have in your store into the email itself, which saves a lot of time and just makes the process of creating emails so much more pleasant. So, given everything we've said here, you are dealing with a product that's great not just for the stores that are starting out but also for those which are of medium size.
Sender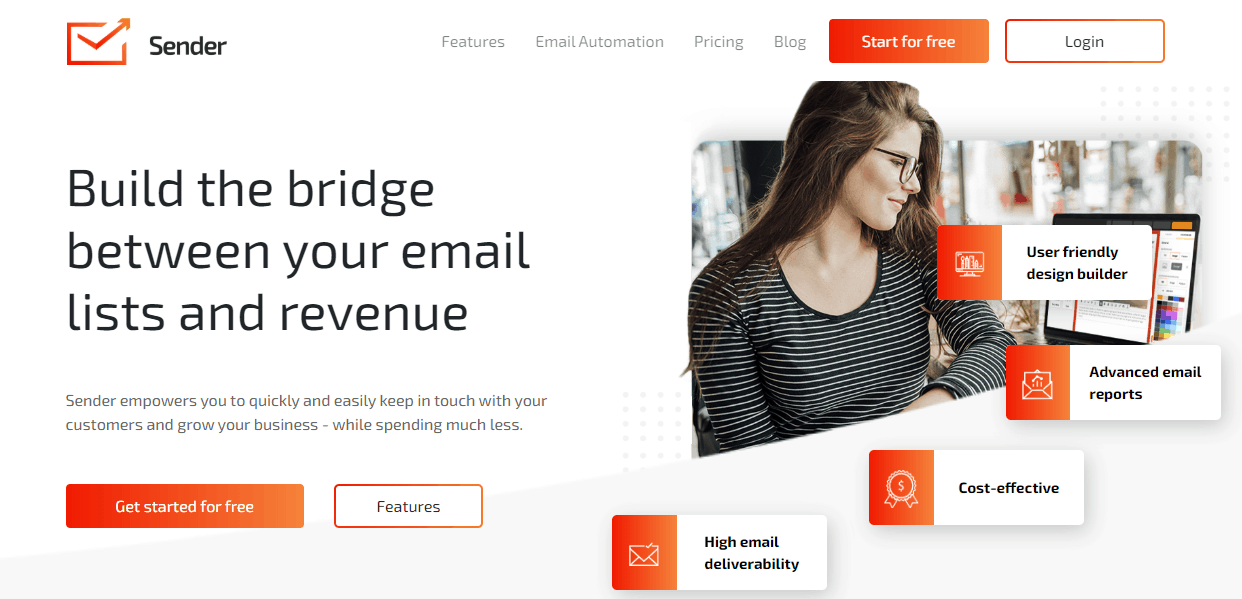 Sender is available for pretty much all CMSs out there, so no matter what your website is based on, you should consider it.
The tool is very flexible when it comes to creating newsletters, with a variety of features you can add. As a matter of fact, you can even add a video to your email and then turn it into an interesting gif with Sender.
The messages you send out can even be customized to address each subscriber directly, which is something that goes a long way in ensuring the email actually gets opened and read.
The data Sender provides is another huge advantage of this email marketing tool because it integrates Google Analytics and click maps to give you a very accurate idea of how your subscribers are behaving.
With 2500 subscribers and up to 15,000 emails allowed each month in the free version, the tool is sure to appeal to a very wide audience.
Mailchimp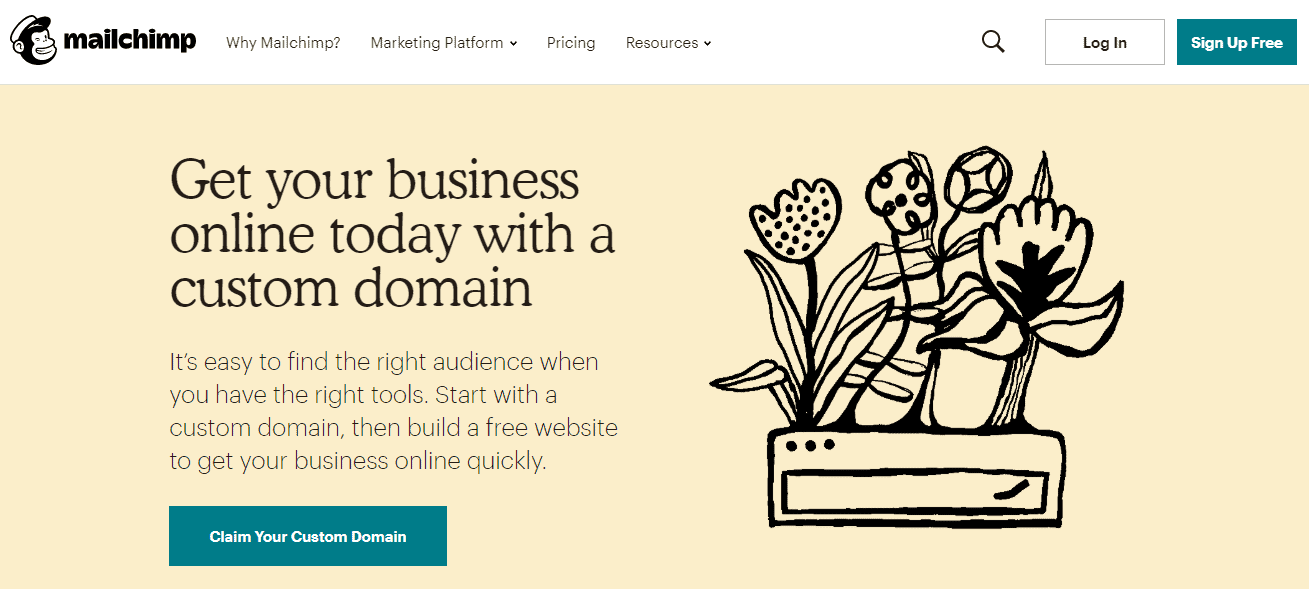 Mailchimp is probably the best known among these tools, and that fame is certainly not undeserved. Although, to be honest, there are better deals out there than its 2000 subscribers and 10,000 emails per month. But that's just the beginning of what you get here!
Mailchimp can help you with posts and ads on Facebook and Instagram, it has A/B testing, and comes with some great landing pages. On top of all that, you can automatize a whole lot of things here, including notifications for abandoned carts, new and interesting products in your offer, and welcome campaigns. However, one thing in which Mailchimp is particularly good is the process of email creation.
Simply put, the emails look fantastic. Therefore, they are bound to leave an impression on whoever opens them. You have a huge array of available templates in front of you, and you can edit everything by dragging and dropping whatever you think should be in the mail (just to be clear, other tools have this drag-and-drop feature, too).
So, maybe you get a little less in terms of numbers, but the quality of emails you send will more than make up for it.
Paid Email Marketing Tools
Don't dismiss these guys just because you have to pay for them. Often the prices are not that big and you can get a whole lot of useful features which can then help you reach more potential customers. And you can even count on great support.
So, let's take a look at the top 5 paid email marketing tools.
MailerLite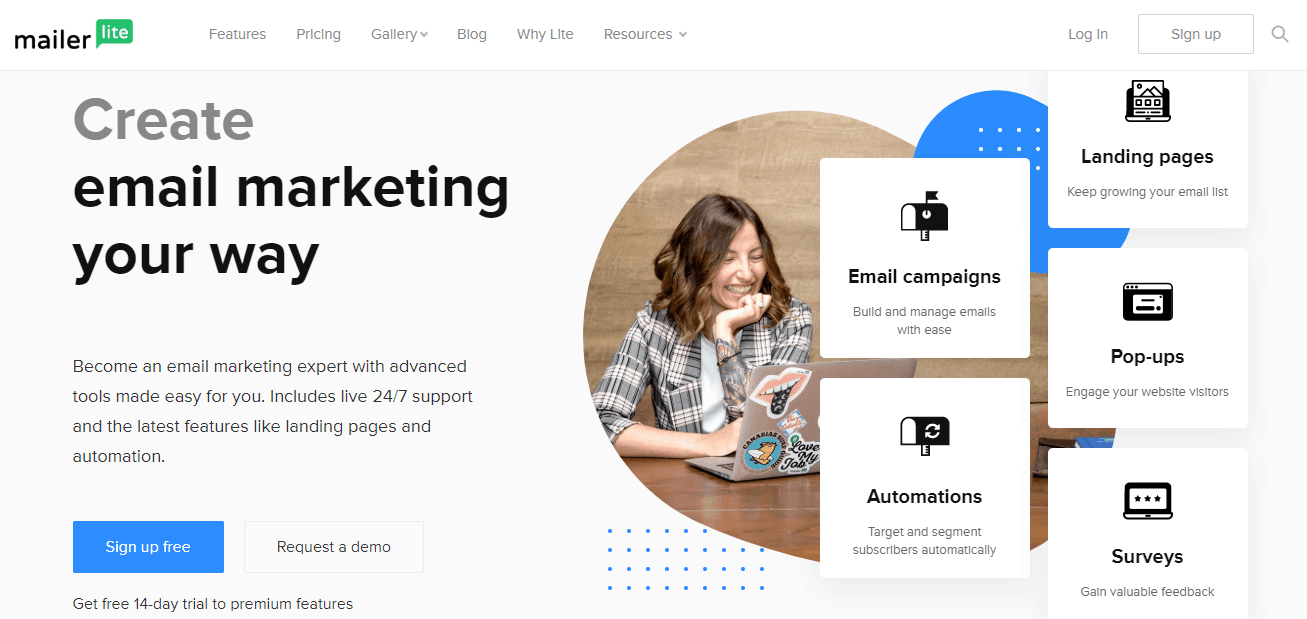 We'll start things off nice and simple here, and MailerLite is the perfect candidate for that. It's very easy to use and perfect for those of you who are not planning on spending too much on a tool like this.
Their premium plans start from 10$ per month, which gets you up to 1000 subscribers, but for just 5$ more that number swells to 2500. Both of these plans include an unlimited number of emails that can be sent each month, and there are two other ones, with their prices being set to 30$ and 50$ a month respectively.
For investing in a premium plan, MailerLite will give you non-stop live chat support, promotion pop-ups, the ability to deliver mails by time zone, and plenty of options for analysis. For example, apart from click heatmaps, you will also be able to view data on email opening by location, plus there are several other neat options, too.
It should also be mentioned that you get a 30% discount for an annual subscription, something that makes this tool particularly affordable. But even without that, this is a great option for email marketing for small and/or new businesses.
GetResponse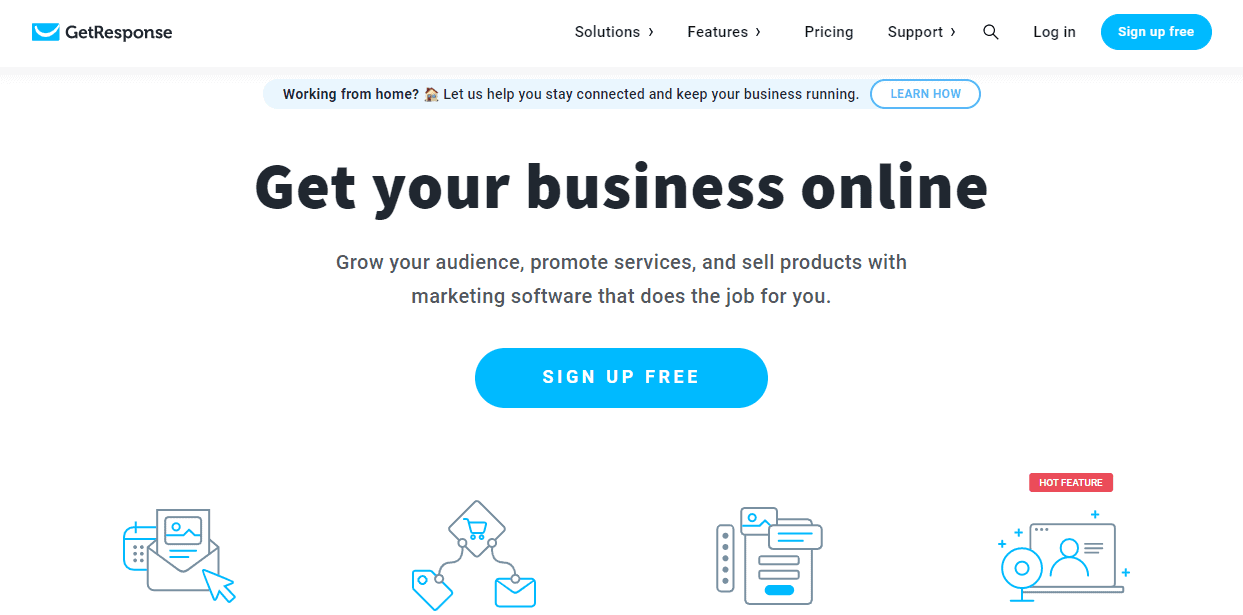 GetResponse is another very good choice because it provides you with really fantastic-looking emails and forms that are known for their efficiency in attracting subscribers.
Everything is quite easy to manage thanks to GetResponse's great interface, so you can have a successful campaign up and running very quickly indeed. But what makes this tool particularly appealing is the fact that its creators are willing to go the extra mile and offer many excellent features that can make you marketing success.
For example, you can hold webinars on your website, plus they publish a whole load of educational materials, so you can always learn something new.
The most basic premium package starts at 15$ per month, and with it, you will get autoresponders, unlimited landing pages, and several other features. However, there are three more levels to choose from, with the ultimate one being fully personalized and with a custom price. Oh, and a 30-day free trial is available.
A one-year subscription will get you a discount of 18%, whereas if you subscribe for two years that goes up to 24%. So, if webinars are important to you, GetResponse is the way to go.
Mailchimp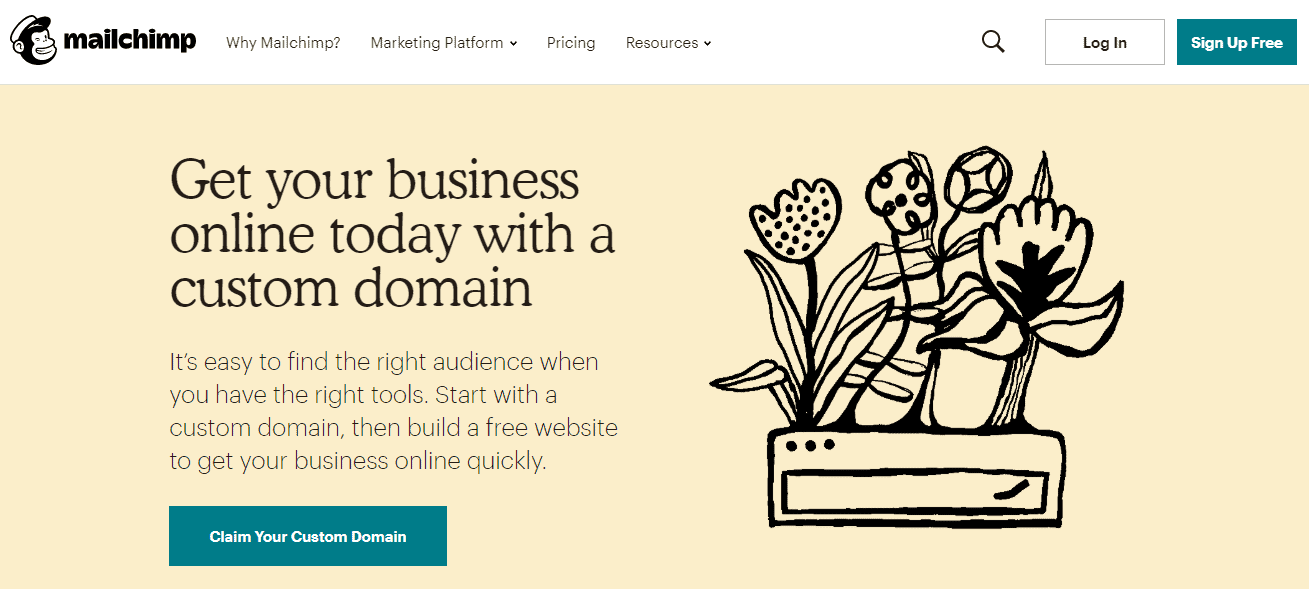 Yes, yes, I know I've mentioned Mailchimp in the other category, as well. But the truth is that these guys have a lot to offer if you go for their premium packages, too.
Apart from the free package, there are three more packages to choose from, ranging from 9.99$ a month to 299$. But what do you get with them?
Well, the most basic one will give you access to absolutely all templates, provide you with excellent non-stop support, and even support custom branding, which is quite important to mention. However, if you go for the middle package (called Standard), things get a whole lot more interesting – you will be able to use retargeting ads, behavioral targeting, and several other cool-sounding features.
The final account tier (Premium) adds advanced segmentation and multivariate testing into the mix. Mailchimp, therefore, offers quite an advanced approach to email marketing and is great for those who want to immerse themselves in numbers.
Drip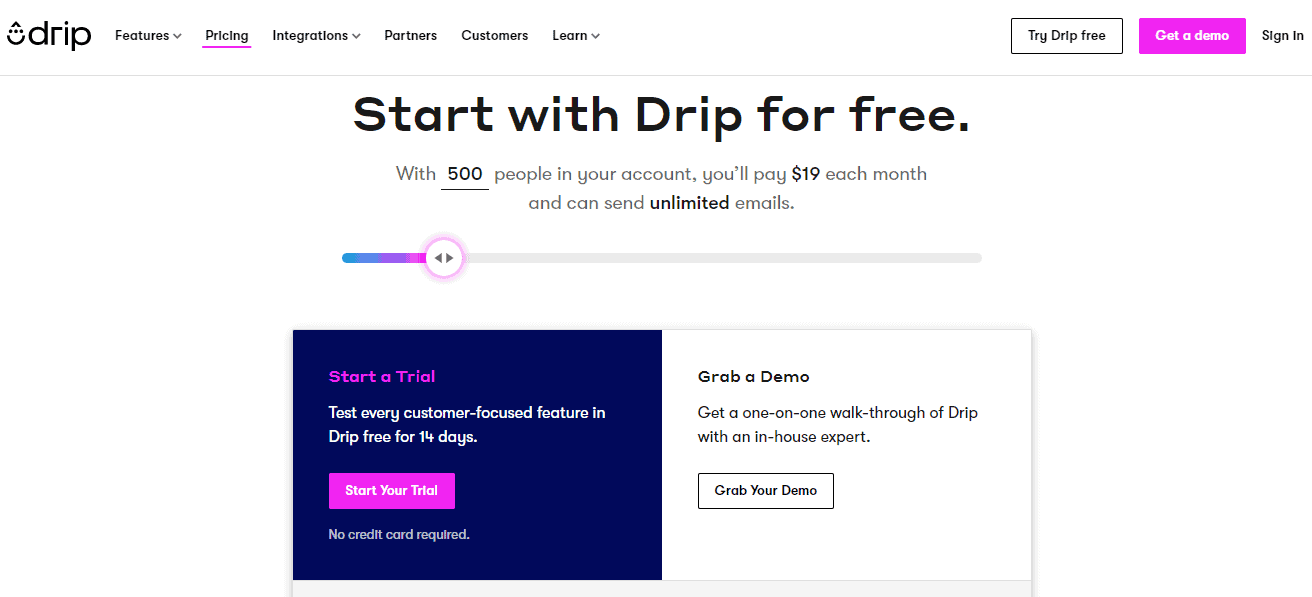 Drip is another excellent email marketing solution that takes a very intelligent approach to things. It is excellent for eCommerce owners because it deals with a whole array of different situations and essentially tries to start up a conversation with your prospective clients through automated messages.
For each situation, no matter if it's a welcoming message or a notification about a cart someone has forgotten, you get to customize a message and tailor it to what you think the customer needs to hear.
With Drip, you can get a free trial that will last you for two weeks, and some other features that come with premium packages here are quite impressive. For example, you can analyze your customers' behavior, make the most of the powerful segmentation options offered, study very detailed analytics of every detail, and gain access to some top-tier support.
Drip is a bit more expensive, though, as you will start with 19$ per month for up to 500 subscribers. But for 10$ more, you can get to 2000 subscribers, which seems like a much better deal.
ConvertKit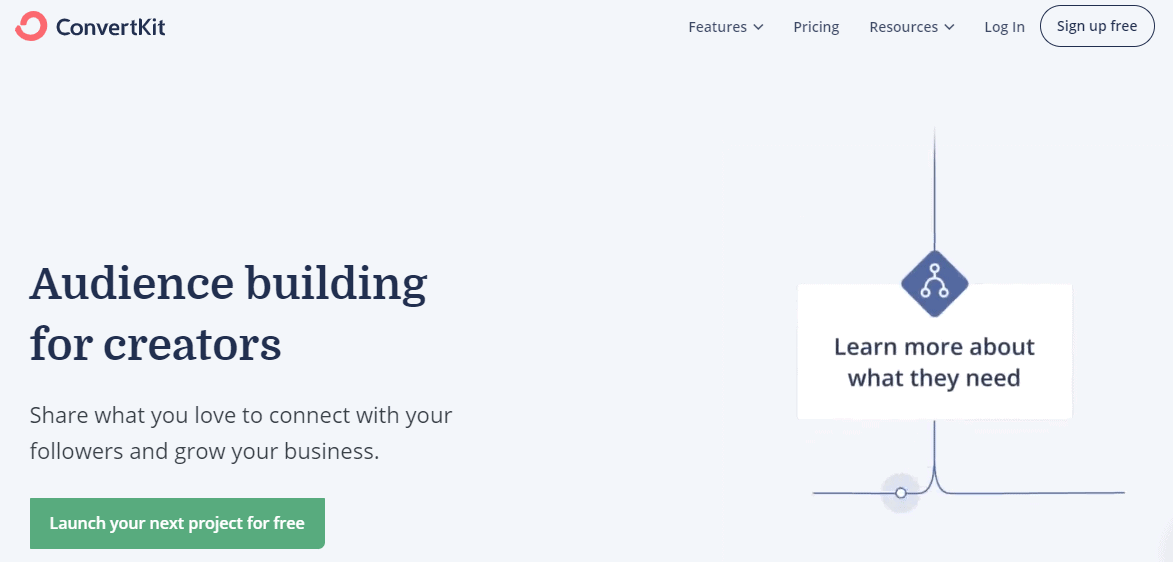 Last but not least, we have ConvertKit. Now, if you're a blogger or are publishing content on a regular basis on a platform like YouTube, this is the email marketing tool for you.
Yes, eCommerce websites are not in this product's focus. Because of that, it's not a big surprise that it takes things a bit differently. By this, we primarily mean its focus on visualization, which is best seen in the way visitors are guided through an email funnel. Furthermore, you can also send emails to individual subscribers and thus connect with them much more easily.
Interestingly, you can also group your subscribers in categories to better target them, plus ConvertKit allows you to migrate from another tool for free.
All premium packages of this product allow you access to all features, which is great, and the only difference is in the number of subscribers you have: it's 29$ a month for up to 1000 of them, and it just goes on up depending in the number of subscribers you have.
Lastly, it's important to note that you can also get a free 14-day trial for this very useful tool.
Conclusion
And there you have it, a complete rundown of the best free and paid email marketing tools. What tool(s) you go for should depend on your budget but also your marketing needs. So be sure you make the right pick!
This former student of English studies has been around blogs, SEO, keywords and all that good stuff for more than five years now. During that time he has written about a variety of topic, always being careful to fully optimize his every text, obviously. When he's not writing, he's probably on some kind of a trip, with his trusty laptop always at his side.
Latest posts by Marko Domljanovic (see all)
Where Should We Send
Your WordPress Deals & Discounts?
Subscribe to Our Newsletter and Get Your First Deal Delivered Instant to Your Email Inbox.
Thank you for subscribing.
Something went wrong.
Keep reading the article at WP Newsify. The article was originally written by Marko Domljanovic on 2020-07-28 07:38:20.

The article was hand-picked and curated for you by the Editorial Team of WP Archives.