Did you know that 90% of purchases take place in physical stores?
Did you know that 88% of searches for local businesses on a mobile device either call or visit the business within 24 hours?
Surprised? The number is only growing. People often visit local stores to buy things such as groceries, products, gadgets and the list goes on.
Most of all, 28% of local searches become purchases.
So having a foolproof local SEO strategy is a no-brainer as it generates you more sales and better conversions.
Because better local SEO is what puts you ahead of your competitors. When you start ranking better than your competitors, your sales will grow automatically.
But here's the thing: local SEO is not easy.
Why? You need to implement a wide range of local SEO strategies ranging from optimizing your content using local SEO keywords to listing your local business to managing your customer reviews to submitting your NAP (Name, address, and phone number) to various local directories and so on.
That's why you need to have access to the RIGHT tools to save your time and outrank your competitors.
So if you're someone who's looking for the best local SEO platform tools to triple or even quadruple your local search rankings, this post is a treat for you.
Without further ado, let's discuss some of the best local SEO tools to use in 2020.
10 Best Local SEO Tools to Boost Your Search Rankings
1. Listing Management from SEMrush
SEMrush is an all in one SEO toolkit that is used by more than 6 million people worldwide.
It's also the same SEO tool that we're using at BloggersPassion for more than 5 years. SEMrush offers a dedicated list of local SEO software tools to create a solid local SEO strategy.
It offers an incredible local SEO platform called "Listing Management" which helps you grow your local SEO efforts.
Here's how it works.
Distribute Business information
Suppress Duplicates
Track Local Rankings
Manage GMB (Google My Business) and Facebook listings
Monitor Reviews and User Suggestions
Overview Locations in One Place
Here's how it looks like;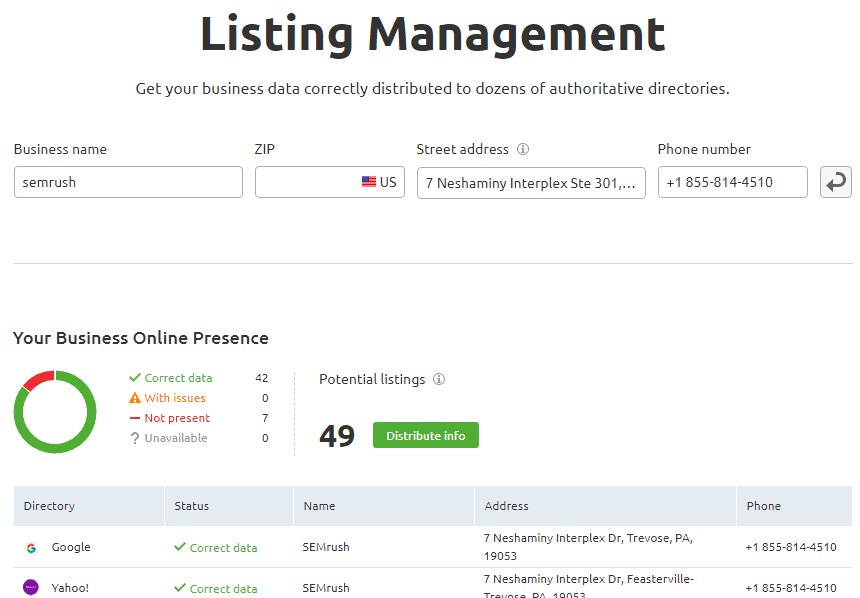 Important: Currently the listing management tool is only available for the United States, Germany, France, United Kingdom and Australia.
Features:
Here are some of the features of local SEO platform tools from SEMrush.
Quick note: We're
[…]
This article was written by Anil Agarwal and originally published on BloggersPassion: Learn SEO Blogging with An Expert.