Home /
Themes /
Top Ten Best Elementor Themes for WordPress Websites (2020)
By Kevin Muldoon
July 10, 2020
Elementor is undoubtedly one of the best WordPress page builders on the market (if you haven't already, check out our full review. In fact, I rank it right alongside Divi (from Elegant Themes) as one of the two best page builders available for WordPress.
It features a fantastic front-end page builder that is easy to use and includes hundreds of high-quality content widgets, pre-made page templates and blocks. Elementor is supported well by third-party developers too so it is easy to extend functionality.
As with all WordPress plugins, page builders such as Elementor need to work in harmony with your WordPress theme. Unfortunately, some WordPress themes conflict with page builders and do not offer full-width page templates or support Elementor's excellent theme builder.
So to help you get the most from Elementor, we have prepared a list of the top ten best WordPress themes for Elementor.
1. Hello Theme – FREE
Hello is a simple WordPress theme that was developed by the creators of Elementor.
It acts as a blank canvas for Elementor. There is no settings page and no additional options available in the WordPress theme customiser either.
The lack of theme customisation options may not suit everyone, but this approach means that Elementor can be used to control all aspects of your website design. It also helps Hello be one of the fastest WordPress designs available today.
The theme can be downloaded free of charge from WordPress.org.
If you are looking to use Elementor to control every aspect of your website, Hello should be top of your list.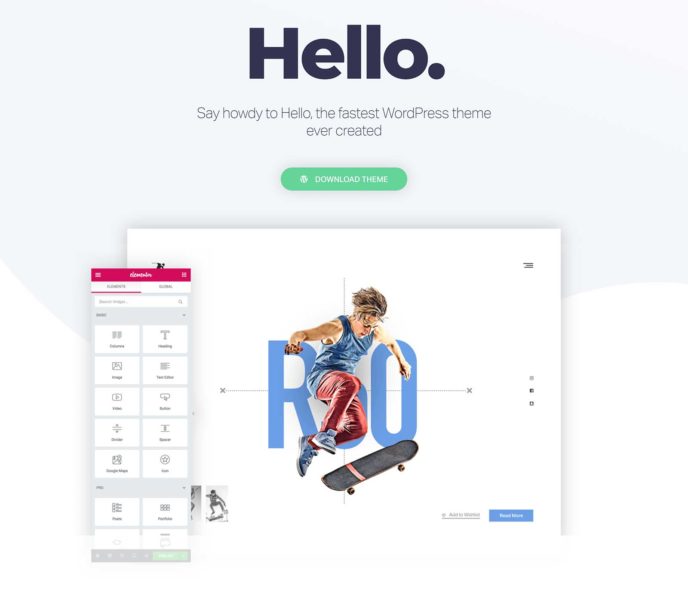 2. OceanWP – FREE / $39+
OceanWP is a flexible free WordPress theme that comes with 13 website designs.
The theme has been optimised for drag and drop page builders such as Elementor.
All design options can be found within the WordPress theme customiser and there is great support for WooCommerce. The core version of the plugin is quite basic, however eight plugin extensions are available that expands functionality.
Their core extensions bundle retails
[…]
This article was written by Kevin Muldoon and originally published on WinningWP.