W
ant to know the most popular types of blogs that make money? 
While starting a blog is a great way to make money online, most beginners don't know what type of blog to create. Many of you have probably wondered, what are the most popular types of blogs? 
If this is you, then you're in the right place! We've listed the 10 types of blogs that make the most money. And we've added examples to each type of blog. 
Sound good? Great!
Let's get to it. 
10 Top Money Making Blogs 
Below you'll find the 10 most popular types of blogs. Each of these types of blogs can be monetized. So hopefully, this list will inspire you to create your own money-making blogging strategy. 
1. Finance Blog 
Are you a pro at handling money? Then a finance blog might be a great choice for you. 
Finance blogs give actionable advice to any online user. Whether it's a college student, young adult, or parent, everyone could gain more knowledge about their finances. 
 Let's take a look at a popular finance blog, Get Rich Slowly.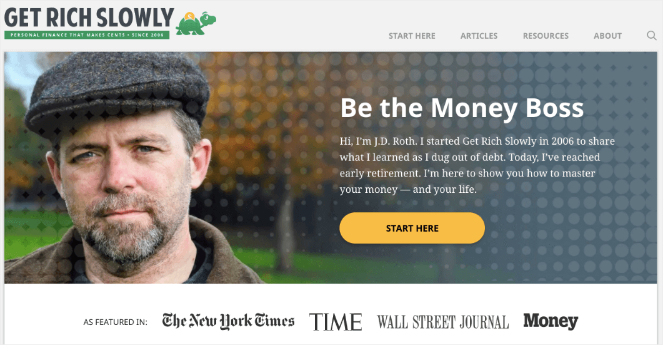 Get Rich Slowly helps their readers pay off their debt and grow their money. They also cover other finance topics, like investing and your money mindset. 
As we mentioned before, finance reaches out to all different types of people, so there's an infinite amount of finance topics to cover. This means you won't get stuck on thinking of new blog posts in the long-run. 
Plus, there's a ton of different finance blog niches to choose from. Some of these blog niches include: 
Frugal spending
Early-retirement
Passive-income
Side-hustles
Investing
This is why finance is one of the best types of blogs that make money. It's useful for everyone, and you have an infinite amount of topics to cover. 
2. Fashion Blog 
Have you ever dreamed of starting your own clothing line? Start a fashion blog! 
A fashion blog is a great way to express your unique sense of style through photos, clothing, and beauty products. 
But wait… fashion blogs make money? 
Of course! There are many ways to monetize a fashion blog. You can sell products, add affiliate links, and become an influencer on Instagram. 
One of the most popular fashion blogs out there is We Wore What.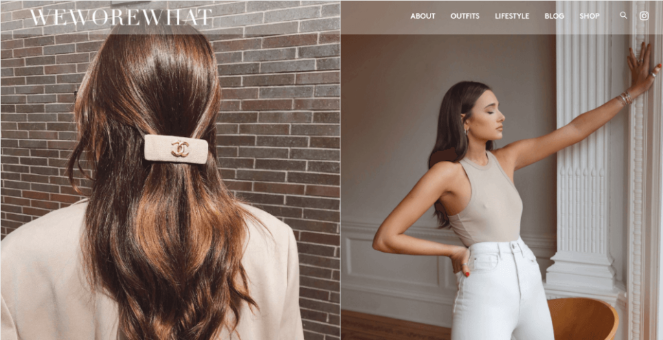 Danielle Bernstein started We Wore What to photograph her outfits across
[…]
This article was written by Jessica and originally published on Blog Tyrant.