Home /
Plugins /
Weglot Review – A Worthy Website Translation Solution?
By Kevin Muldoon
November 12, 2020
Translating your website into multiple languages is a great way to enhance the user-experience for international visitors — and will greatly improve your website traffic and search engine presence.
One option for helping you to publish your website in multiple languages is Weglot — a hosted translation service that lets you convert your content into more than a hundred languages.
I've spoken with the Weglot team many times since its launch in 2016, as they regularly sponsor European WordCamps, and they're a friendly group of people who are incredibly passionate about what they do.
While Weglot is known for its popular WordPress plugin, it's worth noting that it also works with any type of website. In addition to WordPress, it offers dedicated plugins for platforms such as Shopify, Squarespace, BigCommerce and Weebly.
Let's take a closer look at how you can use Weglot to translate your website content.
What Does Weglot Offer?
Weglot will translate your content into any language you select, and let you approve translations through its in-context editor.
Translations are processed automatically using DeepL, Google Translate, Microsoft Translator and Yandex Translate, and multiple team members can edit and approve suggested translations to ensure you're happy with the outcome. Professional translations are available directly within the Weglot dashboard too.
If you edit translations, the changes are automatically applied to your website in real time.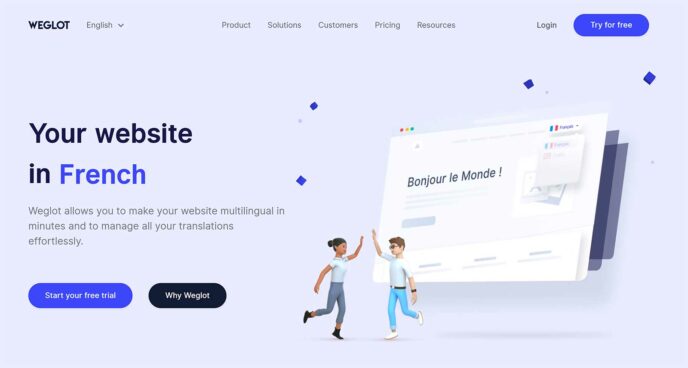 Weglot supports 'Multilingual SEO' in a number of different ways. Firstly, it translates content on the server-side, so search engine bots recognise the translated versions of pages. Secondly, it translates your whole website — including navigation menus, widgets, headers, footers, titles and more. In other words, Weglot translates 100% of a page — not just the content area.
Language sub-directories or sub-domains are created so translated content is correctly indexed by Google, page meta information is translated too, and you can choose to redirect users to pages in their own language.
Thankfully, you don't need to be a website developer or a search engine whizz to use Weglot effectively, as the service handles all technical aspects of translating pages for you.
Getting Started with Weglot
All you have to do to start translating pages with Weglot is take three simple steps:
Sign up to Weglot.
Download the Weglot plugin.
Enter your account API key in the
[…]
This article was written by Kevin Muldoon and originally published on WinningWP.