Offering WordPress maintenance services is a logical step for many web professionals. However, starting and managing this type of business isn't necessarily easy. You need to determine which services to offer, if you should outsource any of them, and how to overcome the challenges you might face.
This is where our 2020 WordPress Maintenance Survey can help. The results highlight some of the biggest challenges faced when starting and running WordPress maintenance services. They also provide information about outsourcing.
We've asked hundreds of web professionals about the maintenance services they offer, the challenges they've encountered, and what role outsourcing plays in their businesses. Let's take a look!
Offering maintenance services to clients
Offering maintenance services to clients can make your business more competitive. The majority of the participants in our 2020 WordPress Maintenance Survey offer such services in some shape or form. We reviewed which tasks they cover and how they structure their pricing tiers in a previous post.
However, we wanted to dive deeper into not only what these WordPress professionals do for their clients, but how they do it. To find out, we asked our 2,279 respondents about their outsourcing practices and the most common challenges they've encountered while working in the industry.
The biggest challenges faced when offering WordPress maintenance services
If you are considering offering WordPress maintenance services, there are many challenges you could face. Our survey respondents have overcome many of them, the most significant being showing the value of website maintenance to their clients:
Automating services is the second most prevalent challenge maintenance providers have had to work through.
Participants also cited showing the value of their services as the biggest challenge they are currently dealing with. However, marketing is the second most prevalent existing roadblock, while only 11.52 percent of respondents currently see automation as their biggest challenge: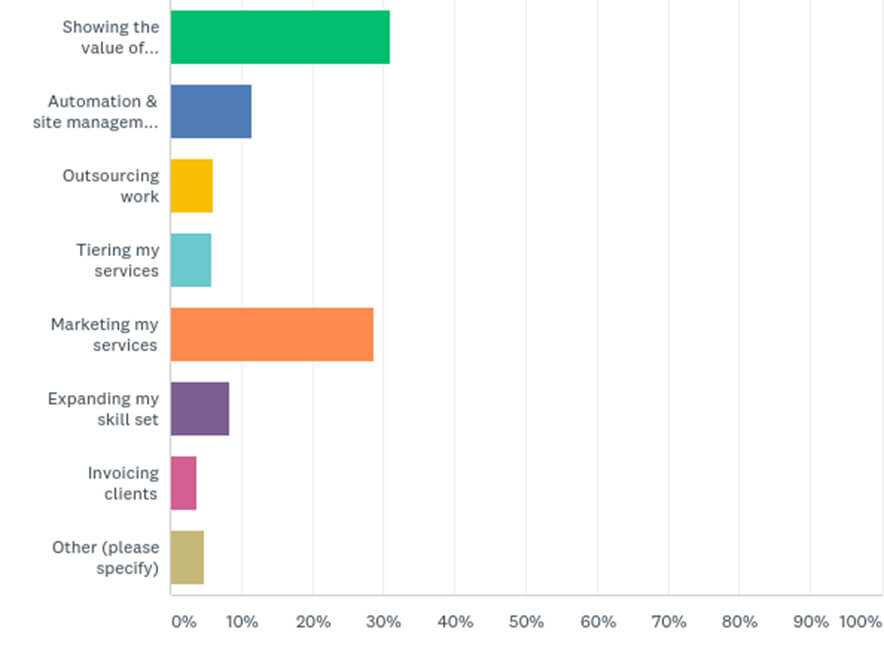 When you first start a WordPress maintenance business, it can take time to figure out the best automation solution for you. However, once you have the right tools, it becomes much easier. For instance, ManageWP can help you schedule tasks such as updates and backups.
Marketing your services is an ongoing challenge for business owners in all industries. You can overcome this difficulty
[…]
This article was written by Will Morris and originally published on ManageWP.